With the desire and vision of Mister David de Brito, Hotel Operations Manager to bring the best and unique culinary experiences for clients, Pullman Vung Tau has cooperated with Benaras to launch the new Indian restaurant in Vung Tau named Benaras Masala Bay @ Pullman Vung Tau.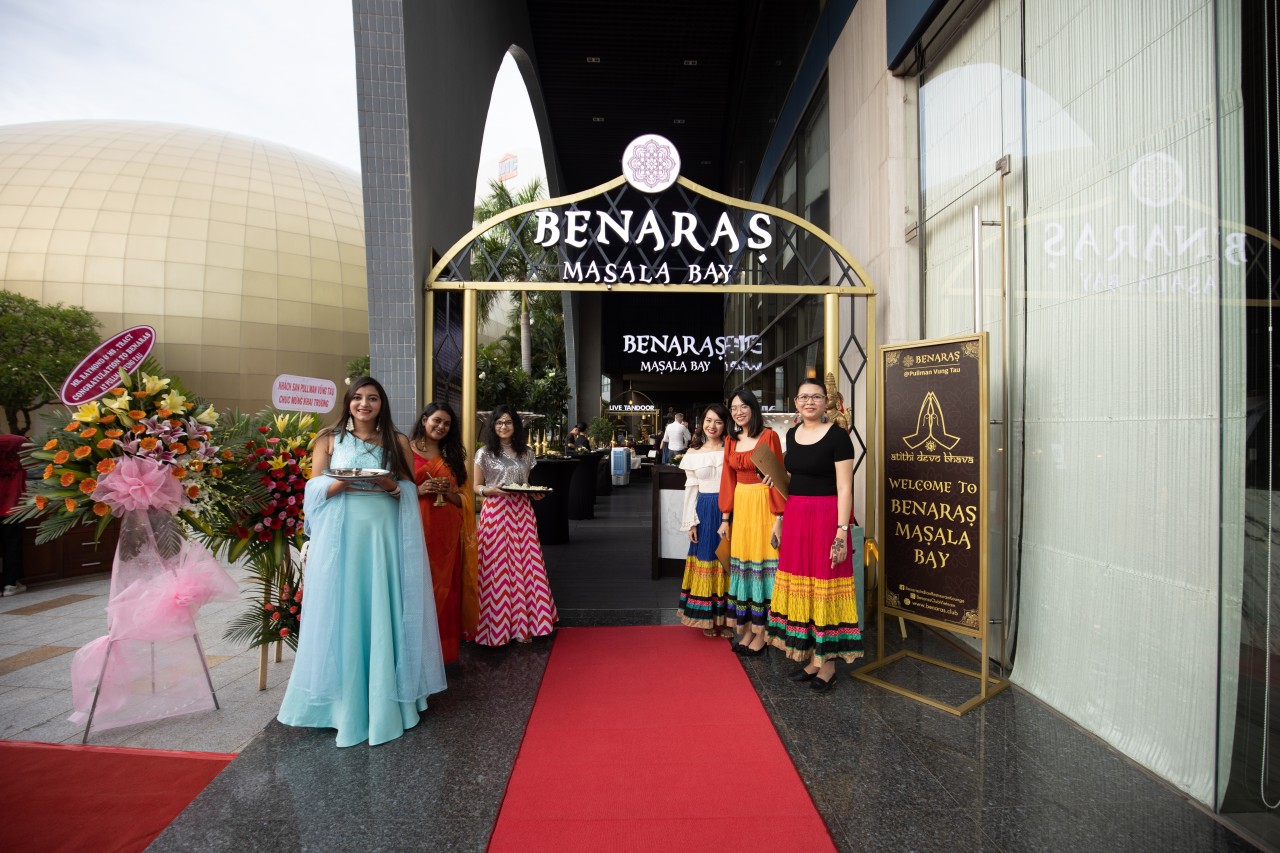 The grand opening of Benaras Masala Bay restaurant was organized on 17th July, 2020 at Pullman Vung Tau. It has taken place successfully with the participation of more than 100 guests, coming from different parts of Vietnam and abroad to experience the Indian lucky blessing ritual, to feel the atmosphere with Hindi music, experience unique henna painting, and enjoy Indian cuisine with eye-catching dishes and a firsthand experience to witness an impressive traditional "Kathak dance" an India traditional dance.
Benaras Masala Bay @ Pullman Vung Tau is proud to be the first five-star Indian restaurant in Vung Tau. The restaurant space also has its own distinctive characteristics, creating a miniature India in the heart of the bustling coastal city. The menu of Benaras Masala Bay has many dishes from North India; the ingredients are blended together by the professional hands of Indian chefs. With the diverse cuisine, at Benaras Masala Bay, diners can also try delicious vegetarian and pure vegan dishes without eggs and milk. All of them are made from natural ingredients, no colorants and reduce the amount of oil up to 80%.
Mr. David Stanley De Brito, Hotel Operations Manager said, "The Indian cuisine, is traditionally very authentic and exotic dating back to 3000 over years ago and with large influence of many spices and herbs, Indian cuisine is tasty and gives and impact of flavorsome on your taste buds from sour, spicy, hot, tangy or sweet. Indian cuisine will touch your soul before it touches your taste buds, there is heaven in every bite. This is also an interesting destination for visitors to experience the new culinary culture when coming to beautiful Vung Tau city. Come visit us and experience it yourself".
In addition, Mrs. Nidhi Arora, Owner and Managing Director of the Benaras Masala Bay shared, "Indian do not often go out to eat, they can make it better at home, but we have changed that. Our premium restaurant shines a light on North Indian delicacies through a remarkable fusion lens. We feature spicy fragrant curries, a myriad of breads, and even Indian street food staples brought to the life. We can probably guarantee one thing that you go once, and you are making it your second home. Our team absolutely cannot wait to serve you and redefine Indian cuisine. Staying true to our motto, we strive to serve all our guests as god".
Awaken your senses with Indian special aromatic spices in every dish.
——————————————————-
For more information of Pullman Vung Tau Hotel & Convention Centre, please visit
www.pullmanvungtau.com
, email
[email protected]
or hotline
+84 (0) 254 355 1777.
About Pullman Vung Tau Hotel & Convention Centre
Pullman Vung Tau is the first and only international five-star hotel adjacent to convention center in Vung Tau, Vietnam. The total area of multi-function convention centre is 2000 m2 with 2 large conference rooms that can accommodate up to 2,000 guests and 10 break out rooms. Pullman Vung Tau delivers a hotel experience that is upscale, upbeat and perfectly in tempo with the global zeitgeist. Pullman Vung Tau hotel and convention centre – style and function, comfort and connectivity, performance and play, the perfect blend of business and leisure. Pullman Vung Tau belongs to the famous Pullman brand of AccorHotels, a leading group in tourism and lifestyle in the world, all visitors will feel a warm welcome at more than 4,600 hotels, resorts and apartments across the globe.
pullmanvungtau.com | pullmanhotels.com | accorhotels.com