Over 500,000 properties around the world are now being recognized for their sustainability practices on Booking.com, including 5,000 properties from Vietnam that have the Travel Sustainable Badge.

Ho Chi Minh City was revealed as one of the top destinations in Vietnam with the highest number of properties credited with a Travel Sustainable badge on Booking.com followed by Hanoi and Danang.

Offering reusable towels, opting out from daily room cleaning and having water-efficient toilets are top most adopted sustainable attributes by properties in Vietnam.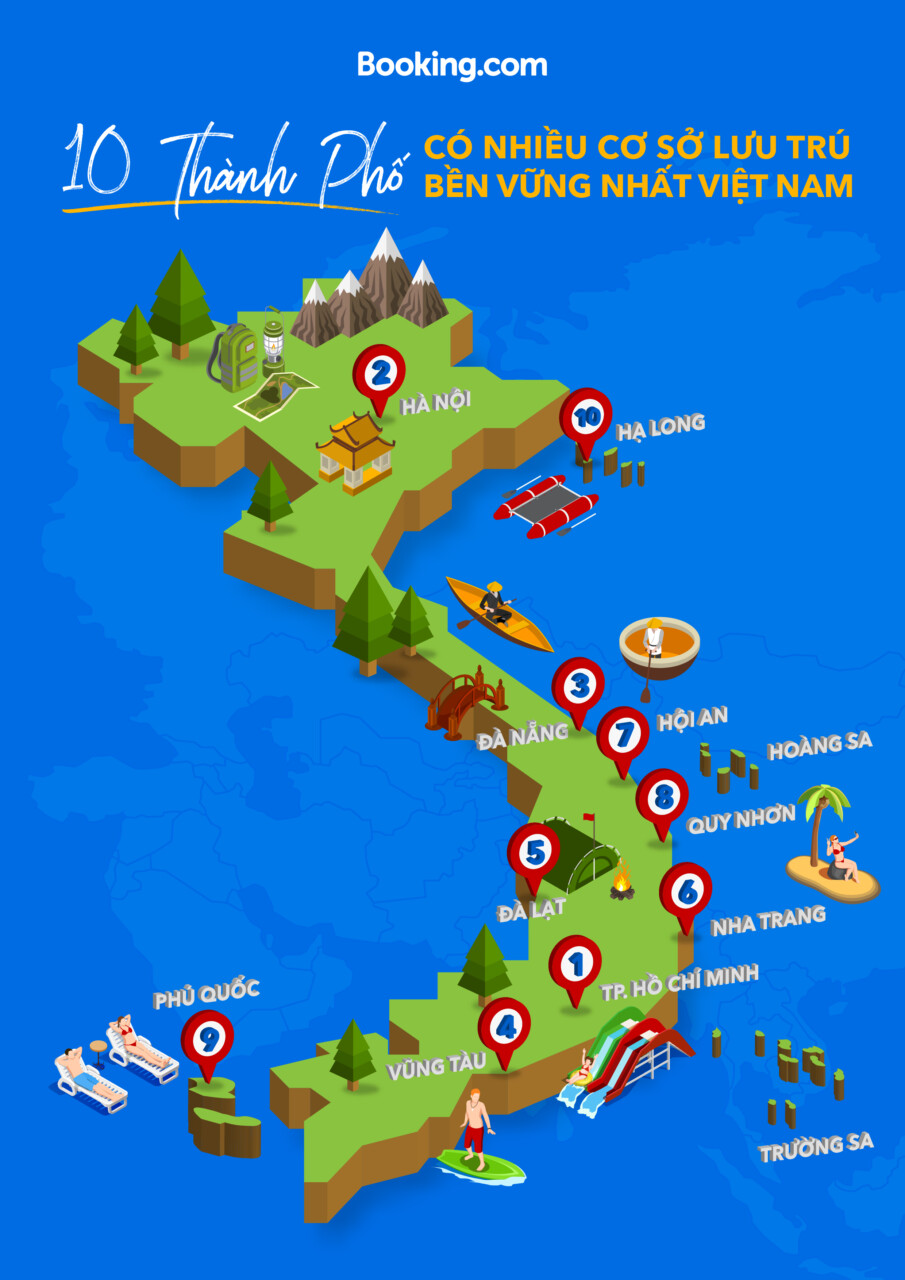 Whether in bustling cities or tucked away surrounded by nature, along coastlines or up high in mountainous areas, there are many accommodations and destinations in Vietnam that make sure to double down their efforts on sustainable practices. The annual Sustainable Travel Report 2023 of Booking.com reveals that sustainable travel is still high on the agenda and important to 96%* of Vietnamese travelers, with over 97% wanting to convert intent into action and make a conscious effort to travel more sustainably over the next 12 months.
With a mission to make it easier for everyone to experience the world, including in a more sustainable way, Booking.com revealed a list of inspiring destinations in Vietnam with higher proportions of Travel Sustainable Stays to fuel travelers' wanderlust this year.
Traveling for sustainable stays in Vietnam
Booking.com has revealed travelers who wish to stay in a sustainable property while exploring Vietnam have over 5,000 properties to choose from. Whether in busy cities such as Ho Chi Minh City and Hanoi, to more tranquil destinations such as Phu Quoc and Quy Nhon, there are many properties to cater to travelers who are intent on making more sustainable travel choices.
Destinations in Vietnam offering the highest number of sustainable stays with the Travel Sustainable Badge on Booking.com
Ho Chi Minh City

Hanoi

Danang

Vung Tau

Dalat

Nha Trang

Hoi An

Quy Nhon

Phu Quoc

Ha Long
Most adopted sustainable attributes by properties in Vietnam***
Accommodation properties in Vietnam have adopted various sustainable attributes which contribute to their recognition to be sustainable properties. These attributes vary from small-yet-effective changes to harder-working efforts to truly become more sustainable.
Reusable Towels

Opt-out from Daily Room Cleaning

Water-efficient toilets

Refillable Water Stations

Eco-friendly LED lighting

Water-efficient showerheads

Recycling plan in place

Has a building with green spaces

Locally sourced food offered

Tours and activities organized by local guides and businesses
Globally, other top sustainable attributes observed include the removal of plastic straws, cups, cutlery and stirrers, and installation of double-glazed windows among other attributes.
Small changes make a big difference
Varun Grover, Country Head, Vietnam at Booking.com, commented: "We have seen continued interest among Vietnamese travelers, on their intent to travel more sustainably. Through the Travel Sustainable Badge on Booking.com we are able to assist these travelers find a sustainable accommodation and become better informed on the sustainable practices of these properties. Similarly, we are also seeing a rise in the properties listed on our platform with the travel sustainable badge as they recognize the importance of transitioning to become more sustainable properties. At Booking.com we not only make it easier for travelers to experience the world, but we also encourage them to do so while making more mindful and sustainable choices."
To learn more about Booking.com's full 2023 Sustainable Travel Research Report, please visit the Booking.com global media room.
# # #
*Research commissioned by Booking.com and independently conducted among a sample of 33,228 respondents across 35 countries and territories (1,019 from USA, 1,002 from Canada, 1,007 from Mexico, 1,005 from Colombia, 1,008 from Brazil, 1,015 from Argentina, 1,008 from Australia, 504 from New Zealand, 1,008 from Spain, 1,002 from Italy, 1,008 from France, 502 from Switzerland, 1,008 from the UK, 1,000 from Ireland, 1,008 from Germany, 1,006 from the Netherlands, 1,006 from Belgium, 1,004 from Denmark, 1,007 from Sweden, 1,016 from Croatia, 1,012 from Israel, 504 from UAE, 1,012 from India, 1,001 from China, 1,000 from Hong Kong, 1,000 from Thailand, 1,020 from Singapore, 1,001 from Taiwan, 1,000 from Vietnam, 1,002 from Indonesia, 1,007 from Philippines, 1,002 from South Korea, 1,009 from Japan, 1,005 from South Africa and 510 from Kenya ). In order to participate in this survey, respondents had to be 18 years of age or older, had to have traveled at least once in the past 12 months and must be planning to travel in 2023, and be either the primary decision maker or involved in the decision making of their travel. The survey was taken online and took place in February 2023.
**Methodology: The latest data on total number of properties with a Travel Sustainable Badge.
***Methodology: The latest data on Top Most Adopted Sustainable Attributes by Country.