Located on Nguyen Binh Khiem Street, District 1, Yo's restaurant is like an ocean breeze cooling down the heat of Saigon's weather. This rendezvous destination offers the town's most delicious seafood dishes in a fascinating ambience.
Meaning "pal" in English, "Yo" represents the exhilaration, the excitement of gathering with friends. That is therefore, the inspiration of Yo's to become a meeting place where guests can enjoy their out-of-office moments with friends and family.
Yo's is a hidden gem within a humble cover. Stepping through the entrance, visitors are impressed by what the restaurant holds inside. Within the simple appearance is an array of decorative details that give off a feeling of being on the Mediterranean seaside.  Details such as a wave-like white roof, Scandinavian architecture, and white/navy colors, are complemented by an arrangement of greens and lights. Moreover, Yo's has a romantic and dreamy outdoor area, where a wooden boat stands spectacularly on the white sand under the dimmed lights. Visitors will feel like they're sitting in a bay restaurant with a panoramic view over the ocean.
In terms of menu, Yo's has a distinguishable style of Asian Cuisine. Prepared by the most professional chefs in town, each individual dish has a meticulous presentation using the freshest seafood ingredients such as clams, crabs, lobsters, snails, etc.
Yo's is a delicate collaboration between gastronomy and art, and is a must visit destination when in Saigon.
Gallery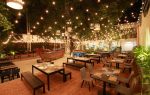 Yo's Restaurant
Add: 06 Nguyen Binh Khiem Street, Da Kao Ward, District 1, Ho Chi Minh City
Tel: +84 932 696 566
Facebook: www.facebook.com/yos.saigon
Opening Hours: 11:00 am – 02:00 pm & 06:00 pm – 11:00 pm