Never before told with such creativity and dynamism, The Quintessence of Tonkin is the cultural story of Northern Vietnam: a tale that balances legend with history, tradition with progress, and peace with turbulence. This is Vietnam's greatest cultural spectacle. State of the art performance technology coupled with creative storytelling recount how Vietnam was shaped by art, festivals, and above all, Buddhism.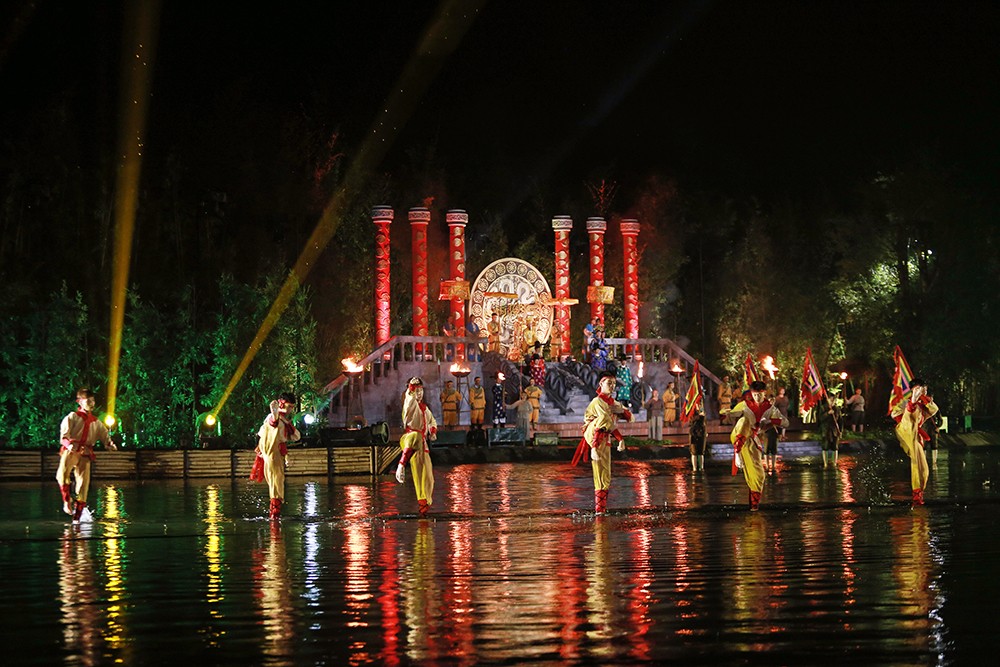 The stage that won Guinness' heart is idyllic and breathtakingly harmonious at the foot of Thay Mountain (Sai Son Commune, Quoc Oai District, Hanoi), spreading on a lakeside area of 4,300sqm. The audience is lulled into a dreamlike world of nature and perennial psychological interpretation of the locals through a spectacle called "The Quintessence of Tonkin".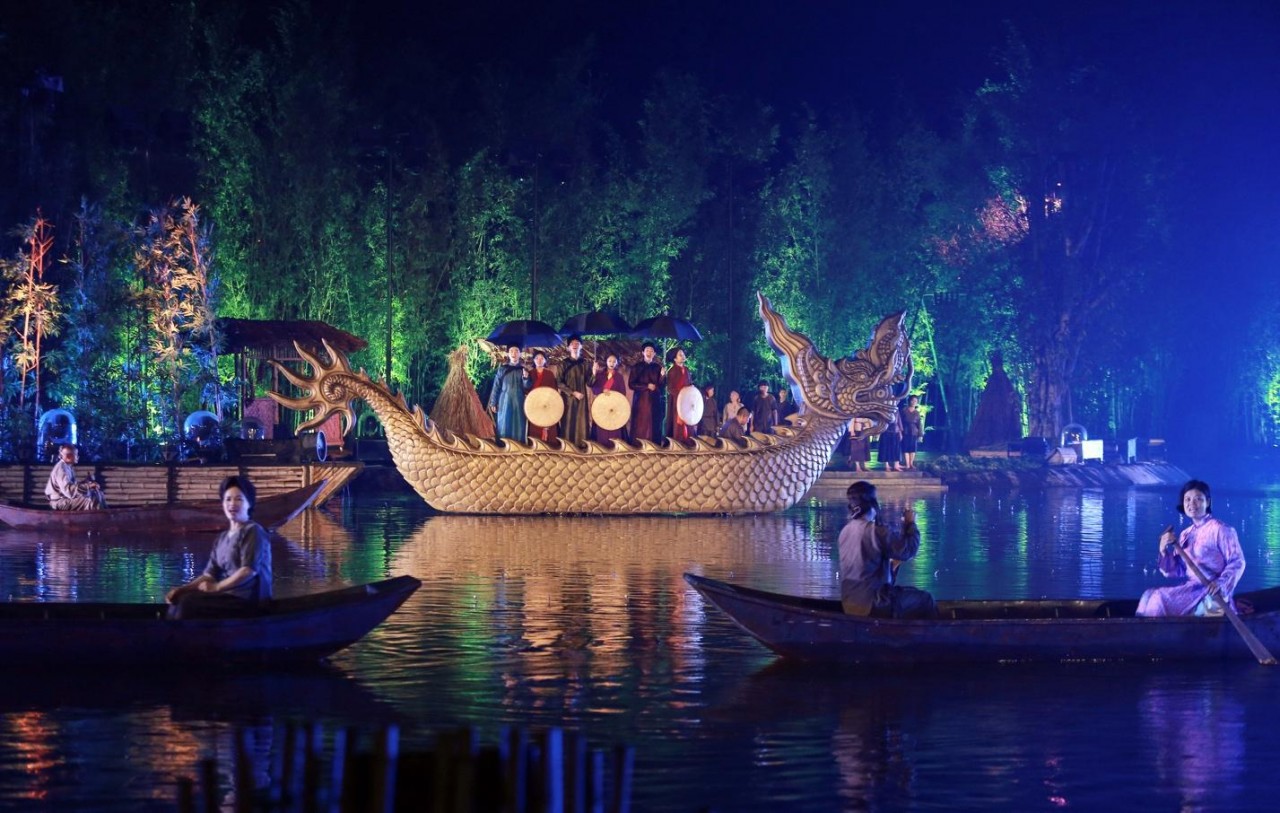 Director of the Show, Hoang Nhat Nam, breathed life into "The Quintessence of Tonkin" with his passionate and unnerving love for the history and culture of Vietnam. From the life story of monk Dao Hanh, the spectacle was developed in 6 parts: "Poetry", "Buddhism", "Nostalgia", "Music & Painting", "Peace & Harmony" and "Joy & Festival".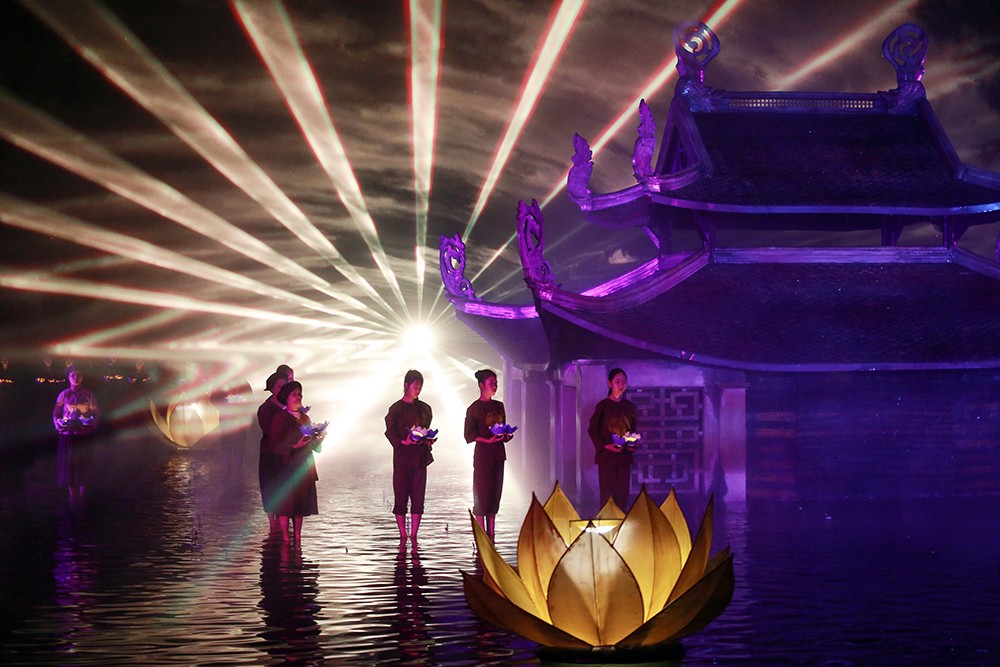 "The Quintessence of Tonkin" opens with chirping undertones, echoes of sloshing oars, a fisherman with his torn hat in contemplation… that are all lively and fully portrayed. Without having to go far, the audience can admire the precarious moon hung on the bamboo shades, fishing villagers and maidens in their traditional bodices bailing water at a fictional titular temple, fetching water in the moonlit night, bathing in the lotus pond, mating between lads and lassies, or folk chants while releasing nets, knocking on the deck, or rhythmic chants of labor and diligence…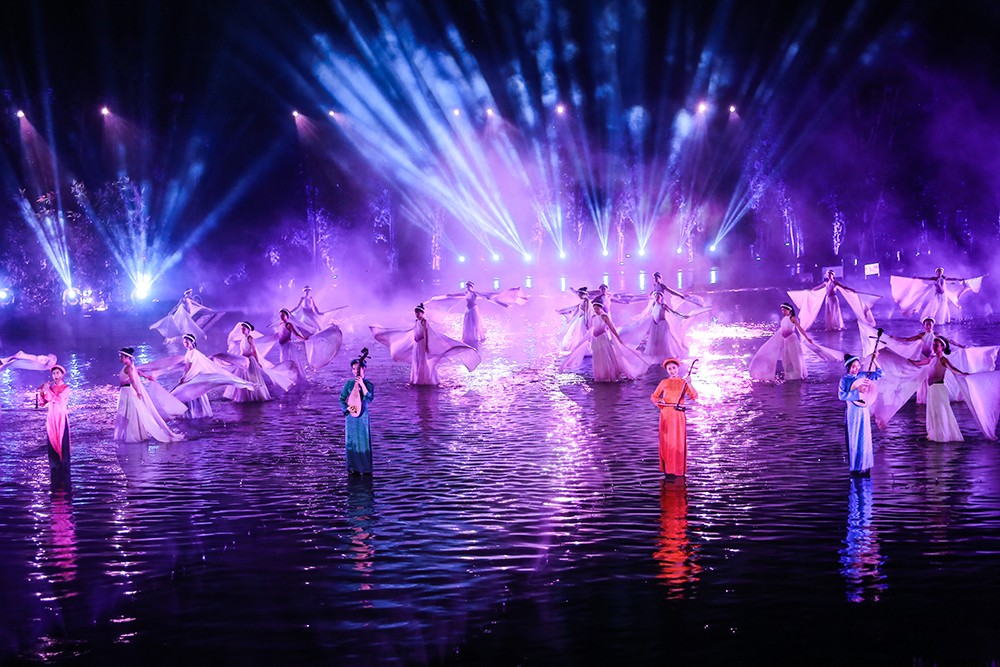 The show goes on, with groups of actors stepping out, performing with great confidence and inviting the audience into their own sphere of the Rouge River Delta culture, in which peasants work and live with great resilience, in hope of affluence and peace.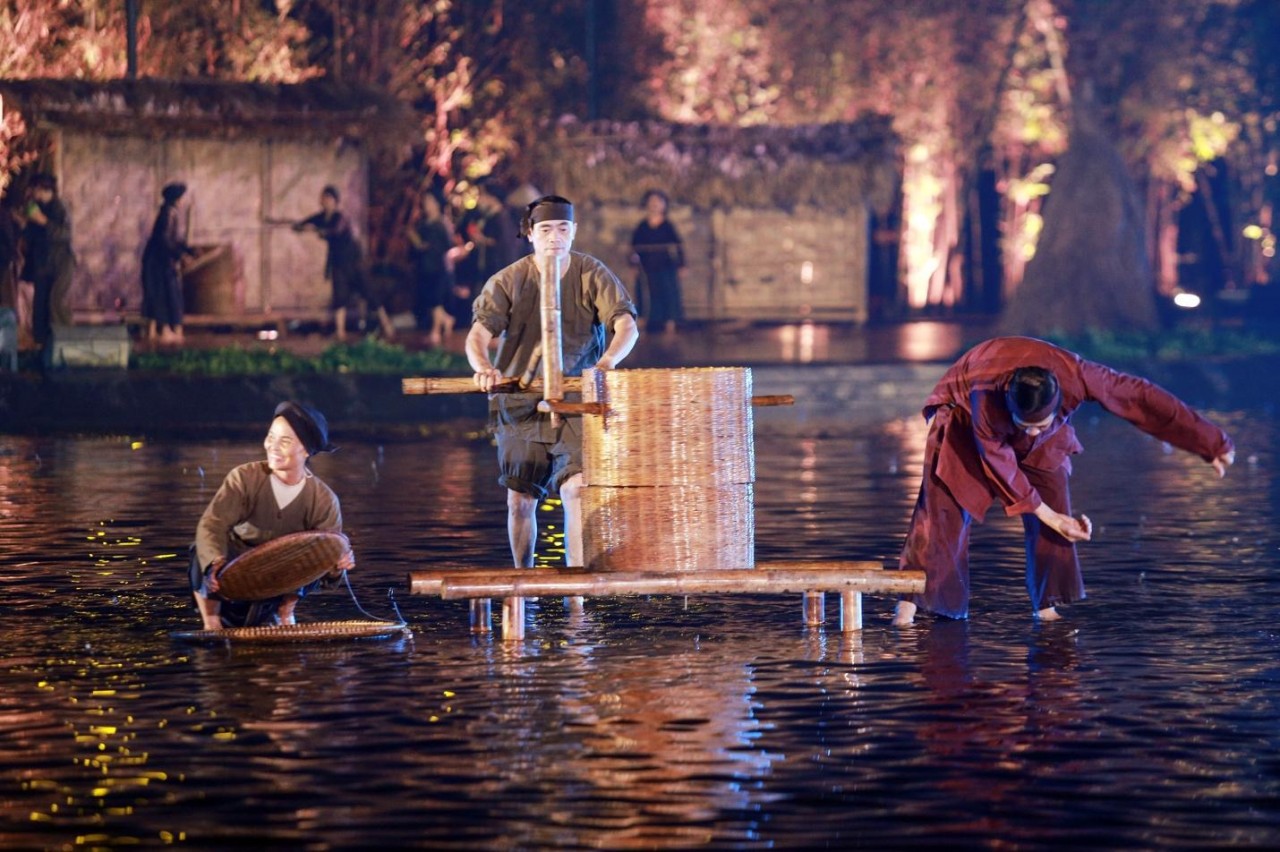 Given its huge cast of 250 actors in this spectacle, "The Quintessence of Tonkin" employs a great number of farmers in Quoc Oai, Hanoi. They stand onstage, recalling their own ordinary tales, through the prism of peasantry and farm work, including pounding rice, netting and bailing water. They put great trust in the causal karma of life, dutifulness between the teacher and students, and that "people are the quintessence of the soil", so that talents must be cherished and honored. Love and patriotism are cultured, and permeate every single cell of our heart.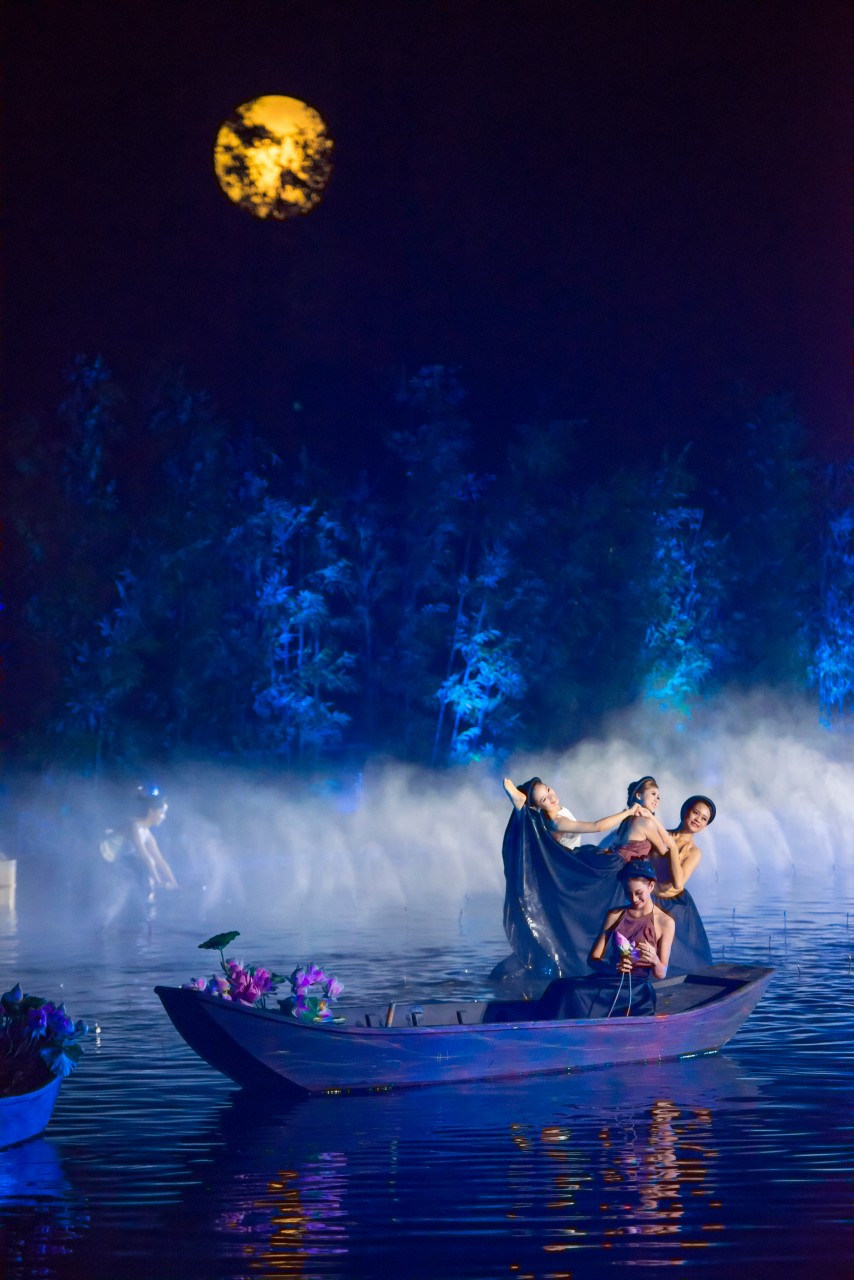 This outdoor spectacle "The Quintessence of Tonkin" demonstrates that art is closer to us than we thought, because it dwells in life and imitates life. Of course, one should come in person to admire, delight in and applaud this rewarding experience of visual feast of Vietnamese culture.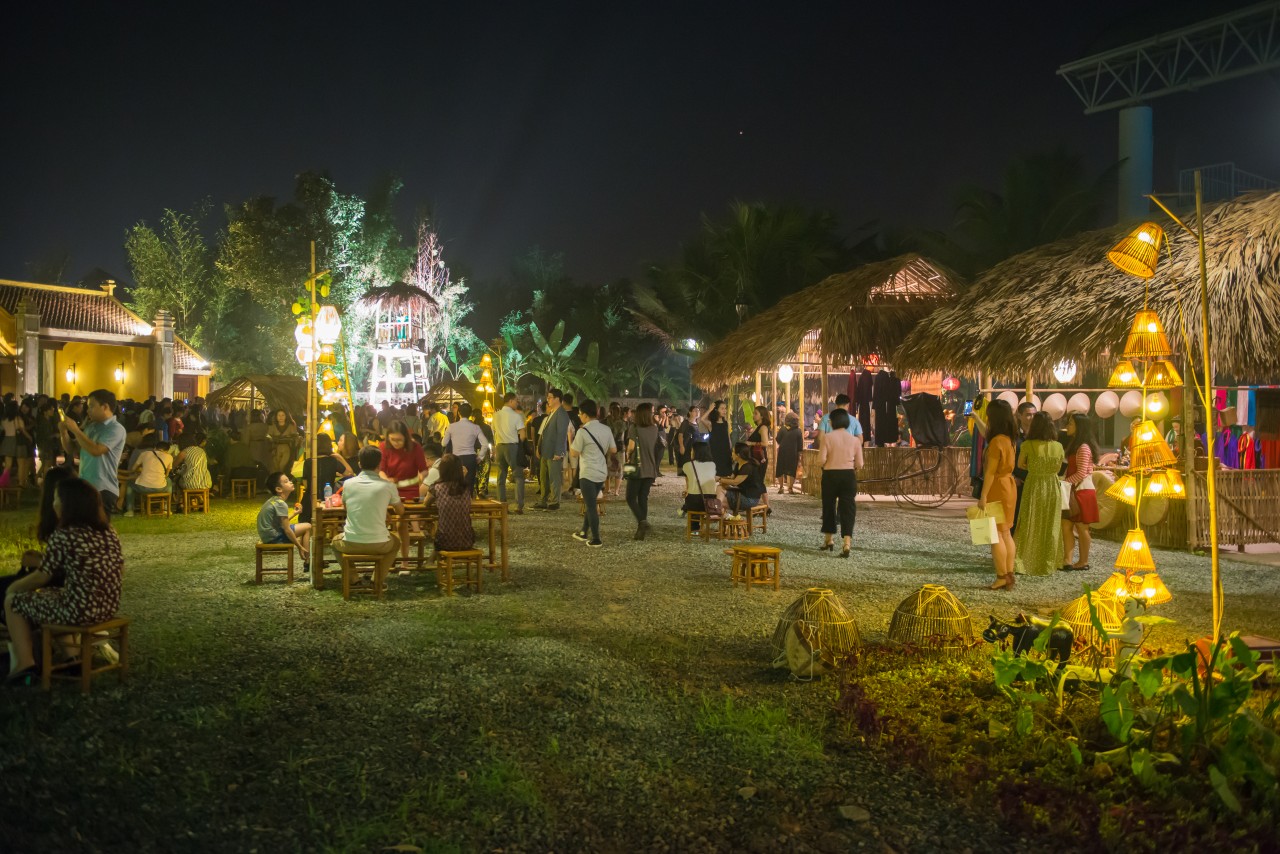 Awards
Gold Medal in Asia – Pacific Stevie Awards in the category of "Innovation in Media, Visual Media and Visual Entertainment"
02 Vietnamese Guinness records as "The show with the largest water stage in Vietnam" (4,300sqm) and "The show with the largest number of peasant actors in Vietnam" (150 actors).
Performance Information
Venue: The Quintessence of Tonkin at Baara Land
Address: Da Phuc Village, Sai Son Commune, Quoc Oai District, Hanoi, Vietnam
Show schedule: 20:00 – 21:00 every Tuesday, Thursday and Saturday. Daily performance starts from November 2018.
Free shuttle bus available
Ticket price starts at 800,000 VNĐ
Booking site: www.thequintessenceoftonkin.com/booking