As one of the typical stage arts of Vietnamese culture, Water Puppetry is a specialty of wet-rice civilization, showing the intelligence and creativity of the Vietnamese people.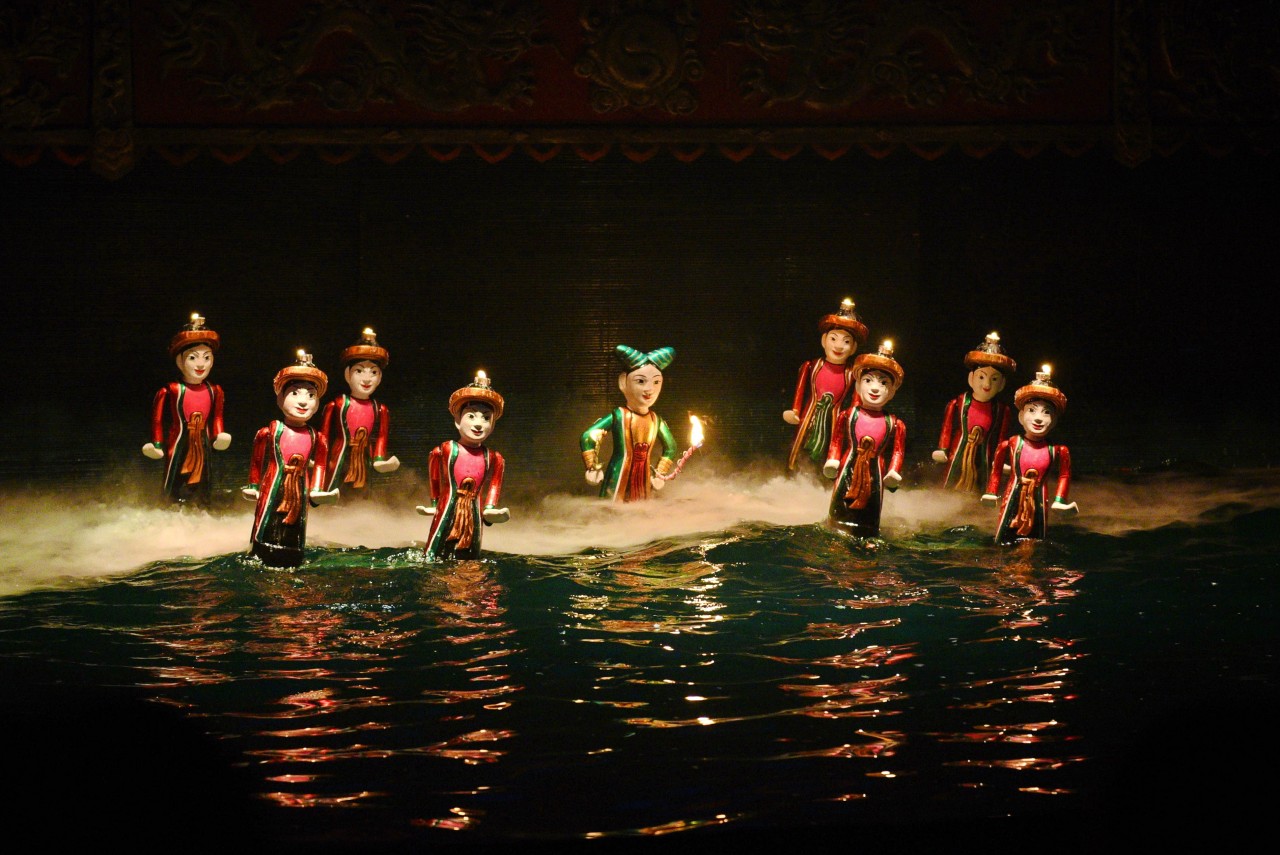 Water puppetry performances are presented through various topics including everyday life activities, entertainment, national heroes, or traditional opera plays like Cheo and Tuong. These include typical water puppetry shows like Teu, Farmers' Works, Legend of Sword Lake, Achieve Academic Honors and Pay Thanks to Ancestors, and Fairy Dance.
Water Puppet Theatre is called Thuy Dinh, and is set up outside, including a Water Pavilion, a Stage, and an area for audiences. Water Pavilion is located in the middle of a pond, with a closed, floating chamber of bamboo with a hanging bamboo screen in the front. The puppeteers stand behind a screen, waist-deep in the water to manipulate the puppets. In the front of the screen is a square low-fence water stage where the puppets perform. The space for audiences is often on the edge of pond on both sides of the stage, or beneath the trees around the pond.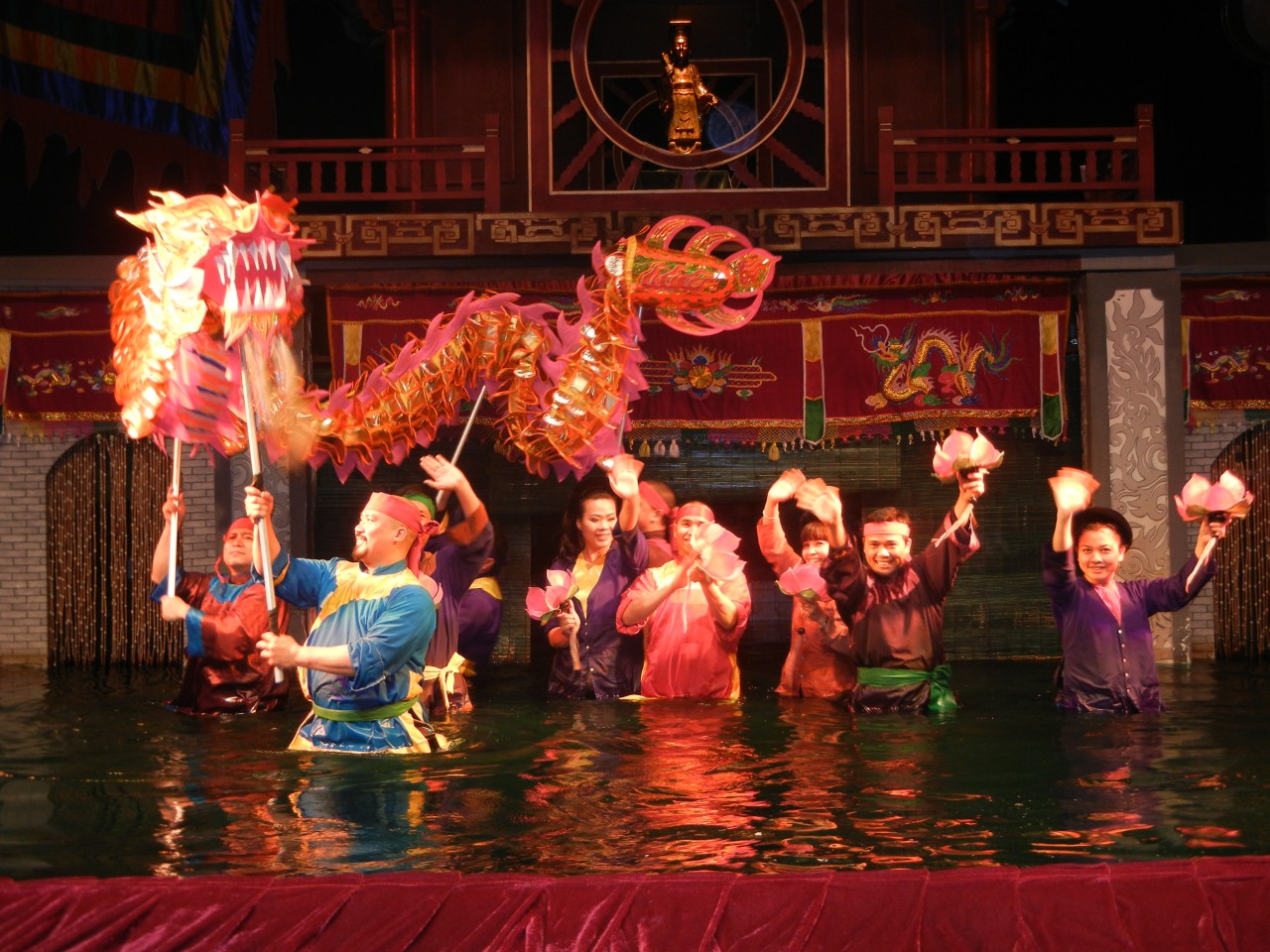 The main music used in a water puppetry performance is music of Cheo which is a traditional art specific to the Northern plain. In addition to instrumentalists, there are Cheo singers. Music, songs, and words in combination with movements of puppets, helping the audiences to understand the plays.  The aim is to introduce the cultural values, customs, and festivals through national characters of the Red River delta.
The musical instruments used in this water puppetry art are: drum, two-stringed fiddle, flute, drum kit, 16-chord zither or monochord. Additionally, many kinds of firecrackers are also used such as crackers, fireworks, powder-filled paper strings, and duck-shape firecrackers to make the performance more attractive.
Water Puppetry Shows are produced and performed by Thang Long Water Puppet Theatre. Entrance tickets start from 100,000 VNĐ.
About Thang Long Water Puppet Theatre
Established in 1969, Thang Long Water Puppet Theatre is considered as an ideal cultural place for visitors. It offers a unique water puppet program which is an extremely attractive spiritual specialty. For many past years, the brand name Thang Long Water Puppet Theatre has been known as an extraordinary attraction, becoming a favourite destination for many domestic and foreign visitors and tourists. The Theatre offers 5 shows each day at: 15h00, 16h10, 17h20, 18h30, and 20h00.
Other tradition performing art shows
Cheo
Vietnam Cheo Theater
Add: 71 Kim Ma, Ba Dinh Dist., Hanoi
Tel: +84 243 837 3073
Cai Luong Musical
Tran Huu Trang Cai Luong Traditional Music Theater
Add: 136 Tran Hung Dao Str., Pham Ngu Lao Ward, Dist. 1, HCMC
Tel: +84 283 920 0662
Bac Ninh Folk musical
Bac Ninh Folk Music Theater
Add: Nguyen Trai Str., Ninh Xa, Bac Ninh
Tel: +84 222 3821 297
Tuong Musical
Central Opera House
Add: 51 Duon Thanh Str., Hoan Kiem Dist., Hanoi
Tel: +84 243 837 0046