Recently, The Ascott Limited was honored at World Luxury Hotel Awards 2022 with two  prestigious awards when Somerset West Point Hanoi and Pentstudio West Lake Hanoi were honored as "Luxury City Serviced Apartments". The recognition of this award once again affirms the high-class service and product quality of Ascott's brands, marking a breakthrough for the recovery of the tourism industry in Vietnam.
Established in 2006, World Luxury Hotel Awards is one of the world's most prestigious awards in the hospitality industry, voted by guests, travelers and experts globally. With Somerset West Point Hanoi winning the regional "Luxury City Serviced Apartments" award and PentStudio West Lake Hanoi winning the "Luxury City Serviced Apartments" award in Vietnam, the achievement is the effort of the entire staff, with the aspiration to bring the best experiences and most distinctive services to meet all the needs of customers.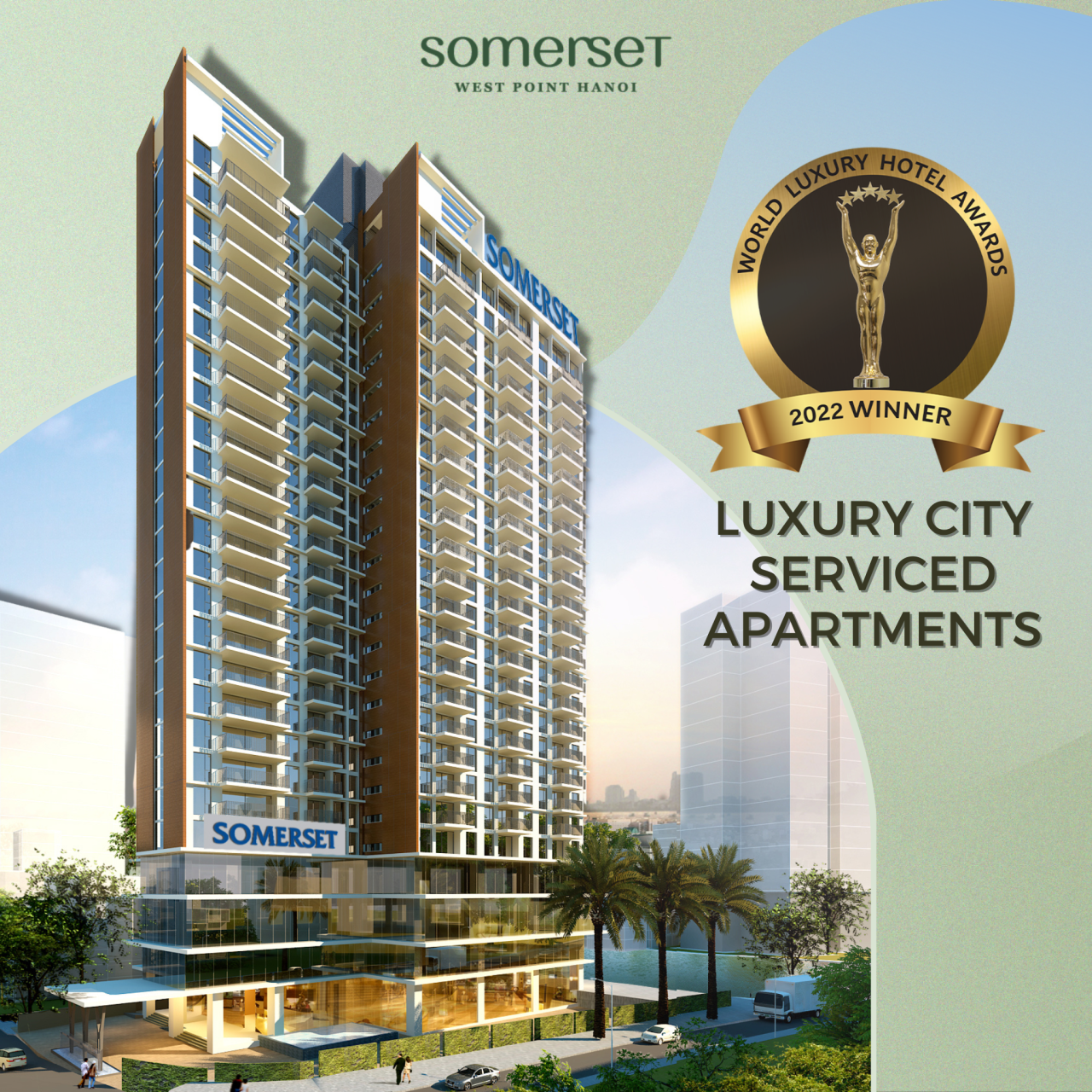 Located in an area with a large population of foreigners living in Tay Ho district, Somerset West Point Hanoi has a convenient location with luxurious views overlooking the West Lake from all apartments. With 283 apartments, Somerset West Point Hanoi is only 5 kilometers away from the Hoan Kiem district's center, providing a variety of lodging options based on the specific needs of customers. Living at the property, guests can benefit from facilities such as an outdoor swimming pool, children's playground, golf simulator, gym, sauna,… Additionally, restaurants, cafeterias, supermarkets, and shopping centers in the neighborhood are also very convenient within a 500-meter walk from the building.
Awarded as "Luxury City Serviced Apartments" in Vietnam, PentStudio West Lake Hanoi is one-of-a-kind residential duplex project that combines a hotel and a rental-apartment business model, bringing more value to both investors and customers. With integrated living space and spectacular view overlooking the Red River and West Lake, 321 high-class apartments are designed with full amenities to easily satisfy guests' needs, along with facilities in the building such as an indoor swimming pool, gym as well as resident lounge.
If you are looking for a high-quality and convenient place to stay for your vacation or business trip, Somerset West Point Hanoi and PentStudio West Lake Hanoi are excellent choices. Especially during this season of year, guests staying at Somerset West Point and PentStudio West Lake can enjoy festive season offers and many exclusive perks for Ascott Star Rewards members.
Sign up for an Ascott Star Rewards membership and learn more: Ascott Star Rewards
Somerset West Point Hanoi
➤ Address: No 2 Tay Ho Road, Quang An Ward, Tay Ho District, Ha Noi
➤Website: https://www.discoverasr.com/en/somerset-serviced-residence/vietnam/somerset-west-point-hanoi
➤ For inquiries and booking: (+84) 24 3934 5656
PentStudio West Lake Hanoi
➤ Address: No 699 Lac Long Quan Street, Phu Thuong Ward, Tay Ho District, Ha Noi
➤ Website: https://www.discoverasr.com/en/others/vietnam/pentstudio-west-lake-hanoi
➤ For inquiries and booking: (+84) 24 66 680 088