As inflation bites, travelers globally are on the lookout for the best deals out there. To help bargain hunters on their way, digital travel platform Agoda shares the cheapest routes that were booked on Agoda in early August by travelers from Vietnam.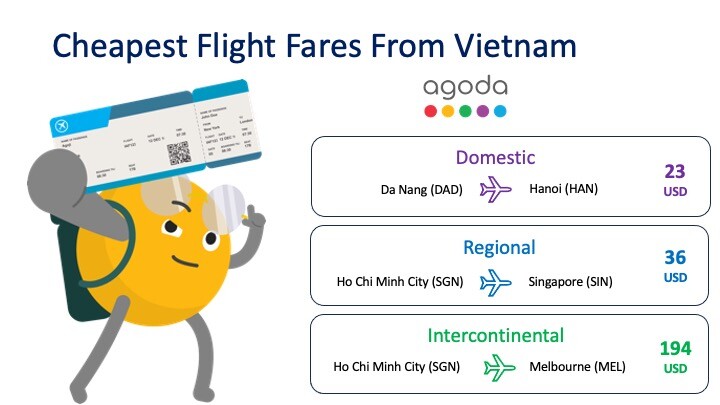 With thousands of flight routes from Vietnam to choose from on Agoda, travelers had access to fares starting as low as 23 USD. Vietnam's cheapest flight ranked 7th among ten Asia Pacific markets for the lowest domestic rate. Thailand and Philippines – having both offered an 8 USD domestic flight – shared the top spot.
Regionally, Vietnam ranked 5th, having offered a 36 USD flight, 3x more than the most affordable regional flight, from Kuala Lumpur to Singapore. Ho Chi Minh City – Melbourne, the cheapest intercontinental flight from Vietnam and 5th in the ranking, was booked for 184 USD. Indians have the most affordable intercontinental flight: Delhi to Dubai was available for only 90 USD.
Lam Vu, Country Director Vietnam and Indochina at Agoda: "It's great to see travelers finding such amazing flight deals on Agoda. These bargains show there are real deals to be found if you are prepared to be flexible with carrier, route, and timing. Pricing of course changes with demand, and we seek to get the best prices available for wherever you want to fly. Domestic, regionally, or cross continents."
The most affordable flights from Vietnam:
Domestic: Da Nang (DAD) -> Hanoi (HAN), 23 USD
The cheapest domestic flight booked in Vietnam departed from Da Nang and landed in Hanoi and was recently booked for only 23 USD. It takes about 1 hour and 20 minutes of flying to get from Da Nang to Hanoi.
Regional: Ho Chi Minh City (SGN) -> Singapore (SIN), 36 USD
A journey from Ho Chi Minh City to Singapore was booked for a mere 36 USD. Singapore, also known as the Lion City, is known for its clean streets, efficient public transportation, and many landmarks. From Ho Chi Minh City, Singapore is just a 2-hour flight away.
Intercontinental: Ho Chi Minh City (SGN) to Melbourne (MEL), 194 USD
Melbourne, the coastal capital of the southeastern Australian state Victoria, is world-renowned for its arts scene, sporting events, coffee culture, and vibrant nightlife. Melbourne is about an 8,5-hour flight from Ho Chi Minh City and a one-way ticket was recently booked on Agoda for just 194 USD.
Agoda looked at the total fare per passenger, including taxes and surcharges, in ten markets across Asia Pacific. The fares are the cheapest fares from actual bookings made on Agoda between 1 and 14 August and for travel in September and October this year.
Agoda built its global reputation as an online travel booking platform for hotels and vacation homes and has seen its flight bookings take off since launching on the platform in 2019. There are now 130,000 flight routes available to book on Agoda.
About Agoda
Agoda, a digital travel platform, helps anyone see the world for less with its great value deals on a global network of 3.6M hotels and holiday properties worldwide, plus flights, airport transfers, and more. Agoda.com and the Agoda mobile app are available in 39 languages and supported by 24/7 customer support.
Headquartered in Singapore, Agoda is part of Booking Holdings (Nasdaq: BKNG) and employs more than 6,600 staff in 31 markets, dedicated to leveraging best-in-class technology to make travel even easier.
About the data
The data presented in this press release is based on actual flight bookings made on Agoda between 1-14 August 2023, for flights departing in September and October 2023. The listed fares include all taxes and fees and are the cheapest booked fares across ten Asia Pacific markets: Australia, India, Indonesia, Japan, Malaysia, Philippines, Singapore, South Korea, Thailand, Taiwan, and Vietnam. Note that fares can fluctuate: While the listed fares have been booked, Agoda cannot guarantee that these are still available for future bookings.
Lowest flight fares for departures in September – October, booked between 1-14 August 2023
Domestic
#
Origin
Destination
Fare (USD)
1
Bangkok (BKK), Thailand
Krabi (KBV), Thailand
8
2
Roxas (RXS), Philippines
Manila (MNL), Philippines
8
3
Kota Bharu (KBR), Malaysia
Kuala Lumpur (KUL), Malaysia
9
4
Seoul (GMP), South Korea
Jeju (CJU), South Korea
13
5
Mumbai (BOM), India
Goa (GOX), India
16
6
Tokyo (NRT), Japan
Hiroshima (HIJ), Japan
17
7
Da Nang (DAD), Vietnam
Hanoi (HAN), Vietnam
23
8
Ballina (BNK), Australia
Sydney (SYD), Australia
28
9
Jakarta (CGK), Indonesia
Bandar Lampung (TKG), Indonesia
29
10
Penghu (MZG), Taiwan
Taichung (RMQ), Taiwan
53
Regional
#
Origin
Destination
Fare (USD)
1
Kuala Lumpur (KUL), Malaysia
Singapore (SIN)
12
2
Medan (KNO), Indonesia
Penang (PEN), Malaysia
20
3
Manila (MNL), Philippines
Hong Kong (HKG)
26
4
Bangkok (DMK), Thailand
Kuala Lumpur (KUL), Malaysia
26
5
Ho Chi Minh City (SGN), Vietnam
Singapore (SIN)
36
6
Taipei (TPE), Taiwan
Manila (MNL), Philippines
38
7
Seoul (ICN), South Korea
Angeles/Mabalacat (CRK), Philippines
43
8
Fukuoka (FUK), Japan
Seoul (ICN), South Korea
45
9
Delhi (DEL), India
Kathmandu (KTM), Nepal
60
10
Sydney (SYD), Australia
Fiji (NAN), Fiji Islands
143
Intercontinental
#
Origin
Destination
Fare (USD)
1
Delhi (DEL), India
Dubai (DXB), UAE
90
2
Perth (PER), Australia
Kuala Lumpur (KUL), Malaysia
117
3
Bali (DPS), Indonesia
Adelaide (ADL), Australia
157
4
Manila (MNL), Philippines
Perth (PER), Australia
184
5
Ho Chi Minh City (SGN), Vietnam
Melbourne (MEL), Australia
194
6
Kuala Lumpur (KUL), Malaysia
Sydney (SYD), Australia
201
7
Seoul (ICN), South Korea
Melbourne (MEL), Australia
217
8
Bangkok (BKK), Thailand
Melbourne (MEL), Australia
218
9
Tokyo (NRT), Japan
Sydney (SYD), Australia
249
10
Taipei (TPE), Taiwan
Perth (PER), Australia
272