Social enterprise inks expansion partnerships with Vietnam Airlines and IHG
VietHarvest today announced its national expansion to Ho Chi Minh City, a year after its Hanoi launch, ahead of a star-studded culinary weekend headed by kitchen luminaries including Vietnamese-Australian chefs visiting for the occasion Thi Le of Melbourne's acclaimed Jeow, and Masterchef Australia's Tommy Pham.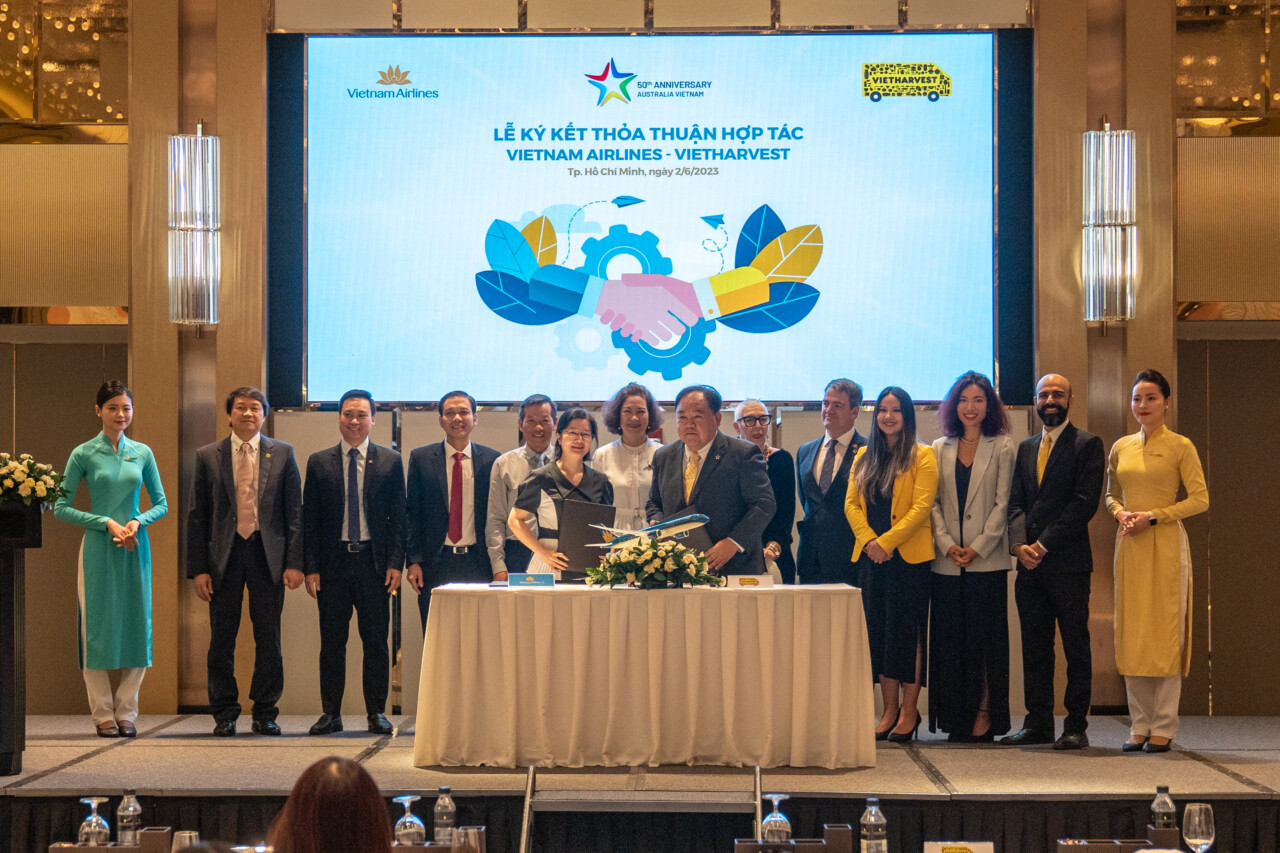 The announcement further included signings with both Vietnam Airlines and IHG, who have both pledged to support the growth of VietHarvest through the provision of surplus food.
VietHarvest's latest expansion was announced at a ceremony held at the InterContinental Saigon, where Sunday night's gala which will pair 40 of Vietnam's most prominent CEOs with 10 chefs from around the nation and around the world, serving 150 guests to raise money to support disadvantaged people in Vietnam and prevent food waste nationwide.
VietHarvest – co-founded by long time social enterprise advocate Jimmy Pham, works to collect quality surplus food from hotels, restaurants and other partners, and deliver it using refrigerated vehicles to underserved communities in Hanoi and Ho Chi Minh City.
The World Bank estimates that of every 10 tons of waste generated in Vietnam, 5.8 tons are biodegradable organic waste, and the overwhelming majority of this waste is food.  It is estimated that 87,000 households in Vietnam waste food each week, seeing Vietnam second only to China for food-wastage in the region.  Vietnam's Ministry of Agriculture and Rural Development estimates that around a third of this waste is fresh-fruit and vegetables.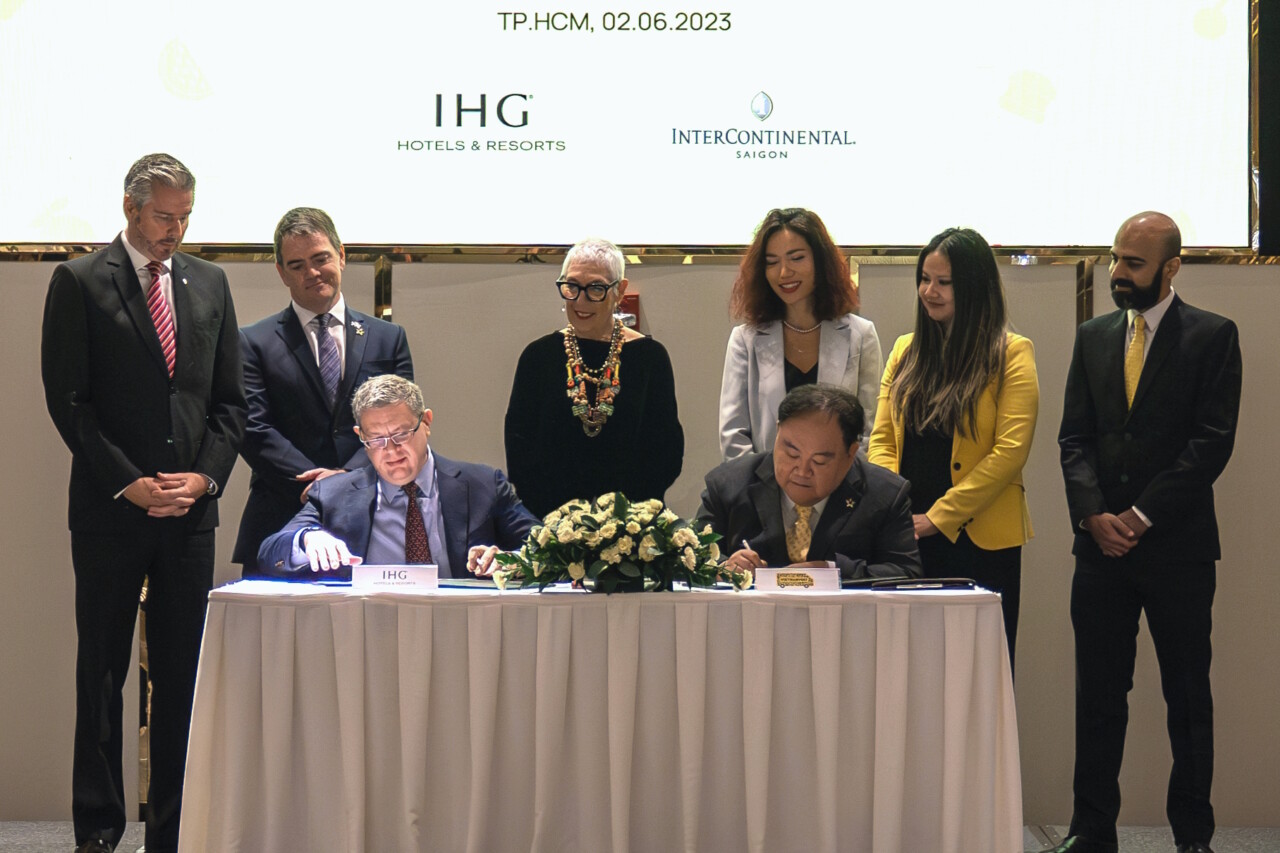 "Around the world and here in our country, people are suffering from hunger and with the amount of food that is wasted, this is hard to justify," Pham said.  "There are 570,000 people in Vietnam experiencing food shortages, while at the same time, about 8.8 million tonnes of food is going to waste.  VietHarvest's mission is to close this gap and provide a practical and positive solution to reducing food waste and hunger."
The inaugural CEO CookOff helps to raise awareness of these global challenges starting here in Vietnam, and raise funds to support the national expansion of the Hanoi-based enterprise.
"Normally a pairing menu means pairing food to wine," Pham continued. "Not this weekend.  This weekend we are pairing some of our most prominent culinary luminaries with some of the titans of business in Vietnam to raise money and awareness for VietHarvest's mission."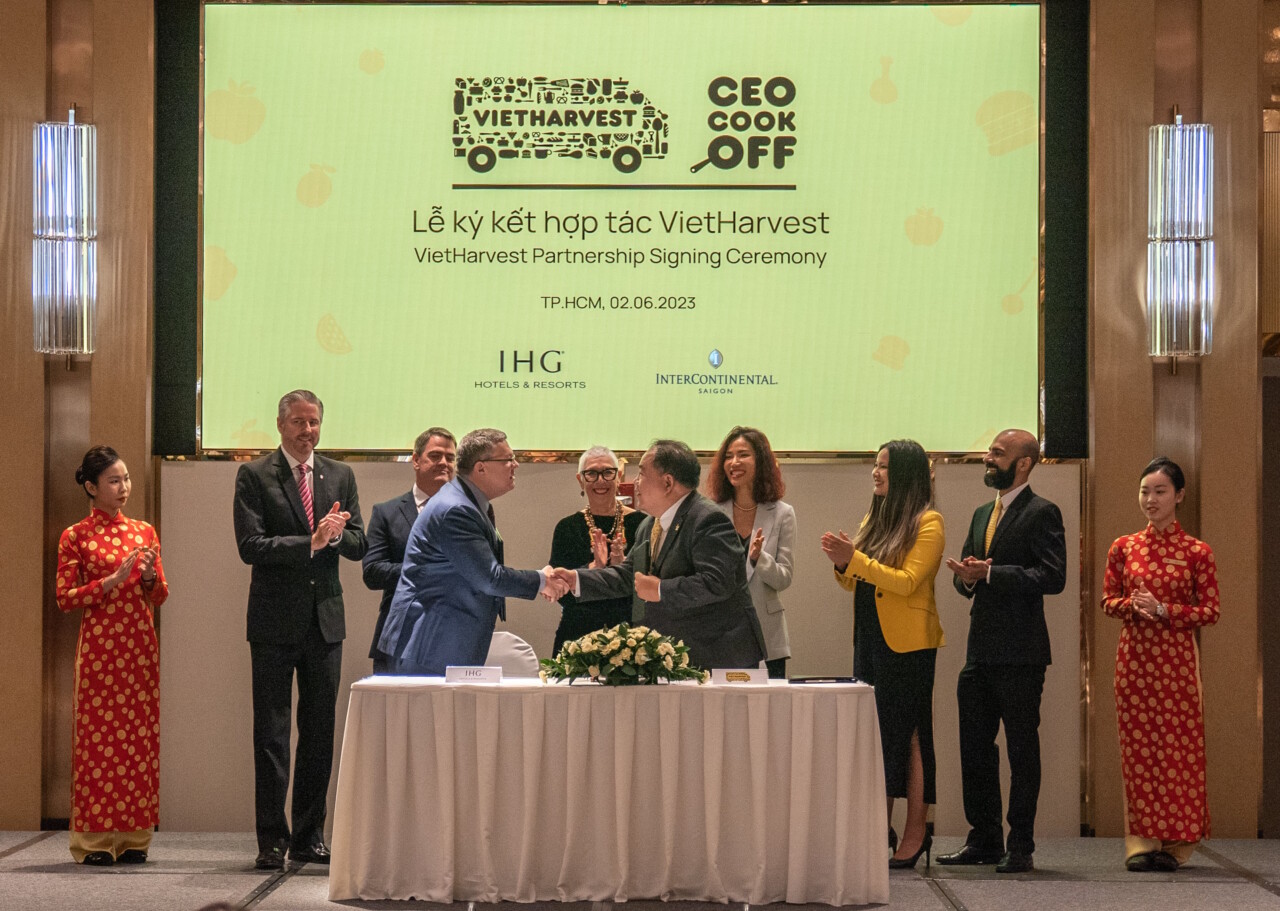 Joining Thi and Tommy in the kitchens will be some of Vietnam's most respected chefs Rodrigo Martinez of the InterContinental Saigon, Julien Perraudin of Quince, and Peter Cuong Franklin of Anan.
The ceremony further saw Vietnam Airlines sign-on as a partner to VietHarvest, committing to supply excess food from its kitchens to the enterprise to ensure that quality food is put to good use, ensuring the nourishment of some of the nation's neediest bellies.
Mr. Trinh Hong Quang – Deputy General Director of Vietnam Airlines said: "This initiative is set to greatly increase the awareness of people around Vietnam into the importance of reducing food waste. Aside from the environmental issues pertaining to gas emissions and landfill, food waste has a huge impact on our nation's economy.  As such, reducing the waste of surplus foods helps to make a real and practical contribution toward the protection of precious environment, the reduction of the country's economic burden, improving global food security, as well as providing access to quality nutrition to disadvantaged communities."
In addition to Vietnam Airlines commitment, IHG doubled-down on its own work with VietHarvest.  IHG was one of the founding partners of VietHarvest in Hanoi.  The group inked a partnership with Pham that sees this commitment expand with the enterprise into the southern metropolis of Ho Chi Minh City.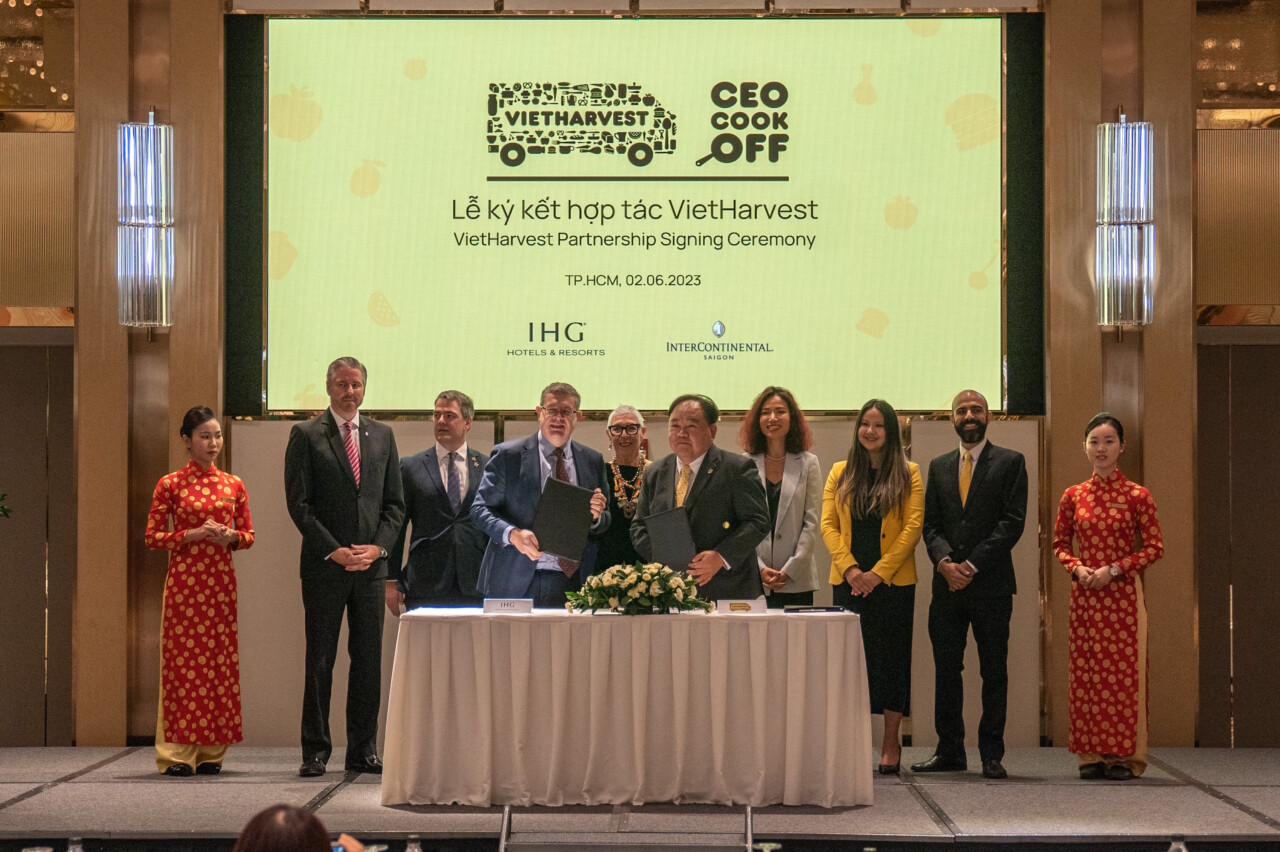 Mr. Paul Cunningham, IHG's Senior Director, Operations, South East Asia & Korea said of the announcement:  "It's an honour to be able to double our commitment to VietHarvest here today to reduce food waste and feed communities most in need in Vietnam. We are committed to grow with VietHarvest as both our organisations expand across the country. IHG's hotels in Hanoi are currently providing around 40% of the food that is being delivered daily to underserved communities in the capital, and today's expansion sees IHG's hotels in Ho Chi Minh City joining the pledge. This will support our commitment as part of our 10-year responsible business plan, Journey To Tomorrow, to improve the lives of 30 million people in our communities and transform into a minimal-waste hospitality industry."
VietHarvest is an international expansion of OzHarvest – represented at the ceremony by its founder Ms. Ronni Kahn in 2004, the organization has grown in its native Australia to cover all states and territories.  Ms. Kahn, along with representatives of the Australian Consulate in Ho Chi Minh City attended the ceremony and acted as witnesses to both signings.