Breakfast, the most important meal of the day for some, easily skipped by others. And with every new hotel booking the same dilemma: To include, or not to include? Agoda looked at the numbers and ranked the preferences for ten Asian markets.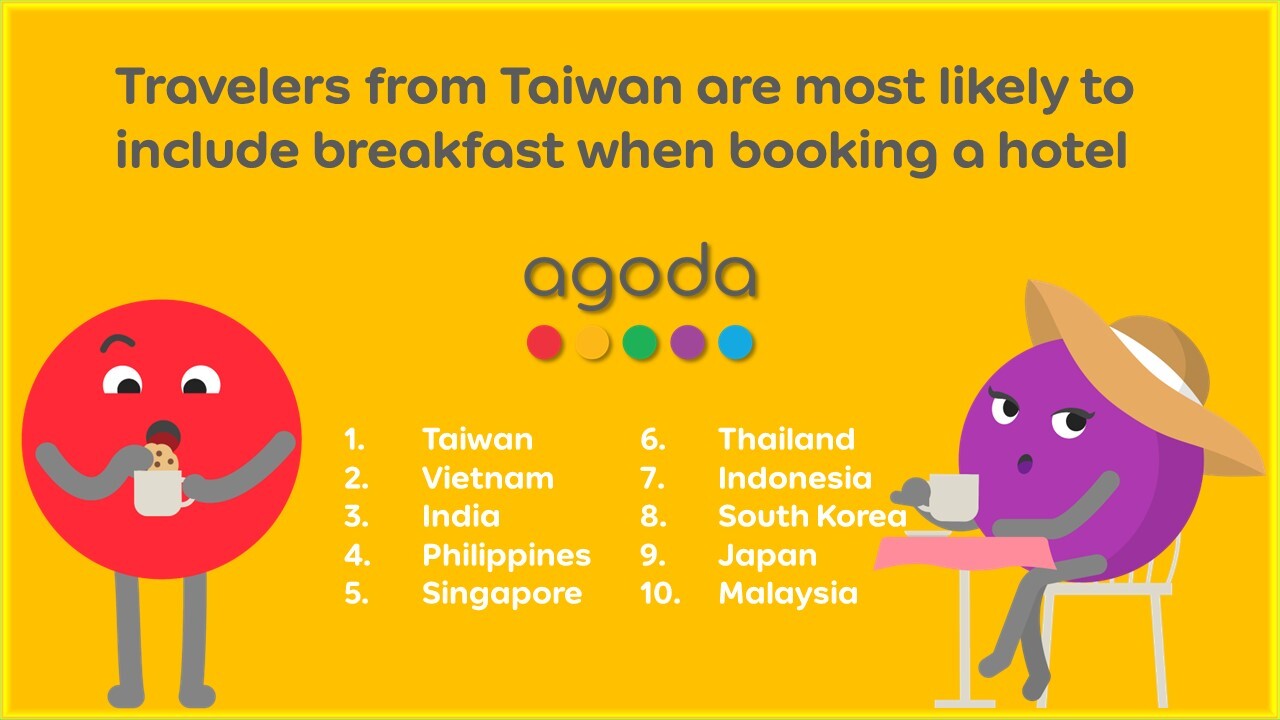 Agoda insights reveal that over the past two months travelers from Taiwan were the most likely to book accommodations with breakfast included. Almost half (46%) of the travelers from Taiwan opted for breakfast included, followed closely by Vietnamese (43%), and Indian travelers (42%). On the other end we find South Korea (29%), Japan (27%), and Malaysia (23%), ranking 8, 9, and 10 respectively on the breakfast requirement popularity table.
When comparing domestic with overseas travel, Agoda noticed travelers on an international trip are more likely to opt for some comfort and peace of mind. 37% of international travelers selects the 'breakfast included' option on Agoda, compared to 31% of those who stay within country borders.
"There are lots of factors at play to determine the popularity of including breakfast when booking your accommodation" said Enric Casals. "It's often the flexibility to decide last-minute depending on your plans during the trip, but it's well worth noting that if you do plan to start the day with a meal, it's often most economical to include it during the booking. And at Agoda, anyone that reaches VIP Platinum status automatically qualifies to receive complimentary free breakfast at many accommodations. That way, the only appetite left will be the appetite to travel."
Looking at specific destinations, Agoda data reveals that breakfast is selected more often for travel to Vietnam, followed by Taiwan (#2) and Philippines (#3). There appears to be less appetite for the breakfast buffets in Japan (#7), Malaysia (#8), and Singapore (#9), but it is least popular in South Korea (#10), where only 1 in 10 travelers include the morning meal in their hotel reservations.
For those who don't want to miss out on breakfast, there is a 'Breakfast included' filter on Agoda.com and in the Agoda app, to quickly find the best deals that will not only provide a good night's sleep, but also the best way to wake up.
About the data:
Agoda analyzed hotel bookings in May – June 2023, by travelers from Taiwan, Vietnam, India, Philippines, Singapore, Thailand, Indonesia, South Korea, Japan, and Malaysia.
About Agoda
Agoda, a digital travel platform, helps anyone see the world for less with its great value deals on a global network of 3.6M hotels and holiday properties worldwide, plus flights, airport transfers, and more. Agoda.com and the Agoda mobile app are available in 39 languages and supported by 24/7 customer support.
Headquartered in Singapore, Agoda is part of Booking Holdings (Nasdaq: BKNG) and employs more than 6,600 staff in 31 markets, dedicated to leveraging best-in-class technology to make travel even easier.