Lunar Tet has always been a sheer delight and cultural event in the hearts of every Central locals. It does not only showcase their anticipation towards a new hopeful year but also express their resilience in sustaining the most cultural norms and values. That is why Danang, Hoi An, and Hue are more preferable for travelers looking for a festive cultural experience.
As a token of our appreciation to Tet travelers in 2021, Grand Mercure Danang would like to inform our dedicated Tet holiday room offers to embark on the most compelling adventure exclusively for your family as below:
1/ Family Suite Experience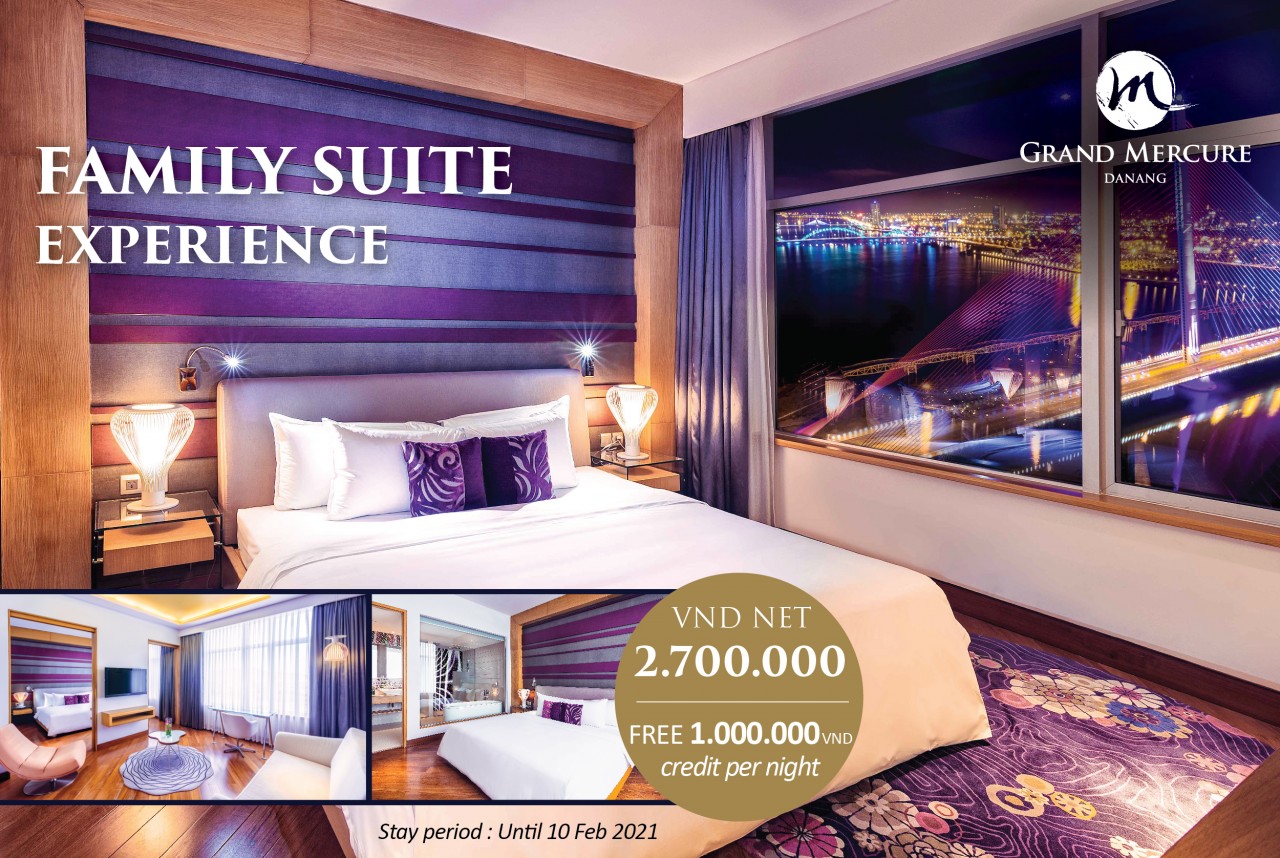 From now until 10/02/2021, the hotel comes up with the hot deal Family Suite Package: with only 2.700.000 VND net/night, you are able to get complimentary breakfast for 2 persons and secure 1.000.000 VND credit per night on any F&B services. Your holiday will start with a stunning view from the upper 19th to 21st floors of Grand Mercure Danang in the spacious 52 square meter Family Suite where our signature bridges including Tran Thi Ly, Dragon and Han River paralleling in front of your eyes. What an extraordinary way to kick off your dream journey!
Furthermore, our suites are designed with the grand bedroom featuring a sumptuous king-size bed. There are also the separate living area with sofa bed, lounger and workspace conveniently ready at your disposal. Last but not less, the spa-like bathroom featuring a walk-in shower and deep standalone tub will make your stay as luxurious as always. The access to Privilege Lounge and its amenities will add to your cultural exploration where a bountiful executive breakfast served exclusively to Family Suite guests.
It is regretful not to mention about our restaurants to satisfy your food passion. With 1.000.000 VND credit, 3 distinctive restaurants are ready for your choice: Lave Rive Gauche – the commonplace venue for succulent breakfast and Friday BBQ seafood, Golden Dragon – top 1 Chinese Restaurant in downtown Danang in the ranking of Tripadvisor offering most exquisite Chinese dimsum buffet and The Veranda Grill which is a perfect green space for Western styled harmonious get-together. 
Further details on Family Suite : https://grandmercuredanang.com/our-rooms/suite/
2/ Tet holiday room offer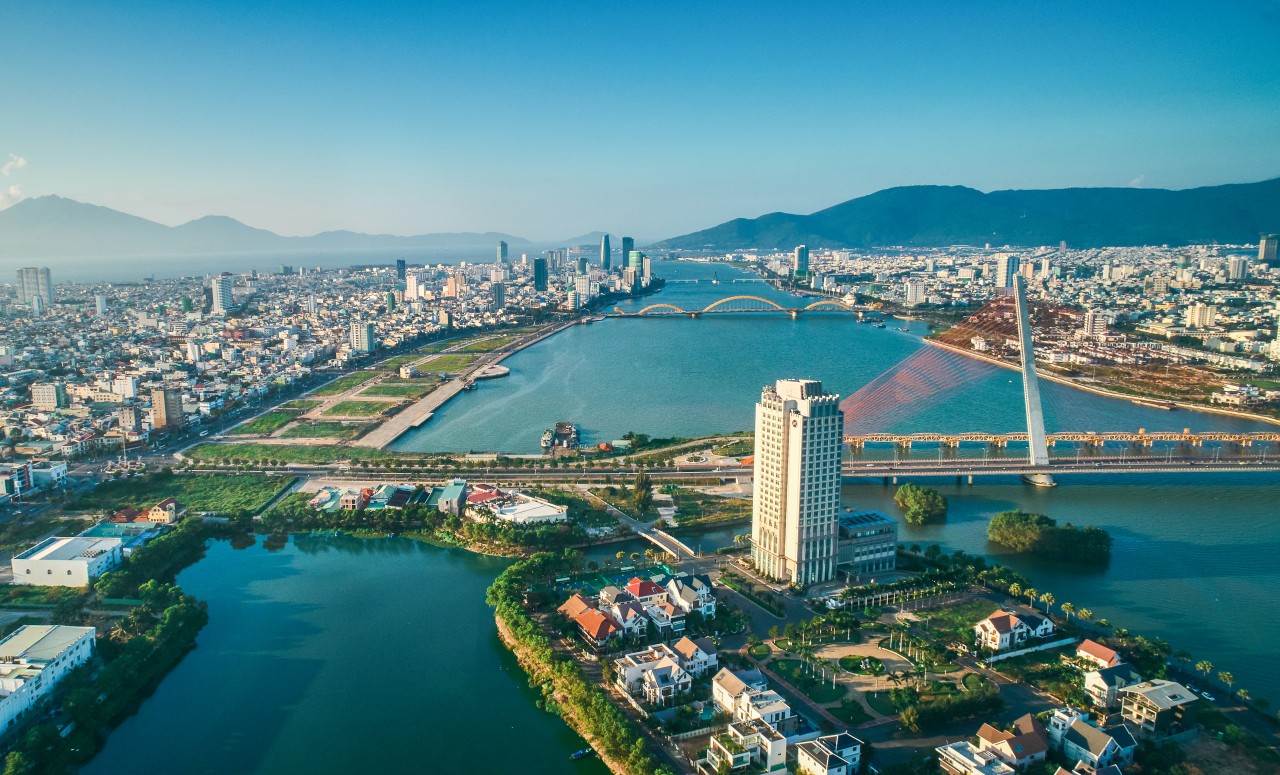 From 06/02/2021 to 21/02/2021, Grand Mercure Danang would like to bestow distinguished guests with Family Tet Holiday package: Booking minimum 2.100.000 Net/ room will be entitled to Complimentary breakfast for 2 persons and secured 700.000 VND credit on F&B or All you can eat dimsum for 2 persons. 
In the heart of Central Vietnam's largest city, Grand Mercure Danang welcomes you with locally inspired décor harmonizing Vietnamese style elegance. Take a step into the soaring lobby, you will be immersed in the hotel's light-filled space, soft music, subtle floral scent and sense of heritage. Just for Tet holiday offers, book room today and embark on your voyage of wonder and relaxation at an incredible price.
It's great to supply a great variety of room categories for your selection. Superior room is priced at least 2.100.000 VND Net/night with capacity 26 square meters that promises you a harmonized and comfortable stay. Taking the panorama view of Banahills or The Han River, guests can freely select other Two single beds or one king-size be fitted with luxurious sheets and crisp bedding. A generous lounge chair and ergonomic workspace offer ample spaces to work or play. To keep you connected, take advantage of our free WiFi. Refresh with the coffee/tea station (complimentary), mini bar and 24-hour room service. The sleek bathroom comprises a walk-in shower, elegant fixtures and locally sourced bath products for your relaxation and recharge in style.
Privilege and luxury await you in a Deluxe room with price from 2.600.000 VND net/room, situated on the 17th to 20th floors. Enjoy 26 square meters of comfort and attention to detail. You are ensconced in a cocoon of sophistication, with enviable views of the mountains to the west or the Han River to the east. As a guest of the executive level, you benefit from access to the Privilege Lounge. There, with unparalleled vistas, you can indulge in a generous breakfast. Other advantages include private check-in/check-out are applicable as well.
Our suites room rate from 3.100.000 VND net, which offers 52 sq m of luxuriously appointed spaces and breathtaking views from the 19th to 21st floors. All suite guests enjoy exclusive access to the Privilege Lounge and its seasonal offers.
Our team can accommodate all your flavor and ensure the best Tet cuisine to celebrate Lunar New Year. If you are a fan of Chinese dimsum, one of our offer is available to your fulfillment: Dimsum All you can eat for 2 persons at Our Golden Dragon Restaurant – the top-notch Chinese Restaurant in Danang. Esthetically designed by talented chefs from the Sofitel Macau, Golden Dragon's menu is always the remarkable touchpoint to sustain guests' appetizer, showcasing a dining experience of over 50 Dim Sum treats, meticulously hand-crafted dumpling, siew mai, fried spring roll, steamed rice roll, Chinese soups & noodle soup, fried seasonal vegetable, fried noodle, fried rice, etc. and Chinese desserts.
—
Please provide promotion code: NEW TET OFFER when book this offer via hotline: (+84) 0236 379 7777 or email: [email protected]
——————
GRAND MERCURE DANANG
T: +84 (0) 236 379 7777 | E: [email protected]
Green Island, Hai Chau District, Danang, Vietnam