Everyday Ms. Nguyen Thuy Linh would look at the hand-embroidered products at the shop and hear her mother's words: "Let's continue to keep this work, darling".
In 1969, Mrs. Bach Thi Ngai, Ms. Linh's grandmother first opened the embroidery shop "Tan My" at 109 Hang Gai Street. Although it was a small shop and located in an alley, it was also the first shop selling hand embroidery in Hanoi. Like all of Hanoi's original girls, Mrs. Ngai had been taught very strictly by her family to work diligently, be elegant, use proper speech, have good morals (cong – dung – ngon – hanh) and to be an expert in all housework, especially in sewing and embroidery.
According to Vietnamese wedding traditions, the bride and groom used to use one pair of pillows with the first two letters of their names embroidered on them. Mrs. Ngai and her only daughter, among her seven children, would embroider love birds on the pillowcases to use in the couple's bedrooms. Ms. Do Thanh Huong had been taught by her mother since she was very young and grew up very skilled in her handiwork. Mrs. Ngai had always taught her daughter that in business, the most important thing is to be trustworthy, and to maintain the quality of the products. She always demanded that the quality of each product had to be the best and the most
beautiful. If not satisfied, she was ready to do it again until it reached perfection.
During the war years, they embroidered messages of love on handkerchiefs for soldiers to take with them while they were away. Later, as the economy grew and demand for hand embroidery increased, Mrs. Ngai expanded into other hand embroidery products such as blankets, sheets, pillowcases, tablecloths, sleepwear, and all kinds of bags. She then visited the village of embroidery – Thuong Tin to look for skilled embroiderers to work with her on producing high standard hand embroidery products. Gradually, nearly 500 people from the village joined with her, and still work with her family now and into the future. They even called her, affectionately, "the woman who revived embroidery".
Ms. Huong helped her mother at the age of 12 to make hand embroidery products. She grew up with embroidery and has always loved it. Hand embroidery is an art of formalization – the artist must persevere and meticulously complete each needle work, requiring the artist to have great imagination, a delicate sense and view of life to put their full mind and soul into their work to crown the beauty and vitality of life through each product. That is why some embroidered pictures can be mistaken with a real photo from the first moment they catch a person's eye. It can be said that each embroiderer is an artist and each embroidery product is a work of art. Thanks to the love and passion for the embroidery industry, Tan My has grown from a small shop in an alley to a showroom larger than 1000m2 named Tan My Design at 61 Hang Gai, located in the center of Hanoi old town.
To expand their product lines, Tan My Design also provides other traditional Vietnamese products such as lacquerware, ceramics, jewelry, artworks, and fashion clothing, designed and manufactured in Vietnam. That is the reason why Tan My Design is on the list of 11 destinations that cannot be missed in Hanoi by the New York Times magazine. It has been certified by the Department of Tourism Hanoi as meeting the standards of providing international service, and appears on many domestic and international television programs. Tan My Design is also honored to be visited and shopped by many Heads of State and Royal family members from around the world.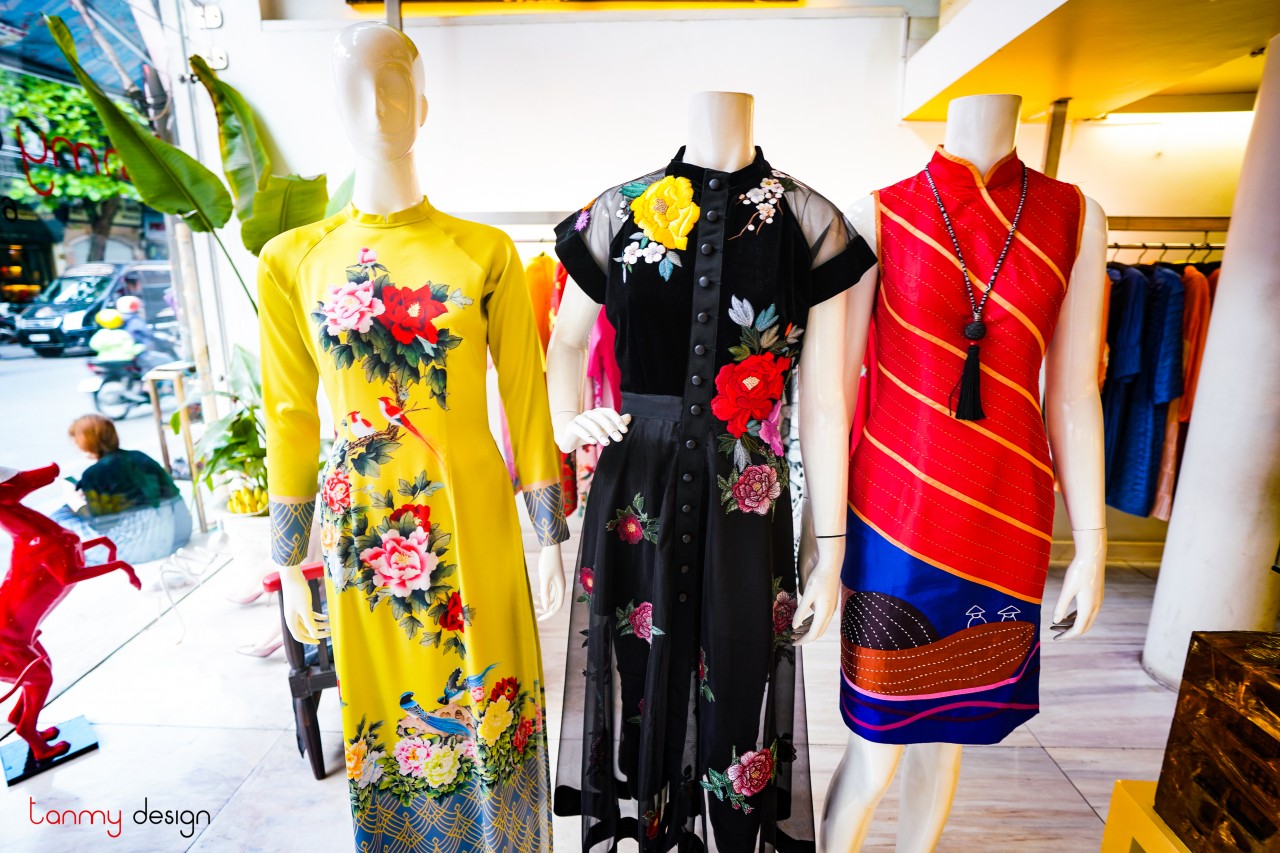 Although Mrs. Ngai passed away almost 2 years ago, third generation Ms. Nguyen Thuy Linh always feels like she is still living next to her, as every embroidery product in the shop reminds her of grandmother. From the time she was born, her grandmother would embroider flowers on the clothes she wore. Embroidery has been running through her veins and has become her whole life. Following the family tradition, she also has passion for embroidery. Like her grandmother and mother, that love has helped her overcome all the hardships in developing Tan My as a beloved and trustworthy brand. She hopes to make Tan My Design a cultural and art center where lovers of "made in Vietnam "products can come and cherish the artworks, and where Vietnamese talented artists and designers can discuss and exchange their passion and skills. They strive to make it an indispensable destination for international friends to explore beautiful Vietnamese crafted products.
Vu Minh Anh, Ms. Linh's 7-year-old daughter is also very interested in embroidery products. She speaks English very well and likes to go to her mother's showroom to meet and talk to foreigners who come to shop. She even helps her mother sell the products. Ms. Linh hopes and believes that her daughter also loves embroidery and that she inherits the family tradition. "Let's continue to keep this work, darling" – These words were told by Ms. Linh's grandmother to her mother, by her mother to her, and certainly she will also tell her daughter.