Vietnam, and particularly Hanoi, is heaven for food lovers. What would be a better way to start a good day than beginning with a delicious taste first thing in the morning? Here are some must-try local options to please your appetite.
Pho
Needless to say, this is definitely a must-try dish when visiting Hanoi. Even though there are many Pho restaurants around the world, nowhere is the true taste of its savory broth replicated like at its origin, Vietnam. Pho in the street eateries is far better and cheaper than Pho in hotels and restaurants. Popular places you should try are: Pho Bat Dan (49 Bat Dan Street), Pho Ly Quoc Su (10 Ly Quoc Su Street), Pho Thin Lo Duc (13 Lo Duc Street), Pho Suong (24 Trung Yen alley and no.1 alley 26 Nguyen Hong Street), Pho Vui (25 Hang Giay Street).
Banh mi
"Vietnamese sandwich" is also known as one of the best street foods in the world. You can find it anywhere on the street. "Banh mi" is a Vietnamese baguette made from wheat and rice flours with a thin crispy crust, filled with pork, pate, cured ham and Vietnamese herbs and vegetables such as coriander, cucumber, carrot, and radish. Popular places are "Banh mì pate Lan Ong" (8 Cha Ca Street), "Banh mì cha Le Dai Hanh", "Banh mi 38 Dinh Liet Street", "Banh mi ba Dan" (34 Lo Su Street).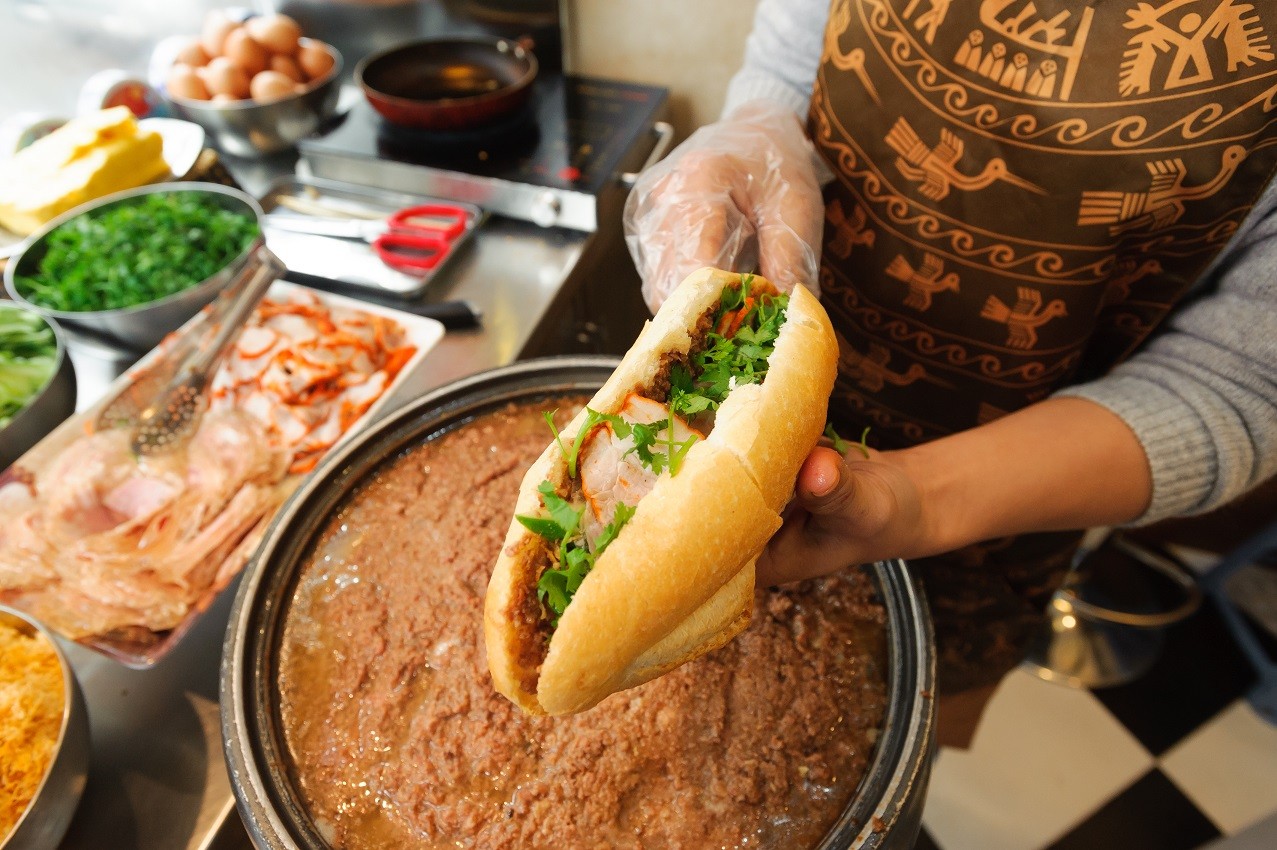 Xoi
"Sticky rice" is one of the most famous local foods for Vietnamese. It can be eaten for any meal of the day. The fat and sweetness of the sticky rice include additional flavors with green mung bean paste, chicken fat, topped with tasty meat, eggs or homemade pate. Hanoi sticky rice is truly a guilty pleasure. You should visit "Xoi xeo Hang Bai" (at the crossroad of Hang Bai and Ly Thuong Kiet streets), meat sticky rice at 57 Tho Nhuom Street, "Xoi Ba Thao" (41 Duong Thanh Street), "Xoi Yen" (35B Nguyen Huu Huan Street).
Bun
Other than "pho", "bun" (rice vermicelli) is also signature food of Vietnam. "Bun" may be the food having the most variations in Vietnam. In Hanoi alone, there are more than 20 types of "bun", all of which have distinct and delicious flavors. Some typical types local people have for breakfast are "bun dau mam tom", "bun rieu", "bun oc", "bun ca", "bun moc", "bun suon", "bun thang", "bun bo Hue". You can try "bun moc" at 57-59 Hang Luoc Street, "bun thang" at 5 Hang Trong Street, "bun oc" at 43 Nguyen Sieu Street.