Just over an hour drive from Hanoi, the noisy atmosphere and smog have completely disappeared, replaced by the majestic scenery of mountains and forests of Hilltop Hoa Binh golf course – which has an extremely favorable view with unique terrain and landscape.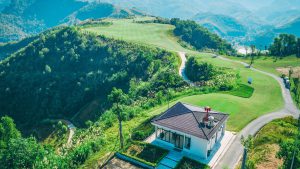 The most unique feature of this golf course is the huge height change between the holes, giving golfers the feeling of moving and hitting the ball from one hill to another. The view from all sides of Hilltop is extremely wonderful, both majestic and poetic. The lush greens of the Paspalum grass and the colorful blooms contrast with the white sand bunkers and red rock outcrops. Mini-Verde Bermuda green grass gently undulates and keeps a suitable playing speed for all golfers.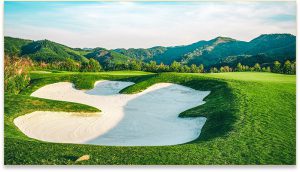 Foreign golfers especially enjoy this course because of its tough challenges. IMG Design Company has taken advantage of the unique landscape in Hoa Binh to create a beautiful golf masterpiece. Each hole is created according to international standards, possessing a 360-degree view towards the green space of the forest and mountains, giving players an exciting golf experience.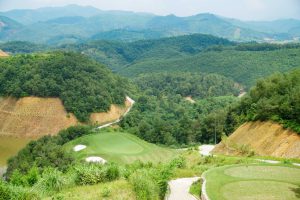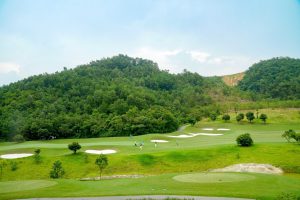 The first 9 holes are located in the center of valleys and streams with gentle and soft contours that give golfers a light relaxation with medium difficulty, players can easily have par or birdies. The following 9 holes are arranged winding along the way to the top of the mountain, so it is steeper and higher, requiring powerful and risky swings. The 2 holes with the highest difficulty are 13 and 14. This is a par 3 hole with water surrounding the green, you will easily hit the ball to the water hazard or lose it. The next hole was equally difficult as the tee shot was obscured from view. Golfers need to listen to the advice of the caddy to reduce the risk of terrain factors. The last holes are designed on the slopes, so it requires the golfer to add energy and save energy to complete these last holes.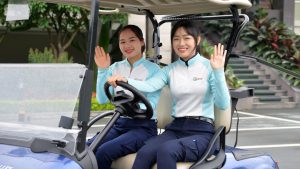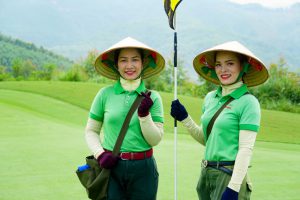 With the hot weather in the Northern summer, golfers can take advantage of the night light system to play golf rounds with a better price and cooler climate. In the winter, playing golf here is extremely interesting because of the cool atmosphere and beautiful hilly landscape hidden in the fog.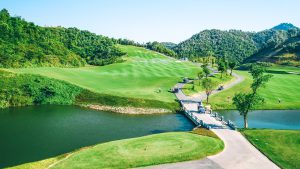 ——————-
Hilltop Hoa Binh: Dan Ha commune, Ky Son district, Hoa Binh province
Contact for booking: 02183 841 666 [email protected]