Expected to Open in 2025, Quy Nhon Marriott Resort & Spa, Hai Giang will Form Part of Hai Giang Merry Land, a New Mixed-Use Development that Will Transform a Pristine Peninsula on Vietnam's South-Central Coast
Marriott International, Inc. today announced it has signed an agreement with leading Vietnamese real estate company, Hung Thinh Group to open Quy Nhon Marriott Resort & Spa, Hai Giang – a new resort in the Binh Dinh province. The newly-constructed 250-room resort will be part of Hai Giang Merry Land, a major mixed-use development covering three hectares of land on the pristine Phuong Mai Peninsula.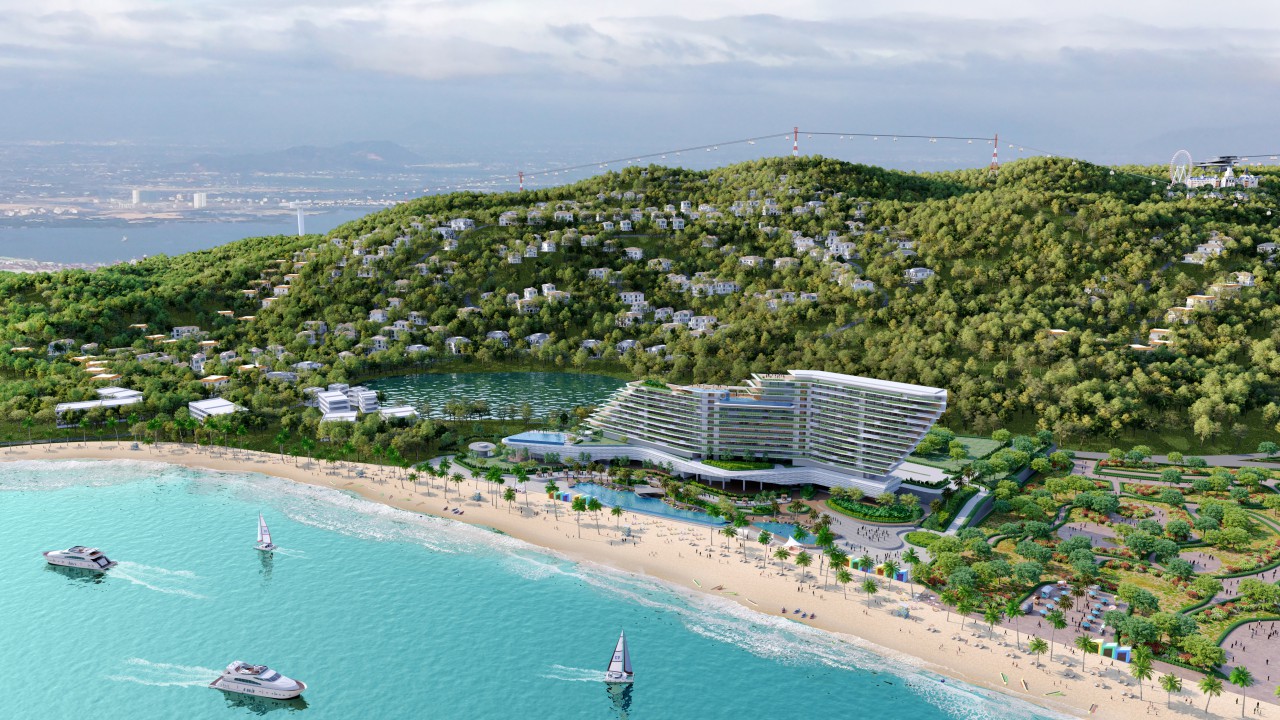 "We are thrilled to be working with Hung Thinh Group to bring Marriott Hotels, the signature flag within Marriott Bonvoy's portfolio of 30 extraordinary brands, to the Binh Dinh province," said Jakob Helgen, Area Vice President, Thailand, Vietnam, Cambodia, and Myanmar, Marriott International. "This signing further underscores Marriott International's commitment to expand its footprint in Vietnam, and we look forward to providing guests with access to our world-class brands with expanded travel choices and diversified experiences."
Every Marriott Hotels property is thoughtfully-designed with forward-thinking, aesthetically pleasing spaces that allow guests the space to work, relax, and be inspired. The new Quy Nhon Marriott Resort & Spa, Hai Giang is slated to feature 250 rooms and suites that offer a perfect balance of a modern purposeful look with residential and locally-inspired interiors. The resort is set to offer an innovative mix of dining options, including three restaurants and a bakery. Other planned facilities include a fitness centre and multi-purpose event and meeting spaces.
Quy Nhon Marriott Resort & Spa, Hai Giang will be located on the country's south-central coast and will provide guests with direct access to an expansive beach and extensive leisure facilities, including a championship golf course designed by Greg Norman, theme park, shopping precincts, and much more.
Hai Giang Merry Land is located approximately 30 minutes from Quy Nhon City by road via Thi Nai Bridge or 10 minutes by boat via a dedicated ferry terminal. Phu Cat Airport is about one hour and 10 minutes away by car, with regular direct connections from Hanoi, Ho Chi Minh City, and other Vietnamese hubs.
Marriott International currently operates 10 hotels and resorts in Vietnam across six brands including JW Marriott, Sheraton Hotels and Resorts, Renaissance Hotels, Le Méridien Hotels & Resorts, Four Points by Sheraton, and Fairfield by Marriott.
For more information about Marriott International, please visit www.marriott.com.
—–
Marriott International, Inc. (NASDAQ: MAR) is based in Bethesda, Maryland, USA, and encompasses a portfolio of approximately 8,000 properties under 30 leading brands spanning 139 countries and territories. Marriott operates and franchises hotels and licenses vacation ownership resorts all around the world. The company offers Marriott Bonvoy®, its highly-awarded travel program. For more information, please visit our website at www.marriott.com, and for the latest company news, visit www.marriottnewscenter.com. In addition, connect with us on Facebook and @MarriottIntl on Twitter and Instagram.
About Marriott Hotels®
With over 590 hotels and resorts in more than 65 countries and territories around the world, Marriott Hotels is evolving travel through every aspect of the guest's stay, helping to relax, clear minds, stimulate new ideas, and anticipate travelers' needs, leaving them inspired to reach their full potential. Boldly transforming itself for mobile and global travelers who blend work and play, Marriott leads the industry with innovations, including the Greatroom lobby and Mobile Guest Services that elevate style & design and technology. To learn more, visit www.MarriottHotels.com. Stay connected to Marriott Hotels on Facebook, @marriott on Twitter and @marriotthotels on Instagram. Marriott Hotels is proud to participate in Marriott Bonvoy®, the global travel program from Marriott International. The program offers members an extraordinary portfolio of global brands, exclusive experiences on Marriott Bonvoy Moments and unparalleled benefits including free nights and Elite status recognition. To enroll for free or for more information about the program, visit marriottbonvoy.com.
About Hung Thinh Corporation
Since its inception 20 years ago, HUNG THINH CORPORATION has developed for more than 100 projects with 4,500 ha of land bank, providing more than 50,000 products to the market. HUNG THINH CORPORATION has its projects developed at the nationwide scale.
Hung Thinh has transformed itselt into a corporation model, and has built a complete ecosystem including: investing and developing various types of real estate, construction, PropTech and Fintech technology, business on digital platform.  This new direction to create more added value for this comprehensive ecosystem will help HUNG THINH CORPORATION enhance its adaptability and fortify its leading position in Vietnam's real estate market. Affiliates and member companies in the new ecosystem shall be able to maximize their capacities to create more products with real value, bringing trust, satisfaction, and many practical benefits to the valued customers and partners when participating in the value chain to altogether develop "For a prosperous community."