Fusion's first culinary-focused resort in Vietnam is now fully open
Understanding that the journey to any traveler's heart often requires a detour through the stomach, Fusion opened Maia Resort Quy Nhon as a gastronomically-driven, 94-villa resort in a relatively untrodden destination along Vietnam's southern coast.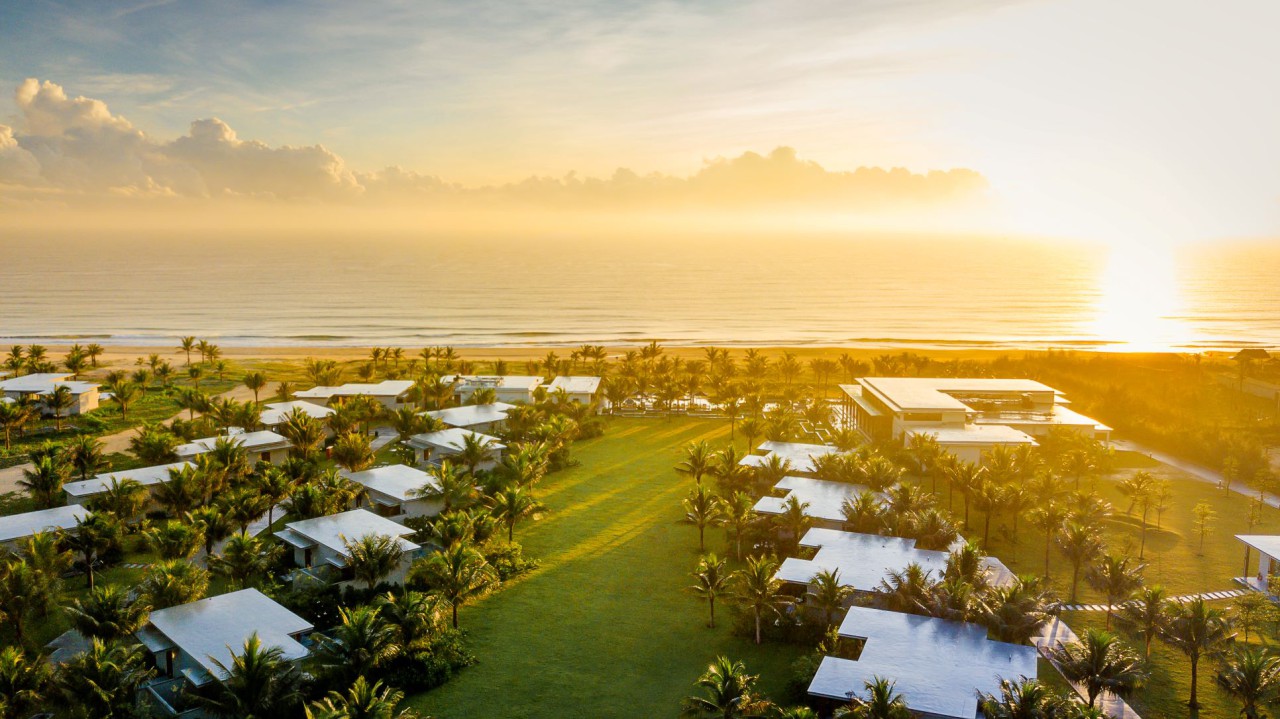 Fusion's newest property had a soft launch in late 2020. Due to the pandemic, the resort only recently celebrated its grand opening in December 2021, as it cut the ribbon on the final villas.
The latest 'Maia' brand expands on Fusion's original wellness focus by bringing in another important factor in a trip away – food. Maia guests have the choice of dinner or lunch, in addition to the complimentary breakfast; or an indulgent spa therapy, as part of the nightly rate.
The property also offers a range of signature culinary experiences including Once Upon a Table, a four-course chef's table style experience at their intimate dining destination ad hoc; Barefoot Destination Dining overlooking the ocean; a private BBQ with a personal chef served up in the guest's villa; an in-villa high tea service; and Breakfast by Design, which among many choices includes the option of an Insta-worthy floating breakfast tray.
"Gastronomy is often one of the most integral parts of a holiday as it has the capability to transform the unknown into a comforting and familial experience", said Marc Bittner, General Manager of Maia Resort Quy Nhon. "At Maia, we aim to take guests beyond the familiar and introduce them to a selection of regional specialties while featuring the hallmarks of Vietnamese gastronomy".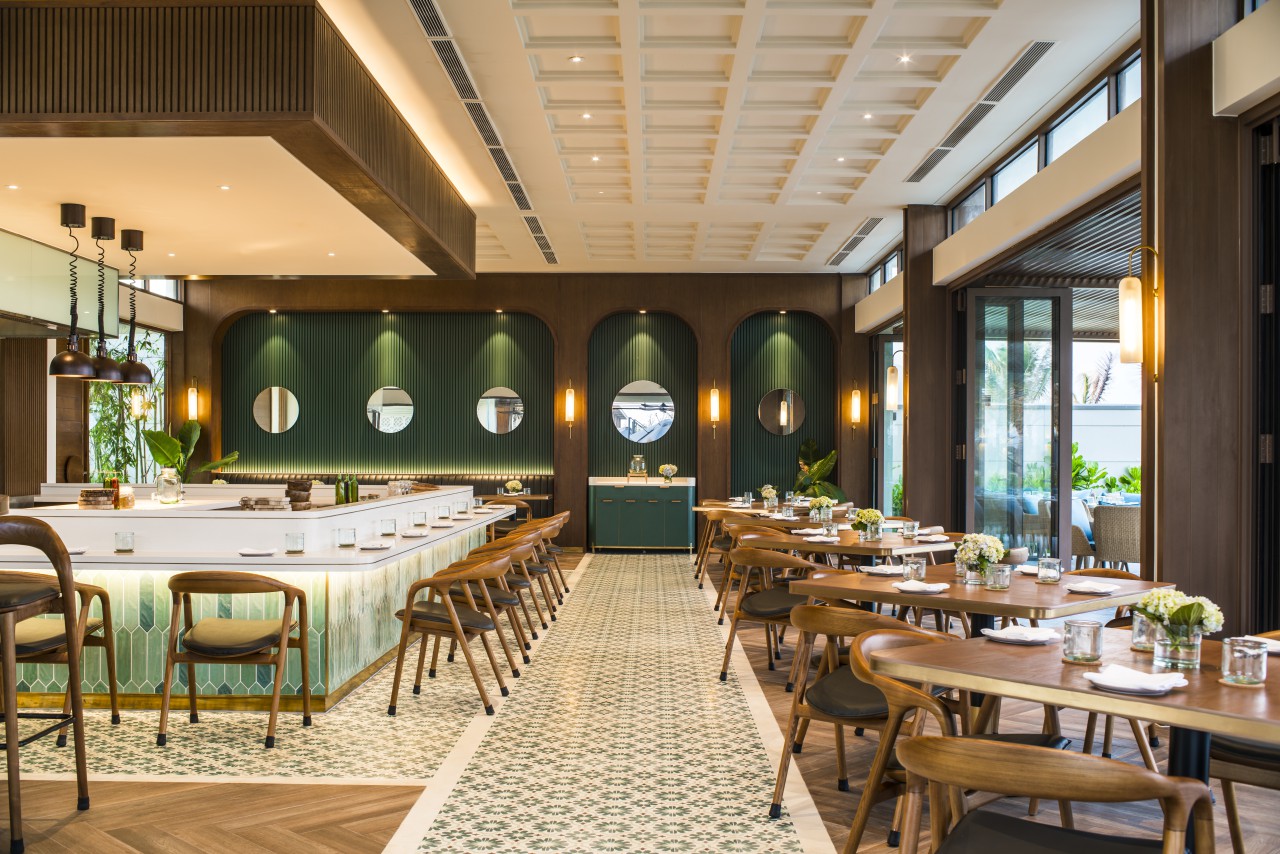 If guests are more wellness-inclined they can opt for a daily spa treatment, instead of half board. Vẽla spa, is a ten-treatment-room oasis that draws inspiration from the surrounding landscape with natural design elements including granite, teak wood, and flora indigenous to the location. The ecologically-minded spa follows a jungle to jar concept with treatments built around local ingredients.
The property features an expansive pool and fitness center stocked with the latest international standard equipment.
Maia has two restaurants, Vị and ad hoc, along with an open-air pool bar. The casual all-day dining option Vị, which translates as taste, can host up to 146 guests, with indoor and outdoor seating. The restaurant has a local focus celebrating the abundant seafood and produce of the region. Live cooking stations are just as eye-catching as the view out over Phuong Mai Bay. The interiors also take inspiration from the environs and the decor was produced mostly by local artisans.
ad hoc is a more intimate affair that can host a maximum of 96 diners, inside and outside, at a time. The head chef scours the local markets daily to find ingredients for a menu that changes often. The restaurant offers a communal dining experience, akin to gathering for a feast with family.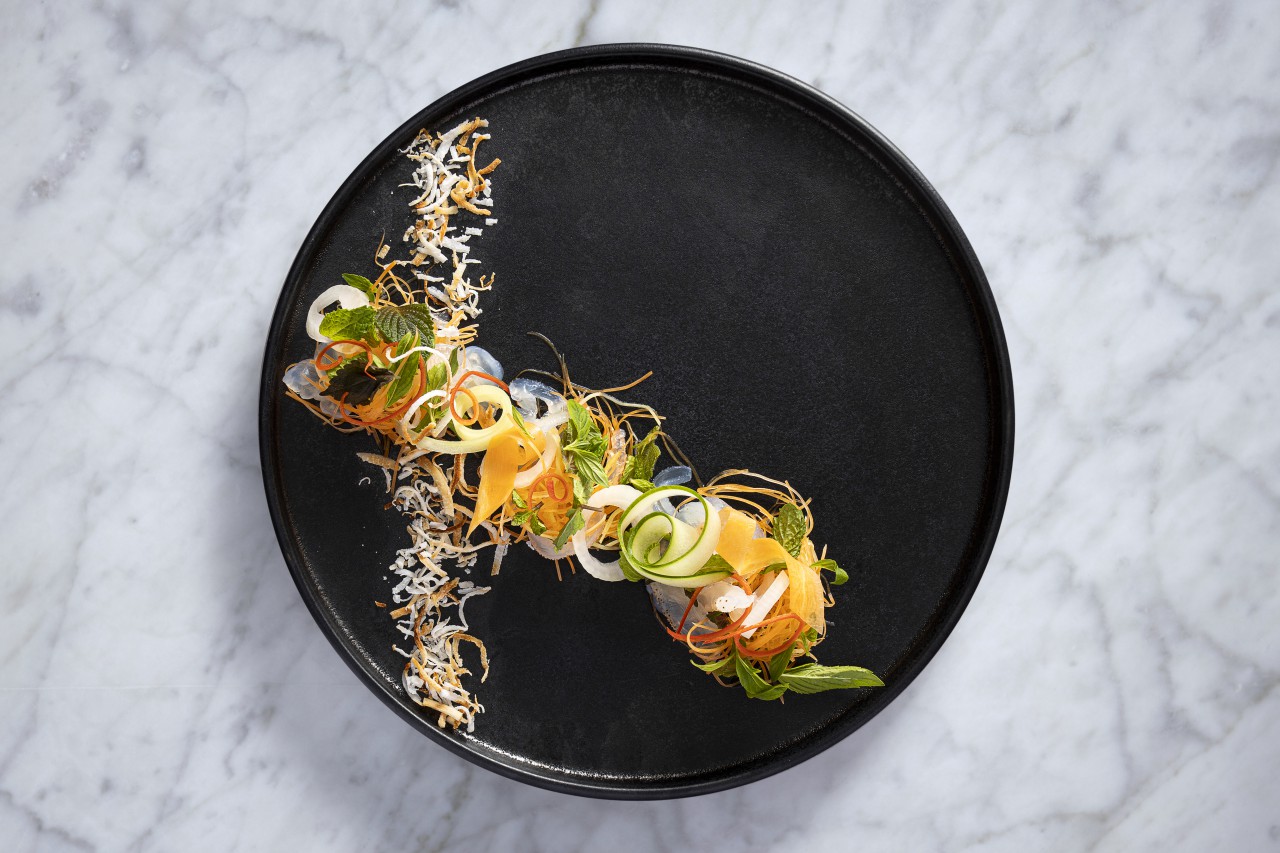 The 94 villas range in size from one and three bedroom villas, most with private plunge pools and gardens. Accommodation options range from 61-square-meters for a semi-detached villa to a palatial 264-square-meters for the Three Bedroom Beachfront Pool Villa. The interiors all follow an earthy color palette, with pops of various ocean hues throughout. The link to the earth continues throughout the property with the use of reclaimed elements such as preserved driftwood, copper, and rattan making up the core materials used for the overall design.
The property is located on the shores of Phuong Mai Bay in Quy Nhon, an area that has managed to retain its local charm and has been under the radar of most travelers to Vietnam, despite being just an hour's flight from the country's commercial hub, Ho Chi Minh City.
The entry category of room starts at USD 185 net per night, inclusive of half board or one spa treatment per adult per room. 
www.maiaresortquynhon.com
ABOUT FUSION
Fusion is a leader of wellness-inspired hospitality brands in Vietnam, managing 11 properties in Vietnam and Thailand and expanding to open new hotels and resorts in both countries.
Fusion Resorts combine stylish, sharp and sophisticated, blending bed-to-beach living and holistic wellness in a fresh approach to traditional beach vacations.
Fusion Suites give urban adventurers or family explorers a place to recover in a city to discover, mixing comfort and convenience with funky, fun and informal.
Fusion Originals are culturally curated and artistically contemporary, the stylish place in town where every layer, nook and cranny tells a story overflowing with unique twists and surprises.
Fusion Retreats are health conscious, fit and focused, rebalancing body, mind and soul in sanctuaries of holistic restoration and indulgent pampering.
By Fusion: Hotels by Fusion allow guests to explore and be exposed to truly one of a kind retreats whilst still indulging in the traditions, values and facilities provided under the management of Fusion Hotel Group.
Maia Resorts guide the inner foody on an unforgettable journey of gastronomic exploration and holistic spa treatments designed to tantalise the taste buds and revitalise the spirit.
GLOW Hotels & Resorts appeal to today's modern travelers who are ready for anything, seek fun and avant-garde experiences. Each unique property plugs into exciting urban vibes or exclusive seaside destinations. Don't just live, GLOW!
Hiive: Designed with the business traveller in mind, Hiive provides ideal accommodation for both long- and short-term business travel in Vietnam's prime locations for commerce and industry.
—