New World Hoiana Beach Resort is nestled within the prestigious Hoiana Resort & Golf – Vietnam's foremost luxurious integrated resort, positioned along the immaculate coastline adjacent to the UNESCO World Heritage Site,Hoi An, Vietnam. This breathtaking 4-kilometer beachfront haven comprises four opulent hotels, housing an impressive array of more than 10 world-renowned restaurants offering a diverse range of over 12 cuisines. Additionally, the complex proudly showcases the exceptional Hoiana Shores Golf Club, an exquisite 18-hole golf course masterfully crafted by renowned architect Robert Trent Jones Jr.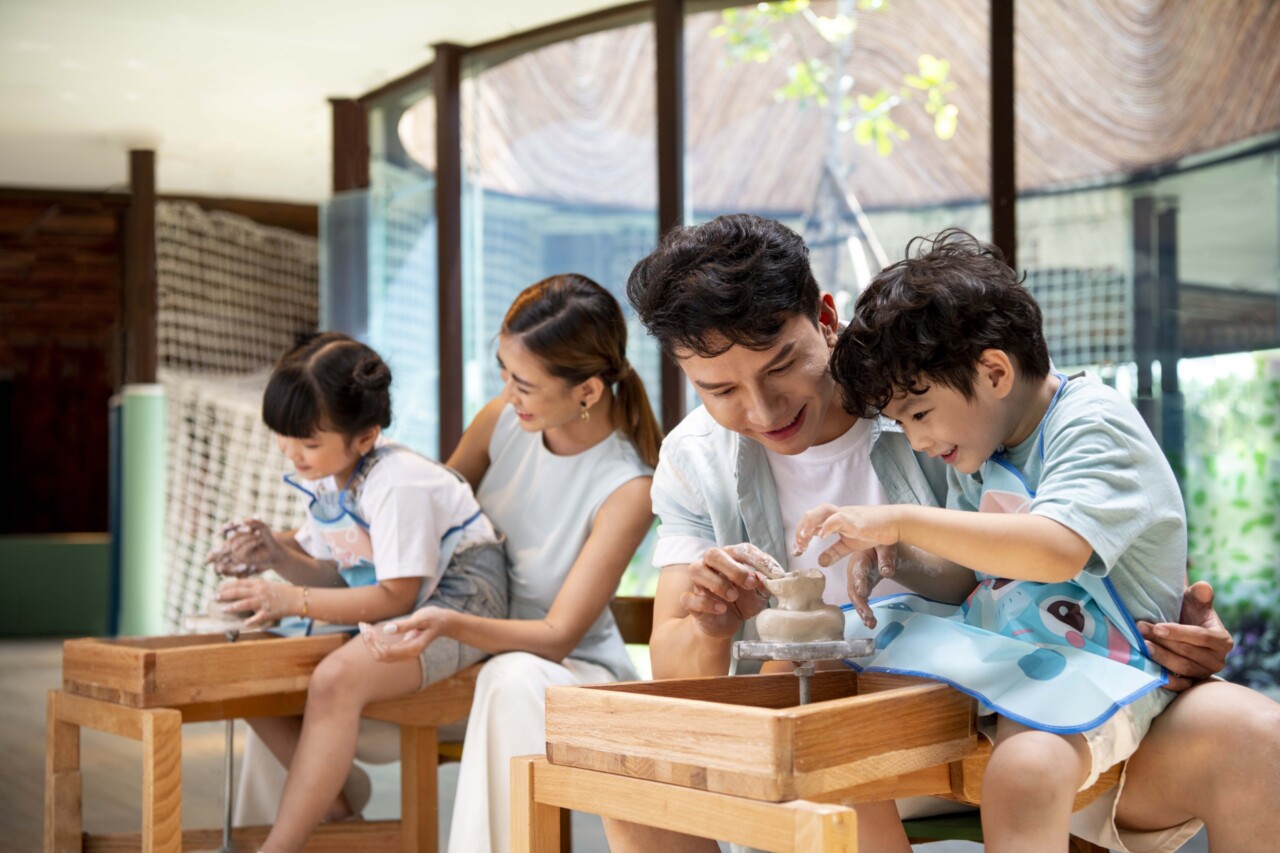 New World Hoiana Beach Resort features 330 modern guestrooms and suites, a dynamic kids' club, a tantalizing array of dining choices, a plethora of recreational activities, and a new  conceptof Spa, inspired by Asian bathing culture.spa . Situated conveniently near UNESCO World Heritage sites, Hoi An ancient town and My Son sanctuary, the resort promises extraordinary and unforgettable experiences suitable for all age.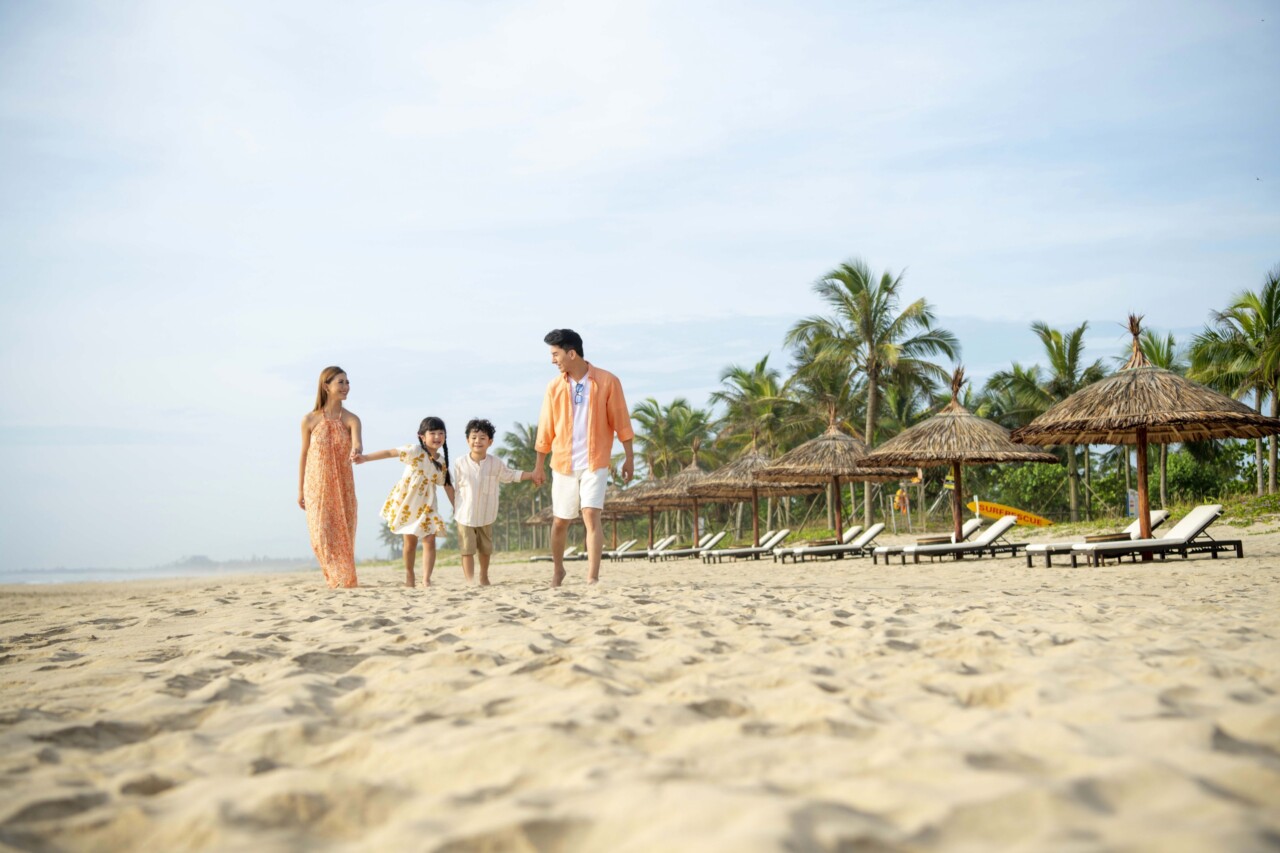 Diverse culinary journey: Embark on a diverse culinary journey where an array of dining options awaits, promising an unforgettable family culinary experience. At Cove, a charming poolside haven, the entire family can bask in the sun or enjoy playful swims, complemented by light refreshments and refreshing treats throughout the day. Blend, our Asian market-style restaurant, offers an extensive selection of Asian and local delicacies. Its indoor and outdoor seating areas provide the perfect setting for family and friends gatherings. Designed to inspire, engage, and foster connections, The Commons is a vibrant and interactive space, serving as an all-day social hub where families can spend quality time together or making  new friends.
Play, our lively kids' club, offers a comprehensive range of indoor and outdoor activities that create lasting family memories. With interactive workshops, hands-on experiences, and captivating games such as lantern and pottery making classes, children can embark on a journey of learning, exploration, and adventure while forming new friendships within a social, digital-free environment.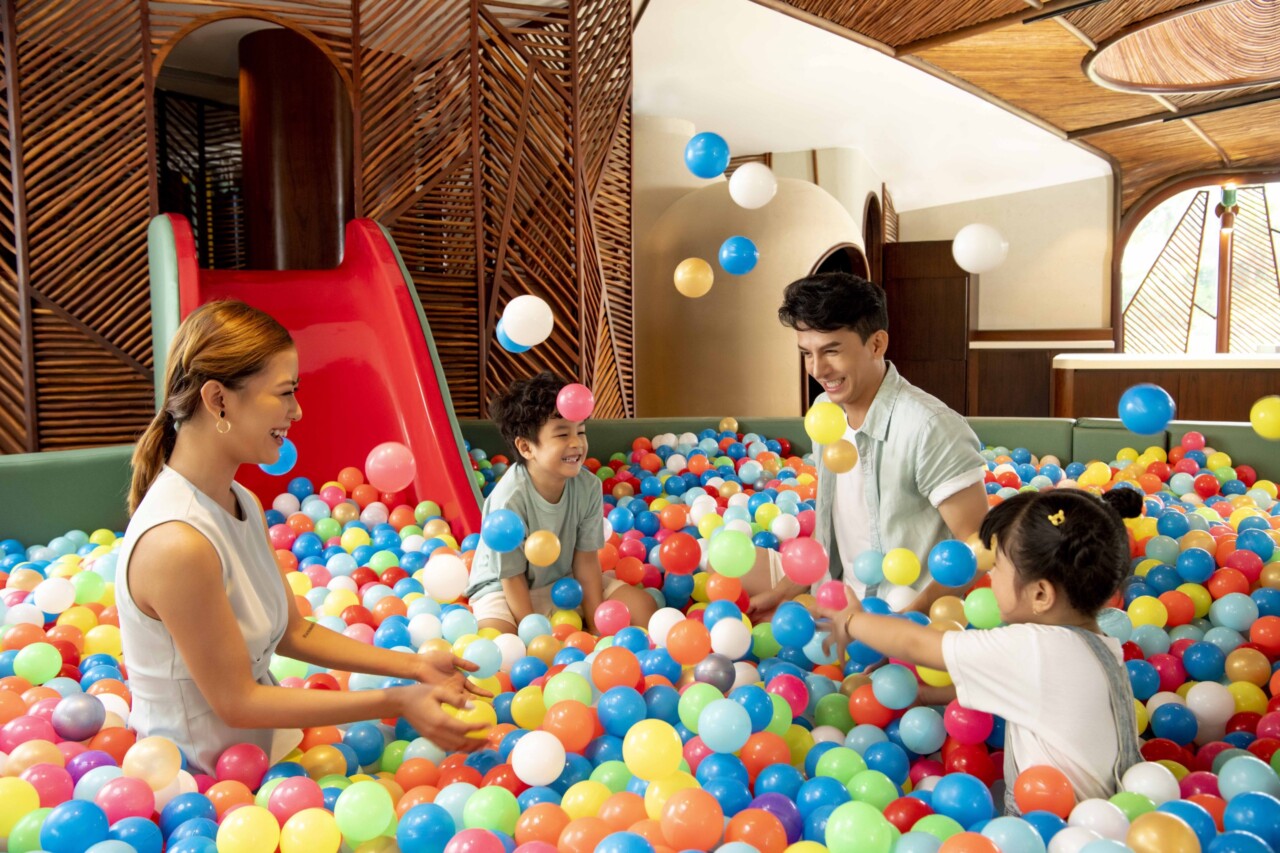 Downtime Renew unveils an innovative spa concept that reimagines the essence of communal bathing, drawing inspiration from traditional Asian bathing culture. It presents holistic body scrubs and massages, incorporating the invigorating essence of Vietnamese coffee, meticulously crafted to revitalize both body and mind. A sanctuary for gueststo indulge and invigorate during their stay.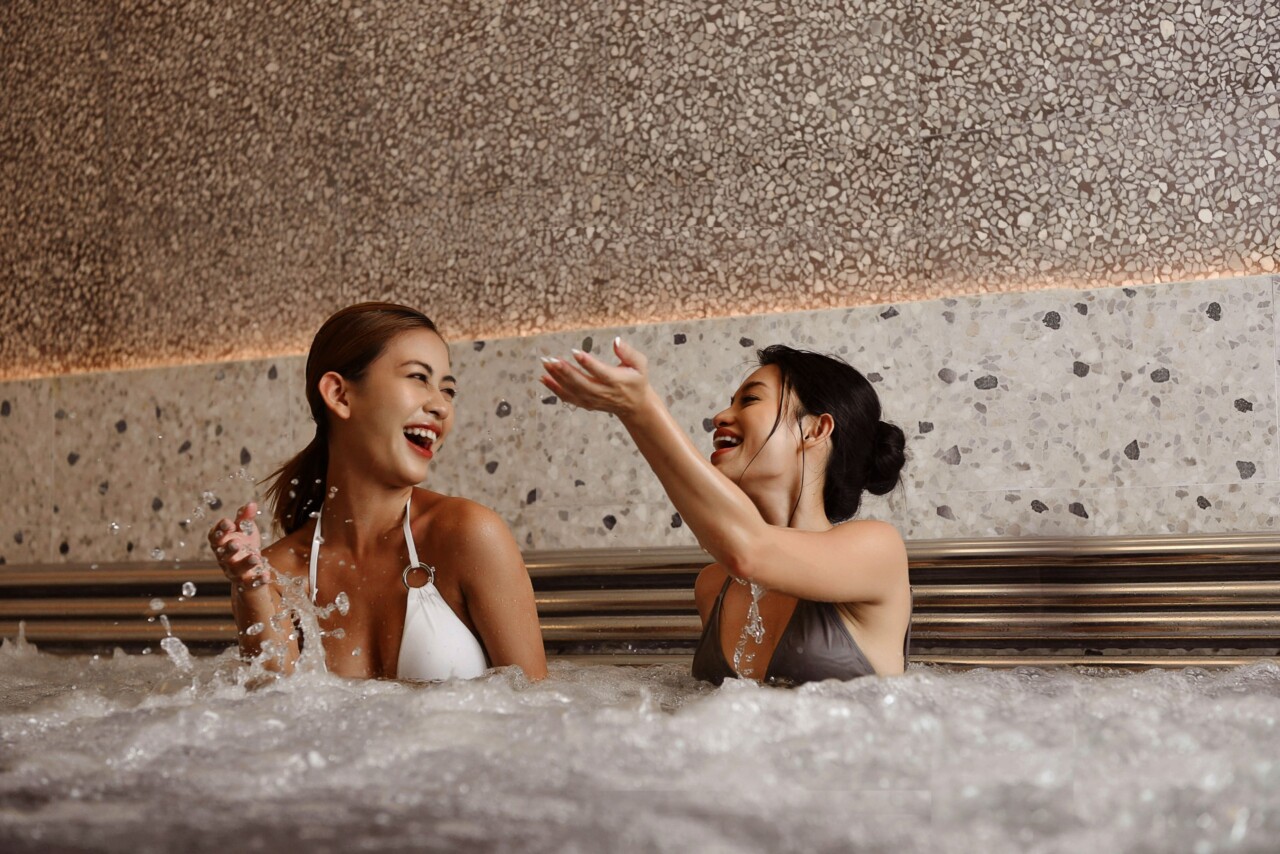 Outdoor Family Activity: The resort offers a diverse selection of exciting outdoor family activities that span the entire day, fostering valuable bonding moments among families and friends. Engage in invigorating kayak sessions, join the lively foam parties, or participate in swimming lessons and beyond. We provide a range of complimentary equipment for family activities, including bikes, SUP boards, and swimming floats. Additionally, the thrilling water slides promise unforgettable moments of togetherness that you simply can't afford to miss for a truly memorable family experience.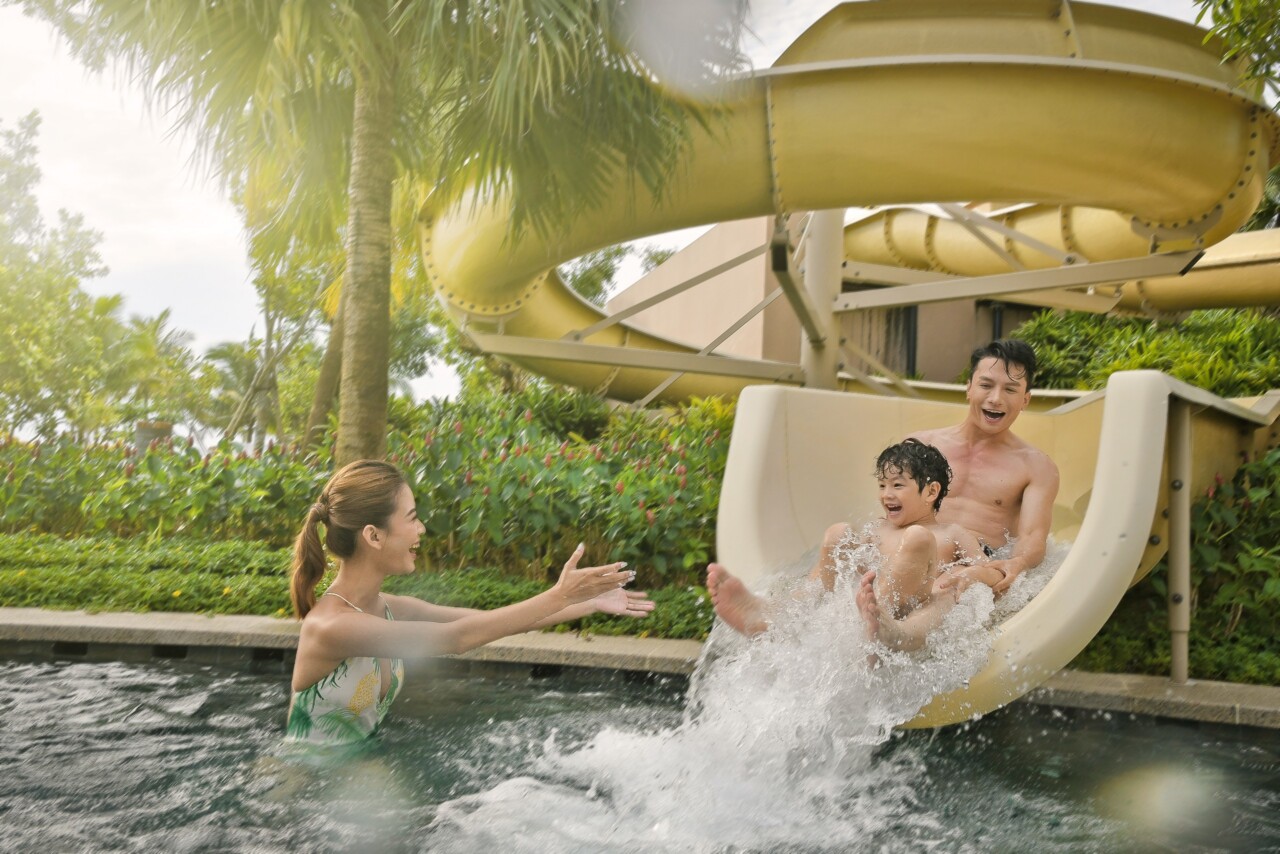 Destinations: The resort enjoys a strategic location in close proximity to an array of captivating destinations. The historic ancient town of Hoian is a mere 15-minute drive away, while Tra Que village beckons just 20 minutes from our doorstep. In only 40 minutes, you can immerse yourself in the protected marine biodiversity of Cu Lao Cham island, while the remnants of the Champa King's palatial constructs in My Son are a 1-hour and 30-minute drive away. Just 5 minutes from the resort, the Cẩm Thanh Nipa Palm Site awaits, covering 57.68 hectares and offering an exciting outdoor activity destination that families shouldn't miss. Embark on a visit and enjoy both fun and the chance to learn traditional Vietnamese basket boat control techniques and fishing skills in this engaging experience.
About New World Hoiana Beach Resort
New World Hoiana Beach Resort is a new luxury resort that opened in Central Vietnam in April 2023. It is the second resort and fourth property in the New World Hotels & Resorts in Vietnam. The resort offers 330 luxurious guest rooms and suites designed with traditional Vietnamese aesthetics and sustainability in mind. The dining options provide a mix of regional Vietnamese, Chinese, and Southeast Asian dishes, and the resort also offers flexible meeting venues, function spaces, and a focus on wellness. Additionally, there are spaces designed for children to explore and play in a safe environment. The resort is located within the Hoiana Resort & Golf property and offers access to 4 kilometers of coastline, world-class entertainment, and a championship golf course on the premises. It is also located within a 15-minute drive of Hoi An's UNESCO-listed heritage quarter and the protected marine biodiversity of the Cham islands.
About New World Hotels & Resorts
New World® Hotels & Resorts are upper-upscale business, MICE-focused hotels and resorts in convenient central locations in primary and secondary cities in China, major Asian gateways and popular vacation destinations.  A total of 11 New World Hotels & Resorts properties are located in Beijing, Dalian, Guiyang, Wuhan, Hong Kong, Malaysia, The Philippines and Vietnam with an affiliated hotel in Shunde. Most are 350+ room hotels offering a full range of relevant amenities and services, including a variety of restaurants, business services, extensive meeting facilities, Residence Club executive floors and recreational options.  For more information, please visit newworldhotels.com
About Hoiana Resort & Golf
Hoiana Resort & Golf, Vietnam's pre-eminent luxurious integrated resort, is located on the pristine coastline near the UNESCO World Heritage Site in Hoi An, Vietnam. The stunning 4-kilometer beachfront complex has four luxury hotels – the Hoiana Hotel & Suites with 141 beautifully appointed suites, New World Hoiana Hotel welcoming guests with 476 guestrooms, New World Hoiana Beach Resort boasting 330 elegantly and sustainably designed rooms and suites and Rosewood Hoi An opening in 2024. A home away from home, Hoiana Residences opened its 270 luxuriously and spaciously appointed apartments overlooking lush gardens or the East Sea. The integrated resort is also home to more than 10 world-class restaurants serving over 12 types of cuisine. The resort also boasts a magnificent 18-hole golf course designed by Robert Trent Jones Jr., the Hoiana Shores Golf Club. The multi-awarded 71-par links course offers one of the most compelling golf experiences in South East Asia and challenges players with a rewarding game.
Hoiana has completed its first phase of an overall $4 billion development project, encompassing 1000-hectares of land just south of Hoi An, Quảng Nam. With an ambitious development plan in the pipeline, Hoiana will continue to set a new benchmark for luxurious tourism in Vietnam while balancing its cultural heritage, to bring economic prosperity and opportunity to the central province of Quang Nam.