Autumn is gradually arriving to Hanoi, which also the time to kick off wedding peak season. When it comes to the big day, most brides and grooms will have some common questions that need to be untangled. Luckily, it is about time for the annual wedding events organized by Pan Pacific Hanoi and professional wedding partners. Let's visit West Lake Room this August 26 to enjoy "La Vie en Rose" Wedding Show's spectacular party venue, exciting activities and handful of gifts.
This year's wedding show aims to recreate the most up-to-date decoration trends, using pink as main color – one of the most favorable tones in 2023. "La Vie en Rose" mean "life in pink", by which the hotel sends a sincere wish to all the newlyweds, hoping that they will have a life time of bliss and be happily ever after.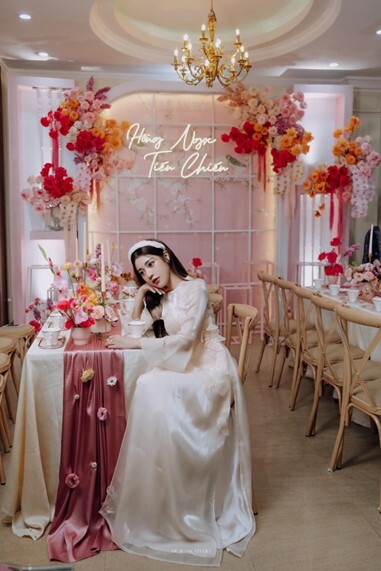 Not only that, couples attending "Heart-to-heart" talkshow will have a chance to be supported and advised by professional experts in wedding industry, such as: PhiLinh Wedding & Decoration / Link Styling & Rental, Nupakachi Wedding, Quyen Nguyen Bridal, Kin Doan Make Up and Meez Jewelry while enjoying afternoon tea at ease.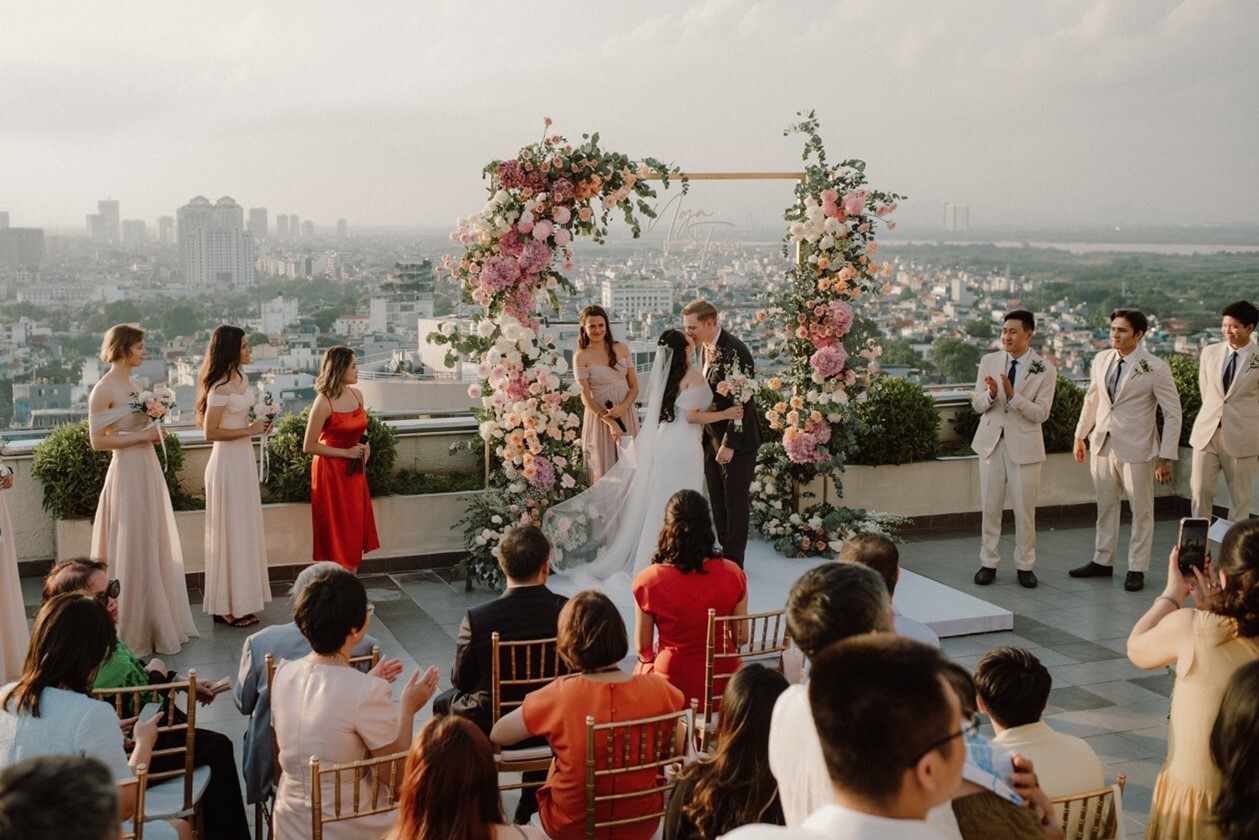 This talkshow will also bring workshops on how to choose the most accurate makeup tone, as well as beauty tips to achieve perfect skin for the wedding day. Makeup artists will show how slight adjustment on lipstick shades can bring such significant change on the face. Brides will also be able to try on wedding dresses that suits their body shape and preference. That being said,
"La Vie en Rose" will be the destination to connect and offer the most genuine experiences about Pan Pacific Hanoi and its partners' wedding services.
In 2023, Pan Pacific Hanoi will launch a program called "Sincerely Yours" with exclusive privileges for all brides and grooms, who plan to organize their wedding ceremony at the hotel. By choosing Pan Pacific Hanoi to be their companion, they will always feel trusted and appreciated, not only for the big day but also every essential milestone in their lives afterwards.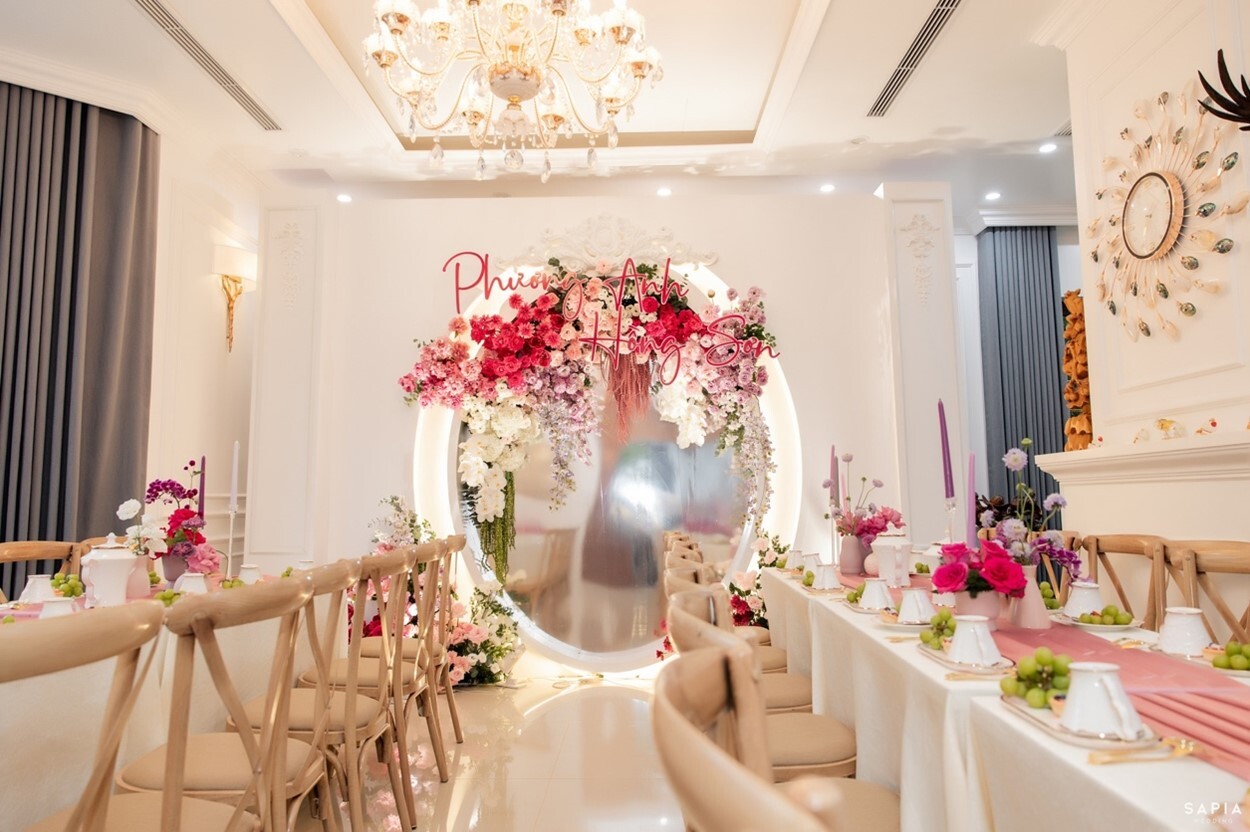 Especially, guests joining "La Vie en Rose" Wedding Show will have the opportunity to enter a lucky draw games with various rewards from the Pan Pacific Hanoi and parters, only for couple registering at this form.
For more information about "La Vie en Rose" Wedding Show, please refer at this link.
𝐓𝐢𝐦𝐞: 9:00AM – 5:00PM | Saturday | 26/8/2023 | Free entrance
𝐋𝐨𝐜𝐚𝐭𝐢𝐨𝐧: West Lake Room | Level 19, Pan Pacific Hanoi Hotel, 1 Thanh Nien Road, Ba Dinh, Hanoi
For wedding packages and exclusive offers for wedding ceremony held before September, please kindly see at: bit.ly/3ZWAOfN.
About Pan Pacific Hanoi
Situated at the edge of the city centre, Pan Pacific Hanoi provides a harbour of tranquil balance in bustling Hanoi, with 324 fully-furnished rooms and suites presented maqnificent views of the poetic West Lake, and an array of recreational facilities furnished with thoughtful touches for your complete relaxation. Especially, Pan Pacific Hanoi is well-known for delectable fusion of Western and Eastern gastronomy in Pacifica Restaurant (All-day dining), Ming Restaurant (Cantonese cuisines), Song Hong Bar and the panoramic rooftop bar The Summit promising the finest dining experience to your stay.
About Pan Pacific Hotels Group
Pan Pacific Hotels Group is a global hospitality company that owns and/or manages more than 50 hotels, resorts and serviced suites across three brands – "Pan Pacific", PARKROYAL COLLECTION, and PARKROYAL – encompassing 30 cities across Asia Pacific, North America and Europe. Headquartered in Singapore, it is a member of Singapore-listed UOL Group Limited.
Pan Pacific Hotels and Resorts delivers sincere and graceful service to every guest with a passion for excellence.
PARKROYAL COLLECTION Hotels and Resorts is driven by our passion for life and sustainability.
PARKROYAL Hotels and Resorts is distinguished by its passion for people and places, immersing every guest into local and authentic cultures.
Visit www.panpacific.com.