October 31 marks World Savings Day, a day dedicated to highlighting the benefits of saving for the future. According to Booking.com's 2023 Travel Confidence Index* Vietnam is among the top three countries in APAC (behind India and Hong Kong) to consider leisure travel important post COVID-19 pandemic with 83% of Vietnamese expressing their intent to travel for leisure in the next 12 months. As summer crowds have thinned, a vacation in fall can often offer a more affordable getaway, perfect for 44% of Vietnamese travelers who said they would minimise cost by travelling during off-peak time.
Booking.com has delved into its bank of over 28 million listings across more than 155 destinations to showcase a few of budget-friendly breaks this fall across different countries in the world,  based on low-priced activities that come highly recommended by Booking.com travelers.** Whether seeking scenic bursts of vivid leaves, a family adventure or a seaside trip this fall, here are some fabulous destinations to get the most out of that vacation budget without missing out.
The list is based on Booking.com's data on the most recommended and relevant destinations by global travelers for promenade, parks, kitesurfing, islands, art galleries and outlet and is written in no particular order.
Situated on the northern tip of Colombia, and the capital of the Bolívar region, this port city is the perfect escape for those wanting to flock to sunny shores to soak up a few days on the beach before winter sets in. The undisputed queen of the Caribbean coast, it comes highly recommended for an island vacation by Booking.com travelers, with its low cost of living and guaranteed sunshine.
Travelers can enjoy a relaxing visit to the unspoiled Playa Azul beach; popular amongst the locals and known for its pristine waters thanks to a strong commitment to sustainability. A stroll around the old walled city of Cartagena, a UNESCO World Heritage site, will give travelers ample opportunity to learn about its architectural and cultural heritage.
Besides its beaches, explore a range of pocket-friendly pastimes this city has to offer: A pit stop at one of the many street food stalls to taste local exotic fruits including papaya, passion fruit and mangos, or bask in the last rays of the day on a Sunset Cruise with Open Bar to take in the raw beauty of Cartagena's skyline at dusk.
| | |
| --- | --- |
| | |
Where to stay: Uniquely located at the San Lázaro Cultural and Tourist Center – a space designed for artistic and cultural showcasing – is the chic and well-priced San Lazaro Art Hotel. The hotel is beautifully decorated, with a selection of Colombian art dotted across the walls. Guests will enjoy priceless views of the San Felipe de Barajas Castle, one of Cartagena's most iconic landmarks, from the terrace and bar. Other features include an outdoor swimming pool and a restaurant serving Caribbean cuisine which offers guests a 10% discount on all food and beverages. This property also holds a Booking.com Travel Sustainable badge, due to its stellar efforts in protecting the environment and commitment to conserving the surrounding attractions.
Nestled in the south of Vietnam's eastern coastline, Mui Ne is a string of beach resorts which have fused into one long coastal strip. A popular spot with both backpackers and those seeking a luxury vacation on a budget, it's also a highly recommended destination for kitesurfing according to Booking.com travelers.
With world-class wind conditions between October and March, tropical weather all year round and several excellent kitesurfing schools, this old fishing village is the place for a sun-drenched fall adventure break. Travelers can take their own kitesurfing gear and try their hand at this adrenaline-fueled activity or learn from a pro with an introductory lesson at one of the many great-value schools.
With a cheaper cost of living in Vietnam, other affordable beach activities include kayaking, jet skiing and surfing. Early risers can experience Mui Ne's famous red and white sand dunes on the affordable Mui Ne Sand Dunes Sunrise or Sunset Jeep Tour, opting for the sunrise excursion when the still sand lays untouched by the quad biking activities of the day.
| | |
| --- | --- |
| | |
Where to stay: For a budget-friendly pick, stay at the iHome Backpacker Resort. This colorful hostel comes complete with its own private beach, swimming pool overlooking the sea and lively beach bar with a daily happy hour for discounted cocktails and unlimited free beer. Guests will be spoilt for choice with free activities on offer including table tennis, table football, swimming pool games and billiards. Those wanting to unwind can take a seat in one of the many hammocks dotted along the beach and listen to the soothing sounds of the sea. For those wanting to venture out, the hostel is located nearby to the popular Ham Tien Beach and Rang Market, with kitesurfing schools just a short walk away. What's more, this property has a Booking.com Travel Sustainable badge for the impactful efforts it has taken to offer a more sustainable stay for its guests including investing in community projects and using 100% renewable electricity.
Situated on the banks of Turia, where the Turia River meets the Mediterranean Sea, there's plenty to do and see on a budget in this iconic Spanish city. With its abundance of green spaces to visit, it's clear why Valencia is highly recommended for its parks by Booking.com travelers.
Rent a bike and explore the picturesque parks, from the historic Monforte Gardens to Parque Central which is ideal for families with young children and the Turia Gardens, which hosts a variety of activities throughout the year. Visitors can take a stroll through Valencia's old town bursting with vibrant streets and narrow alleys, each with a story to tell.
Head to one of the many museums which are free to enter all year round, including the Museo de Bellas Artes and National Ceramics Museum or sample the scrumptious paella in its birthplace city at one of hundreds of well-priced local restaurants across Valencia. Travelers can also experience the city on a Hop-on, Hop-off Bus Tour, for a hassle-free and cheap sightseeing trip to take in the landmarks and learn about the city.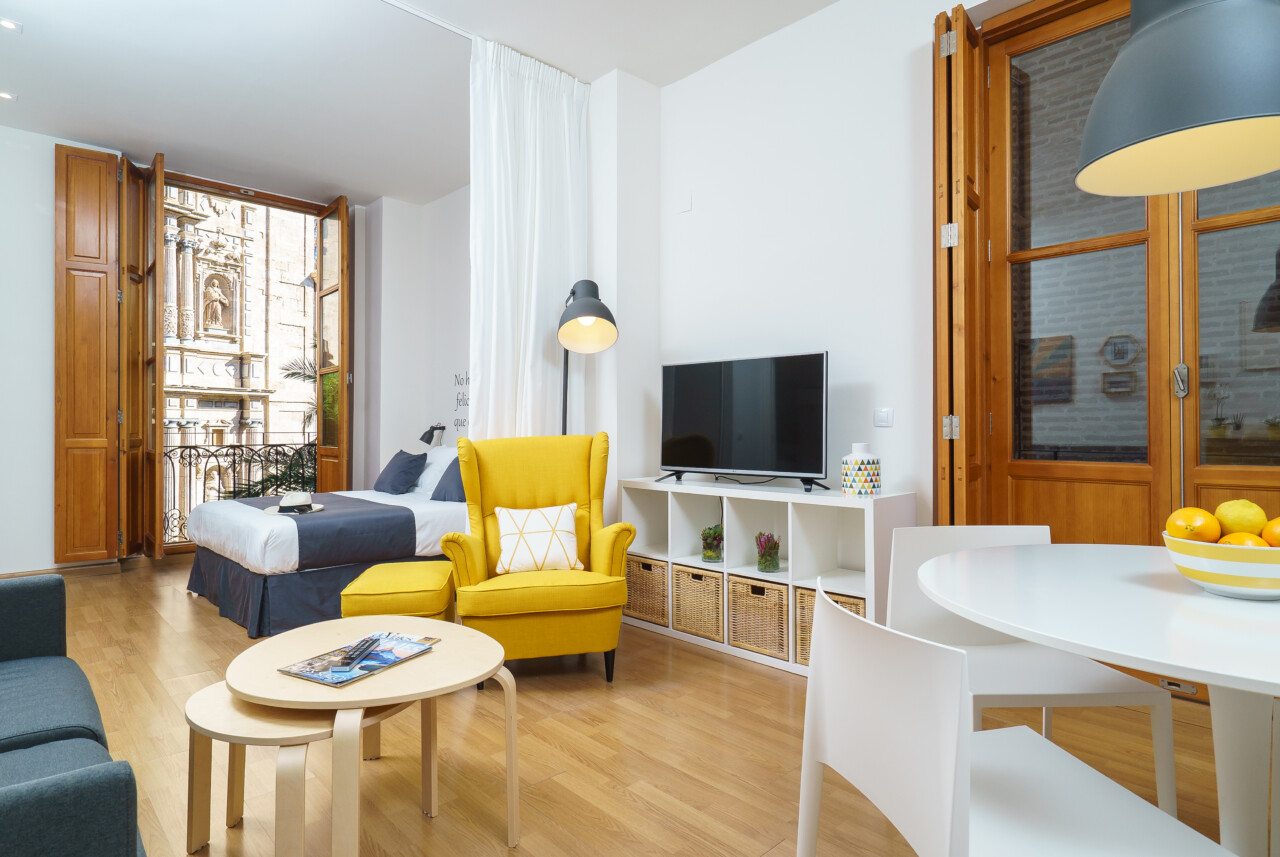 Where to stay: Check into the newly renovated Valencia Home apartments in the center of the old city. The period, well-priced property is elegantly decorated with colors that reflect the vibrancy of its surroundings. Some rooms are overlooking the cathedral and Plaza del Carmen, whilst others boast a pretty terrace to relax on with a glass of sangria following a day of exploring the sights. Nearby free attractions include Turia Gardens and the Fine Art Gallery, whilst for a small fee travelers can visit the historic Botanic Gardens.
There are few better cities to celebrate the arts than Austria's capital, Vienna, a destination highly recommended for its art galleries by Booking.com travelers. With most museums free on the first Sunday of each month, such as the Hermesvilla, which offers a delightful combination of art and nature, this is the perfect city for travelers to get their fall culture fix.
For those not traveling around the first Sunday of the month, why not venture to Kunsthalle Wien, a contemporary art exhibition hall which offers free entry every Thursday. Or for something more off the beat, head over to the Snow Globe Museum which is free all year round, where travelers can choose to purchase a lasting gift for a small price to remember their travels. For those who don't mind spending a little to see something unique, purchase Tickets for Mozarthaus Vienna, where visitors will explore the only one of Mozart's apartments in Vienna that is still preserved.
| | |
| --- | --- |
| | |
Where to stay: Bed down in the heart of Vienna at the High Street Suites, which are conveniently located within walking distance of most attractions, and an array of local restaurants, bars and coffeehouses – so guests won't have to fork out for travel. The studio and one-bed apartments fuse historic character with contemporary design: high-ceilinged rooms with grand windows are tastefully decorated with modern furnishings and amenities, and feature super comfy beds to sink into at night following a day of exploring on foot.
Pigeon Forge, Tennessee, United States
For travelers seeking a kitsch, wallet-friendly vacation, look no further than the mountain town of Pigeon Forge in eastern Tennessee. Home to Dollywood, Dolly Parton's theme park with roller coaster rides, a water park and a museum of memorabilia, visitors can embrace the endless fun of this larger-than-life town.
Famed for its fantastic live music, southern-fried fare and putt-putt courses for those who love a game of mini-golf, there's even an enormous replica of the Titanic perched by the road. Bursting with activities to keep everyone entertained, it's also an ideal destination for travelers looking for branded goods at discounted prices, with over 200 discount stores – and comes highly recommended for outlet stores by Booking.com travelers.
For things to do that won't cost a penny, travelers can opt for a hiking excursion through the Great Smoky Mountains National Park to take in the beautiful sights of the fall foliage, or bond with the family on a fishing trip at one of the many great lakes.
Where to stay: The Smoky Mountain Cabin with Game Room and Hot Tub is a great value retreat for families, with free onsite activities to entertain everyone. Each chalet-style wooden cabin features two bedrooms and two bathrooms, a fully equipped kitchen, a private hot tub and a games room complete with an arcade console and pool table. Guests can take a dip in the shared pool and mingle with other travelers or simply relax on their private balcony following a day of activities. Just a short stop away from Pigeon Forge and local attractions including the Grand Majestic Theater and Factory OutletMall.
Discover the thriving historic seaside resort of Blackpool in the northwest of England, one of the UK's favourite beach resorts. Famous for its colourful illuminations, kiss-me-quick hats and Pleasure Beach, a collection of more than 145 rides that attract some seven million visitors annually, it also comes highly recommended by Booking.com travelers for its bustling promenade.
In the cooler, darker months, the town comes alive as the world-famous Blackpool Illuminations light up the pier, and travelers can enjoy fewer crowds for the roller coasters and rides. From Madame Tussauds Blackpool for waxwork figures of international celebrities to art installations and drag-themed shows, there's something fun for everyone – and many attractions are free to all.
Where to stay: Situated near the beachfront are the comfortable Granada Apartments Queen's Promenade which offer great value for money. Rooms are modern and equipped to a high standard with all essential amenities. Blackpool is said to be one of the best sunset hotspots in the UK, and rooms offer guests a gorgeous seaview to watch the vivid fall skies. Great for those who want a calm, quiet stay but still be within close distance to the town center, as the tram stop which ferries visitors into town is directly across the road.
METHODOLOGY
*Research commissioned by Booking.com and independently conducted by Milieu Insight among a sample of 8,800 respondents across 11 countries and territories across APAC (800 each from Australia, China, Hong Kong, India, Japan, New Zealand, Singapore, South Korea, Taiwan, Thailand, Vietnam).
In order to participate in this survey, respondents had to be 18 years of age or older.
The study computed for a Index which was based on specific metrics such as willingness to travel, potential travel spend, duration, number of intended trips, and notably, travel propensity given the current macroeconomic state. Other areas that the study explored are travel and booking considerations, views on sustainability, and other market-specific questions.
Rankings were determined using a two-axis framework, which evaluated travel confidence and sustainability interest across APAC, based on the positions of countries above or below the zero point on each axis. Placement on the axes reflect scores that are relative to other markets and are not normative – this means that there is no standard cut off for scores to be considered as 'high' or 'low'. Instead, these rankings provide comparative insights into the varying levels of sustainability interest and travel confidence across the included markets.
The survey was taken online and took place between March 29 and April 7, 2023.
**Endorsement data from Booking.com based on the most recommended and relevant destinations by global travelers for promenade, parks, kitesurfing, islands, art galleries and outlets.