In bustling cities like Hanoi, Danang, and Saigon, what are the easiest, cheapest and most effective ways to get around?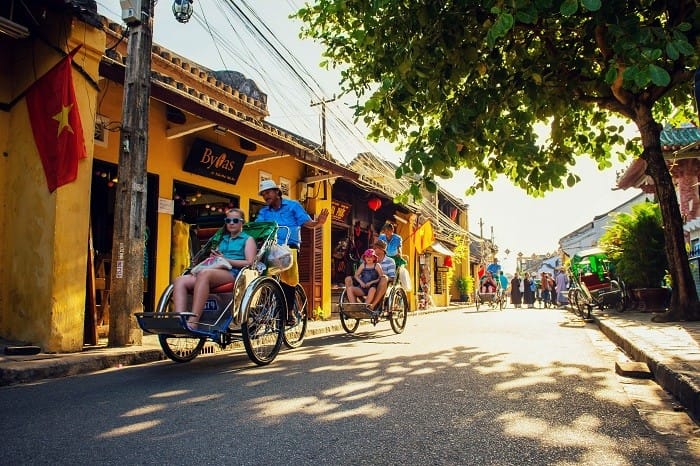 Cab/Taxi
This is the most effective and popular type of transportation to get around. However, have a map on your smartphone turned on because some drivers may choose a longer route to charge a higher fare. Popular taxi companies:
Grab Booking App
Grab is the most popular cab/taxi booking app in Vietnam and Southeast Asia. Similar to Uber, Grab allows you to easily book taxi with a slightly lower fare. Additionally, you can have a fun experience sitting on the back of a bike by selecting the Grabbike option. The app is available for iOS and Android users.
Bus
Buses are for anyone who likes to wander around the city with no specific destination. Most bus drivers don't speak English, thus, you might need a map to know where to hop on and hop off. Bus fares are inexpensive ~7,000 VND/ride.
"Xich lo" (Cyclo)
"Xich lo" used to be the main mean of public transportation in Vietnam. Nowadays, it is one of the must-try services for visitors. You can slowly wander on the streets, watching the daily life of locals. A couple cyclo service companies:
Rental vehicles
If you want to take initiative with your travelling, you can rent cars or motorbikes at reasonable prices. Make sure that you study the directions and transportation rules beforehand.
That's it! Have fun travelling!