Agoda reveals top destinations for solo travelers ahead of Singles' Day
Travel comes in many forms: With Singles' Day around the corner, digital travel platform Agoda looked at the most popular destinations for solo travelers. For Vietnam, it's Bangkok in first place, followed by Seoul and Tokyo.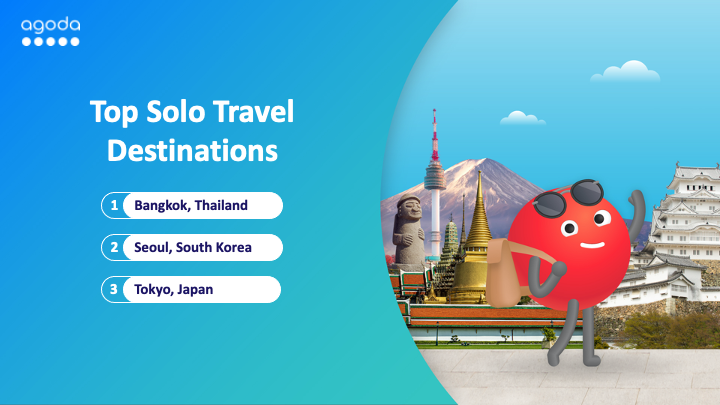 Singles' Day, or 11-11, takes place annually on the eleventh day of November. The unofficial holiday originated in China as an answer to Valentine's Day, celebrating those who aren't in a romantic relationship. Over the years, Singles' Day has gained popularity globally. The day is now recognized as one of the most impactful online shopping days with many online platforms, including Agoda, offering special discounts.
"As Agoda, we have talked a lot about family travel this year but with travel numbers up compared to recent years, we've also seen more solo travel" said Vu Ngoc Lam, Country Director Vietnam at Agoda. "Going on a solo trip is arguably one of the best gifts one can give oneself. Whether it is to explore new cultures, to make new friends, or to reconnect with those across the globe, going on a trip alone often requires stepping out of one's comfort zone. But those who set out on an adventure of their own are usually rewarded with the creation of the most special memories."
To determine the solo travel favorites, Agoda looked at the most popular destinations for solo travelers checking in on weekends and across a wide range of hotel stays. Around Asia Pacific, the top three consists of Tokyo, Japan in first, Bangkok, Thailand in second, and Seoul, South Korea in third. For Vietnam, the most popular destinations are:
Bangkok, Thailand
Renowned as one of the world's most accessible destinations for solo travelers, it's no surprise that Bangkok made the list. Thailand's capital is welcoming to solo travelers on any budget, but being the home of hostel-packed Khao San Road, Bangkok is sure to be on the travel itinerary for backpackers. Making new friends has never been so easy, thanks to the friendly locals and the abundance of fellow solo travelers anywhere across the city. During the daytime there's lots to explore, like the Grand Palace, the famous Chatuchak weekend market, or the arty and chaotic alleys of Chinatown.
Seoul, South Korea 
Seoul is a city that seamlessly fuses tradition and modernity. Solo travelers can explore ancient palaces, make new friends while enjoying some soju, and visit trendy neighborhoods like Gangnam. South Korea's capital is not only safe but also known for its well-connected public transportation system, which makes it easy for solo explorers to navigate the city.
Tokyo, Japan
The capital of The Land of the Rising Sun beckons solo travelers with its perfect blend of ancient traditions and modern technology. Tokyo's offers a vibrant street life and many historic temples to explore. With its world-class cuisine often served in individual cubicles and many capsule hotels, it is an ideal destination for those traveling alone. Whether you're wandering through the bustling streets of Shibuya, spending hours in an arcade hall, or trying out local street food, Tokyo has something for every solo adventurer.
To celebrate Singles' Day, Agoda offers 11-11 promotions that can be found in the Agoda app, or on Agoda.com/deals.
###
About Agoda
Agoda, a digital travel platform, helps anyone see the world for less with its great value deals on a global network of 3.9M hotels and holiday properties worldwide, plus flights, airport transfers, and more. Agoda.com and the Agoda mobile app are available in 39 languages and supported by 24/7 customer support.
Headquartered in Singapore, Agoda is part of Booking Holdings (Nasdaq: BKNG) and employs more than 6,700 staff in 31 markets, dedicated to leveraging best-in-class technology to make travel even easier.
About the data
Ranks are based on Agoda bookings made between mid-April and mid-October 2023, by solo travelers checking in on Fridays and Saturdays.