Drizzling rain soon fade away and Hanoi turns into warmer days of spring to welcome International Women's Day in a fitting way. Paving your way to an appealing culinary journey of March, Pan Pacific Hanoi has gathered all the seasonal specialties, featuring through exciting offers from elegant afternoon tea, special cocktails to various Cantonese delights and scrumptious seafood buffet that pamper your palate.
1. EGG-cellent Dimsum Lunch & Fun
11:00am- 2:00pm | 9 April 2023
Ming Restaurant | Level 2, Pan Pacific Hanoi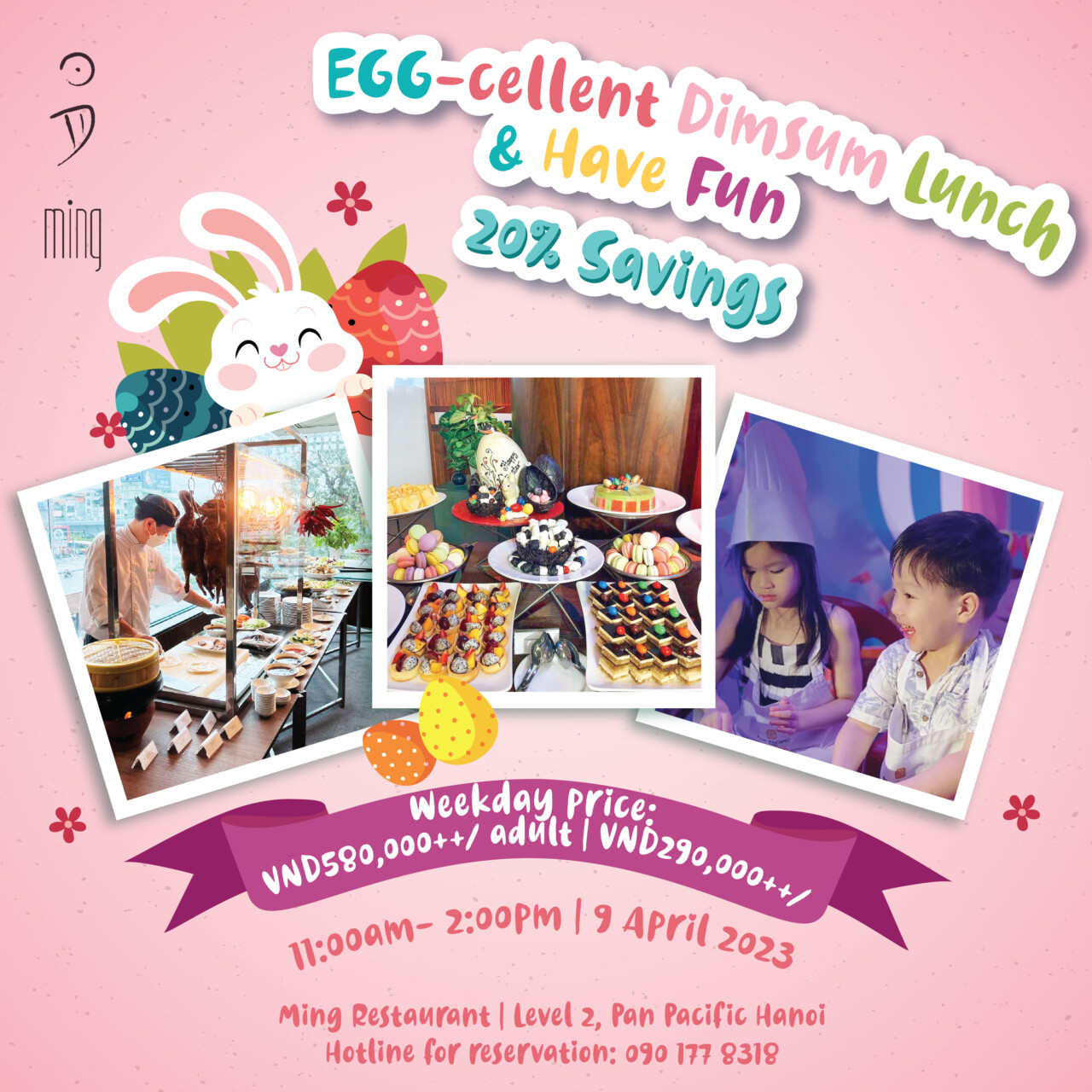 On 9 April, Ming Restaurant is ready to get your family buzzing for Easter lunch celebration like no other! Alongside a wide selection of dim sum favourites from Siew Mai Minced Pork with Shrimp & Abalone Sauce, Codfish and Clam Abalone Dumpling to Minced Pork Dumpling Shanghai Style with Ginseng, Tiger Prawn & Japanese Scallop Dumpling with Spicy Sauce, we have rounded up buffet station featuring Easter recipes just for the occasion including salads, BBQ, desserts and so much more to pamper your tastebuds.
The kids will have the opportunity to participate in many entertainment activities such as cotton candy corner, magic performances, "tò he" creative corner, and Easter games with many attractive prizes. Parents could be at ease to enjoy the meal while we offer 20% weekend offer applicable for adult pax. Join us for a lovely Easter Lunch Buffet and leave everything to our chefs and cheerful service team.
Weekday price: VND580,000++/ adult | VND290,000++/ child
Menu link: https://bit.ly/YumChaLunch
Hotline for reservation: 090 177 8318
2. 'Eggstra Special Goodies
8:00am – 9:00pm |From 1 to 9 April 2023
Pastry Corner | Lobby, Pan Pacific Hanoi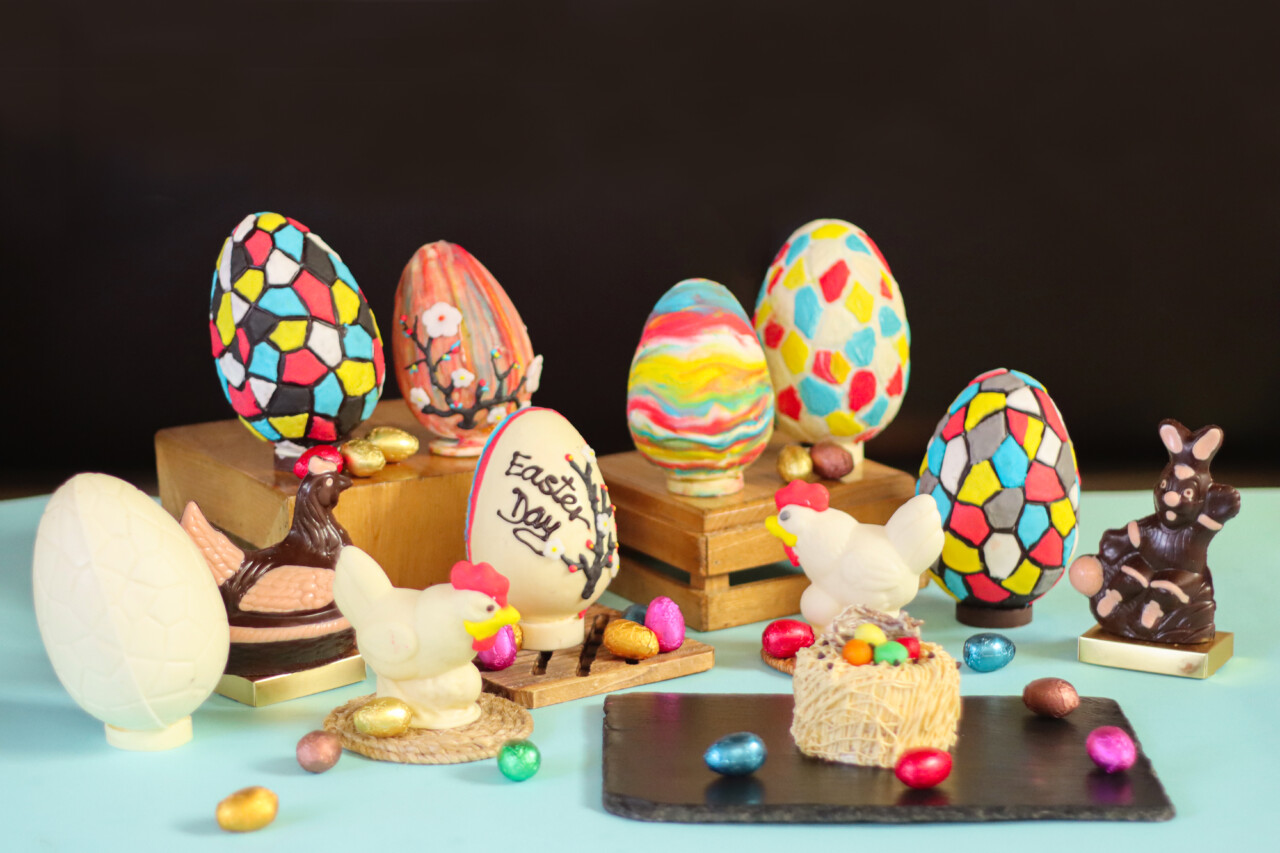 There is no doubt that Easter treats are one of the most enjoyable parts of the springtime celebration. Our pastry team has been whipping up some Easter delights to cheer up your Easter vibes at Pastry Corner. Offering a wide selection of chocolate eggs, bird nest cake, rabbit chocolate, this is the ultimate Easter centerpiece – an 'eggstra' special collection for your afternoon tea or dessert.
From VND55,000+/product
Hotline: 090 177 8318
3. Pacific Garden Afternoon Tea
April 2023
2:00pm – 6:00pm | Song Hong Bar | Lobby, Pan Pacific Hanoi
4:00pm – 6:00pm | The Summit Bar | Level 20, Pan Pacific Hanoi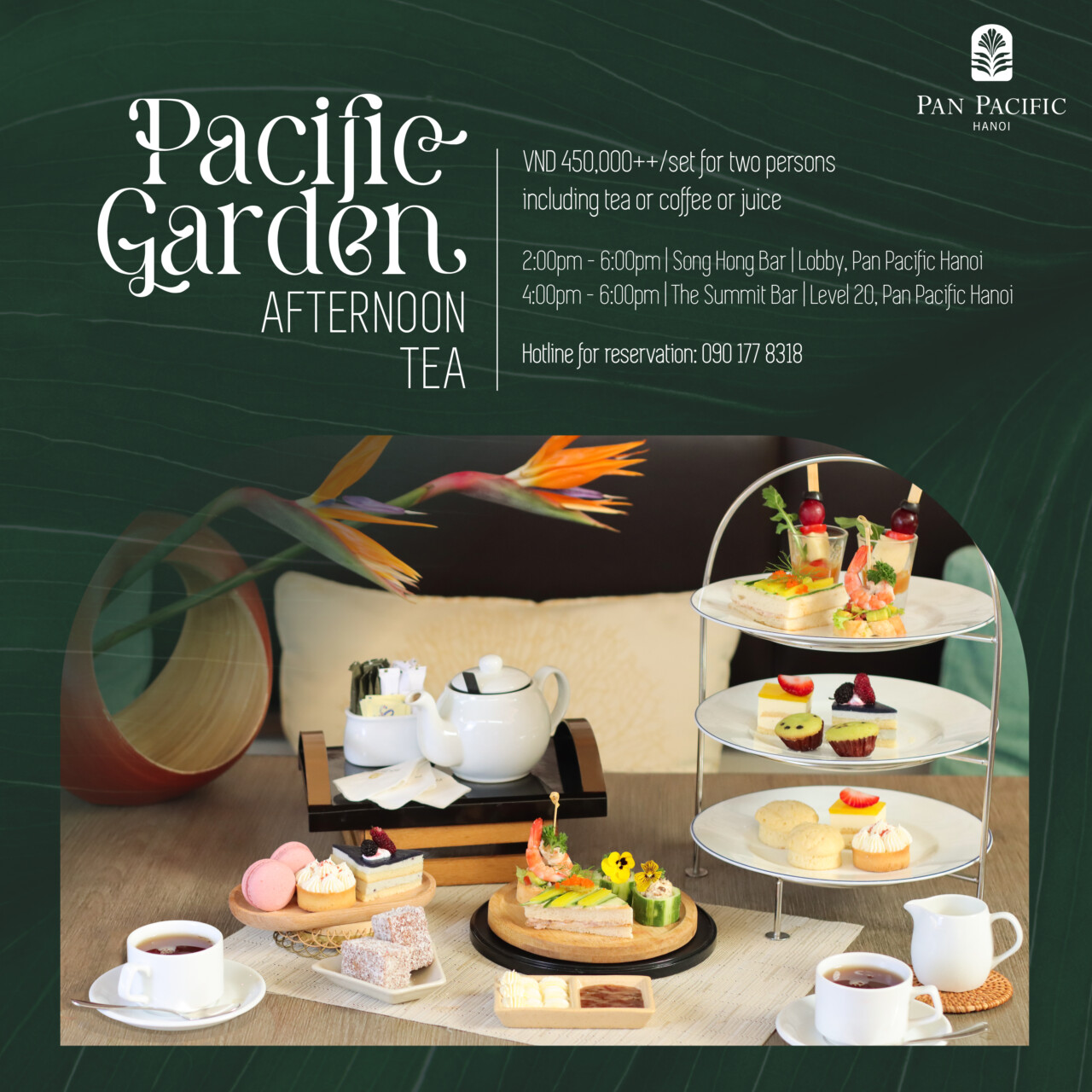 A seasonal afternoon tea inspired by the Pacific garden has been created by our excellent pastry chef. It is about beautiful sunny days, fresh and savouring sweet treats, from delicate scones, fruity cakes and patisserie to savoury sandwiches, canapes. Let's make a simple gathering in the company of friends, flavorful teas, and seasonal treats with us. See you soon!
VND 450,000++/set for two persons including tea or coffee or juice
Hotline for reservation: 090 177 8318
4. Pinky Berry Collection
7:00am- 10:00pm | April 2023
Song Hong Bar | Lobby, Pan Pacific Hanoi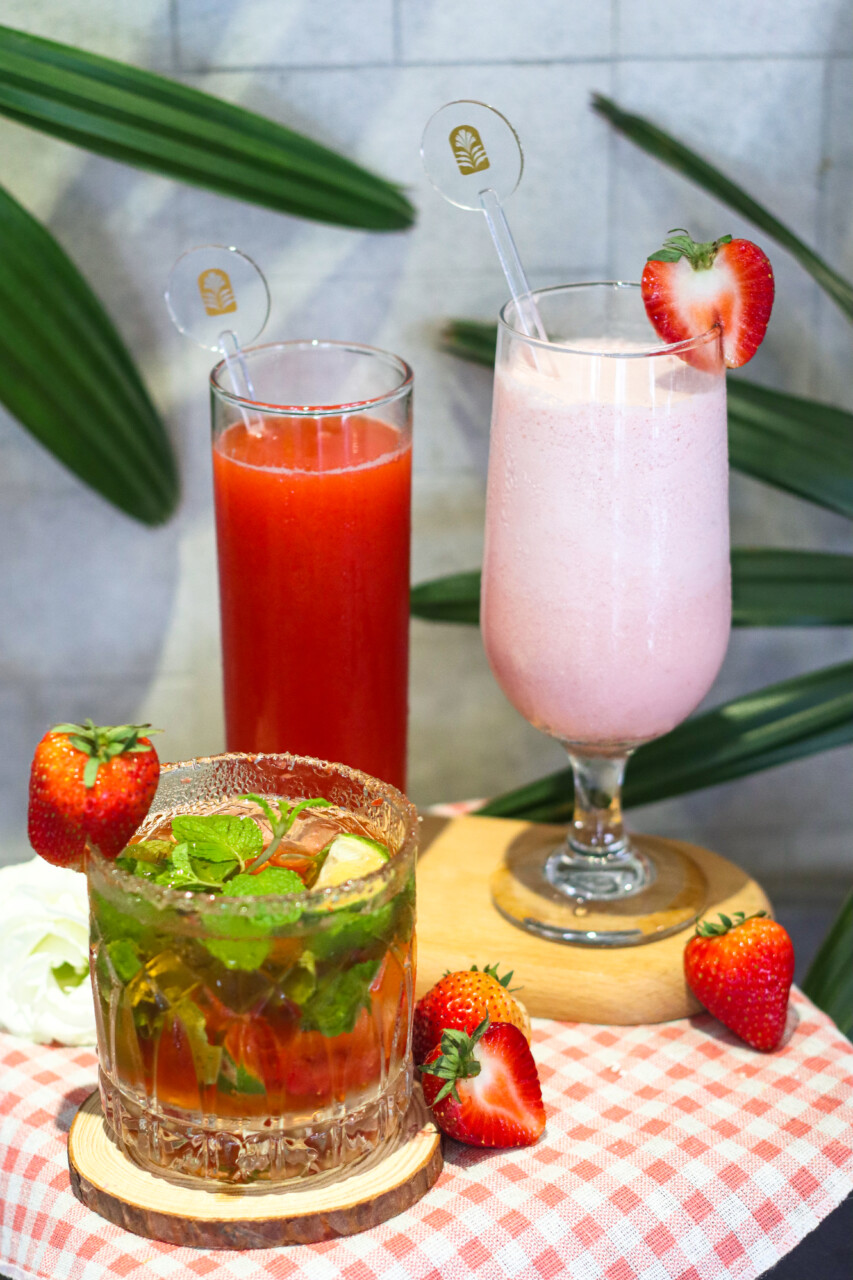 When it's summer, there's nothing better than a fruity or herby drink in hand. Strawberry is tasty and refreshing for any occasion, so let the summer drink season begin! From classic smoothies to sophisticated mocktails, Song Hong Bar has introduced strawberry-based drinks to choose from. Try them out and let us know which one is your favorite!
From VND120,000++/glass
Hotline: 090 177 8318
5. Summer Skyline Combo
4:00PM – 12:00AM | April 2023
The Summit Bar | Level 20, Pan Pacific Hanoi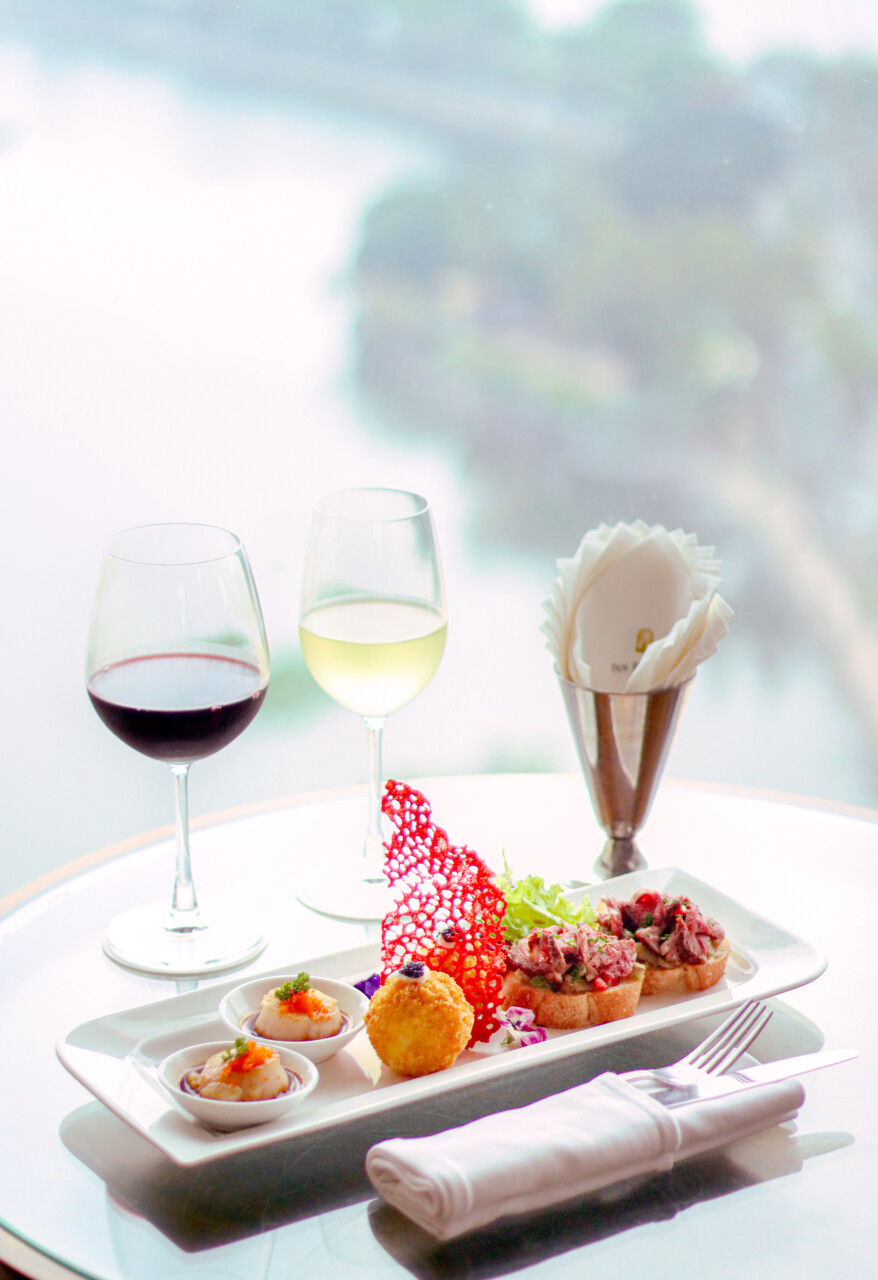 As the sun sets and the skyline turns orange in summer time, we will raise our glasses to an unforgettable date with good foods, good drinks and good friends. Providing mouth-watering bites of fabulous tapas and savouries, our special combo will add more happiness to your sunset state of mind.
VND600,000++/ combo including 1 tapas platter and 2 drinks of your choice (cocktail, housed wine or draft beer)
***Exclusive offer of VND500,000++/ combo for table booking in advance. Offer cannot be used in conjunction with any other promotions.
Hotline: 090 177 8318
6. Summer Drinks with Apricot
4:00PM – 12:00AM | April 2023
The Summit Bar | Level 20, Pan Pacific Hanoi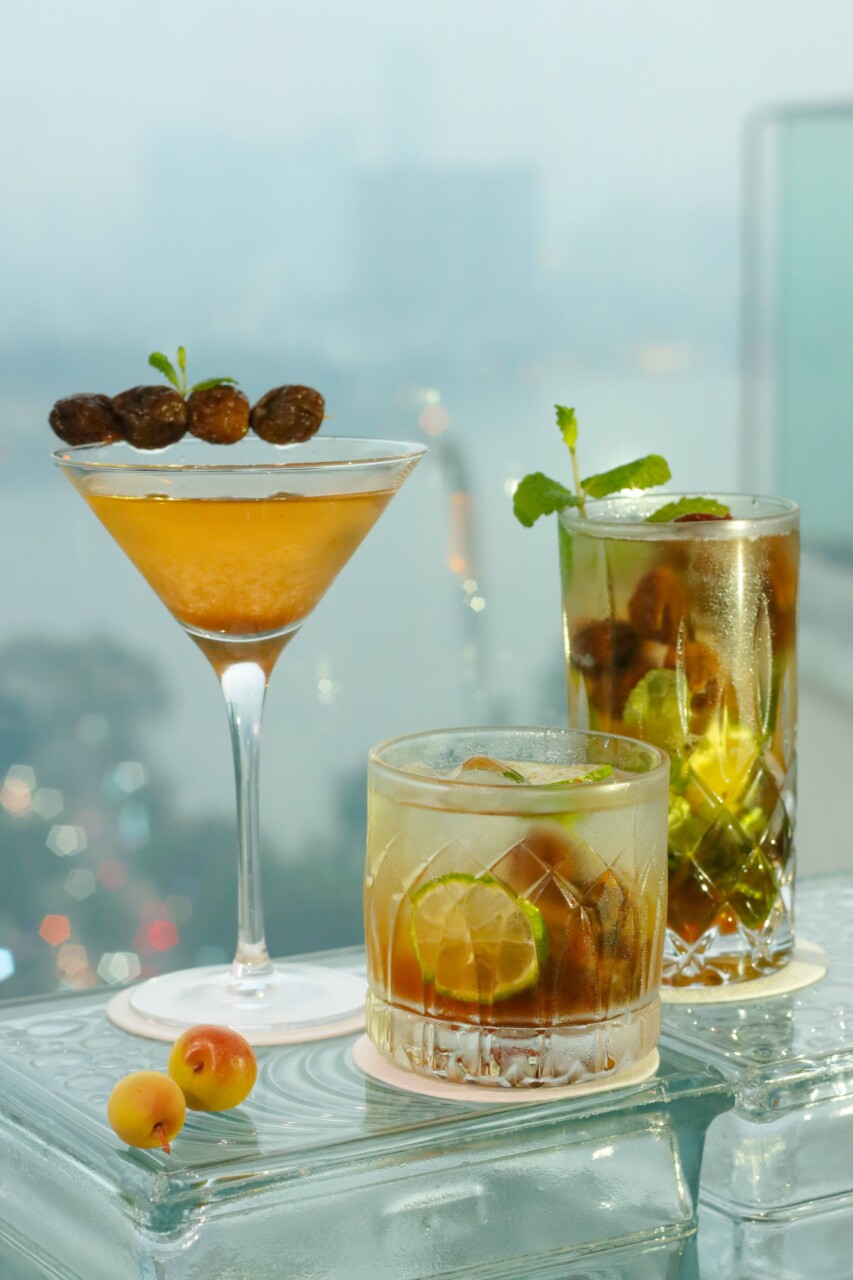 Summer may taste different to everyone, but no one can resist a apricot-based cocktail featuring a unique flavour to enjoy the season. In April, we are revealing a new collection of apricot-inspired drinks including Apricot Mojito, Apricot Daiquiri, and Apricot Caipirinha. Whether you're looking for a sweet and fruity drink to enjoy on a hot summer day or a sophisticated cocktail to impress your friends at a party, there is an apricot recipe here that is perfect for you.
VND200,000++/ glass
Hotline: 090 177 8318
7. Mango Cheese Cake
8:00am-9:00pm | April 2023
Pastry Corner | Lobby, Pan Pacific Hanoi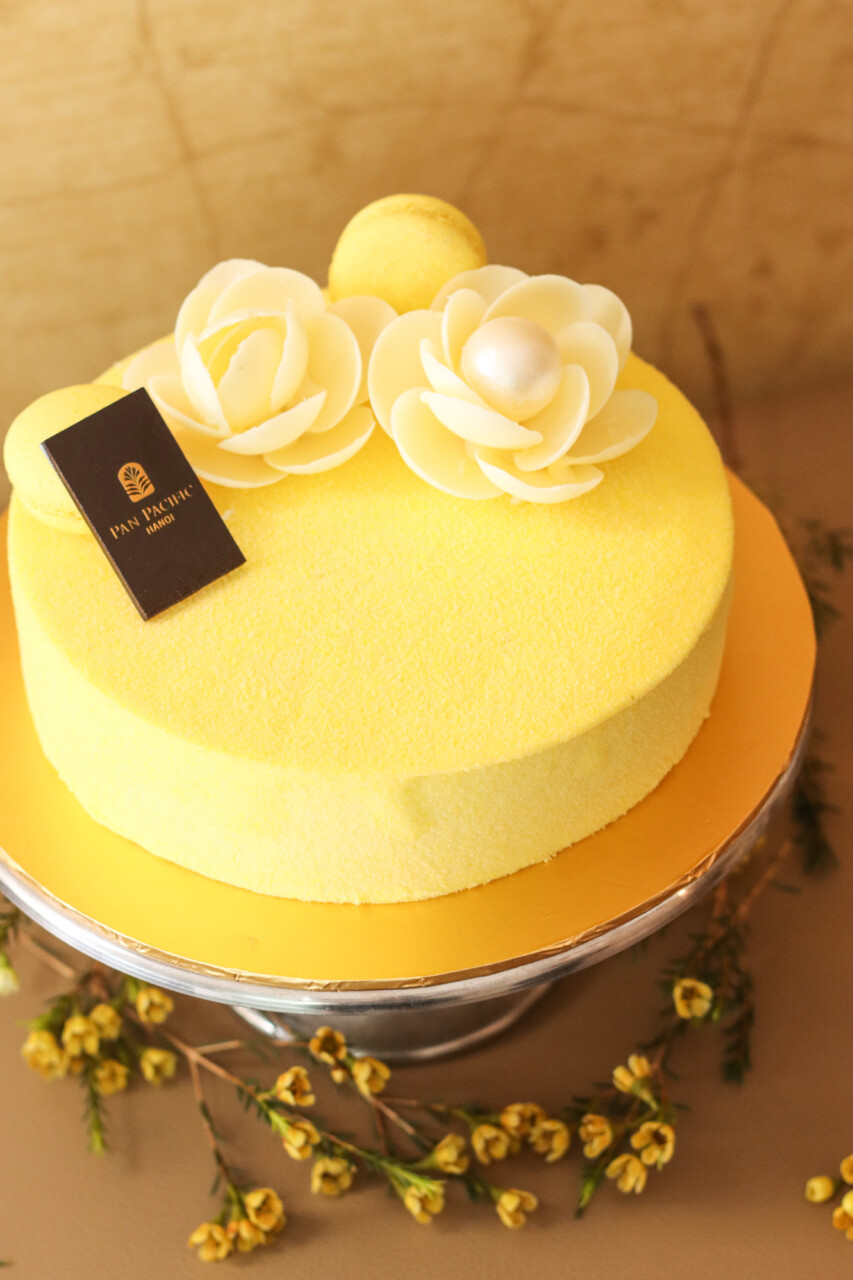 As a ray of sunshine in a dessert, mango cheese cake features soft, fluffy chiffon cake with mango and smooth vanilla mousse that makes this sweet treat not only impressive but delicious. Each slice of cake is bursting radiant, golden yellow, fresh aroma of mango to light up pleasant sunshine on your table, just as the taste is summer on the tongue. Are you like us, sometimes just want summer stay here longer to enjoy this gorgeous flavour every day?
VND500,000 net/cake
For dining enquiries and reservations, speak with us at +84 901 778 318 or email [email protected].
* Prices are subject to VAT and 5% service charge.
About Pan Pacific Hanoi
Situated at the edge of the city centre, Pan Pacific Hanoi provides a harbour of tranquil balance in bustling Hanoi, with 324 fully-furnished rooms and suites presented maqnificent views of the poetic West Lake, and an array of recreational facilities furnished with thoughtful touches for your complete relaxation. Especially, Pan Pacific Hanoi is well-known for delectable fusion of Western and Eastern gastronomy in Pacifica Restaurant (All-day dining), Ming Restaurant (Cantonese cuisines), Song Hong Bar and the panoramic rooftop bar The Summit promising the finest dining experience to your stay.
For more information: https://www.panpacific.com/en/hotels-resorts/vietnam/hanoi.html
Facebook: @panpacifichanoi
Instagram: @panpacifichanoi
About Pan Pacific Hotels and Resorts
Operated by Pan Pacific Hotels Group, Pan Pacific Hotels and Resorts is a global brand comprising close to 30 hotels and serviced suites in 22 cities across Asia Pacific, North America and Europe, including seven development properties to be launched by 2025.
Pan Pacific strives to deliver sincere and graceful service to every guest who appreciates luxurious hospitality. With a passion for excellence as our promise, Pan Pacific is the trusted and timeless choice for memorable experiences.