Bring your kids to celebrate the upcoming Children's Day from 16:00-21:00, on Friday, 31.05.2019 at Grand Mercure Danang! Parents and children will have a chance to enjoy a great time together through fun activities and dedicated dinner buffet.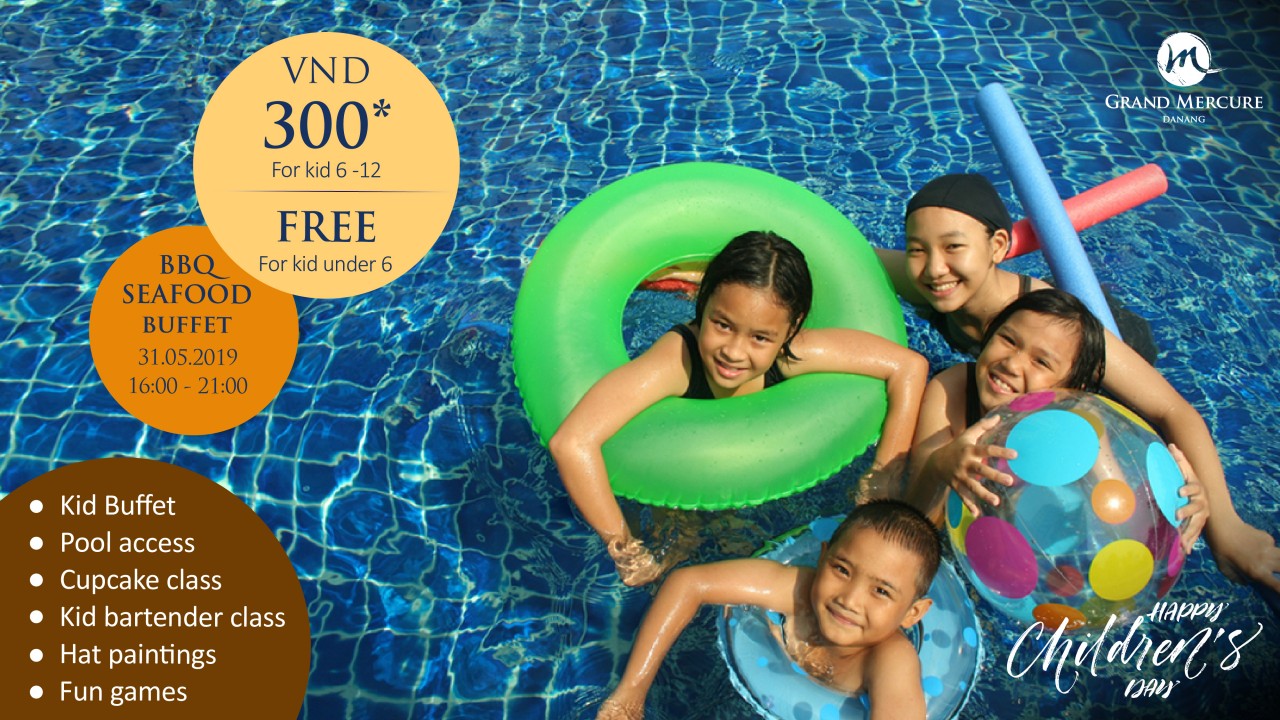 Taking place at the hotel poolside & La Rive Gauche restaurant, parents and their children can enjoy a totally different experience by having a kid pool party. Adults will be treated to an abundance of gastronomic fare from the freshest seafood including sea prawn, octopus, oyster, crab, pots of Mussels & Clams and other delicious cuisines around the world. Besides, there are plenty of activities to keep the children entertained. The indispensable highlight spot "Master Chef Junior: make their own cupcake, Kid bartender class: making their own peach lemon tea, Vietnamese conical hat painting, Fun Games, Kid buffet with marvelous dishes" will spice up the night and makes it a memorable celebration for all. Saving the best for the last, not to miss out on the tasty desserts including macaroon, panda cake, green tea cheesecake, milk feuilles, passion cotta, extensive selections of ice – cream, sliced fresh fruit and so on.
Situated on the ground floor of Grand Mercure Danang and overlooking to the Han River & Tran Thi Ly bridge, La Rive Gauche lets you have a romantic and splendid view of Danang city by night.
Price:  VND 300,000++ for kids between 6 to 12 | VND 600,000++ for adults | Free for kids under 6 years old  
Time:  16:00-21:00, on Friday, 31.05.2019
Contact us:
La Rive Gauche Restaurant, Ground floor, Grand Mercure Danang, Green Island, Hai Chau District, Danang.
T: 0236 3797777
FB: facebook.com/grandmercuredanang | Website: grandmercuredanang.com