Each artwork in Vu Hong Nguyen's "The Source of Life" collection reflects a different aspect of nature and space like cells – the foundation of any creature in this universe.
Not many people are aware of a green and peaceful house hidden in a small corner of Hanoi, one that is a beautiful world of art by a young artist named Vu Hong Nguyen. Stunning lacquer paintings with fascinating colors, acrylic art works with meteorite glows and neatly arranged sculptures together creating an artistic and cozy setting.
Nguyen shares about his inspiration: "For ten years, I kept thinking about the connection of all matter in the universe. Then, I began to express my feelings toward things that I had discovered or imagined through the extraordinary and dreamy flows on the surface of lacquer paintings.
Imagining being on an airplane and flying free like a bird, above the rivers meandering along the fields, I feel like I'm looking at a map of my own life.
"The Source of Life" collection, so immense yet so close, is like a breath vanishing into thin air, an underground river flowing quietly, or a root transporting sap and energy to its tree and so on.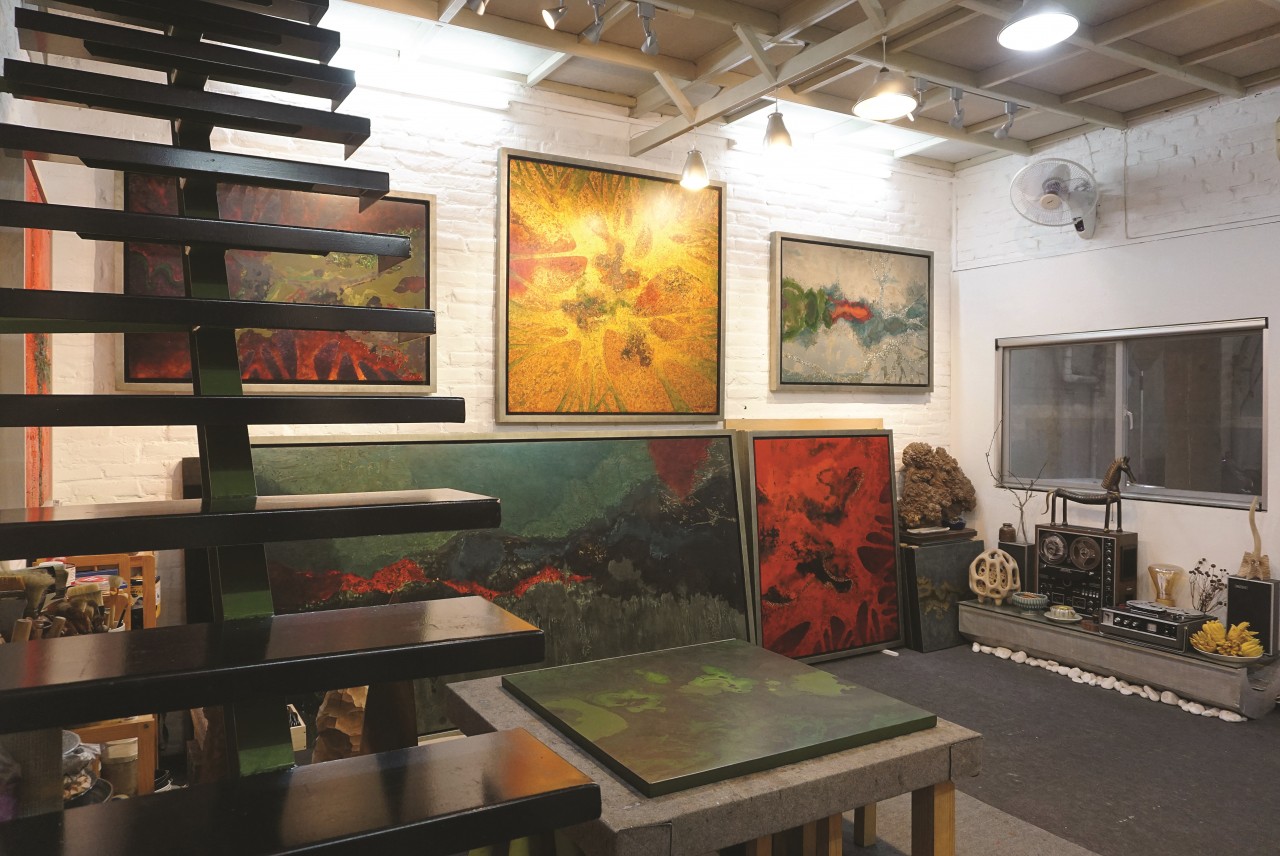 What is your inspiration for "The Source of Life"?
I have composed this collection for about 10 years.  The inspiration came from my curiosity of an invisible string or flow that connects everything in this universe, physical or intangible, solid or fragile, eternal or internal matters.
What is special in your lacquer paintings?
Looking at my paintings from a distance, you think they are rugged with so many layers. However, when stepping closer, you will be surprised that the surface of the painting is actually flat like a mirror. It takes about 3 to 4 months to finish the process of composing the layers (about 20 counts) and then lacquering to reveal the final mirror-like layout. This is a very special feature of lacquer art.
Who are your audiences?
Each artist has their own clients. It depends on the common and mutual connection in terms of beauty, experience, life, and perspective. Abstract art itself cannot be defined or decoded into something specific. I deliver my own point of view into my works, but do not expect the viewers to have the same feelings and experiences. Biologists can be demonstrated as the structures of molecular cells, doctors as the capillaries, passengers on the plane, and the river on the field, etc. There are no rules or disciplines; and I enjoy listening to the reference and explanations from the viewers. My clients are mostly European, though there are now more young successful Vietnamese who are interested in my works.
Do your audiences purchase your works for their own hobbies or for investment?
I don't think my audiences come to my works for investment because they have other more profitable fields to focus on.
Do you paint by order?
No, I never receive orders. I develop my own concepts and introduce them to the public through exhibitions. My paintings are quite picky, I do not create in large quantity, and the prices of my paintings are relatively high compared to other contemporary artists' in Vietnam. Thus, only those who really like my style and works would be willing to make a purchase.
In your opinion, how does art affect our society?
Art has a great impact on social life. When people can understand the aesthetic, they will know how to appreciate art, create more art works and preserve the exquisiteness, making society better and more civilized.
There have been some positive signals. Leaders of corporations in Vietnam now show their interest in art by combining it with the products and services they provide to mutually benefit both business and artists. Thus, I expect a dramatic social change in the near future. In my opinion, instead of rising concrete "office boxes" everywhere, these corporations should think of building more museums, culture & art centers that showcase valuable and stunning works. This act will amplify their prestige and reputation not only in Vietnam but also all over the world. For instance, the "Art in the Forest" project at Flamingo Dai Lai is recognized as a successful first step toward a more prospective future for the Vietnamese art industry.
Tell us more about the "Art in the Forest"?
"Art in the Forest" is a visual art project by the Flamingo Group starting in 2015.  It aims to promote contemporary and sculpture arts by Vietnamese artists to the world, in a natural environment. This project encourages young artists to explore and approach Vietnamese visual arts with a new perspective along with high quality and creative ideas.
About Vu Hong Nguyen
Born in 1976
Member of the Vietnam Fine Arts Association
Co-Founder and curator of "Art in the Forest"
Many group exhibitions in Asia, Europe, Vietnam
Solo Exhibitions
2016: The Source of Life, Vietnam National Fine Arts Museum, Hanoi,
2015: The Encroachment, National Conference Center, Flamingo Dai Lai Resort, Vinh Phuc
2005: Streaks of Time, Vietnam National Fine Arts Museum, Hanoi
2003: Time and Space, Melia Hotel, Hanoi.