Tran Hai Long's artworks show the deep thoughts and profound experiences in observing life and society which are too obsessive and extraordinary for an 18-year-old young man.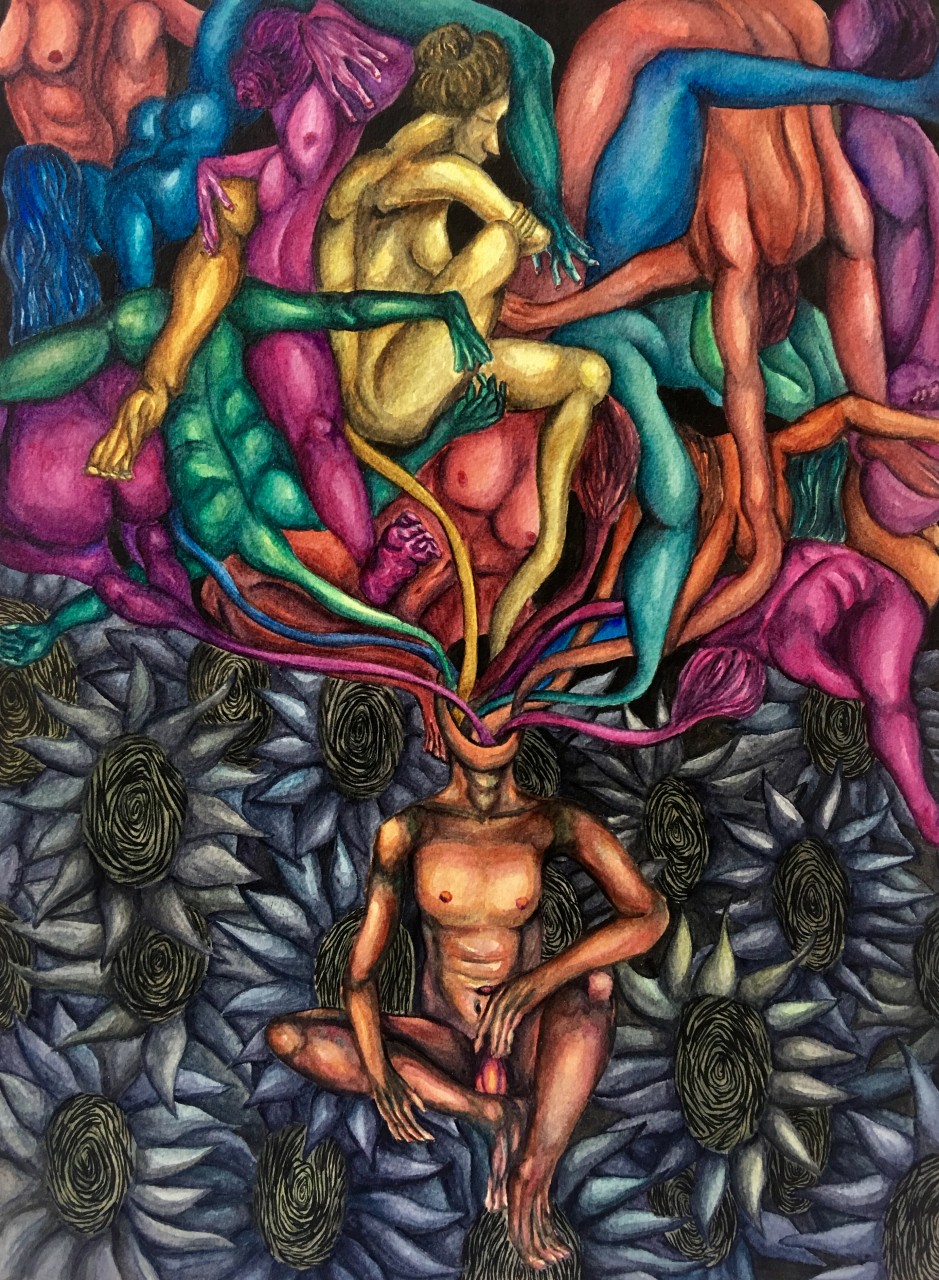 The charming gallery of Hanoi Art Residence was filled with hundreds of guests right from the opening day of the "Self – Fetish" exhibition.  Those who are art lovers, and even famous artists came to enjoy Tran Hai Long's artworks, and were amazed at the young man's strange visual art style and new way of thinking.
A total of 32 artworks with a variety of materials (from charcoal, acrylic to watercolors, gouache, etc.) are presented with a distinctly creative personality. They form thoughtful and profound artworks which are absolutely mesmerizing to view. Almost all art lovers feel this when they step into such a complicated ontological world, transported into each of Tran Hai Long's artworks. Each painting, with painful titles like Evolve, Self-Portrait, Untitled, Insecure, Stranded, Scream, etc., was "dissected" and provided a most profound viewing experience — the deepest thoughts, and critical thinking of life and society in time throughout  the multidimensional lens of the young man. The biggest surprise is that all 32 paintings were drawn in a very short period of time when Long was not only racing to complete his portfolio for the chance to study abroad, but also as he prepared for high school graduation. He was so mad for drawing that he even forgot to eat and sleep.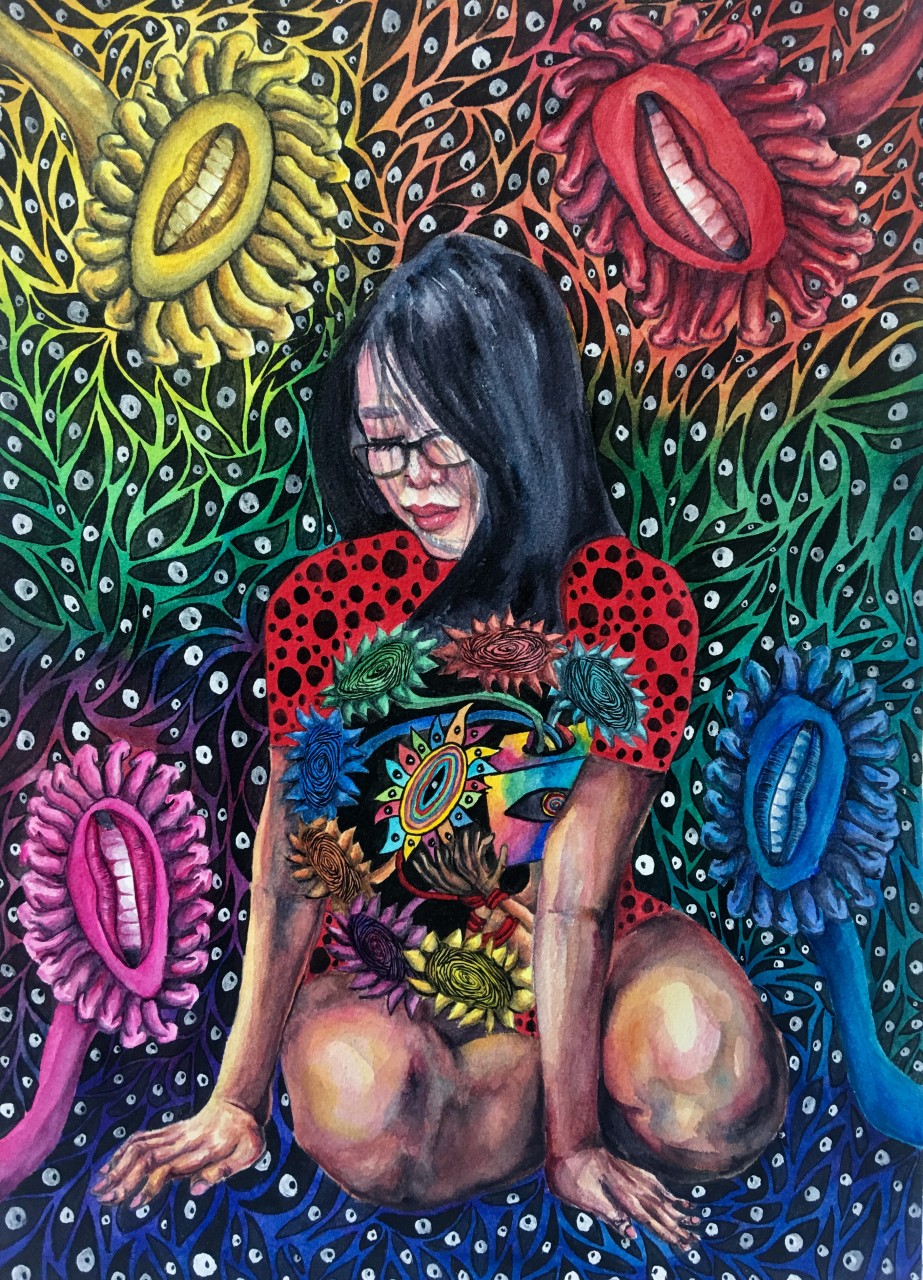 "Hai Long was the first student that I requested in 2 months for an impressive portfolio to open the door to study abroad. He has had to study hard every day of the week instead of just a few days like other students. Hai Long possesses a good ability of acquiring knowledge, and his drive to dig, explore, and collect information helps him get huge data sources. He also has a high level of concentration on the way to reach his goals. At this age, an artist with a distinct style like Long is rare, so I decided to let Long learn how to think before getting into basic lessons, because technique is just a means of expressing thinking" – Tran Hai Long's teacher,  artist Truong Tien Tra, shared at the opening day of the "Self – Fetish" exhibition.
In theory, when an artist does not describe real objectives but transfers subjective emotion inspired by surrounding events and things, and distorts or exaggerates the shape with powerful colors, the artwork reaches the concept of expressionism. On another side, when the artist does not observe the subject in a fixed view but divides it into different aspects, and shows planes of intersection without any perspective rule that makes viewers difficult to recognize the depth of the painting, we have an artwork of cubism. Thanks to teacher's instruction, Hai Long quickly shaped his own blending style of expressionism and cubism with individual marks after only a few months of his speeding for the goal.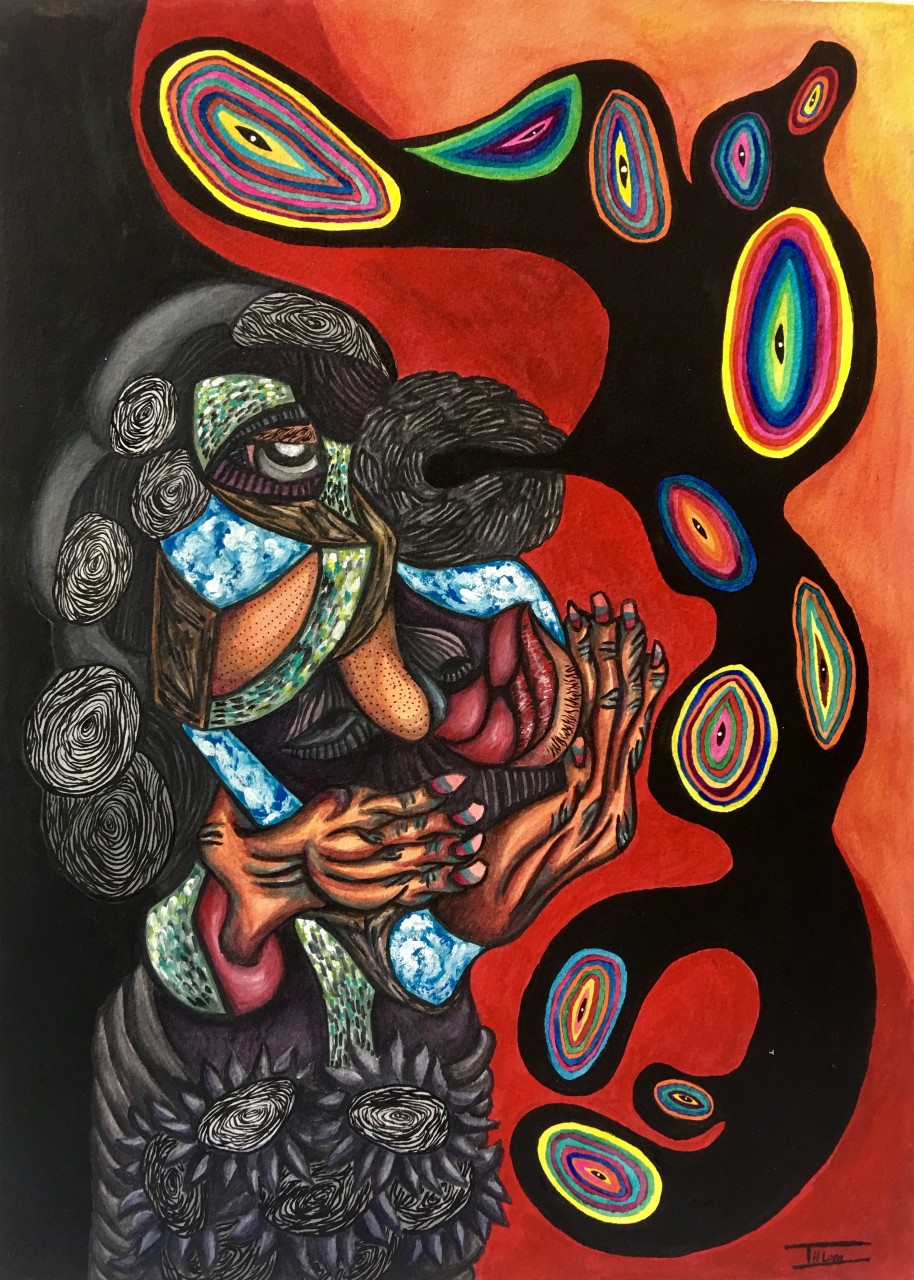 "Long has a huge passion and showed his real effort. His paintings have the past, the present and the future appearing altogether. His paintings imply not only a responsible citizen but also an ideology of a creative artist. Long has strength in shaping. A designer who luckily owns this strength will achieve the title "Artist" instead of "Painter", the strict teacher Truong Tien Tra expressed his satisfaction to his young student.
The journey with brushes is a really hard way for Hai Long to find out his ego. As he shared "Only me, alone in front of the canvas. Only me, alone facing with the chaos and constant disturbs in mind. But the loneliness does not scare me. On the contrary, it makes me feel excited. It sounds a bit odd and unbelievable, but I always feel very well, from the depths inside, that I am growing up, evolving, after every brushstroke."
Long said that he had loved drawing since he was a child; he drew instinctively. But through the years of school, with a busy school calendar,  he was forced to abandon his hobby. Only when reaching grade 12, faced with serious career choices, Long realized that he needed to learn and do something "special" in his life. Thanks to his teacher, his first interest had turned into passion. "Becoming a graphic designer is the way I choose", Long affirmed.
On Tran Hai Long's journey to seek his own ego, "Self – Fetish" is considered as an impressive beginning. Hoping that the heat of his passion will never fade, though the road ahead is very long!
 "Self – Fetish" Exhibition
Time: 19 – 23 August 2018
Gallery: Hanoi Art Residence Hotel
Address: 03 Au Trieu, Hoan Kiem Dist., Hanoi
Number of artworks: 32 paintings drawn in paper from November 2017 to July 2018
Tran Hai Long's information
Born in 2000
Education: Hanoi – Amsterdam High School (graduated in June 2018)
Accepted to the Rhode Island School of Design, America/ specializing in graphic design.