InterContinental Hanoi Landmark72's signature dining venue the Stellar Steakhouse collaborates with "L'Atelier Robuchon" Bangkok for a one-night showcase that will feature our master chefs on the 23rd October 2018.  The event is hosted by InterContinental Hanoi Landmark72 and FineDiningLovers by S.Pellegrino & Acqua Panna.
Fine Dining Lovers by S.Pellegrino and Acqua Panna collaborates with Stellar Steakhouse from InterContinental Hanoi Landmark72, to launch a one of a kind Epicurean Journey.
For one night only, the dinner showcase will see "L'Atelier Robuchon's" Bangkok's Executive Chef Olivier Limousin present the restaurant's most iconic dishes including fine ingredients such as Caviar, Truffle, Black Cod and Quail taking centre stage in this five-course menu.
LE CAVIAR IMPERIAL
servi en surprise sur un kingcrab rafraichi d'une infusion de corail anisée
A surprise of Sologne Imperial caviar
Champagne Taittinger, Brut Reserve
LA TRUFFE NOIRE
et l'oeuf mollet juste doré sur un riz nacré aux copeaux de parmigianoreggiano
Black truffle and poached egg and on a delicate rice with shaved Parmigiano-Reggiano
Le Renard, Chardonnay, Bourgogne
LEBLACK COD
glacé au miso, pokchoy, jus perlé au poivre noir
Caramelized black cod served with Malabar sauce and coconut foam
Trimbach, Gewurztraminer, Alsace
LA CAILLE
farcie et caramélisée avec une purée de pommes de terre
Free range quail stuffed with foie gras served with potatoes puree
Mas Amiel, Le Plaisir, Cotes du Roussillon
LE CHOCOLAT TENDANCE
crème onctueuse au chocolat Araguani, sorbet caco
Araguani Chocolate Custard, Cacao Sorbet, Oreo crumbs
Mas Amiel, MA Vintage, Maury
Executive Chef Olivier Limousin from Joel Robuchon's Michelin Star Restaurant "L'Atelier Robuchon" Bangkok will be the guest chef at the Stellar Steakhouse.
A Special wine pairing set menu will be prepared by Chef Olivier who has worked for more than 16 years with Michelin Starred Legend, Chef Joël Robuchon.
Chef Olivier will work alongside the Stellar Steahouse's Culinary Team to share his signature dishes with guests. There will also be a Master Class for Media representatives and VIP guests of the InterContinental Hanoi Landmark72.
Brief about Chef Olivier Limousin: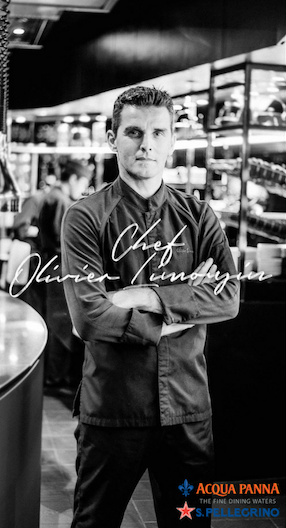 Before joining L'Atelier – Bangkok, award-winning chef Olivier Limousin has been with L'Atelier – London since its launch in 2006, where he gained two Michelin stars. He previously opened La Table de Joël Robuchon in Paris in 2003 – two Michelin stars – and participated to the opening of L'Atelier – Paris. Totally, Olivier has been working for Joël Robuchon for the last 12 years.
Olivier started his career in Paris at the age of 18 ; Le Bellecour – one Michelin star – followed by L'Amphycles – two Michelin stars – where he entered as commis and made all his way up to the sous-chef position. He then moved to Le Taillevent – 3 Michelin stars – before returning back to Le Bellecour as Chef de cuisine and where he gained his first Michelin star.
Olivier, is a very dedicated chef and has been involved in several TV cooking programs such as "Bon appetit bien sur," "Cartes postales gourmands" and "Master chef UK " as a judge for the semifinal. Philanthropist at heart, Olivier never stop reminding his fellow coworkers that the core of our business is to "give some pleasure" to our guests. http://robuchon-bangkok.com/about/team/
The five-course collaborative dinner menu including wine pairing will be available at the Stellar Steakhouse for one night only on the 23rd October 2018, 6:30pm to 21:00pm, at VND3.000.000++ per guest.
For reservations or enquiries, call us on +84 (24) 3698 8888, email [email protected] or visit us at landmark72.intercontinental.com/stellar-steakhouse