Agoda helps deal hunters by revealing cheapest destinations in April
With many across Asia and Australia looking forward to long weekends and holidays in the coming weeks, price-savvy travelers will be happy to learn that Agoda crunched the numbers to reveal the cheapest tourist destinations. In Vietnam, it's Ninh Binh where travelers can enjoy the most competitive room rates this month.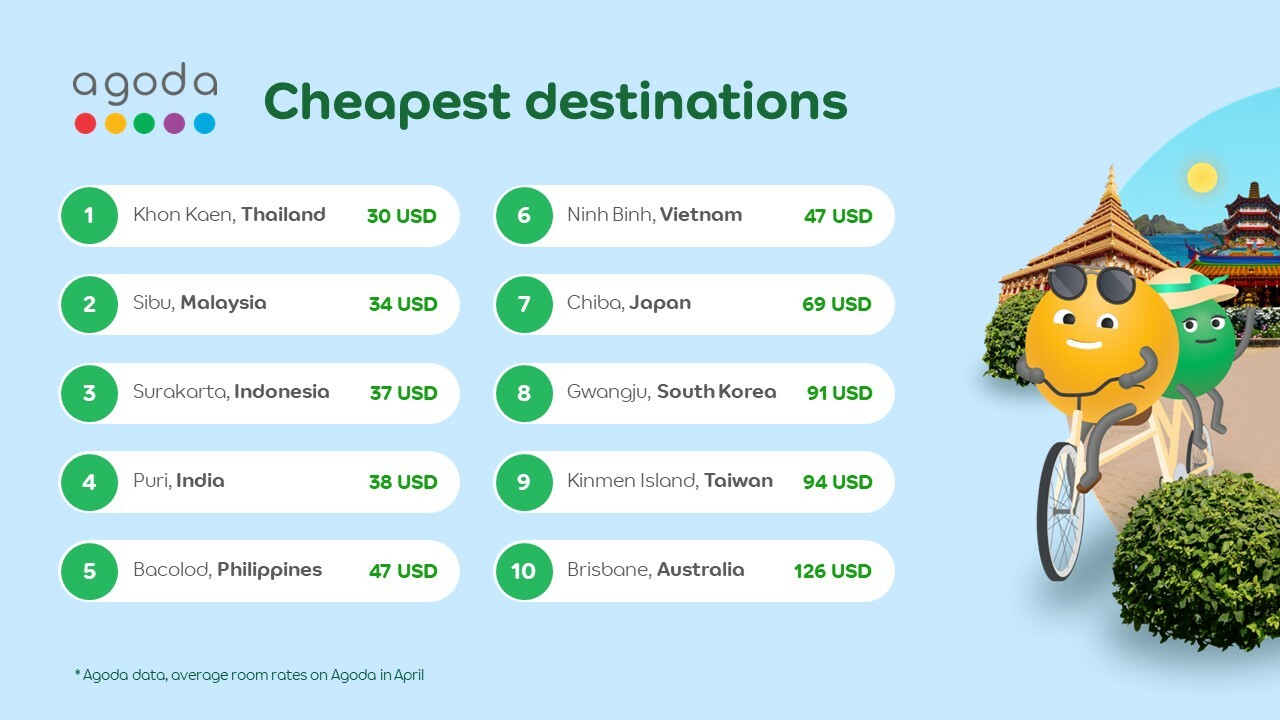 Because of Agoda's passion for getting travelers the best possible deals and most competitive prices, the digital travel platform analyzed the average room rates of tourist destinations in April. In Vietnam, Ninh Binh is the most affordable tourist destination, with an average room rate of 47 USD. Also in Vietnam's top 5 are the imperial capital, Hue, at 49 USD; fast growing coastal destination Quy Nhon at 58 USD; mountain retreat Dalat at 62 USD; and the two major cities, Ho Chi Minh City and Hanoi, each at 67 USD.
The destinations with the cheapest average accommodation rates across the APAC region are Khon Kaen in Thailand, Sibu in Malaysia, Surakarta in Indonesia, Puri in India, Bacolod in Philippines, Chiba in Japan, Gwangju in South Korea, Kinmen Islands in Taiwan, and Brisbane in Australia.
"With 2023 already well underway and public holidays coming up in numerous regions, many of us are looking for a well-deserved break" said Mr. Vu Ngoc Lam, Country Director Vietnam at Agoda. "But at the same time, with cost of living in the daily news across the globe, we're all trying to be smart about how to spend our hard-earned cash. I'm hopeful that these Agoda findings will help travelers discover some exciting destinations and save money along the way."
Despite being the lowest priced tourist destinations, the researched locations have lots to offer to visitors and are nothing short of hidden gems. From bustling beaches and thrilling theme parks to spiritual sanctuaries and foodie Valhalla's. Here are some of the highlights from the ten cheapest destinations in the researched markets:
1. Khon Kaen, Thailand (Average room rate: 30 USD)
Khon Kaen might be Thailand's Dinosaur city, it's surprisingly modern! This university town is home to an abundance of trendy coffee shops, city lakes that seem to be hosting festivals year-round, the Ton Tann Night Market with its many food stalls and live music and much more. Khon Kaen is also an ideal base from which to explore the surrounding countryside, to dig for Jurassic treasures for example, or to make merit at the breathtakingly beautiful hilltop temple Wat Tham Saeng Tham.
Planning a visit in April? Be sure to bring water balloons and a super soaker, because from 13-15 April, Khon Kaen is home to one of Thailand's biggest Songkran (Thai new year) parties. Visit the Kaen Nakhon lake and prepare to get wet during one of Asia's most spectacular water festivals.
Flights Bangkok's two airports to Khon Kaen operate daily and are usually low-cost, with one-way tickets available in April starting at less than 750 Thai Baht (~22 USD) on Agoda.com/flights.
2. Sibu, Malaysia (Average room rate: 34 USD)
Sibu, located in the state of Sarawak, Borneo is an often-overlooked charm with a lively food scene, rich historical and cultural heritage, and stunning natural wonders. Immerse yourself in the ancient traditions of the Tua Pek Kong Temple and discover this haven for nature lovers with numerous parks, nature reserves and walking trails like the Bukit Lima Nature Reserve, Sibu Lake Gardens and the Sungai Merah Heritage Walk.
Like anywhere in Malaysia, food in Sibu is in abundance, from the local kopitiams (old-style coffee shops) to the Sibu Night Market. For an authentic experience do try Sarawak's popular Mee Sua (fine noodles in rich herbal soup), Kampua Noodles, or the popular kompia (flat pastries often filled with meat).
Go ahead and explore the budget friendly gem of Sibu for yourself and don't forget to take home souvenirs from the Sibu Central Market!
3. Surakarta (Solo), Indonesia (Average room rate: 37 USD)
Historically, Surakarta commonly known as Solo has been a center of power in Central Java. In 1745 the Mataram court was transferred here from Yogyakarta, and, since then, the city has built on its reputation as a cultural hub. From Solonese dance, and wayang puppetry to hand-crafted batik, Solo remains a city that prides itself on its artistic traditions of elegance and refinement. This city has received greater attention in recent years as the birthplace of President Joko "Jokowi" Widodo.
Anyone would enjoy a becak ride through the old city, but Solo is especially attractive to traditional music aficionados. Plan your visit around one of two upcoming events worth enjoying: Solo Menari and Solo Keroncong Festival. Solo Menari (translated as Solo Dancing) is an event commemorating world dance day on the 29th of April every year. Similarly, Solo Keroncong Festival (22-23 July) is an annual event to introduce, guard, and empower the traditional folk music unique to Solo.
4. Puri, India (Average room rate: 38 USD)
Known as one of India's four sacred pilgrimage sites called "Char Dhams''. Puri is one of the oldest cities in India and it serves as an attractive base for devotees, history enthusiasts and explorers throughout the year. The city represents the history of India through art and culture depicted in intricate designs of mythological characters and stories on handicrafts.
When in Puri, you cannot miss its delicious food such as 'Malpua' and a decadent prawn delicacy called 'Chungi Malai'. What's more? Puri's golden beach is certified as one of the cleanest beaches in India, so it's time to plan your visit to this affordable but culturally rich city.
5. Bacolod, Philippines (Average room rate: 47 USD)
Aptly tagged 'The City of Smiles', Bacolod City and its sweet and gentle locals know how to give their visitors a culinary experience to remember. Good food will fill your tummy and leave you grinning from ear to ear.
Seek solace in Sharyn's Cansi House and help yourself to cansi, a traditional comfort food in the Negros region (in which Bacolod is located). Cansi is a soup made from beef shank and bone marrow, usually topped off by locals' go-to souring ingredient, the batuan fruit. Or have a hand in creating a local delicacy, piaya, from one of the workshops in Bong Bongs. The flat bread is filled with muscovado and local glucose syrup. The chicken inasal, served best in a cluster of eateries called Manukan Country, is an Ilonggo must-have with its distinct smoky taste. Complete your food trip and indulge in the wide selection of desserts from Calea, which is famous for their chocolate mud pie.
6. Ninh Binh, Vietnam (Average room rate: 47 USD)
Ninh Binh's magnificence has stunned those who have roamed there for millennia.  Located just an hour from the nation's capital – Hanoi – its towering peaks, tranquil waterways, giant temples, and storied pagodas have captivated all who venture there.
Rising to prominence as the setting for the blockbuster Kong, the UNESCO-protected Ninh Binh has experienced a resurgence of interest from visitors following Vietnam's 'Great Wall', paddling through its shimmering rivers, and venturing up the 500 steps carved into the face of the mountain that leads one into Mua Cave.
It's gorgeous scenery changes year-round. And getting there is a breeze, with countless Hanoi transport companies offering bus and limousine options for the two-hour drive, ensuring that all price-points are covered for visitors looking to take in one of Vietnam's hidden charms.
7. Chiba, Japan (Average room rate: 69 USD
Japan's Chiba Prefecture, just a short train ride from Tokyo, has a diverse range of tourism options. Tokyo Disneyland and DisneySea are world-renowned theme parks located in Chiba, and the Boso Peninsula offers rugged coastlines, pristine beaches, and lush forests for nature lovers. Chiba City is the prefecture's capital and is a bustling hub of entertainment, with attractions like the Makuhari Seaside Park and the nearby shopping center Aeon Mall Makuhari Shintoshin.
One must-visit historic site in Chiba is Narita-san Shinshouji, a stunning Buddhist temple complex located in Narita City. The temple, which dates back to the 10th century, is known for its beautiful architecture, intricate carvings, and stunning gardens.
After a day of sightseeing and indulging in local cuisine, visitors can relax and unwind at one of Chiba's hot springs. Overall, Chiba Prefecture is a must-visit destination for anyone looking to experience Japan's natural beauty, cultural heritage, thrilling attractions, and delicious cuisine.
Transfers to and from Chiba, and other local activities, can be booked on Agoda's Activities page: https://www.agoda.com/activities/
8. Gwangju, South Korea (Average room rate: 91 USD)
Well-known as the city of culture and art, Gwangju offers a variety of cultural and artistic scenes all year-round, including a street dedicated to art, museums such as the Asia Art Center and Gwangju Museum of Art, and many galleries and antique shops. This makes Gwangju one of the most attractive destinations for travelers who want to explore art, performance, and theatre.
This spring, art lovers have another reason to visit the city: The 14th Gwangju Biennale, Asia's largest and oldest arts festival, will run throughout the city from April 7 to July 9 under the theme of "Soft and Weak Like Water".
9. Kinmen Islands, Taiwan (Average room rate: 94 USD)
It might be little known abroad, but Kinmen is an island full of historical and military monuments. But most of all, the reason to visit is the 'Blue Tears' phenomenon that can be witnessed on the shorelines. This bioluminescent sparkling blue glow is nothing short of spectacular.
Besides those monuments Kinmen is also famous for the Rock Oyster. And foodies are in luck this month, because from April 22 to May 21 the 'Rock Oyster and Wheat Cultural Festival' takes place. Visitors must try harvesting oyster from the farm and join the oyster shelling competition. The best thing about it? You can take all the oysters you shelled with you! There are also activities such as touring wheat fields in an electric car, oyster farm eco tour and many more family-friendly activities.
10. Brisbane, Australia (Average room rate: 126 USD
Brisbane, the capital of Queensland, Australia's Sunshine State, is Australia's third largest city. The vibrant river city is renowned for its subtropical alfresco lifestyle and is an ideal place for enjoying outdoor activities, with beautiful botanical gardens, animal sanctuaries and dynamic cultural precinct, South Bank. Featuring weekly market stalls, cafe and bars, and a stunning artificial beach by the river.
Furthermore, Brisbane is only a short drive from some of Queensland's pristine beaches. With surf, sand, and sun right on the doorstep, Brisbane is not just Australia's most affordable tourist destination, but also one of the most alluring ones.
In addition to picking the most affordable destinations, Agoda helps travelers getting the biggest bang for their buck with features like Price Freeze, Price Alerts, bundling discounts, daily deals and more, helping people see the world for less.
###
About Agoda
Agoda helps anyone travel anywhere with its great value deals on a global network of 3.2M hotels and holiday properties worldwide, plus flights, airport transfers and more. Agoda.com and the Agoda mobile app are available in 39 languages, and supported by 24/7 customer support.
Headquartered in Asia, Agoda is part of Booking Holdings (Nasdaq: BKNG) and employs more than 6,300 staff in 33 markets, dedicated to leveraging best-in-class technology to make travel even easier.
About the data
Average room rates for April were calculated based on available Agoda data on 28 March 2023.