Let indulge yourself in the fairytale of haute cuisine, music, and cultural exploration. Be surrounded by a magical and colorful atmosphere with your loved ones and share holly jolly festive moments together. Cheers to the New Year!
Get ready for an exciting year ahead!
1. DELIGHTFUL FESTIVE DINING SET MENU BY PULLMAN
**Family Christmas Set Menu: 24-26 December 2019, lunch and dinner (book by 20 Dec).
**New Year's Eve Set Menu: 30-31 December 2019 & 1 January 2020, lunch and dinner (book by 26 Dec).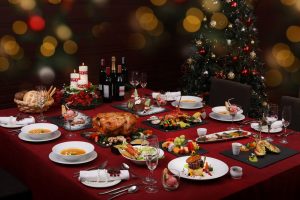 "The fondest memories are made gathered around the table".
A series of indulgent and sophisticated surprise awaits you through the sumptuous family-style sharing menu of 15 delectable festive dishes. Kick-off the holiday excitement with fresh and delicate gastronomy such as freshly opened Da Nang oysters, selection of sushi, sashimi & maki, baked Canadian lobster and more.
Look forward to the feel of a warm family gathering with the festive signature dishes such as creamy pumpkin soup, roasted turkey with chestnut, beef Rossini with red wine sauce, char-grilled Mediterranean vegetables and more. Pamper your palates with traditional sweet treats such as chocolate yule log cake, Christmas stollen, seasonal tropical fruits, and Christmas ice cream.
The wide range of festive dining will surely bring your festive season 'a miracle happens'.
o Price VND 3,195,000 Net/set for 2 adults & 2 children OR 3 adults;
o For any additional adults: VND 1,095,000 net/person;
o For any additional children (up to 16 years old): VND 650,000 Net/child;
o *Price is inclusive of a 5% service charge and 10% VAT.
o 15% savings for bookings prior to 20 Dec. Pre-payment required.
o In-house guests and Accor Plus members enjoy an additional 10% off current offer.
Reservation: La Cheminée restaurant – 1 st floor Pullman Hanoi 
T: +84 24 3733 0688, E: h7579-fb3@accor.com
W: https://pullman-hanoi.com/offers/delightful-festive-dining-offers-at-pullman-hanoi/
2. FESTIVE AFTERNOON TEA
November – December 2019, from 2.30 pm to 5 pm, daily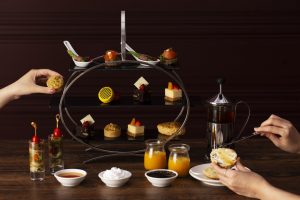 It's the most wonderful time of the year!
It's time to gather with your beloved ones and enjoy a sip of tea and indulge in a delicious festive-themed high tea featuring dipped strawberry in chocolate sauce, Christmas roll cake, braised pear in red wine, salmon gravlax, buffalo cheese skewer, chicken croquette, scone and more.
Price: VND 457,000 Net/set.
(Price is inclusive of a 5% service charge and 10% VAT).
Reservation: Mint Bar – Grand Lobby, Pullman Hanoi
T: +84 24 3733 0688 ext 42315, E: h7579-fb3@accor.com
3. INSPIRING YEAR-END PARTY BY PULLMAN HANOI
From now until 28 February 2020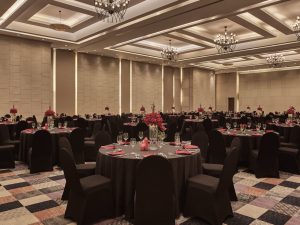 Worked hard all year… it's now time to celebrate your success with the team!
Plan ahead for the joyous season and celebrate the end of a hard-working year for your company with more than 400 guests or simply throw a small exciting party for a team of 10? Pullman Hanoi is the place to be!
Strategically nestled at the city center, Pullman Hanoi provides an elegant venue of nearly 600sqm – Van Mieu Grand Ballroom which can be divided into three smaller rooms depending on requirement. Additionally, La Cheminée restaurant can host events from less than ten people and up to 300 guests.
3 choices of exclusive menu with a range of delectable dishes are meticulously designed by talented chefs:
 International buffet (Lunch/Dinner): VND 888,000 net/ person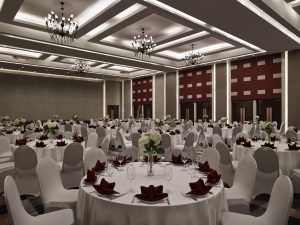  Authentic Northern Vietnamese 9-course set menu (Lunch/Dinner): VND 928,000 net/person
 Chef's Signature 4-course Western-style set menu (Lunch/Dinner): VND 988,000 net/person
* Price is inclusive of 10% VAT and 5% service charge.
* 20% off the public room rate for event guests who book their stay during event time, subject to
room availability.
Contact: T: +84 24 3733 0688 ext 41507 & 41503, E: h7579-sl16@accor.com & h7579-l2@accor.com
4. FESTIVE RETREAT at PULLMAN HANOI
2 October-31 December 2019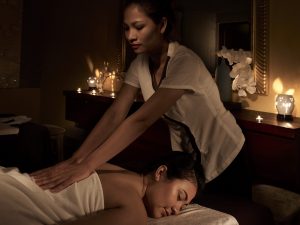 Enrich your life through a journey of unforgettable physical-mental therapies at Pullman Hanoi?
Pamper yourself and your loved one through a journey of unforgettable treatment in a relaxation that will revitalize you.
From 2 October to 31 December 2019, stay with Pullman Hanoi from two nights to enjoy the attractive "Love Yourself" complimentary benefits:
 One-hour complimentary body therapy at spa lounge
 One complimentary afternoon tea set at Mint Bar
Booking period: 2 October – 31 December 2019
Stay period: 2 October – 31 December 2019
Love yourself now: https://pullman-hanoi.com/offers/pullman-hanoi-wellness-offer/
5. WEEKEND ESCAPE PACKAGE
1 October-31 December 2019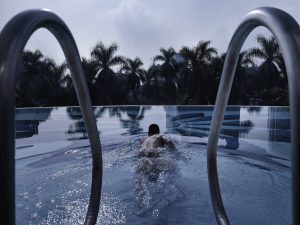 Look forward to living and breathing the vibrant Old Quarter with amazing food to taste and the rich culture to explore at Pullman Hanoi with a complimentary Thang Long Water Puppet Show ticket per person and round trip shuttle bus to the Old Quarter for a minimum 2-night stay.
*Stay must include Saturday night with guaranteed late check-out at 4 pm.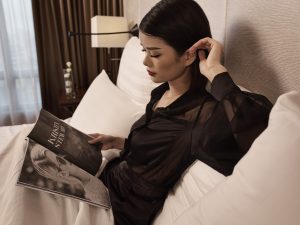 Booking period: 1 Oct – 28 Dec 2019
Stay period: 1 Oct 2019 – 31 Dec 2019
Start your journey now: https://pullman-hanoi.com/offers/weekend-escape/
Pullman Hanoi Hotel
A: 40 Cat Linh, Dong Da, Hanoi | T: +84 24 3733 0688 | E: h7579@accor.com