Recently, Vietnam's hidden paradise – Con Dao islands have become Forbes's first choice amongst the 10 most beautiful beach destinations in the country, thanks to its scenic nature, diverse marine life and pristine beaches.
Located off the southern coast of Vietnam, just a 45-minute flight from Ho Chi Minh City, it is untouched by the rapid development of the mainland. The Con Dao archipelago remains a pristine gem. Apart from a striking nature, the island rewards travelers with some of the most beautiful and idyllic beaches in Vietnam. Con Dao islands are well-known for soft sandy beaches, clear alluring water with shades ranging from light turquoise to deep blue and healthy coral reefs. One thing is for sure: the beaches here will never be crowded. The well-preserved condition and the absolute seclusion make this hidden gem stand out from other nine popular spots in the list. The lesserknown element now becomes the island's advantage as it arouses curiosity in travelers who want to discover one of the very few untouched paradises left in Asia. This might also be the reason why the Con Dao archipelago has won the top-pick by Forbes Magazine.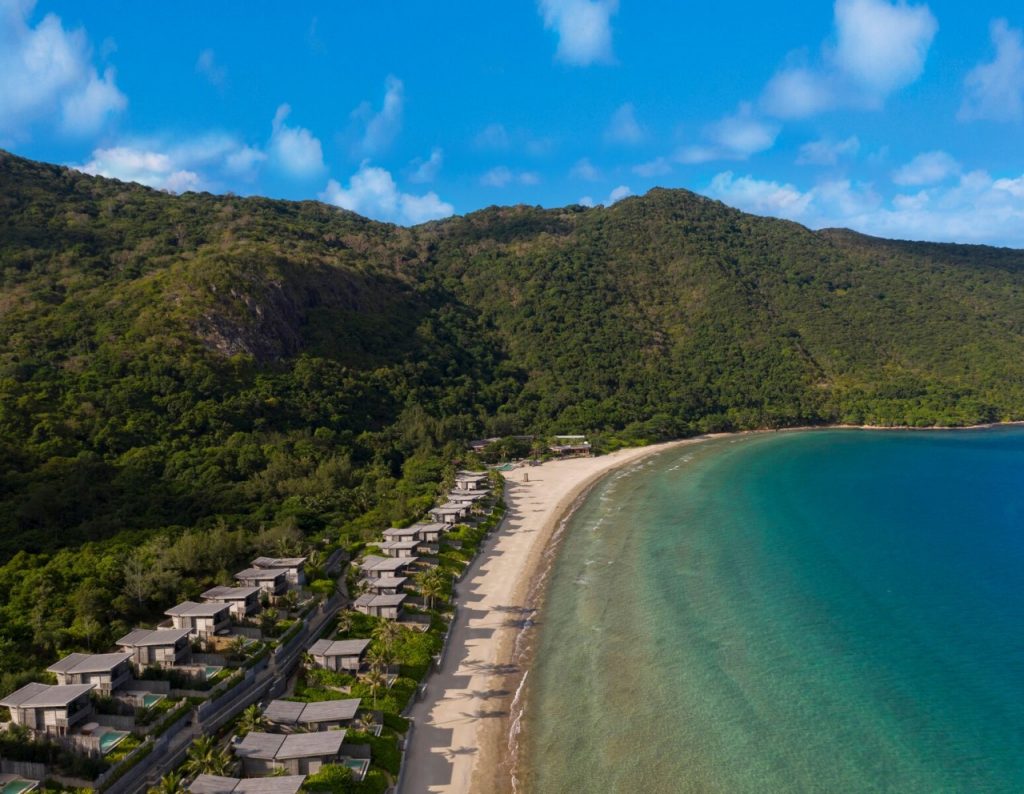 The beauty of Dat Doc beach where the one and only five-star resort of the archipelago located, is truly unparalleled. Flanked by dramatic Lo Voi mountain and darkly green forested surroundings, Six Senses Con Dao features unspoiled natural scenery. The secluded property prides itself on an unsurpassed sense of privacy, making it a perfect place for a private island retreat. 50 Villas and Residences are set along 1.6 kms of coastline, and echo the visual cues of a traditional fishing village while offering a modern, contemporary flair. The resort offers options of three and four bedrooms that are suitable for family or group travelers, Six Senses Con Dao's Residences feature a real sense of home-away-from-home while presenting an ultimate standard of luxury. The resort also sits beside a turtle hatchery, where guests can marvel at their releases. Six Senses Con Dao has become a symbol of Vietnam's preservation of its most precious destinations.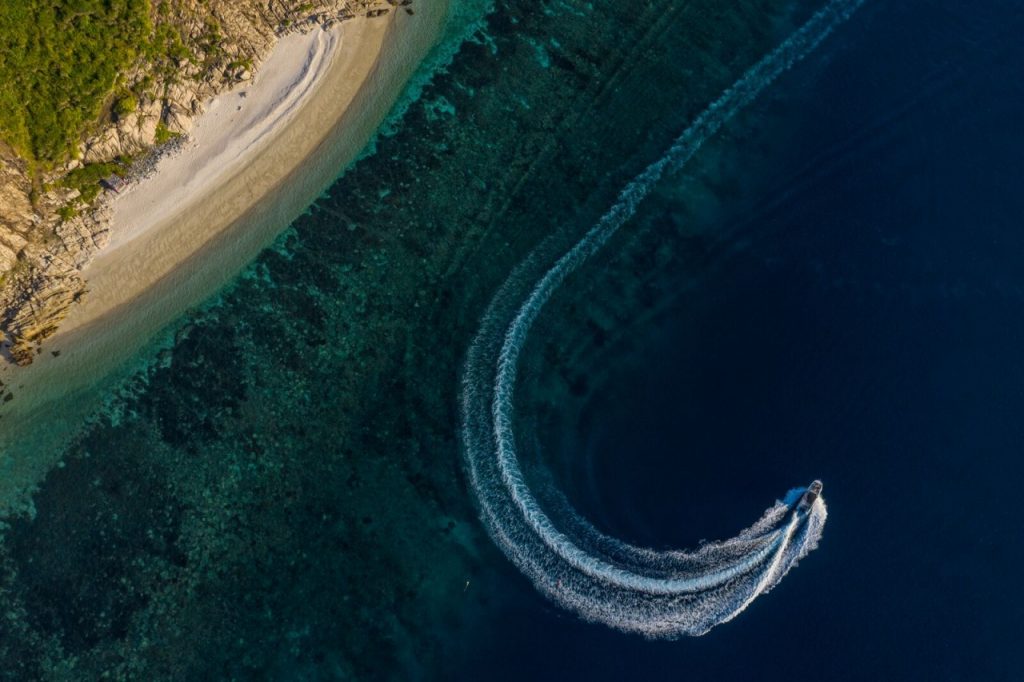 For a truly authentic experience, why not rent the resort's motorbike to give you the freedom to really explore the island. Head to the Southern end of the island to Ben Dam Harbor and take a glimpse at the locals' daily life. You will be charmed by the freshness of seafood that is freshly caught and brought back by the fisherman, the chatter of the locals and the vehicle sounds which are part of daily life. Visit Phien Khuc café (Cà Phê Phiên Khúc) for a morning coffee and indulge yourself in the laid back vibe of the island. The distinctive and rustic design of the coffee shop as well as the genuine hospitality coming from the owner are definitely one of the highlights of this trip. Our little tip: go for a Vietnamese black coffee with condensed milk to enjoy the strong but flavorful taste to fuel up your energy. Your journey in Con Dao Islands will not be complete without exploring the rich history and the heritage side of the islands. The well preserved nature of the island also makes it an ideal breeding ground for some of the most "picky" green sea turtles who usually come to nest on the beaches around the archipelago from May to October. If you are lucky enough, you will have chance to participate in some of the most spectacular moments of the nature – releasing baby sea turtles to the ocean. Whether your ideal holiday is romance, relaxation or adventure, Con Dao islands are a potent combination of all these holiday experiences.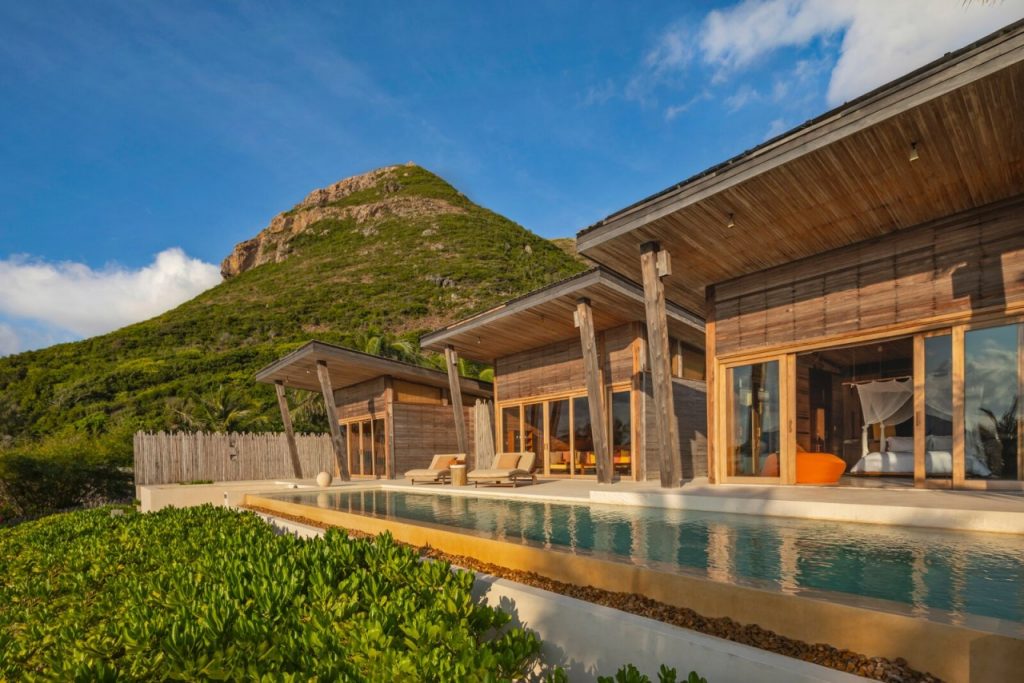 Awaken your sixth sense with Six Senses Con Dao's ultra-premium private jet experience to Vietnam's discreet luxury hideaway, where seclusion and privacy are paramount. Offering a choice of a Legacy 600 or a King Air 350, this exclusive service provides charter flights within the region and can carry up to 13 high-flyers with the utmost in comfort. Needless to say, Six Senses Con Dao's private aviation solution is passengers. It is the very first of Vietnam's new breed to arrive at this hidden island. More than just a top-notch hardware or luxury design, guests can choose to fly at any time or use an aircraft of their own. Our air experience is based on individual availability. Private access and VIP boarding service are there to satisfy the most demanding travelers and take the whole journey to a new era of privacy and exclusivity.
Promotion:
From 03.09.2019 to 30.11.2019, when booking your stay from 2 nights or more, with rates starting from VNĐ 9.900.000++/night at Ocean View Duplex Pool villa, you will enjoy:
• Daily buffet breakfast by the beach
• One 2-course set dinner per person per stay (excluding beverages)
• One Spa voucher of VNĐ 700.000 per person per stay
• In-villa welcome fruits and fruit juice
• Complimentary homemade ice cream
• Round-trip airport van transfers
• Other resort activities: yoga, kayak, watersports & clams collecting
Validity: From 03.09.2019 to 30.11.2019
Contact us for further information:
T: + 84 254 3831 222 |
Offer is subject to other terms and conditions.