Nestled in the foothills of the Truong Son mountain range, sits Alba Wellness Valley by Fusion, the haven of tranquility we're in search of, the ultimate wellness destination where you can escape the stresses of urban life, if only for a while, and fully reconnect with yourself.
Escape the noisy city to return to the peaceful countryside at the foothills of the Truong Son mountain range
Alba is surrounded by 50 hectares of pristine forests, still lakes, lush gardens and natural hot springs. With only 76 rooms (including 30 Deluxe, Premium Deluxe and 20 Bungalows in Alba Wellness Resort and 26 Superior rooms in Thanh Tan Hotel) along with an extremely large 2000m2 Spa and Onsen area, flowing hot springs hover around the resort.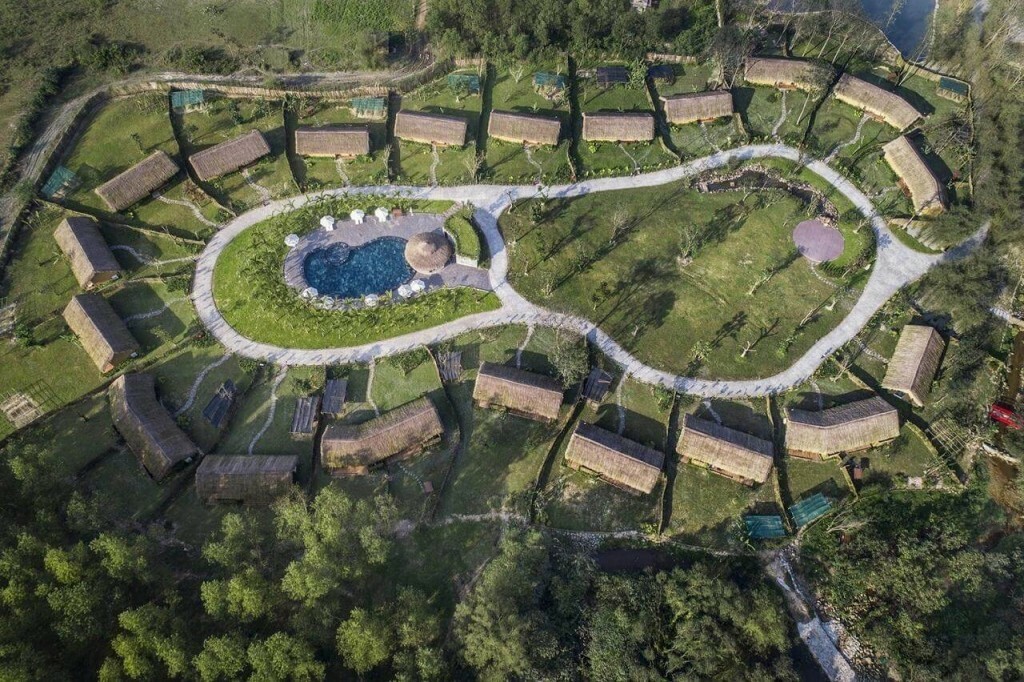 In addition, the resort is fully equipped with other functional areas such as Yoga studio, Gym room, restaurant and Kids Club. For those who like to be active, there are also 2 adventure games Zipline and Highwire; If you like to be creative and explore, there are traditional craft villages, Alba organic farms and deer gardens.
Where you find tranquility in the middle of nature
In the midst of a space filled with shade and openness, the fresh and clean feeling of the mountain air makes you feel relieved. Soaking in mineral springs or Japanese standard Onsen helps you to purify your body, beautify your skin and relieve muscle aches and pains, find a deep sleep between nature and the fresh air of the mountains.
Waking up in the morning, you will be immersed in the sound of birds chirping to each other, streams flowing through each rock and the forest wind. It was a wonderful feeling of peace and quiet.
"Breakfast anytime, anywhere" service will bring you a very pleasant stay. They say that breakfast is the most important meal of the day, but they don't say you need to eat it in the morning. So we've got you covered, day or night, with our signature 'breakfast, anywhere, anytime'. That means you can have a healthy breakfast by the natural hot springs, by the pool or we'll even bring you breakfast in bed.
Relax with the most unique and diverse wellness activities
The trend of wellness tourism is increasingly popular after the pandemic as people appreciate their health and desire to lead a healthier life. Alba pioneers in intensively researched and creative wellness activities such as: Water meditation (immersing in hot springs and meditating), Walking meditation (grounding yourself by touching the earth and meditating on barefoot) Forest bathing, Qigong and Tea ceremony, biking, challenging yourself with the longest Zipline in Vietnam …
At Alba, you can temporarily stay away from technology devices, disconnect with busy daily life, immerse yourself in nature and be mindful. You will learn to appreciate the small but subtle values that you may have temporarily forgotten.
Healing Yourself
You can pamper yourself with the resorts's highlights, including Detox Yourself and Healing Yourself Retreat course with 3-5-7 Day package. The treatments and wellness activities are crafted with a desire to bring a meaningful journey back to your true self.
Participating in yoga, meditation, movement therapy classes as well as spa treatment will help you clear your mind, get rid of depression, low energy frequencies and recharge your vitality. That inner healing process brings happiness not only to the person being healed but also to the surrounding relationships.
Alba Wellness Valley by Fusion offers Spring – Summer Package costing from 1,895,000 per person with breakfast, dinner, Japanese Onsen, Spa treatment and daily wellness activities applied until the end of 08/2023. For more details and offers:
Alba Wellness Valley by fusion
Address: Phong Son commune, Phong Dien District, TT Hue province
Tel: (+84) 234 3552 222 – Hotline: (+84) 905 982 232  [email protected]