Behind the scenes of VietHarvest's inaugural "CEO CookOff" in Ho Chi Minh City
The brief could best be described as 'interesting'.
"We need 10 cooking stations set up in the ballroom for a group of CEOs and business leaders who are going to serve 150 guests, under the watchful eye of a host of celebrity chefs, to raise money for disadvantaged people in Vietnam and prevent food waste nationwide," tasked Jimmy Pham, Co-Founder, VietHarvest, without taking a breath. No pressure then…
Fortunately, the team at InterContinental Saigon, led by General Manager Justin Malcolm, love a challenge and rose to the occasion – and some – as part of IHG Hotels & Resorts' nationwide partnership with VietHarvest.
Fast forward five months, and Justin and his colleagues were looking back with satisfaction at a job very well done, having supported VietHarvest to raise funds to drive food rescue in the city and delivered a delicious range of nutritious dishes to guests on the night, as well as 200 packed meals to charities in the city.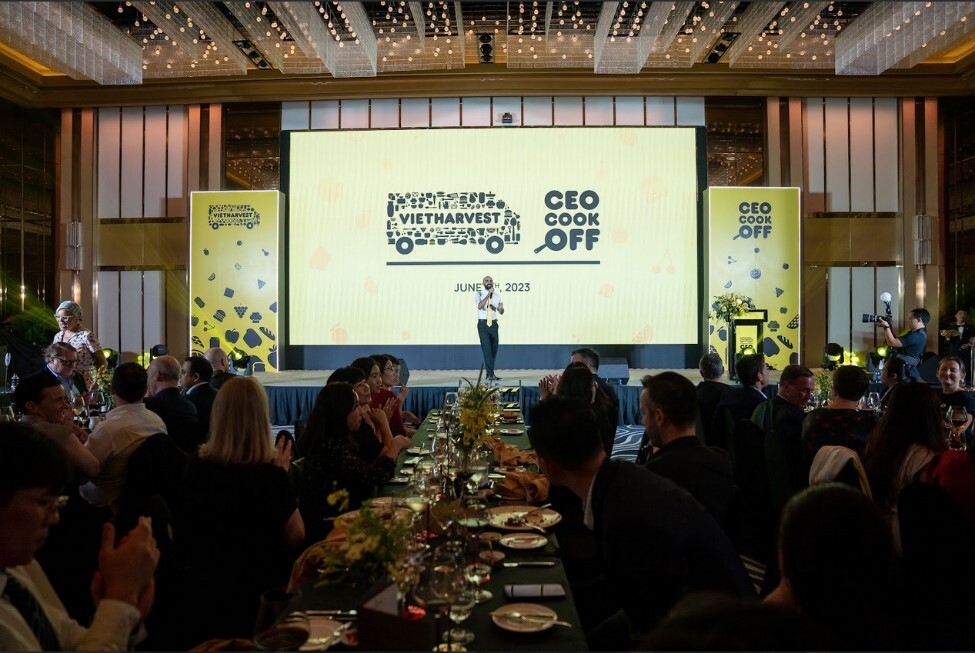 "The team were pumped by what they achieved," recalled Justin. "It was wonderful to host such an important and worthy event and be part of something bigger than us. To support a social enterprise like VietHarvest, whose mission is to reduce waste and help those in need, touched the hearts of the whole team."
But just how did Justin and his colleagues pull off such a feat, or rather, feast? What were the winning ingredients that enabled them to cook up a treat for such a good cause?
First up, the 10 temporary kitchens had to be created in the hotel's ballroom – not necessarily an easy task considering the demanding reputations of your stereotypical celebrity chef. But it proved no problem for the InterContinental Saigon team, whose 'Masterchef style' builds ensured there were no qualms on the night, and that every aspect of the culinary magic taking place was visible to all those present to add to the entertainment.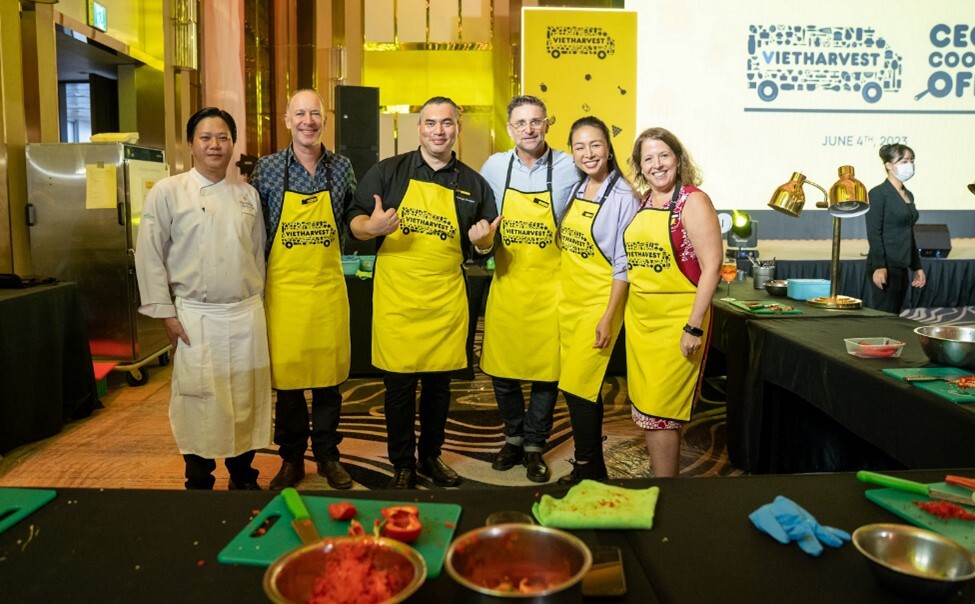 As rehearsals took place in the ballroom, the atmosphere quickly built. It was soon time for the hotel's Executive Sous Chef, Chef Vinh Quach, to brief his team on how the dishes had been created, to ensure they could be plated up correctly by the plucky CEOs and business leaders.
And, as they set about their task, those leaders of industry certainly made full use of everything the InterContinental Saigon team put at their disposal – which ran to quite a list: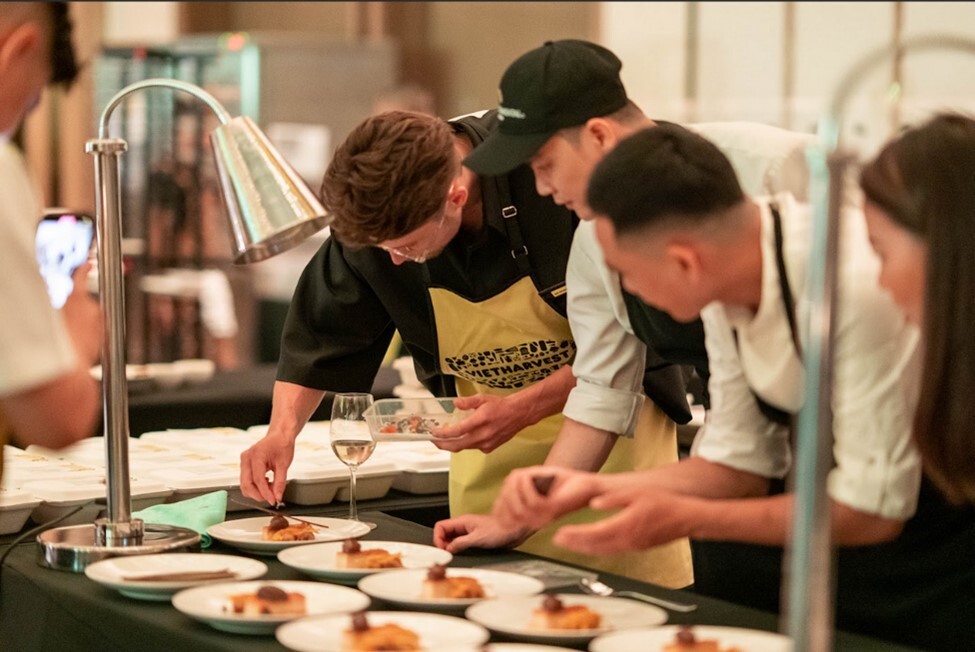 200 compostable tasting spoons

50 tea towels

50 serving spoons

50 forks

40 knives

40 tongs

20 spatulas

20 electric stove tops

20 10 litre pots

20 frying pans

20 ladles

10 Banquet hot holding trolleys
While the main courses had been overseen by the celebrity chefs – including InterContinental Saigon's Executive Chef Rodrigo Martinez – the starters and desserts were created by the hotel's culinary team.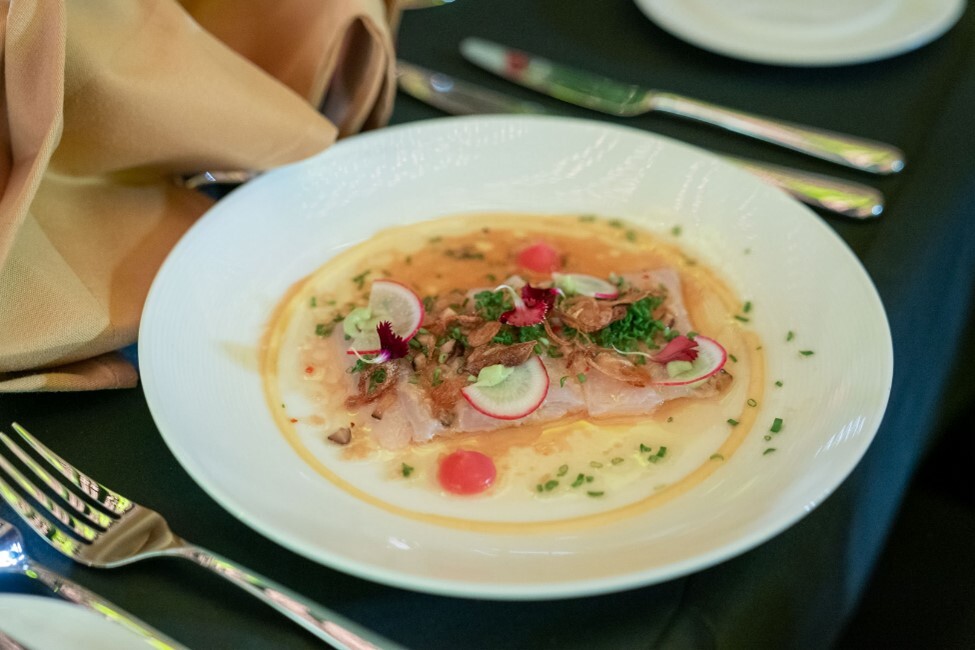 The starter, named 'The Better Fish', was barramundi tiradito with truffle oil, soya ginger dressing garnished with radish, avocado puree and crispy shallots. Feedback from the guests lucky enough to taste it was unanimous: they loved it.
As for the dessert, well there's a three-page recipe available if you would like the details. "I decided to pair up ingredients that would have been thrown away, such as old bread and very ripe bananas, with some everyday staples, and some divine chocolate from sponsor 60DAYS," explained Rodrigo. "The finished dish was stunning and didn't disappoint."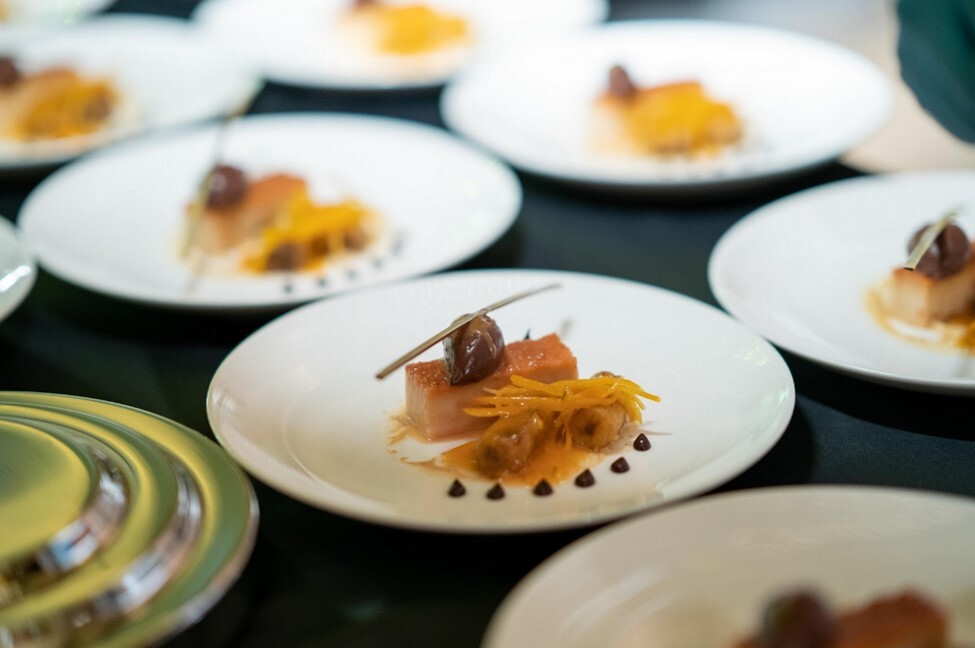 Chefs from across IHG's hotels in the region travelled to Ho Chi Minh City (HCMC) to support the event. Cao Thanh Xuan, Executive Sous Chef at InterContinental Hanoi Westlakez, was delighted to be involved: "It was great to help VietHarvest and meet my IHG colleagues at InterContinental Saigon – we got to know each other and took the chance to exchange knowledge of northern and southern Vietnamese cuisines."
In total, 250 kgs of ingredients including fish, meat and vegetables were sourced for the event, with more than 36 banqueting staff involved in the set-up and pre-planning. The InterContinental Saigon team was supported by 31 young hospitality volunteers from social enterprise, KOTO (Know One, Teach One)– making it a real one-team effort by a huge amount of passionate people from across a range of organisations.
"I simply loved the CEO CookOff!" added Rodrigo. "As a chef you always want to learn from your peers and there's often a bit of healthy competition, too. It was amazing to meet so many well-known chefs from Australia and Vietnam and bring people together from different IHG hotels."
We'll leave the last word to VietHarvest, a cause now close to the hearts of all the chefs – professional and amateur – involved, and which has extended its relationship with InterContinental Saigon to regularly pick up food from the hotel every week.
"The brief was well and truly met – thank you to everyone involved at InterContinental Saigon!" said Louise Tran, Co-founder, VietHarvest. "Your support was phenomenal – it went above and beyond, and we could not have asked for a better partner. Your belief in our vision and your desire to make a difference were simply wonderful – thank you."