Traditionally filled with rice noodles, pork, shrimp and an assortment of mixed vegetables and herbs, Vietnamese summer rolls (also known as "fresh spring rolls") have become one of the most highly regarded signature dishes of Vietnamese cuisine. The dish is served fresh and not fried like other spring rolls. The fresh ingredients and dipping sauce play an important role in delivering the tasty flavor. There is however, a difference in the style of sauce making between the Northern and Southern regions. The Northern style uses fish sauce as the main component while the Southern style uses peanut sauce. In this article, we will show you the Northern style.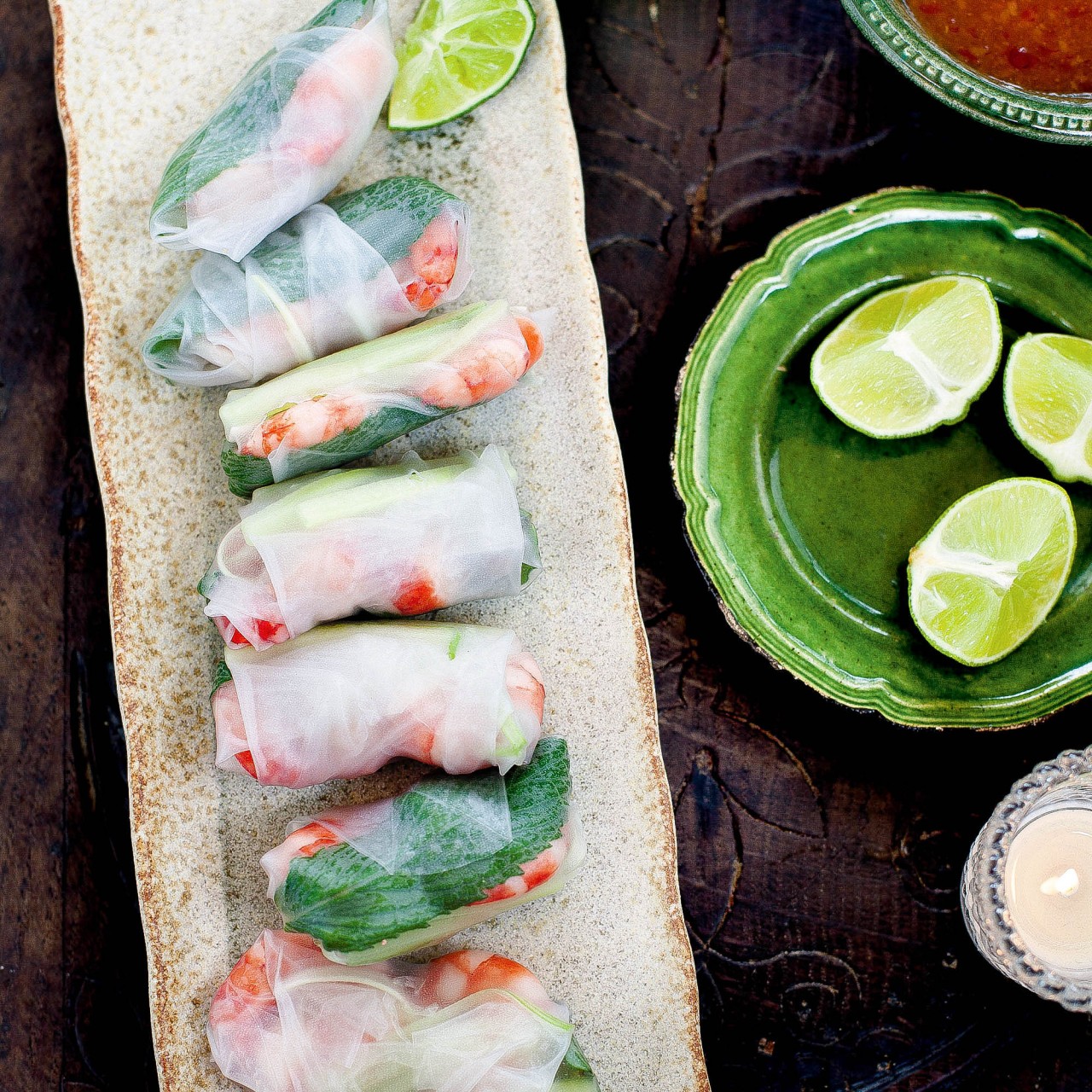 Summer rolls can be served either as a main dish or side dish, depending on the occasion. Because of its freshness and healthiness, this dish is most popular in the summertime. In some families, every ingredient is set on the table, allowing each person to make their own rolls. Therefore, this can be also recognized as a "family activity", which strengthens the bond between each member.  
This dish can also be a safe and easy way for foreigners to explore Vietnamese cuisine. For some people, making summer rolls is similar to handcrafting to piece of art since it requires a bit of practice and meticulousness to make a perfect roll. It would be a great time to gather a group of friends to make summer rolls together! 
Ingredients
Rice-paper sheets

 

300 gr tiger prawns: boiled and sliced into halves

 

200 gr boneless pork loin: boiled and sliced 

 

300 gr fresh rice noodles

 
2 eggs: pan fried and sliced

 

1 cucumber: halved, seeded, cut into matchsticks

 

1 carrot: peeled and cut into matchsticks

 

100 gr of each of lettuces, coriander, basil, Vietnamese balm,  chives: put separately

 
Sauce ingredients
1 cup of warm water

 

100 ml fish sauce

 

2 tablespoon lime juice

 

1 tablespoon sugar

 
3 red chilies: finely chopped

 

1 small garlic clove: crushed

 
Instruction:
Quickly immerse the rice paper in water and lay the sheet gently on a flat surface. 

 

Lay your lettuce on the soft spring roll wrapper, and then add herbs, cucumber, carrot, fresh noodles, egg, prawn and pork on top of each other. Try to fit everything within the 1/3 of the sheet.

 

Fold the side edges of the rice paper inward. Then, starting from the food end, roll up until the end of the sheet. Try not to break the sheet. The wet rice paper will automatically stick to the other end. For starters, you can double up the layers to easily roll.

 

Dip the roll into the prepared sauce and enjoy the dish!