This year's Mid-autumn Festival, Sheraton Saigon proudly launches its Mooncake Collection 2022 under the name Nguyet Da (Moonlit Night), bringing the scenic moonlit night of mid-autumn – vibrant yet tranquil.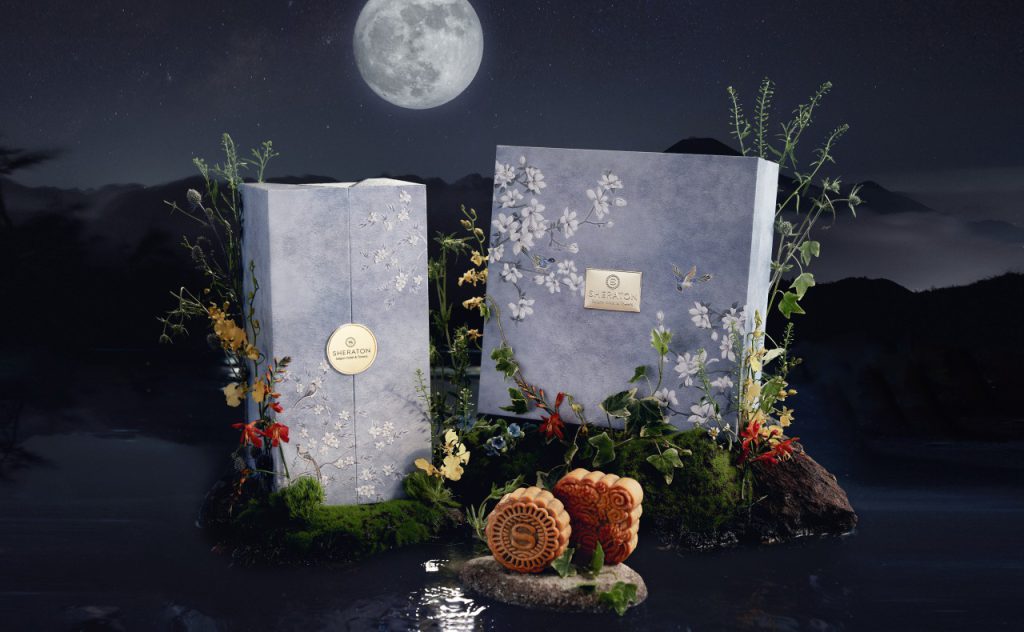 Nguyet Da mooncake collection emphasizes the beauty in the outlook of life – as living beings keep flourishing, flowers wither and bloom, the moon transforms from half to full in the magical harmony of the earth and the skies during the mid-autumn's night. It is time for everyone to reunite over heart-to-heart talk with endless stories and delectably-made with love mooncakes.
Renowned as one of the leading mooncake brands, Sheraton Saigon debuts two luxurious box design versions featuring authentic mooncakes handcrafted by the hotel artisan chefs. The Nguyet Da edition introduces two box options boasting an elegant hue of stone blue while the Heritage edition brings back three most-loved box designs over the years.
As one of the 2 main designs from the Nguyet Da edition, the traditional square box design prides itself on the name Son Hoa Nguyen Da – meaning of blooming flowers on mountain tops during the full-moon night. Adorned with a peaceful illustration of lovely birds dancing among white magnolia blossoms, the box design strikes with a golden engraved hotel logo. Representing its name Giang Hoa Nguyet Da – which means 'floating along the river' during the full-moon night, the second design option is shaped as a tower. Enchantingly features two doors and four sweet color toned drawers with golden latches, the design resembles a magic box safekeeping all the beautiful wonders of life.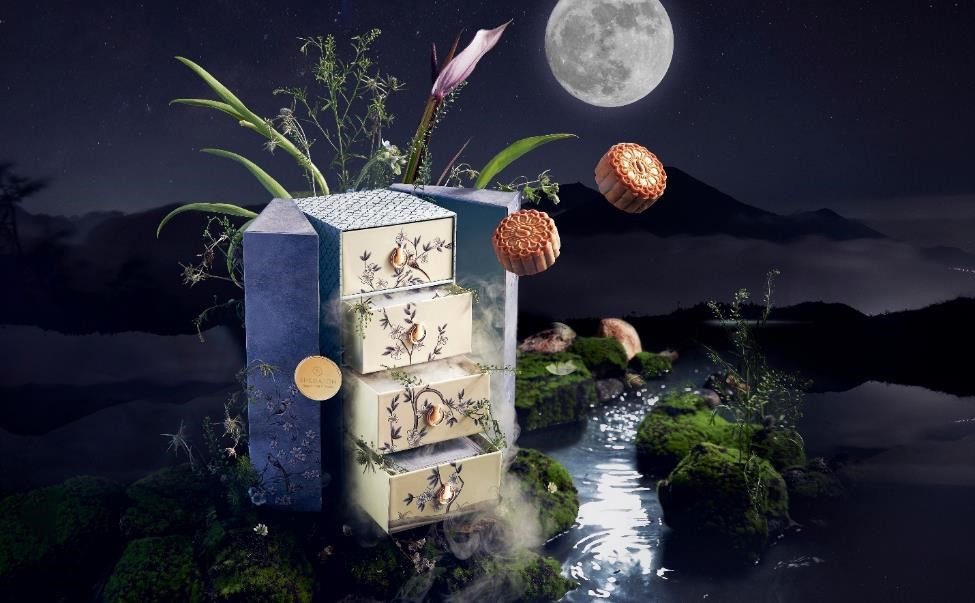 From the Heritage edition, guests can find the popular Phuc Lai Thanh square box representing the connection of the universe bringing happiness (Phuc) to the human and every family (Lai Thanh) and the Phuc Man Duong box embracing the family values during our life journey and symbolizes the shape of a carry-on suitcase with a metallic handle.
Highlight of the collection starring the VVIP box version – which is named Hao Quang Minh with an unprecedented fashionable appearance and sold at limited edition. Perfectly crafted with PU leather and eye-catching blended colors between Tiffany blue and coral, the VVIP box embodies an awe-inspiring structured ladylike bag. It is not only a chic and fashionable accessory, but Hao Quang Minh – as its names defined is also a lucky charm bringing prosperity and luck to the owner.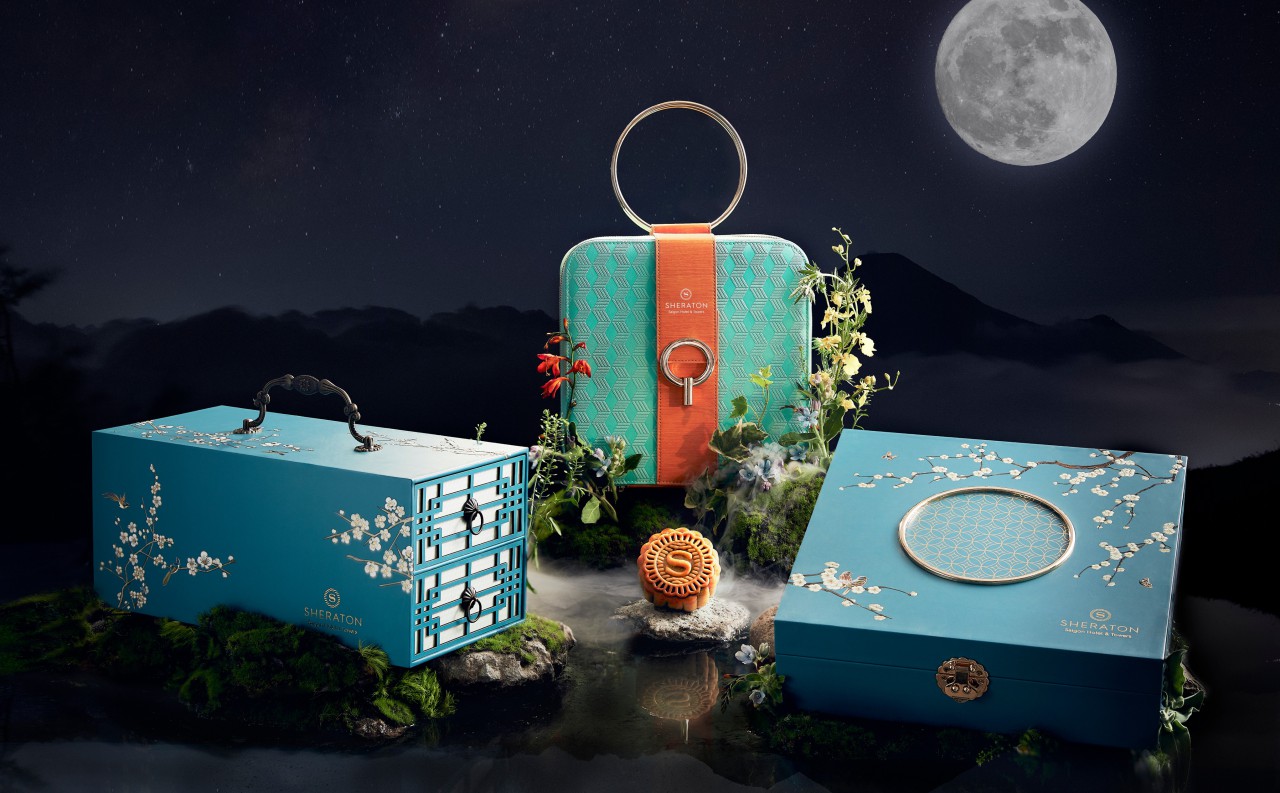 Widely known as producing the authentic handcrafted mooncake, Sheraton Saigon presents a mooncake collection prepared by artisan chefs with over 30 years of experience. Each mooncake is skillfully handcrafted with the traditional baking method yet utilizing modern production processes using selected ingredients from both the Eastern and Western cuisines. The Sheraton Saigon mooncake features a signature thin crust highlighting a golden shade with vividly molded patterns, and smooth-textured fillings bringing a sensation of mild sweetness and distinctive aroma.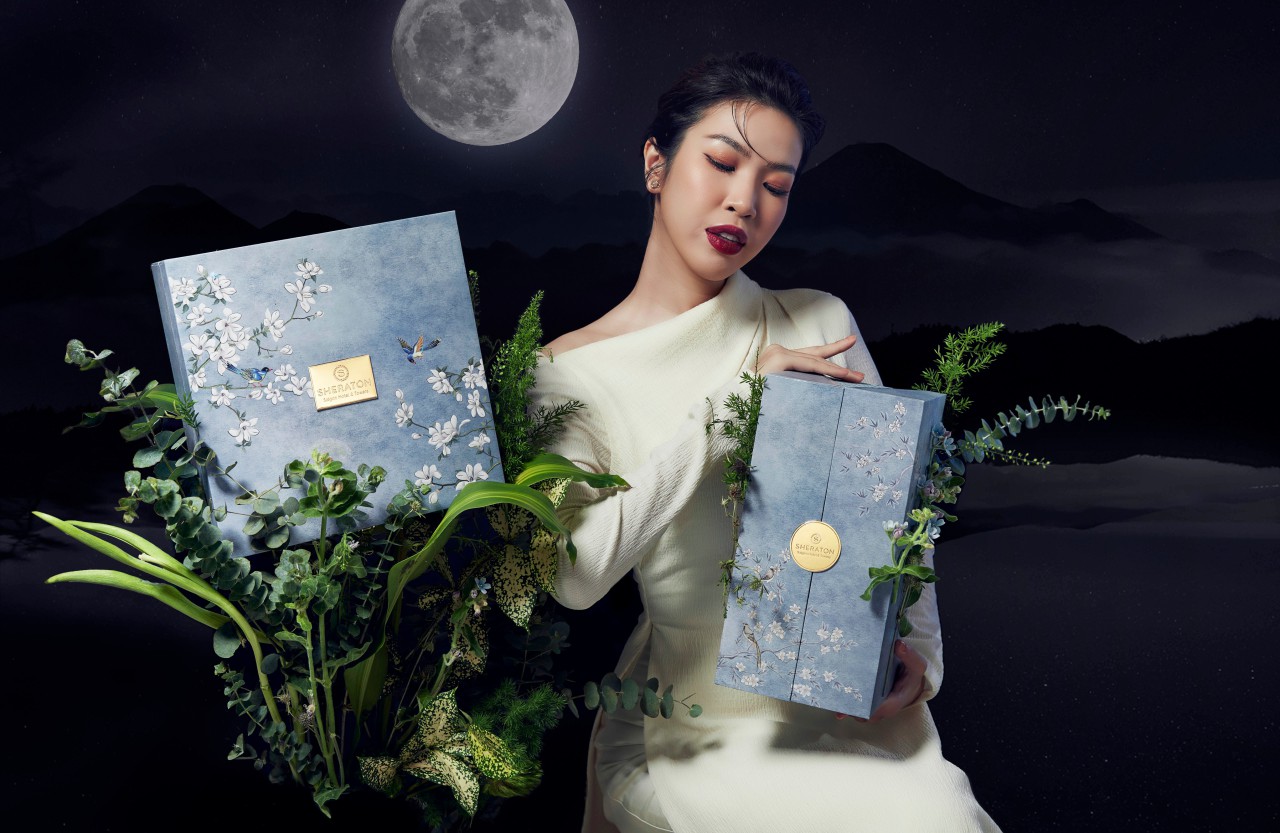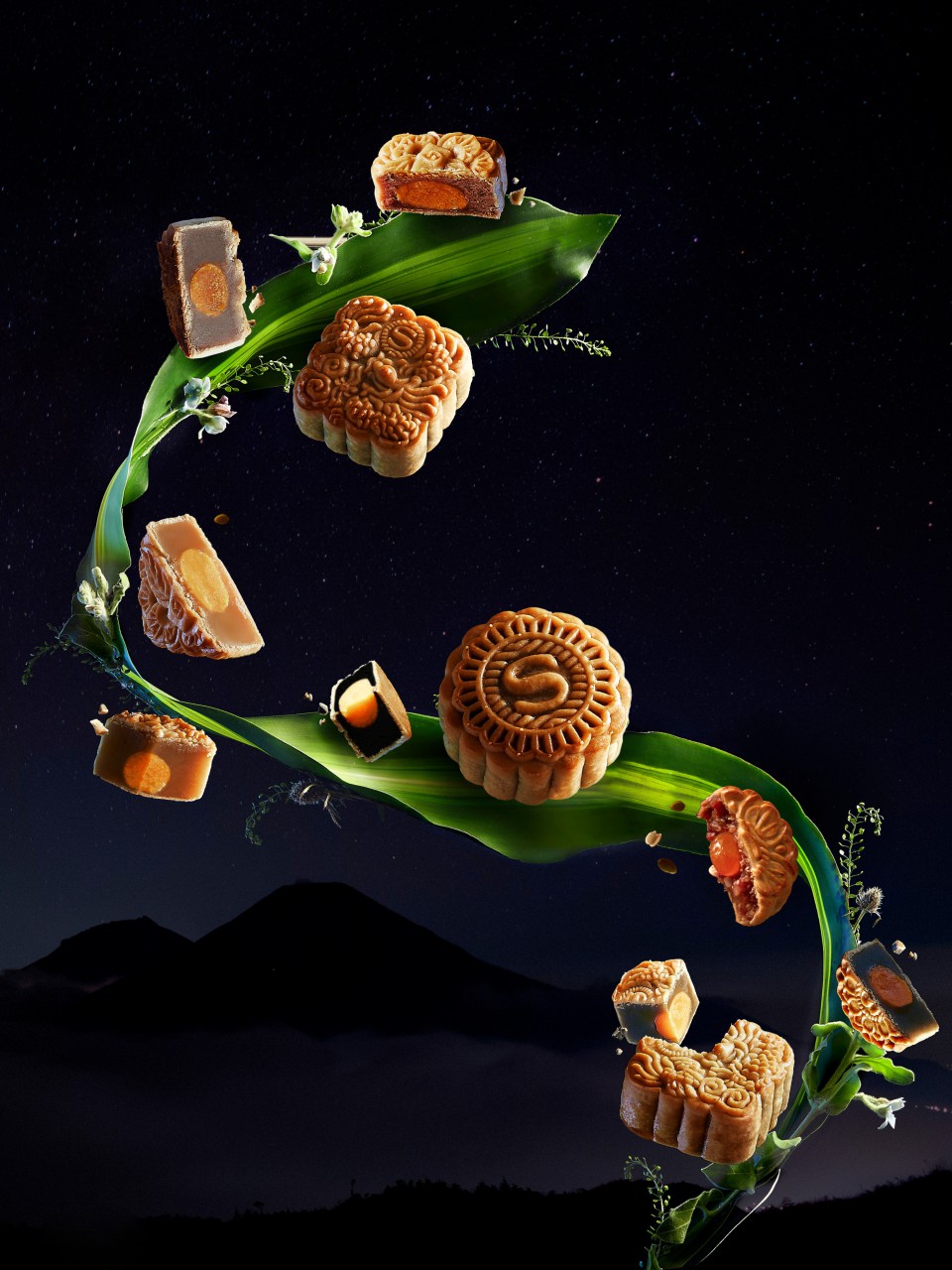 Guests can choose from eight flavor selections including two savory and five sweet fillings, with or without salted egg including: mixed nuts, scallop X.O, white lotus, pandan lotus, black sesame, green tea, cranberry and taro (newly debuted flavor of 2022).
The Mooncake Collection has a variety of price options, from VND 1,138,000 VND per box of 4 cakes of 150gr onwards and VND 1,238,000 per box of 4 cakes of 220gr onwards. The limited-edition Hao Quang Minh is priced at VND 2,728,000 per box with 4 cakes of 220gr. Furthermore, guests could choose to buy single product from VND 280,000 VND per cake of 150gr.
For more details, please access this link or visit our website. For booking inquiries, please contact us directly via 028 3827 2828 (Ext: 117), email here or send us a message on social media platforms including Facebook Sheraton Saigon and Li Bai.
For checking the boxes and tasting the cakes, please visit our mooncake booth at the lobby of Sheraton Saigon Hotel & Towers – 80 Dong Du street, Ben Nghe ward, District 1 from 27 July to 10 September, 2022.
###
About Sheraton Hotels & Resorts
Sheraton Hotels & Resorts, part of Marriott International, Inc., makes it easy for guests to explore, relax and enjoy the possibilities of travel at nearly 450 hotels in over 70 countries and territories around the world. Sheraton continues to enhance the brand through innovative guest experience, differentiating design, multi-channel marketing and a sharp focus on service. To learn more, visit www.sheraton.com. Stay connected to Sheraton on Facebook, and @sheratonhotels on Twitter and Instagram. Sheraton is proud to participate in Marriott Bonvoy, the new name of Marriott's travel program replacing Marriott Rewards®, The Ritz- Carlton Rewards®, and Starwood Preferred Guest® (SPG). The program offers members an extraordinary portfolio of global brands, experiences on Marriott Bonvoy Moments and unparalleled benefits including earning points toward free hotel stays and nights toward Elite status recognition. To enroll for free or for more information about the program, visit MarriottBonvoy.marriott.com.