A quick and refreshing Vietnamese rice noodle dish named "Bun Bo Nam Bo" or "bun bo xao" is packed with fresh herbs, flavorful beef, and refreshing lime fish sauce dressing. Simple as it may sound, it is easy to make, and you can enjoy it either as a main or side dish.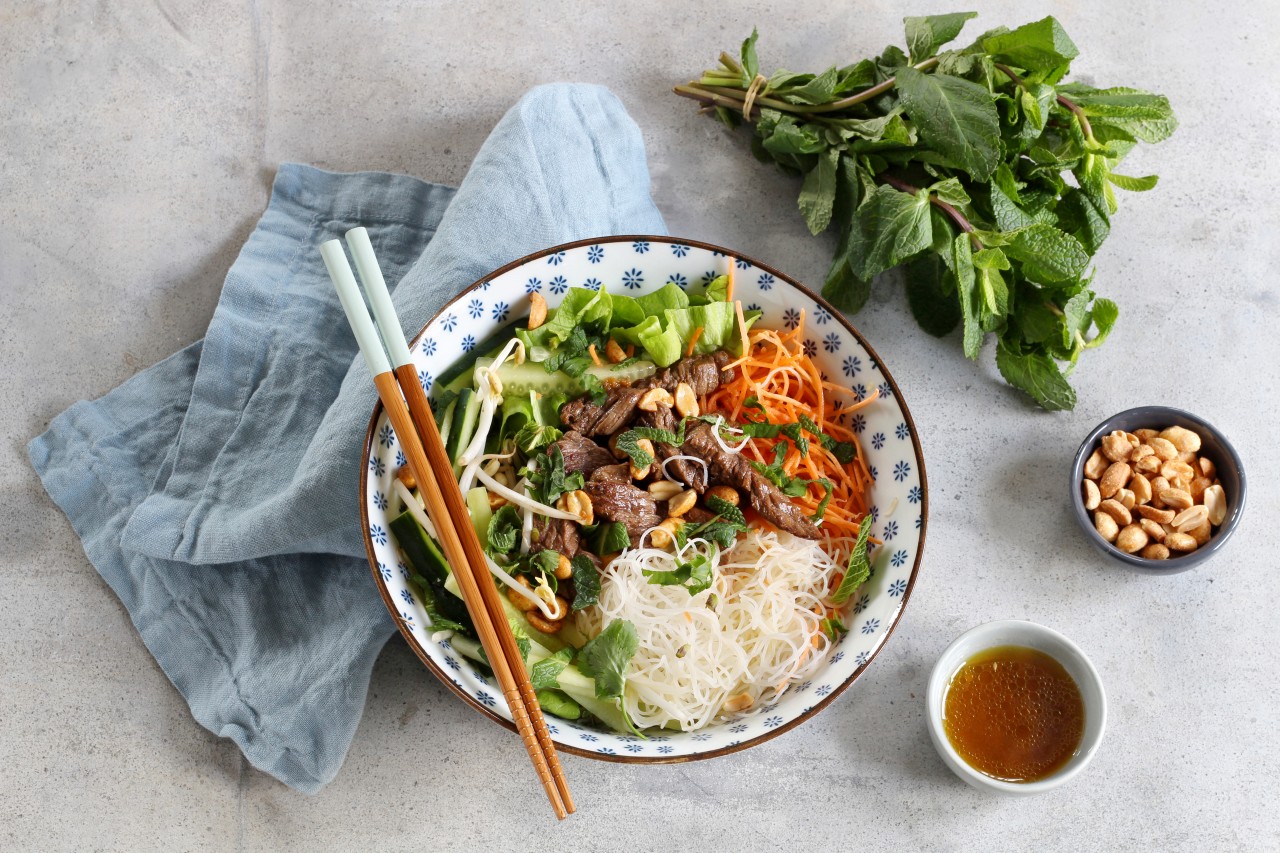 Prep Time 
20 mins 
Cook Time 
10 mins 
Ingredients
500 gr beef

 

2 stalks fresh lemongrass, finely chopped

 

1kg Fresh or dry Rice Vermicelli noodles

 

lettuce or micro greens

 

1 carrot, julienned

 

1 cucumber, julienned

 

bean sprouts

 

Cilantro, roughly chopped

 

Mint

 

Basil leaves

 

crushed roasted peanuts

 

fried shallots 

 

1 1/2 tablespoons oyster sauce

 

1 tablespoon fish sauce

 

1 tablespoon minced garlic

 

1/2 teaspoon grated ginger

 

½ teaspoon sugar

 

black pepper

 

Cooking oil

 

3 tablespoon lime juice

 

½ cup of boiled water

 

Rice vinegar

 

Salt, to season

 

 

 
Instructions
Cut the sirloin across the grain into slices. Mix with the  fish sauce, garlic and lemongrass, sugar in a bowl. Massage seasoning into beef and let sit for 15 minutes.

 

Bring a large pot of water to the boil. Add rice noodles, stir and turn off heat. Let noodles soften 5 to 10 minutes, then drain and rinse with cold water. Leave in colander at room temperature.

 

In a small bowl combine sugar, rice vinegar and lime juice and stir to dissolve. Add 200 ml fish sauce, garlic, chili and 1/2 cup water and stir together, to taste.

 

Wash and dry lettuce leaves and bean spouts , cilantro, mint and basil.  

 
Wash and julienne carrot, mixed with some ices so that carrot can be crunchy. 

 
In a bowl, mix carrot and cucumber with 1 tablespoon sugar, 1 teaspoon vinegar and leave aside for 20-30 minutes

 

Heat the oil in a wok over high heat. When wok is nearly smoking, add minced garlic, then quickly add beef stir-fry until lightly browned and just cooked, about 2 minutes. 

 

To serve, fill each bowl halfway with rice noodles. Top with cooked beef, scallions, carrot, cucumber and daikon. Sprinkle with herbs, crushed peanuts and fried shallots (add sprouts if using). Drizzle lightly with nuoc cham sauce on the side, so that each person can dress their bowl according to taste.