Sofitel Saigon Plaza celebrates the Mid-Autumn Festival with a selection of exquisite mooncakes collection. Elegantly encased in auspicious color of yellow and adorned with lotus flowers and leafs, the mooncakes of Sofitel Saigon Plaza make perfect gifts for business associates, friends and family.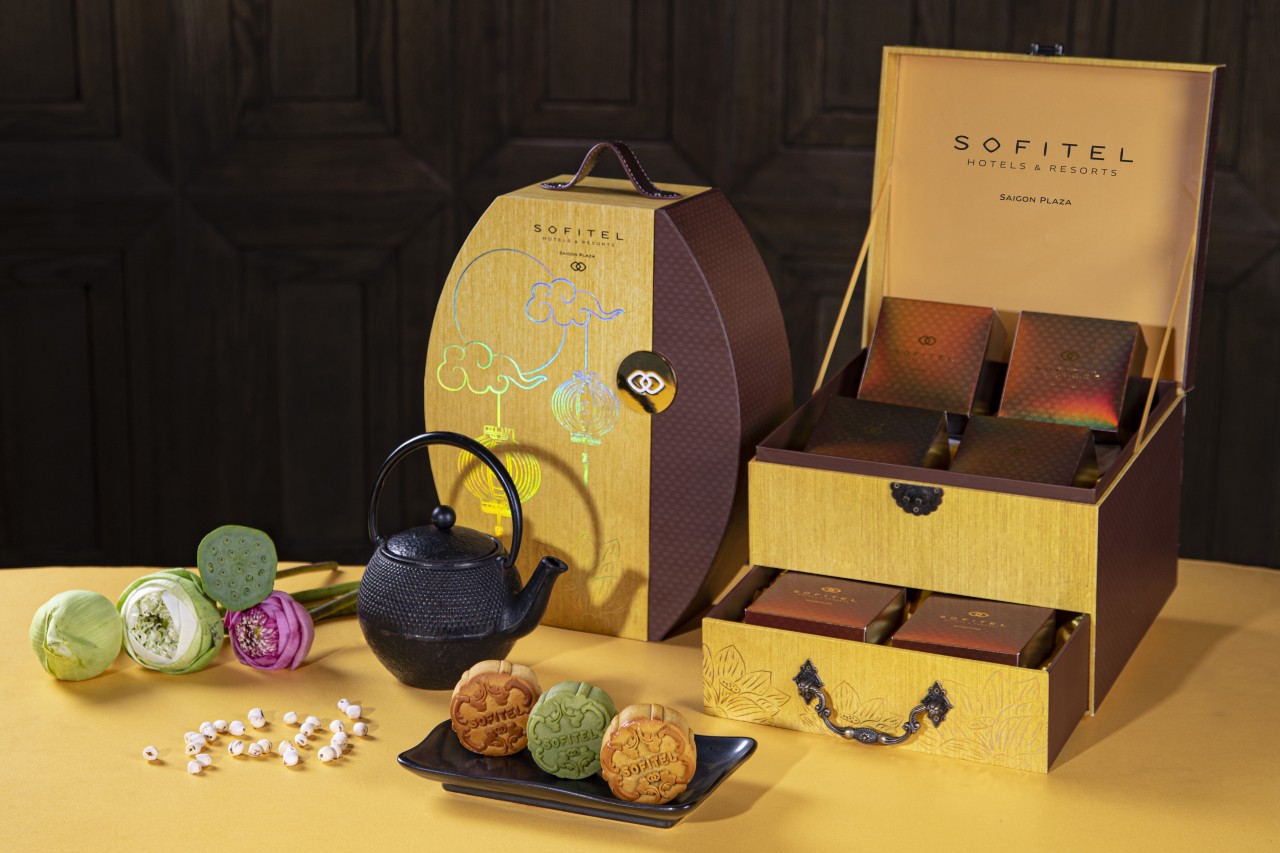 This year, Sofitel Saigon Plaza unveils 2 types of box for sharing or gifting: Emotion box and Magnifique box. The Emotion box with the beautiful design as the hand bag is an ideal gift with 4 flavors: Luminarie, Jasmine Green Tea, Mixed Nuts and Red Bean 1 Yolk. The Magnifique box comprises an array of 8 flavors including Luminarie, Matcha Tiramisu, Mixed Nuts and Red Bean 1 Yolk, Jasmine Green Tea, Black Sesame 1 Yolk, Pandan Delight and Low sugar White Lotus 1 Yolk for those who are looking for healthier option. 
The wide selection of mooncakes nestled in the nicely designed boxes of Sofitel Saigon Plaza will definitely add sparkle to this festive season. 
Emotion box of 4 flavors: VND 950,000+
Magnifique box of 8 flavors: VND 1,250,000+ 
Early bird offer: 10% discount is available now until 15 August 2019, pre-order is available with full-prepayment.  (Mooncake voucher will be given when pre-order and used for redemption from 10 August)
Mooncakes are available at Gourmand Shop – Lobby Level from now until 13 September 2019
Please call +84 28 3824 1555 or email [email protected] for more information or to pre-order.
About Sofitel Saigon Plaza
Sofitel Saigon Plaza is located on the historical tree-lined Le Duan Boulevard, next to Notre-Dame Cathedral, the Reunification Palace and the Botanical garden. Only within walking distance, the hotel is across the street of major international companies and deluxe shopping malls. The hotel features 286 rooms and suites exude a contemporary elegance atmosphere. The hotel features 4 restaurants and bars, L'Olivier Restaurant – a Mediteranean French restaurant, Mezz Restaurant – an all-day dinning featuring an international culinary, Boudoir Lounge offering a range of wines and creative cocktails and "S" Pool Bar & Dining.