Welcome to Song Gia Golf Resort, a wonderful example of a championship golf course in undulating rivers just 30 minutes from the central business district of Hai Phong.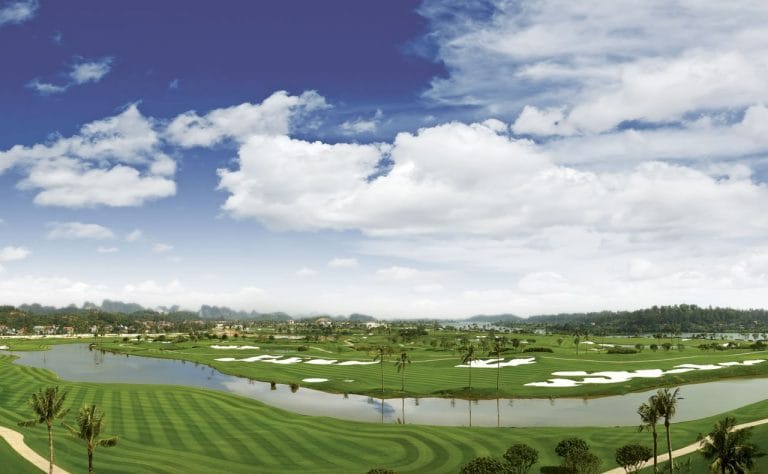 Designed by well-known Korean company and opened in 2010, Song Gia Golf Resort's 27 holes of magnificent golf, superb amenities and outstanding service earned Ministry of Culture, Sports and Tourism.'s rating as one of best Top Ten Golf Courses. Challenging yet fair, the course offers a choice of four sets of tees, ranging in length from 87 yards to a demanding 563 yards — not only challenging for low handicappers, but also ensuring an enjoyable experience for golfers of all abilities.
This Song Gia Golf Resort boasts mature stands of coco palm, coconut tree and earleaf acacia trees frame rolling fairways and precisely trimmed greens, with numerous bunnkers and an array of picturesque water features – including artificial lakes and the Gia River. It features stellar views of countryside Hai Phong and the River View. The newest public golf facility in the northern region, Song Gia Golf Resort offers a driving range, pro shop, restaurants, tee houses and practice putting greens. Song Gia Golf Resort also boasts our top service to bring all valued customers a pleasant experience and has made significant additions to our course with opening of an American internation school, the upgrading of a 9-hole Executive course and most recently beginning construction of new apartments (Serviced Residence B) which is one of the most productive and enjoyable practice aids available to a golfer on today's golf courses.
Having earned it recognition among the region's prime public golf courses, we have become a premier destination for Hai Phong and visiting golfers. Here at Song Gia Golf Resort, we work continuously to improve the course, the facilities and the overall Hai Phong golf experience. Come work on your game at our Golf Resort.