An auspicious welcome to 'The year of the Cat', Sheraton Saigon unveils its 2023 Tet Hampers under the name HOA KHAI PHU QUY (The Flowers Bloom for Fortune). Inspired by the charming flowers blooming in glorious spring, this is the perfect gift for sending to the loved ones and business partners.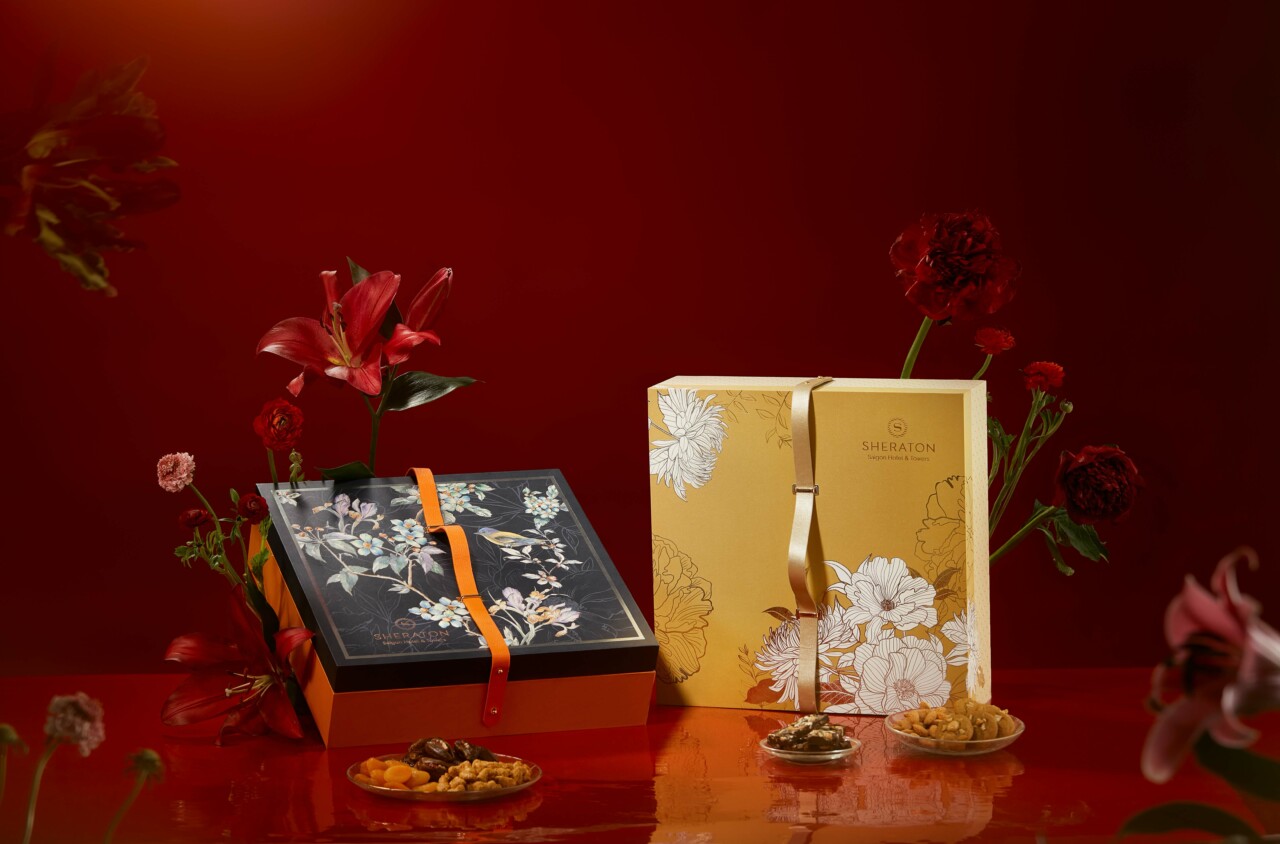 The Tet hamper collection debuts two luxurious box designs, including The Peony Hamper and The Lily Hamper, elegantly square packaged with the finest leather handle offering a selection of six delectable gourmet offerings – overflowing with a selection of premium wines or premium teas offset with a bespoke selection of sweet epicurean assortments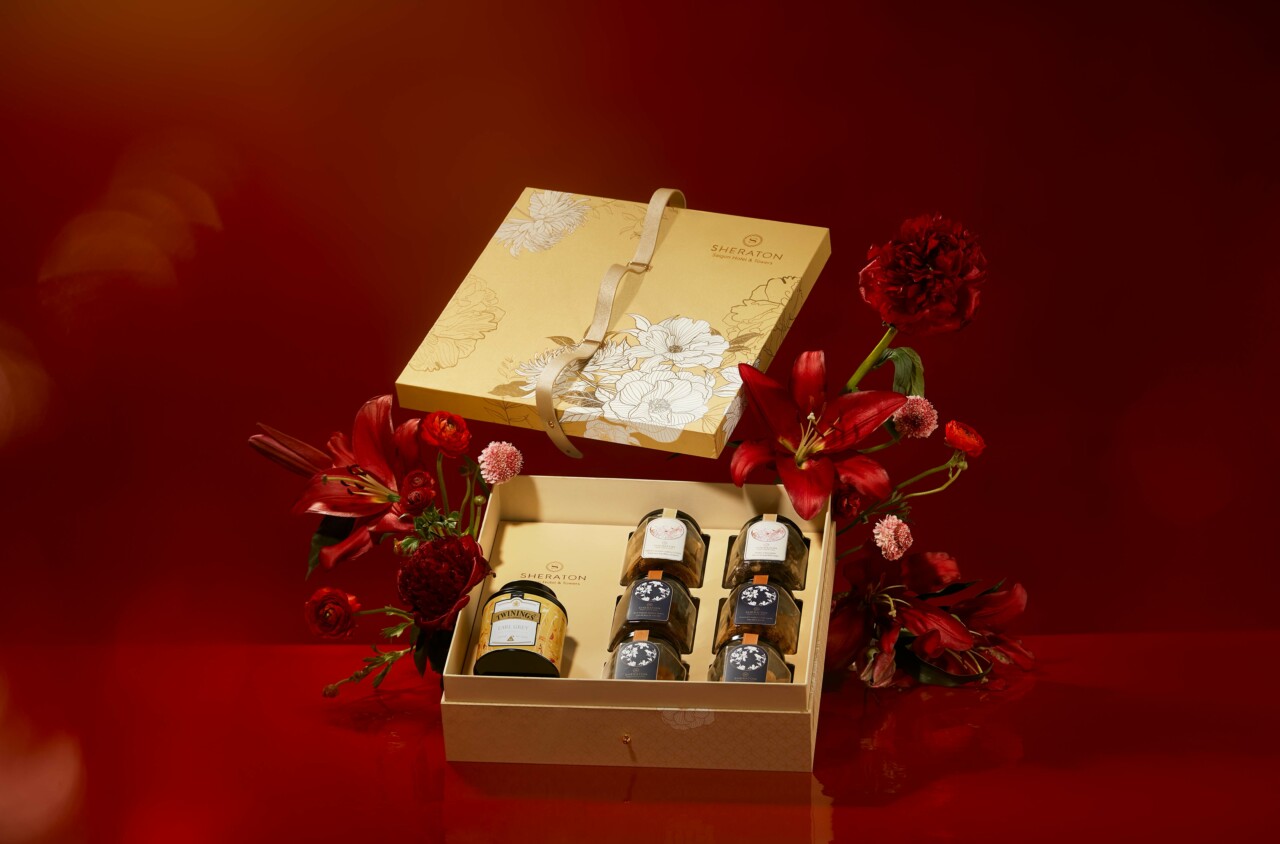 The Peony Hamper boasts an exquisite champagne color representing the epitome of luxury. Renowned as the quintessence of the earth and the fragrance of the universe, the peony flower exudes a passionate and attractive charm with its flamboyancy. Its sophisticated blossom represents luck, longevity, and prosperity for the coming new year.
The Lily Hamper boasts a vibrant contemporary mix of midnight blue and bronze orange, embodies love, happiness, and harmony. The Lily flowers with elegant petals adorned with a flourishing illustration covering the versatile message to pamper your beloved ones.
Widely known as the hotel brand providing branded culinary gifts prepared by artisan chefs with over 40 years of experience with renowned delicacies such as dragon boat dumplings, mooncakes, and artisanal pastries, Sheraton Saigon features two Tet gourmets skillfully handcrafted by talented chefs, including the sensational mild sweetness of salted caramel cashew cookies and the crunchy flavorful of nutty chocolate. Following the popularity of the fast-growing eat clean movement, nutritious nuts including walnuts, cashews, pistachio, and almonds to dark chocolate are preferred among the gastronomes. Other exquisite additions to the offering includes almond cheese, dried apricots, red walnut stuffed dates and roasted cashew chili garlic – that would cater to everyone's appetite and bring a fusion taste for the whole family in the new year.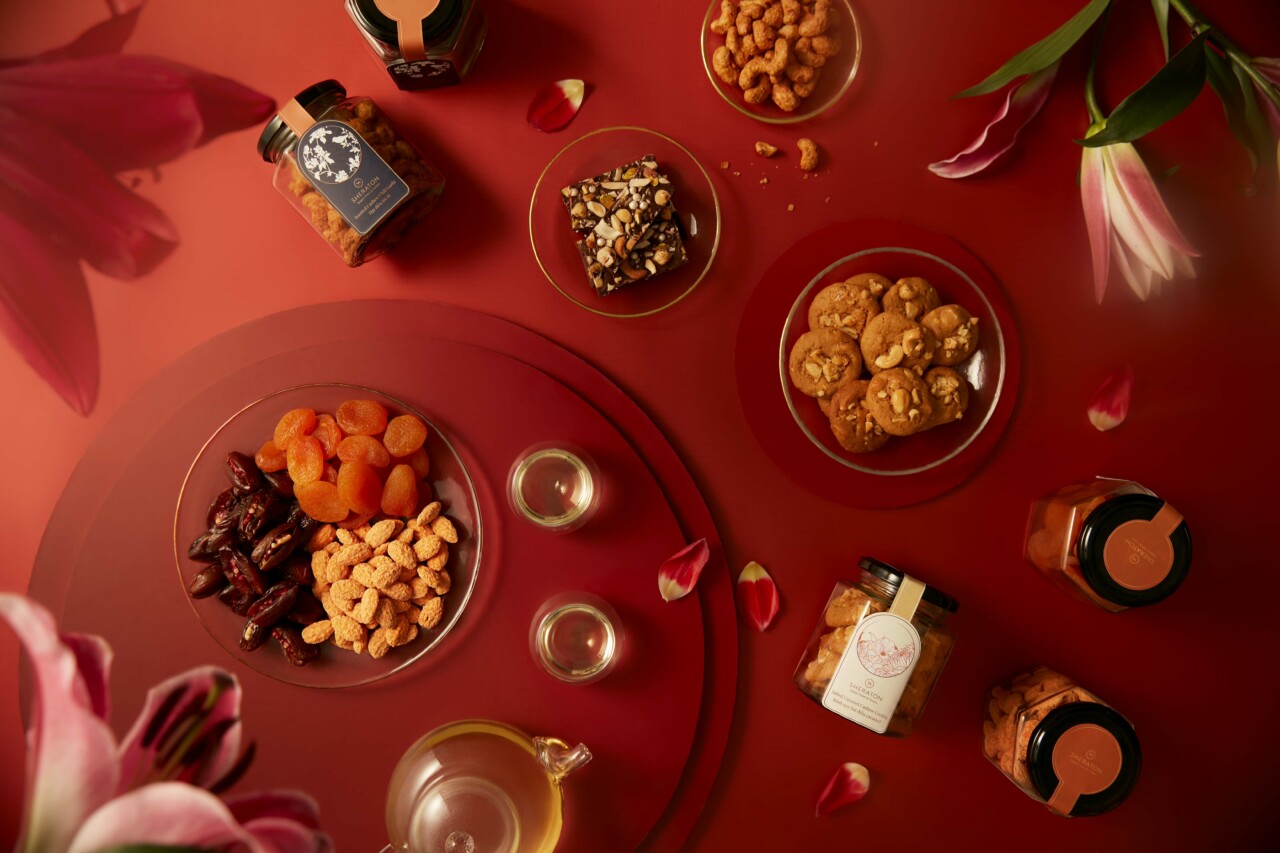 Our Tet Hampers come with two choices and is priced at VND 1,388,000++ per set with tea and VND 1,888,000++ per set with wine, exclusive of service charge and 10% VAT. Especially, deliveries for orders of 50 boxes and above to locations within the city will be free of charge.
Now available for orders on a daily basis at the lobby of Sheraton Saigon Hotel & Towers – 80 Dong Du street, Ben Nghe ward, District 1 from December 2022 to 20 January 2023 or via online platforms. For further details, please contact us directly via: +84 28 3827 2828, or email [email protected].
*Please follow the below links for further details:
– Our Brochure: tinyurl.com/TetHamperBrochure2023EN
– Website: vn.sheratonsaigon.com
– Sheraton Saigon's Facebook page: facebook.com/sheratonsaigonhotel
###
About Sheraton Hotels & Resorts
Sheraton Hotels & Resorts, part of Marriott International, Inc., makes it easy for guests to explore, relax and enjoy the possibilities of travel at nearly 450 hotels in over 70 countries and territories around the world. Sheraton continues to enhance the brand through innovative guest experience, differentiating design, multi-channel marketing and a sharp focus on service. To learn more, visit www.sheraton.com. Stay connected to Sheraton on Facebook, and @sheratonhotels on Twitter and Instagram. Sheraton is proud to participate in Marriott Bonvoy, the new name of Marriott's travel program replacing Marriott Rewards®, The Ritz- Carlton Rewards®, and Starwood Preferred Guest® (SPG). The program offers members an extraordinary portfolio of global brands, experiences on Marriott Bonvoy Moments and unparalleled benefits including earning points toward free hotel stays and nights toward Elite status recognition. To enroll for free or for more information about the program, visit MarriottBonvoy.marriott.com.