For whatever reason, celebrating "Tet" (Vietnamese traditional Lunar New Year) holiday while being far from home has become a norm for many Vietnamese. For a country like Singapore, one may think that this nation has the same way of celebrating the coming of a New Year as Vietnam, but for Vietnamese visiting the country, "Tet" in Singapore, or more commonly referred to as Chinese New Year, reveals discoveries quite different and new from what they are used to back home.
What's at play this Spring festival?
Uyen Diep (26), recalled her time enjoying Chinese New Year (CNY) in Singapore: "I took part in an exchange program at NUS from January to May, so it was unlikely that I could go home for Tet holiday. Instead, I took it as an opportunity to explore more places in Singapore and learn to know more about this country."
With nearly ¾ of the Singaporean population being Chinese, it is no wonder that CNY is widely celebrated in Singapore, wherein the most fabulous events are held in Chinatown.
As soon as January starts, a plethora of activities will have become active to celebrate the start of spring. A common hobby of Singaporean is to view the Street light-up happening every night at Chinatown. Thousands of handcrafted lanterns show their beauty in old and new ways, with a multitude of creative designs that range from the zodiac animals and golden coins to all kinds of flowers, even down to the forms of greetings and salutations of dwellers that light up the historic streets.
Uyen said: "To me, the most awesome event was River Hongbao on the world's largest float stage at Marina Bay. It was unreal to see and admire all these kinds of giant lanterns while fireworks were launching in the background."
This year, aside from the annual music performance and firework display, River Hongabao also features an exhibition space featuring hundreds of red poket designs for the CNY tradition.
Another annual highlight is the Chingay Parade which takes place from January 31 to February 01. Chingay Parade was going on for 50 years and saw an evolution in its grandiosity which is at par with spectacular carnivals like those in Europe or America. In fact, it does not focus on a single ethnic, but includes all Chinese, Malay, Indian, etc. The performances therefore are played by the ethnic, utilizing their own musical instruments to feature their own cultural aspects.
Mr. Nhat Nguyen, who has been living in Singapore for 12 years, said: "Chingay is truly a party showcasing the diverse culture of Singapore. I am quite impressed because the festival is very invested, colorful and also an opportunity to understand more about the culture in Singapore. "
This year, Chingay 2020 is themed "Colours in Harmony," accummulating up to 6000 actors and boasting of breathtaking acts, such as a ground-breaking opening with release of 200-m long firecrackers, in company with the world's biggest and longest flying dragon.
Another highlight of the CNY celebration in Singapore is the decorations featured on trains and buses from Jan 19 to Feb 15. "These themed trains and buses feature adorable zodiac motifs, blooming flowers and gold ingots to help bring the festive cheer to commuters," the Land Transport Authority (LTA) said in a news release.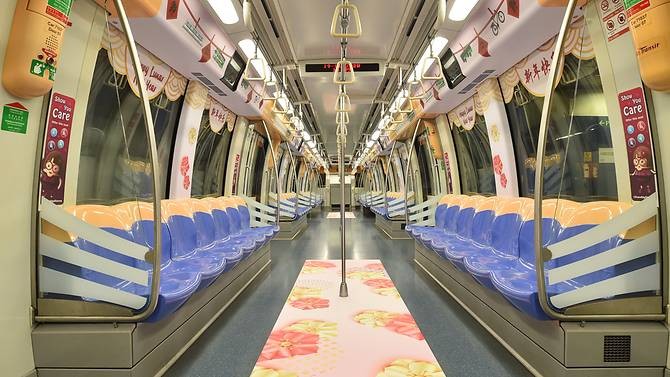 CNY Cuisine: Flavours of Cultures
To clearly understand the diversified culture of Singapore, one must take time to admire its plentiful and rich cuisine. Due to its strategic geography, the city of the lion took its oppoturnity to become a wealthy port city, while each of its ethnic communities is encouraged to retain its identiy.  
After all, CNY is all about reunion. Therefore, it is no wonder that many traditional dishes for this occasion are served for the whole family. Among those, the most talked-about dish is Yu Sheng.
For preparation, raw fish slices are arranged on the dish along with several other vegetable ingredients, each of which symbolizes good fortune and wealth in Chinese. But what is most amazing is how families share the dish together and exchange wishes for the new year. Everyone seating at the table will toss the ingredients while exclaiming "loh hei" as a gesture to invite joy and wealth into the lives of their loved ones. The higher the toss, the more generous wealth and fortune will come to them.
Meanwhile, the Malay cuisine has some specialties to boast as well. Some of which are made only for this occasion, from pineapple tarts and thousand-layered lapis to love letter pandan and kuih baangkit.
For Uyen, her most favorite food was Bak Kwa. The famous bacon slices are a common gift during CNY. However, due to interaction with other cultures, Bak Kwa nowadays see an evolution in its ingredients, from pork to poultry, beef, honey, and even crocodile.
Uyen also found Singaporean snacks a great sourvenir for her family. Bak Kwa, salted-egg fish skin or Fragrance-branded snacks were her top picks for Singaporean sourvenirs for their taste and ease of storage.
Indeed, the coming of the Lunar New Year is welcomed with the same hope and anticipation among both Vietnamese and Singaporeans, but it is definitely not celebrated in the same way—in both traditions and cuisine. Another great reason to visit Singapore, where each visit reveals a new experience.
Highlights of CNY festival:
River Hongbao: features handmade sculptured lanterns of the 12 Chinese zodiac animals, gold coins and flowers – bringing an exhilarating festival spirit to the bustling streets of Chinatown.
When: 23/01 – 01/02
Where: the Float@Marina Bay
Information: http://riverhongbao.sg/
Chingay Parade: returns with its showcase of Singapore's colourful heritage and multiracial community
When: 31/01 – 01/02
Where: F1 Pit Building, Marina Bay
Information: https://www.chingay.org.sg/
Chinese New Year Celebrations: features handmade sculptured lanterns of the 12 Chinese zodiac animals, gold coins and flowers – bringing an exhilarating festival spirit to the bustling streets of Chinatown.
When: 25/01 – 13/02
Where: Eu Tong Sen Street, New Bridge Road, South Bridge Road and Garden Bridge
Information: https://chinatownfestivals.sg/