Phu Quoc transcends as a true island paradise; a gem of rarest jade reposing in the turquoise waters of the Gulf of Thailand. Fishing villages, peal farms and pepper plantations provide charming glimpses into Vietnamese customs spanning generations, while more than half of the island has been protected as a Unesco Biosphere Reserve. Amidst this spellbinding landscape is Regent Phu Quoc, an upper-luxury all-suites-and-villas resort under IHG Hotels & Resorts. The resort sets the benchmark for luxury with its world-class facilities; including two rooftop infinity pools, defining wellness experience and six restaurants and bars celebrating the world of innovation and culinary exploration.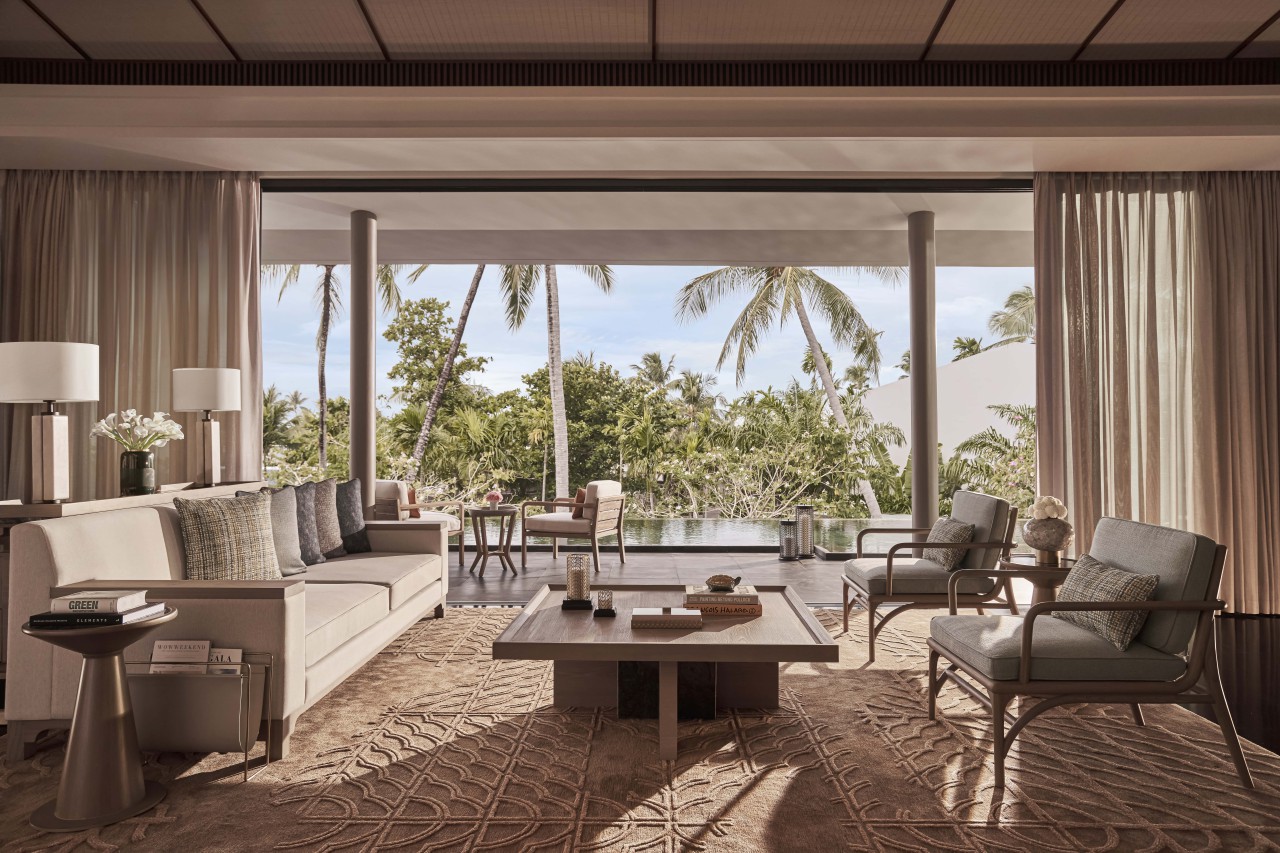 This August and September, Regent Phu Quoc is delighted to reveal "Escape Life's Gravity" introducing a curated retreat at the Pearl Island with a number of exclusive privileges that will complement the experience including selecting from:
a 90-minute signature spa treatment at The Spa

an inviting four-course lunch at Ocean Club inclusive of two specialty drinks per person

an intimate dinner at Rice Market with a set menu of 5 sharing dishes along with complimentary draught beer and soft drinks
Guests will also enjoy a range of exceptional amenities such as chauffeured arrival and departure transfers; breakfast at Rice Market, a complimentary Refreshment Library of drinks and snacks as well as 3 pieces of laundry and pressing daily as part of the stay.
Reservations are available online for stays between 1 August to 30 September 2022 (not applied on 2 and 3 September): Escape Life's Gravity Terms and Conditions apply.
Discover Regent Phu Quoc's villas and suites: Your personal oasis awaits
From one-bedroom havens to expansive seven-bedroom ultra-villas, various accommodations are designed to provide discerning guests with the ultimate comfort and indulgent relaxation, surrounded by exquisite details inspired by the tropical abundance and tranquility. 
Beach Pool Villas
One-Bedroom Club Beach Pool Villa sits discreetly along the edge of your private infinity pool, with an outdoor sundeck where breathtaking sunsets, the cool ocean breeze or a refreshing cocktail can be enjoyed all at once. Two-Bedroom Club Beach Pool Villa lies upon the white sands of Long Beach, offering space and privacy where mesmerizing natural light spills into the airy living and kitchen area. Unwind on the spacious sundeck by your own beachfront pool or dip toes-in-the-sand by the ocean's edge.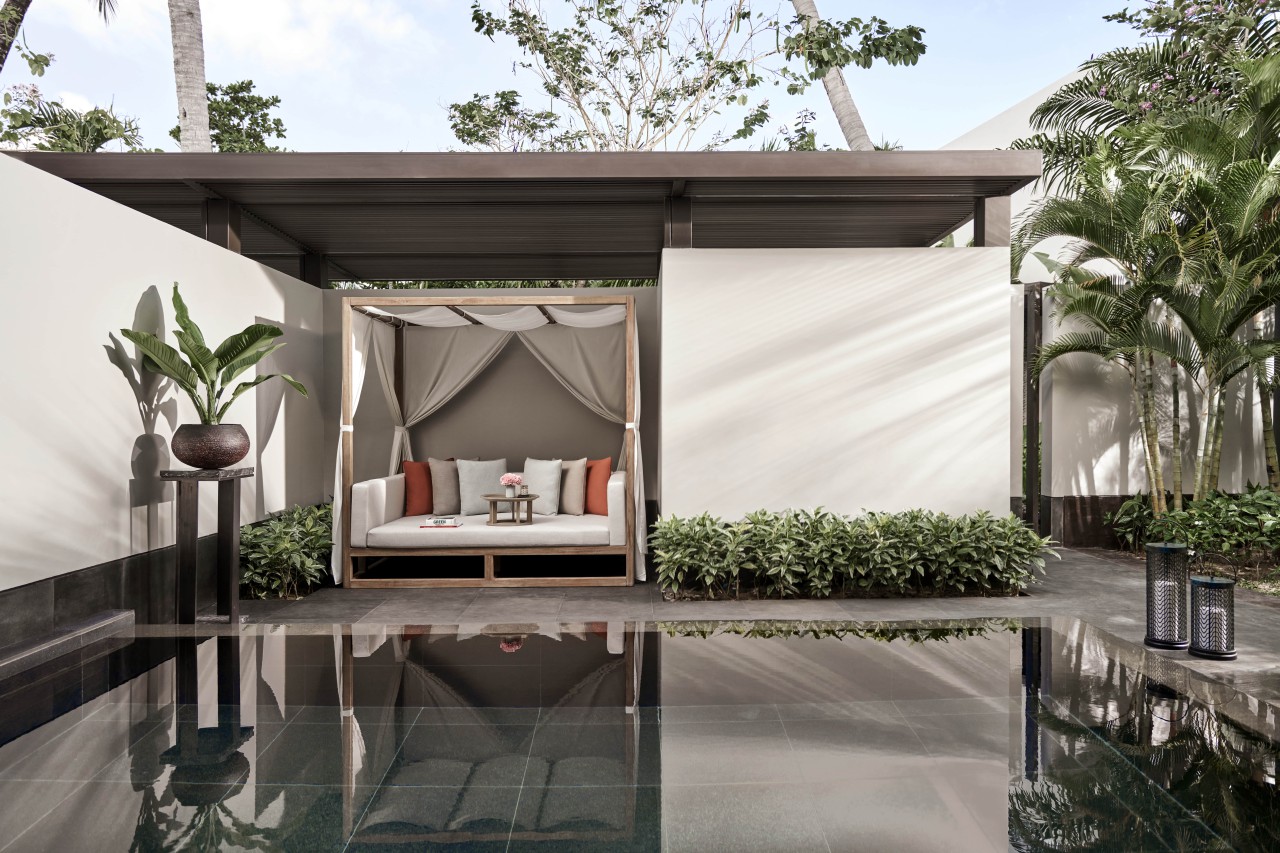 Four-Bedroom Club Beach Pool Villa offers an expansive space for opulent living, with direct access to pristine white sands and calming blue waters, or three spectacular infinity pools for private indulgence. Seven Bedroom Club Beach Pool Villa marks the echelon of palatial living, showcasing tasteful Vietnamese and contemporary design within its seven-bedrooms, four panoramic infinity pools and two plunge pools. Distinguished guests of these villas also enjoy exclusive access to Regent Club and its privileges.
Sky Pool Villas
One-Bedroom Club Sky Pool Villa presents a unique vertical villa concept with exquisite rooms, a private terrace, infinity pool and double chaise longue offering the benchmark of true indulgence. Two-Bedroom Club Sky Pool Villa is perfect for family or friends. Private and expansive spaces of designer chic offer refined living, with a private infinity pool to lounge in comfort beneath the mesmerizing island sky. Guests of these villas will also enjoy access to the privileges of Regent Club.
Lagoon Pool Villas
Two-Bedroom Lagoon Pool Villa will immerse guests in ambient lagoons from the comfort of a private terrace or infinity pool, with large and tasteful living spaces for ample opportunities to relax and create shared moments. Three-Bedroom Lagoon Pool Villa is nestled around the resort lagoons, opening onto a large veranda featuring an infinity pool, plunge pool and sun loungers, ideal for families wishing to enjoy magical hours together.
Four-Bedroom Club Lagoon Pool Villa lays upon luxurious resort lagoons with decadent ocean views, drawing out to a generously furnished veranda of two plunge pools and an infinity pool, with privileges afforded by exclusive access to Regent Club.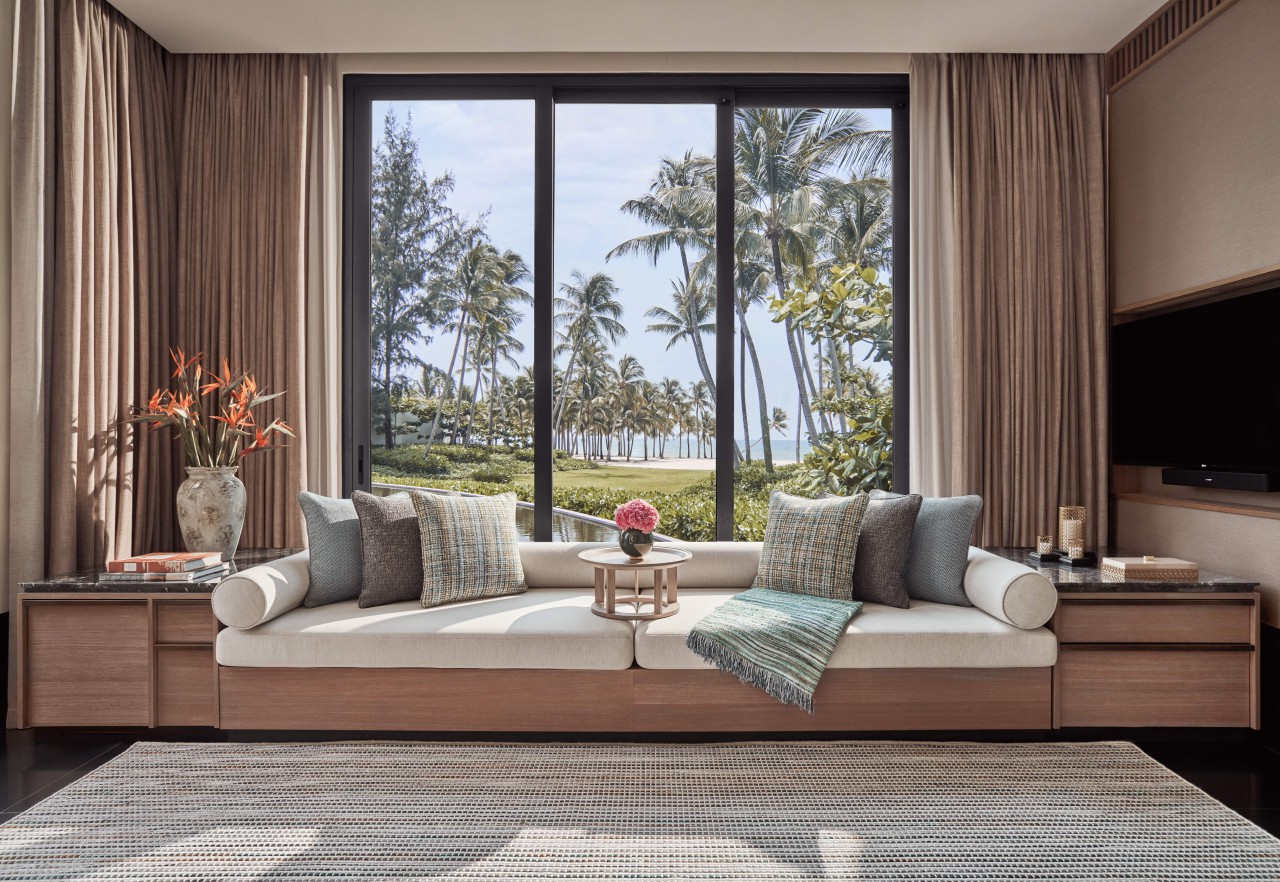 Terrace Pool Villas
One-Bedroom Terrace Pool Villa lays the perfect perch for being at one with the beauty and tranquility of the destination, against lush tropical foliage from which your own furnished, sun-kissed terrace sits alongside a private infinity pool. Two-Bedroom Terrace Pool Villa is designed for families or travelling friends, presenting a discreetly opulent villa lavished with its surrounding verdant island tropics, a large terrace and infinity pool, with unparalleled views of Phu Quoc's glorious sunsets.
Three Bedroom Terrace Pool Villa presents sumptuous decadence throughout a refined private sanctuary of two storeys with a connecting semi-outdoor staircase, offering uninterrupted moments to lounge on the sun terrace or in a private infinity pool.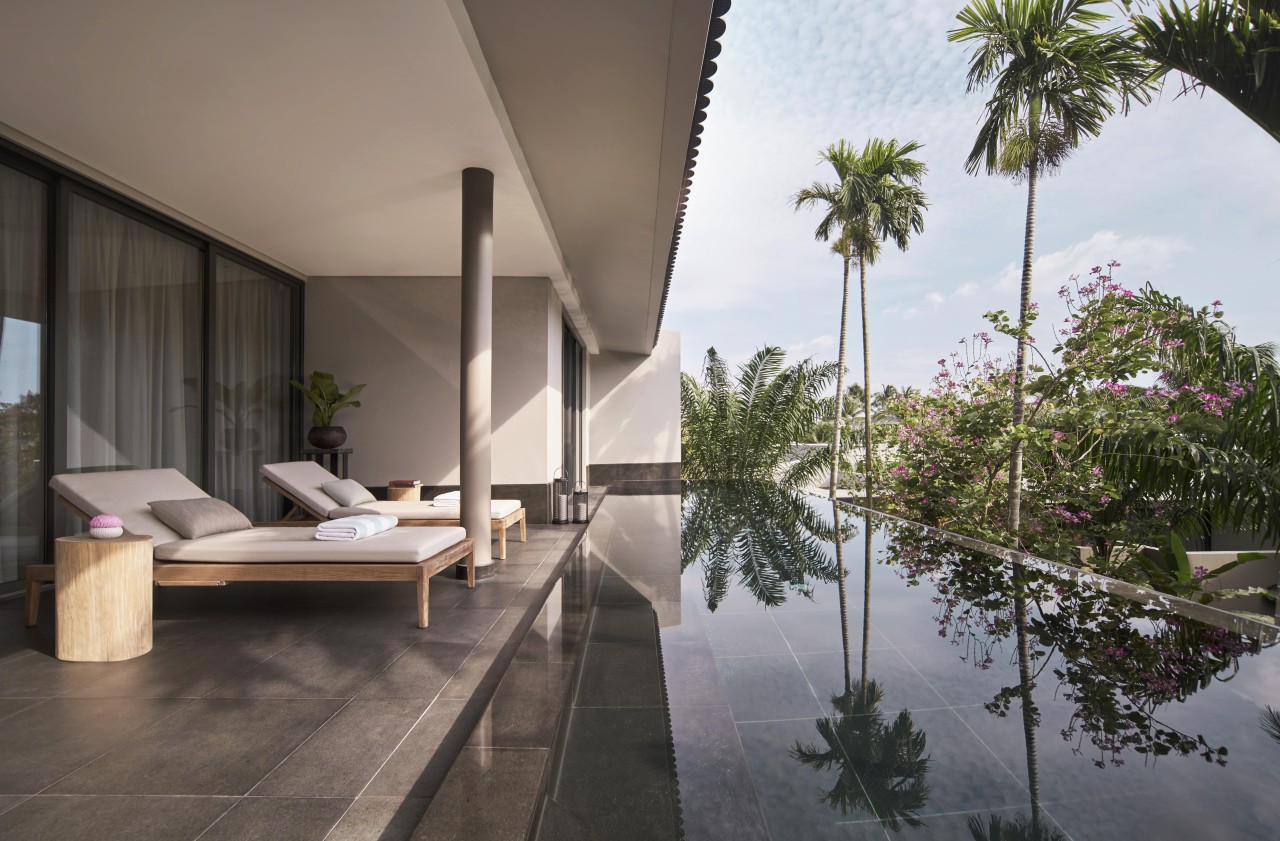 Stylish Suites with a View
Garden Pool Suite is a private oasis lavished with a private veranda and a landscaped garden, outdoor shower, private plunge pool and a daybed, to fulfil a yearning for total disconnection. For utterly indulgent moments, the Oasis bathroom presents double vanity, separate rain shower, soaking bathtub and luxurious bathroom amenities.
Ocean View Suite is reserved for the most discerning guests, presenting a personal sanctuary with a spacious balcony fashioned with a stylish seating area set against the backdrop of pearlescent ocean and sky, and the gentle sea breeze of an endless summer. An elegant suite with the choice of one king or two single beds, guests can dress themselves from a walk-in closet, or indulge in the heavenly Oasis bathroom's double vanity, rain shower and soaking bathtub.
Both suites also feature a complimentary Refreshment Gallery with a coffee machine and high-end entertainment systems, for on-demand 'pick me up' moments.