This Mid-Autumn celebration, Fortuna Hotel Hanoi proudly introduces the Artisan Mooncakes with 6 different boxes, open for sale from August 3rd to September 30th 2020. With the sophisticated shade, this is the ideal present for business associates, friends, elderly and relatives in autumn 2020.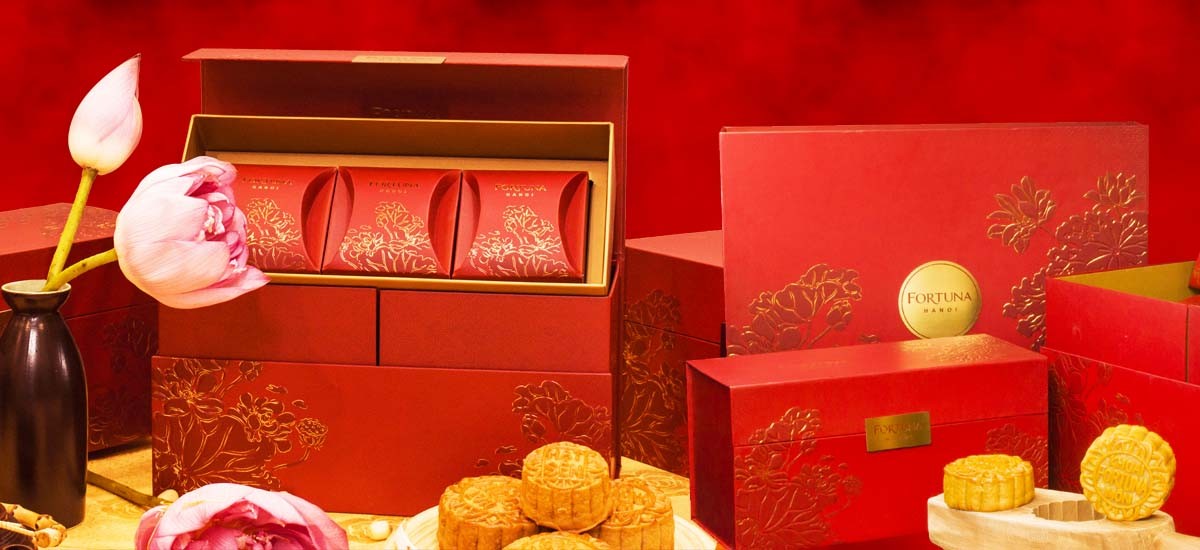 20 YEARS OF QUINTESSENTIAL FLAVOUR
A mooncake is a baked good eaten traditionally during the Mid-Autumn Festival. The festival is timed to the full moon of the autumnal equinox, hence the name mooncake. Traditions and myths surrounding the festival are formed around the concept of family reunion, occasion to show gratitude for well-being, longevity and prosperity. Every year under the August full moon, people gather to reminiscent about the mid-autumn festival back in the day and set out to look for the familiar flavour.
For the last 20 years, mooncakes made in Fortuna Hotel are fresh but still have a traditional touch. They are flavoured with traditional Vietnamese ingredients, from fragrant pandan, sweet lotus seeds, green tea to taro, mung beans, red beans, expressing the sophistication of autumn Hanoi. Made from fine ingredients, through the hands of Fortuna artisans, the mooncakes here impress with a round, tender and aromatic taste.
THE QUINTESSENCE FROM THE WOODEN MOLD
It's important to preserve the tradition of making mooncakes by hand, rather than using a machine. At Fortuna Hotel, this elegant cakes are not only made by hand, but also made by using fine wooden molds to maintain to fluffiness and well-carved shape of the batches.
Although the process of making one mooncake mold is exhaustive and meticulous, the result is rewarding. The wood used for mold making needs to be tough yet resilient enough to withstand pressure. Not to mention the intricate patterns on the mold require careful and mindful preparation as it can ruin the cake. To get the mooncake out, the paddle is placed face down and hit against the edge of the table, with chef's hand waiting below to catch the mooncake. The mooncakes were baked for 12 to 15 minutes and came out of the oven with a slightly browned top. Freshly baked mooncakes, that is a sweet treat.
COLOUR OF THE QUINTESSENCE
Each detail of Fortuna's Mooncake boxes highlights the art of artisan. The box is carefully painted in red, the shade that represents wealth and luck in Asian culture. In addition, the highlight detail of the design is peony – the iconic pattern that only the royalty could afford back in ancient times. The design embraces the harmony between the prosperous image of the peony and the good fortune spirits from the color red. This Mid-Autumn festival, let's magnify your taste with the exquisite Mooncakes heart-picked by Fortuna Hotel Hanoi.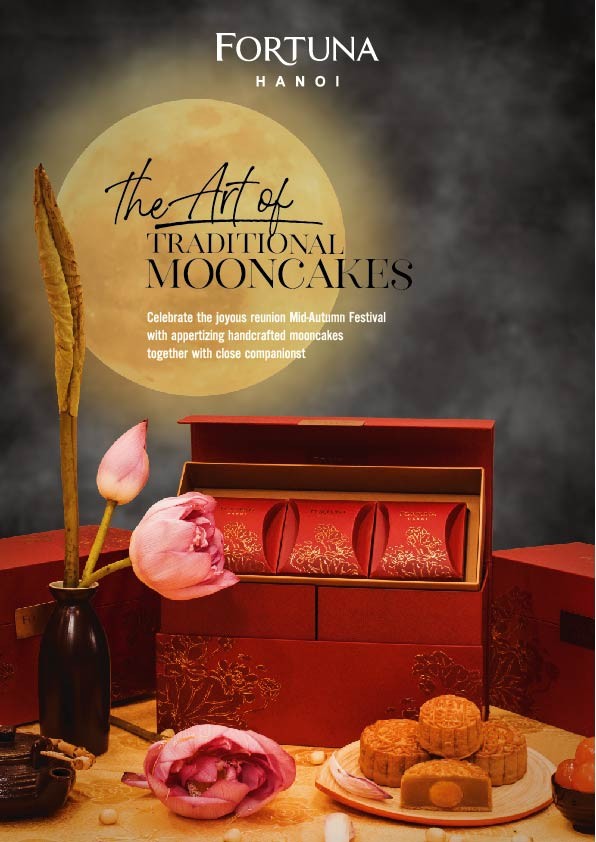 From August 3rd 2020, Fortuna Hotel Hanoi will introduce the Artisan Mooncakes from VND 800,000/box, named Four Treasures, Six Wealth, Seven Stars Embracing the Moon, Delight VIP, Fortune VIP and Prosperity VIP.
FOR MORE INFORMATION:
Food & Beverages Department – Hotline: 024 3831 3333 – Email: [email protected]
Or get it directly at Fortuna Hotel Hanoi – 6B Lang Ha, Ba Dinh, Hanoi
Website: https://fortunahotel.wixsite.com/banhtrungthu2020