Happy new month! Since everything begins to blend in the flow of July, Pan Pacific Hanoi brings out a ray of sunshine with a wide range of savoury delights and special offers to pamper your mood. Let's get planning on your own summer indulgence!
1. Codfish Delights
Ming Restaurant | Level 2
01 to 31 July 2021
As one of the premium fishes to bring out the sweetness, tender meat and rich nutrients, codfish will be added to your feast showcasing excellent recipes of our chefs to nurture your preference from steaming, grilling to frying. Moreover, the special sauce to choose such as: passion fruit, black bean or red caviar sauce served with organic vegetables would be perfectly paired with codfish delights to make you say wow.
VND888,000++ per dish
2. Dim Sum Buffet Lunch – Daily Offers
Ming Restaurant | Level 2
11.00am to 2.00pm | 01 to 31 July 2021
Such wonderful news for those who are craving for Cantonese cuisine! In July, Ming Restaurant brings out daily offers for buffet lunch to turn your everyday meal into a savoury dim sum feast:
– 20% savings on weekday dim sum buffet lunch
– 33% savings on weekend dim sum buffet lunch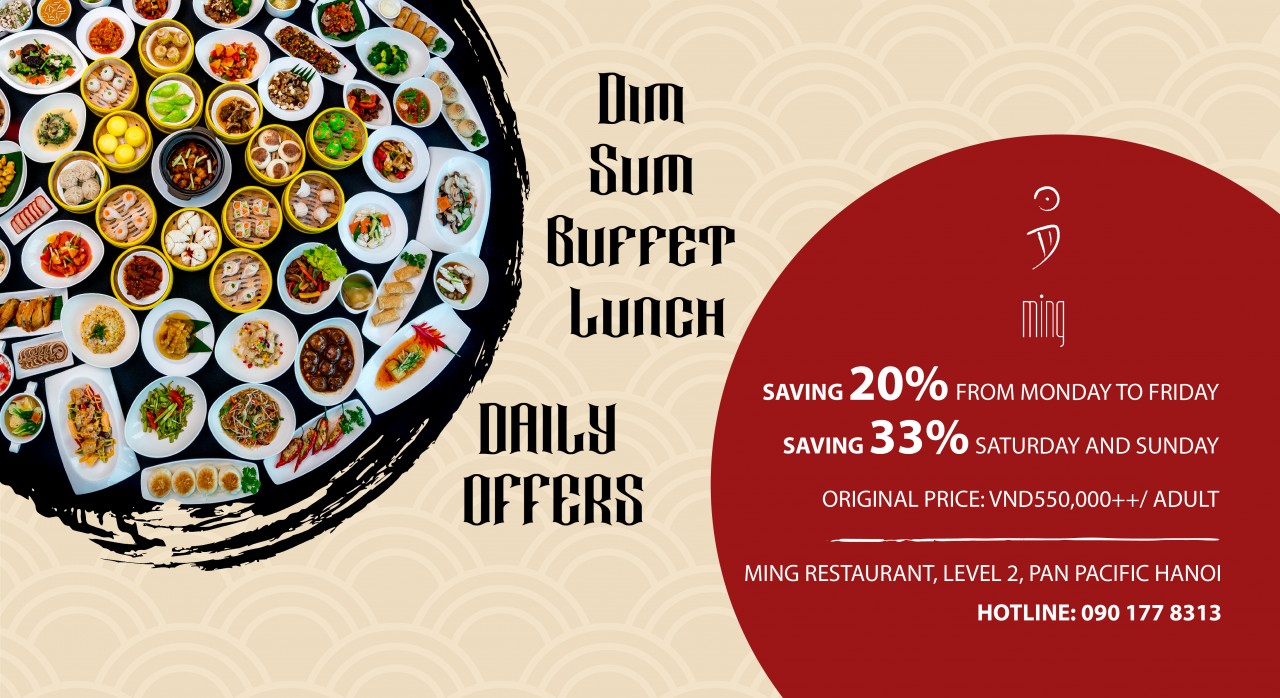 Do not miss out authentic dim sum dishes showcasing a variety of flavours from Siew Mai Minced Pork with Shrimp & Abalone Sauce, Codfish and Clam Abalone Dumpling to Minced Pork Dumpling Shanghai Style with Ginseng, Tiger Prawn & Japanese Scallop Dumpling with Spicy Sauce.
Original price: VND550,000++ per adult | VND275,000++ per child
*Offers are valid for adults only
Hotline for table reservation: 090 177 8318
 3. Free Flow Draught Beer
The Summit Bar | Level 20
5:00pm to 7:00pm everyday | 01 to 31 July 2021
 Planning on a fun night out to bond with your colleagues or friends? The Summit Bar is offering a special free flow plan to celebrate the summer season. Between 5:00pm – 7:00pm every day, let's cool down with Tiger draught beer and indulge in breathtaking view of our rooftop bar.
VND350,000++ per person
4. Summer Bloom Combo
The Summit Bar | Level 20
01 to 31 July 2021
When the weather heats up, refreshing summer cocktails are the perfect way to stay cool. Let's enjoy summer in bloom with our delightful combo including 02 cocktails and 01 tapas while chilling with the priceless view at The Summit Bar:
 VND 550,000++ per combo including 02 cocktails + 01 tapas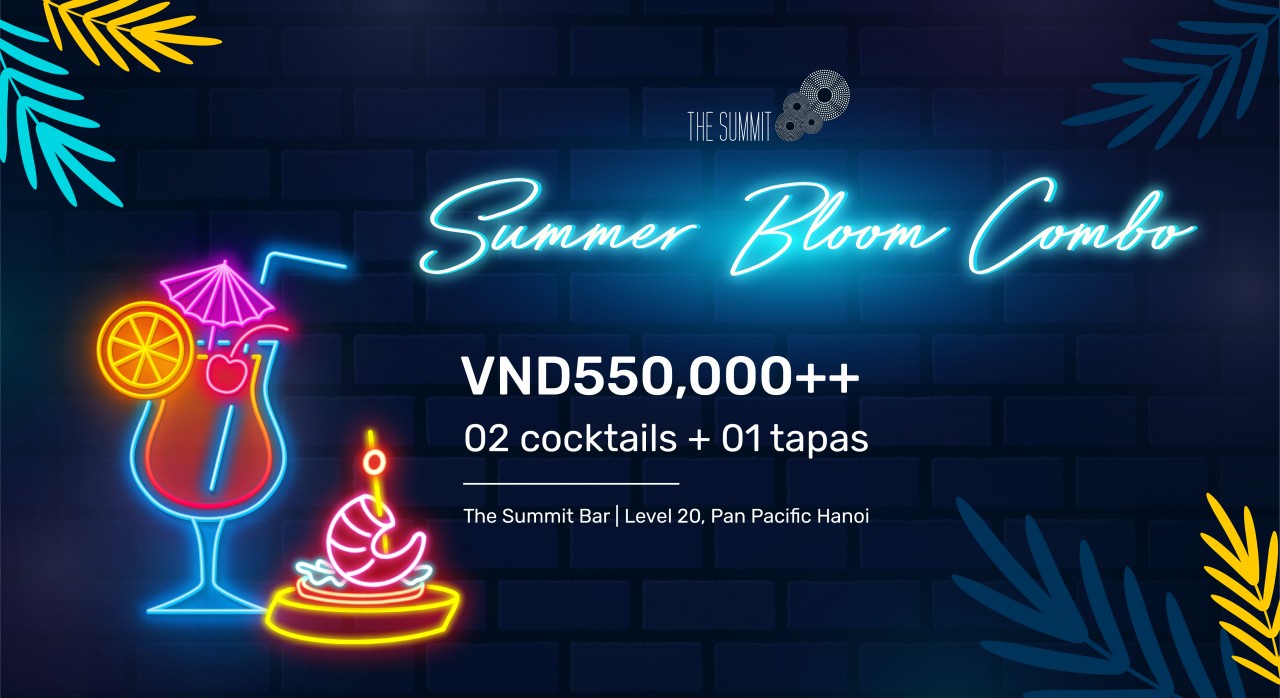 5. Hibiscus Cocktail
The Summit Bar | Level 20
01 to 31 July 2021
Let's sip a unique cocktail to relieve tension of a long working day! The combination of fresh hibiscus syrup with Bacardi Light, Cointreau, lime juice will create a perfect drink to pamper not only your taste but also your eyes.
VND190,000++ per glass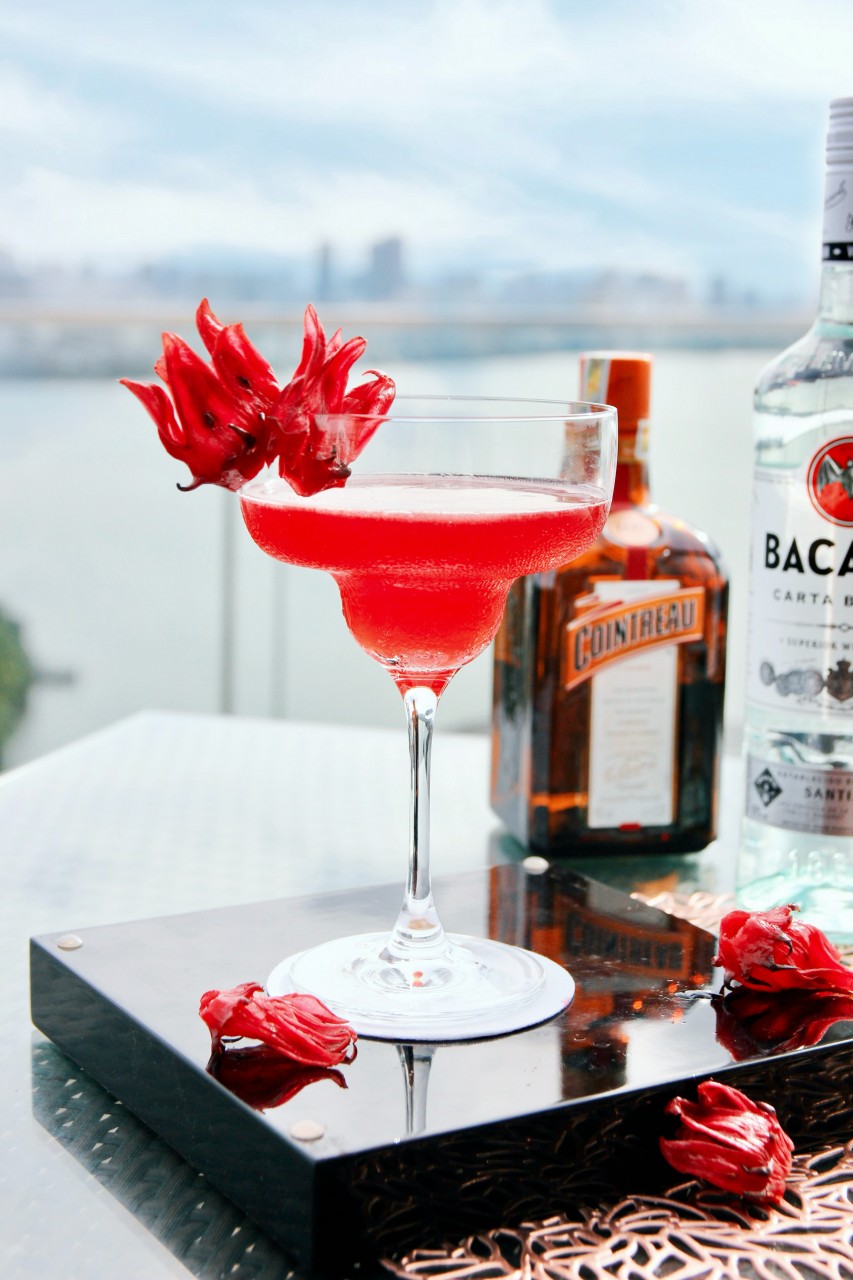 6. Longan and Coconut Mousse
Pastry Corner | Lobby
01 to 31 July 2021
Let's add a little sweetness to your happysummer with Longan And Coconut Mousse. Featuring an exceptional mixture of coconut and longan to create smooth texture and gentle flavor, this special treat promises to bring summer scent treasuring your feast.
VND500,000 net per cake
Hotline for pick-up/delivery: 090 177 8318
7. Purple Sweet Potato Bread
Pastry Corner | Lobby
01 to 31 July 2021
Pan Pacific Hanoi offers an interesting suggestion to add a little fun to your breakfast table with a vibrant purple-colored delight. Featuring purple and golden brown colors, Purple Sweet Potato Bread has a creamy texture and a subtle aroma that will tickle your taste buds. With its lovely design and distinctive flavor, this cake will be the perfect choice for a flavorful yet healthy breakfast. 
VND35,000 net per cake
Hotline for pick-up/delivery: 090 177 8318
For dining enquiries and reservations, speak with us at +84 901 778 318 or email [email protected].
* Prices are subject to 5% service charge and 10% VAT.
About Pan Pacific Hanoi
Situated at the edge of the city centre, Pan Pacific Hanoi provides a harbour of tranquil balance in bustling Hanoi, with 329 fully-furnished rooms and suites presented magnificent views of the poetic West Lake, and an array of recreational facilities furnished with thoughtful touches for your complete relaxation. Especially, Pan Pacific Hanoi is well-known for delectable fusion of Western and Eastern gastronomy in Pacifica Restaurant (All-day dining), Ming Restaurant (Cantonese cuisines), Song Hong Bar and the panoramic rooftop bar The Summit promising the finest dining experience to your stay.
For more information: https://www.panpacific.com/en/hotels-resorts/vietnam/hanoi.html
Facebook: @panpacifichanoi
Instagram: @panpacifichanoi
 About Pan Pacific Hotels Group
Pan Pacific Hotels Group is a member of Singapore-listed UOL Group Limited, one of Asia's most established hotel and property companies with an outstanding portfolio of investment and development properties.
Based in Singapore, Pan Pacific Hotels Group owns and/or manages nearly 50 hotels, resorts and serviced suites including those under development in 29 cities across Asia, Oceania, North America and Europe.
Voted "Best Regional Hotel Chain" by readers in Asia from 2017 to 2019, Pan Pacific Hotels Group comprises three brands: Pan Pacific, PARKROYAL COLLECTION, and PARKROYAL.
Sincerity is the hallmark of Pan Pacific Hotels Group. The Group is known to its guests, partners, associates and owners for its sincerity in people and the sense of confidence which alleviates the stresses of today's complex world.