Sheraton Hanoi Hotel is offering various unique packages with attractive tailored benefits for guests at the Wedding Fair 2023 "Let Love Sparkle" due to be held on 15-16th July, 2023.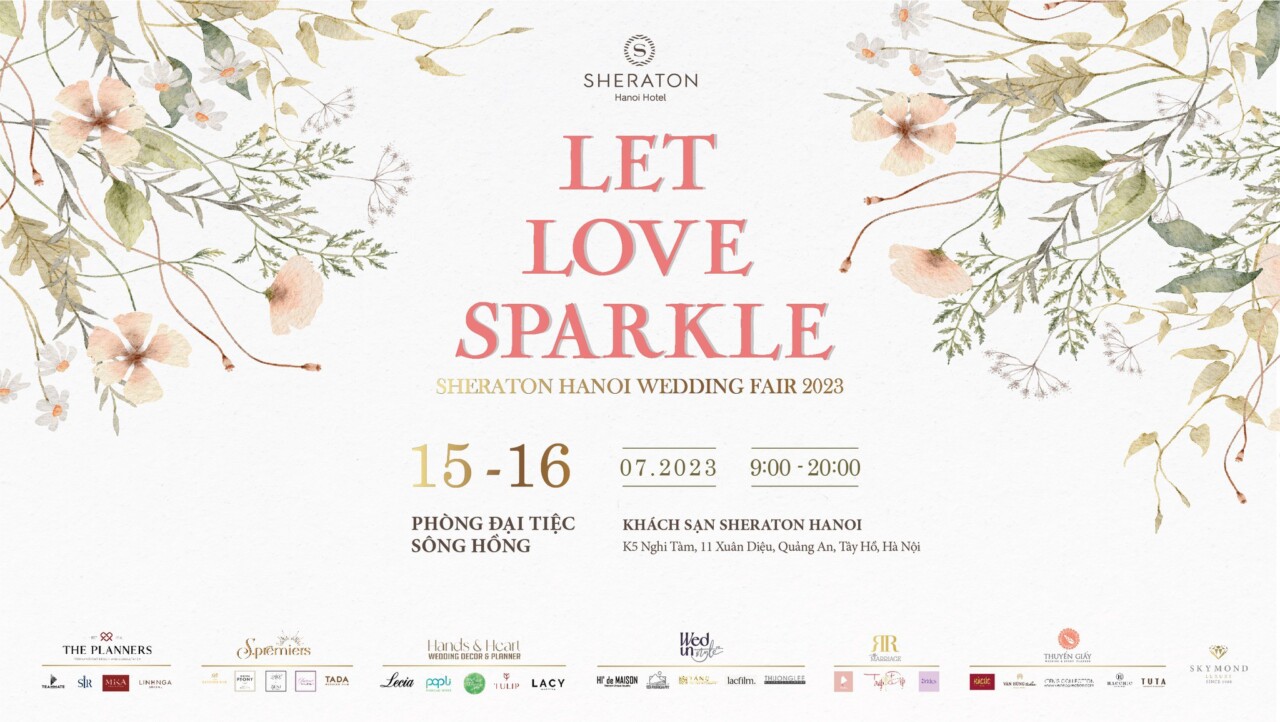 Following the success of the previous wedding fairs in Sheraton Hanoi, on July 15-16, 2023, Sheraton Hanoi Hotel together with Vietnam's leading wedding experts in "Let Love Sparkle" Wedding Fair offering future brides and grooms latest trends in the industry as well as consultant service, wedding workshop. Joining the Wedding Fair "Let Love Sparkle", couples will have chance to experience mini wedding dress and "Ao Dai" show, make-up workshop, wedding photography and videography service, suits and wedding dress service. Wedding Fair "Let Love Sparkle" is also one of a kind wedding fair – a good opportunity for couples to win attractive prizes and to hunt exciting offers from the organizers and wedding vendors.
Wedding Fair "Let Love Sparkle" is designed to inspire and enchant, bringing together the Vietnam's leading wedding experts such as Thuyen Giay Wedding & Event Planner, Hands & Heart Wedding, The Marriage, The Planners, Wedinstyle and S.Planners; trang phục cưới Áo Dài Hà Cúc, Văn Hùng Tailor, Hacchic Couture, Áo dài thêu tay Tulip, Lecia Bridal, Linh Nga Bridal, Brides by Olivia, SIR Tailor, Áo dài Tăng, The Bespoke Bar and White Peony Bridal; wedding jewelry Skymond Luxury, Hi' de Maison; popular wedding photography and videography such as Tada Wedding Film, Kiến's Collection, Mer Photography, Lacy Wedding, Beni Studio, Pat Image, Lac Film and Teammate Productions; famous make-up artists from The Beauty Workshop, Mika Make-up & Styling, ThuongLee Make Up Academy, Glamour Beauticians and TUTA Makeup & Academy; engagement ceremony gift tray collection from Tráp Đẹp or the exquisite wedding cakes from SomethingSweet.
Bringing to Wedding Fair 2023 "Let Love Sparkle", Sheraton Hanoi Hotel is delighted to present 3 wedding packages including premium services: special wedding menu, signature welcome tea-coffee, Sheraton wedding cake, 1-night stay or 1-year anniversary in Sheraton Hanoi Hotel and many others offers.
Follow Sheraton Hanoi Hotel on social media to update about offers, packages and prizes from wedding vendors via https://fb.me/e/4nqkGKZ82
Registration link: https://bit.ly/LetLoveSparkleWeddingFair
Sheraton Hanoi Hotel
K5 Nghi Tam, 11 Xuan Dieu, Tay Ho district, Hanoi, Vietnam
About Sheraton Hanoi Hotel
Close to the bustle and excitement of the city center, Sheraton Hanoi Hotel is surrounded by lush gardens, sweeping lawns, tranquil courtyards and stunning lake views. This peaceful oasis features picturesque views of West Lake and is less than 10 minutes drive from downtown Hanoi. The hotel provides the perfect balance between tranquility and convenience.
Situated on the shore of Hanoi's largest lake, Sheraton Hanoi Hotel features the panoramic view of lush greenery around the hotel. A selection of 4 charming restaurants, lounge and bar inspire you to discover more the ethnic cuisine or contemporary dishes. When it's time to replenish, relax in our complex of fitness, a tranquil spa and beautiful landscaped outdoor swimming pool.
For more information, please visit: www.sheratonhanoi.com
About Sheraton Hotels & Resorts
Sheraton Hotels & Resorts makes it easy for guests to feel welcome at over 440 hotels in more than 70 countries and territories around the world. As the most global brand within Marriott Bonvoy's portfolio of extraordinary hotel brands sitting at the center of hundreds of communities around the world, Sheraton has a rich heritage in creating a sense of belonging for guests, wherever they are in the world. Sheraton is currently undergoing a major brand transformation, creating a signature community experience for the next generation of travelers at properties across the globe. The new vision for Sheraton features intuitive design, tech-forward experiences and upgrades to everything from public space and F&B to flexible meeting space. To learn more, visit www.sheraton.com. Stay connected to Sheraton
on Facebook, and @sheratonhotels on Twitter and Instagram. Sheraton is proud to participate in Marriott Bonvoy®, the global travel program from Marriott International. The program offers members an extraordinary portfolio of global brands, exclusive experiences on Marriott Bonvoy Moments and unparalleled benefits including free nights and Elite status recognition. To enroll for free or for more information about the program, visit MarriottBonvoy.marriott.com.