Proud to be the ideal destination for the MICE tourism market with many modern and classy facilities, Emeralda Resort Ninh Binh continues to diversify exciting activities and experiences specifically for each customer.
Only about 90km from Hanoi, Emeralda Resort Ninh Binh owns a 17ha green campus with a system of luxurious and modern meeting rooms, a 4000m2 yard, next to a romantic lake, suitable for organizing teambuilding activities or outdoor parties up to 800 guests; and 172 rooms, Emeralda has become the first choice for large companies and corporations wishing to find a perfect venue that could organize high-level meetings, quarterly meetings, kick-offs, and mid-day meetings, as well as provide a comfortable resort atmosphere.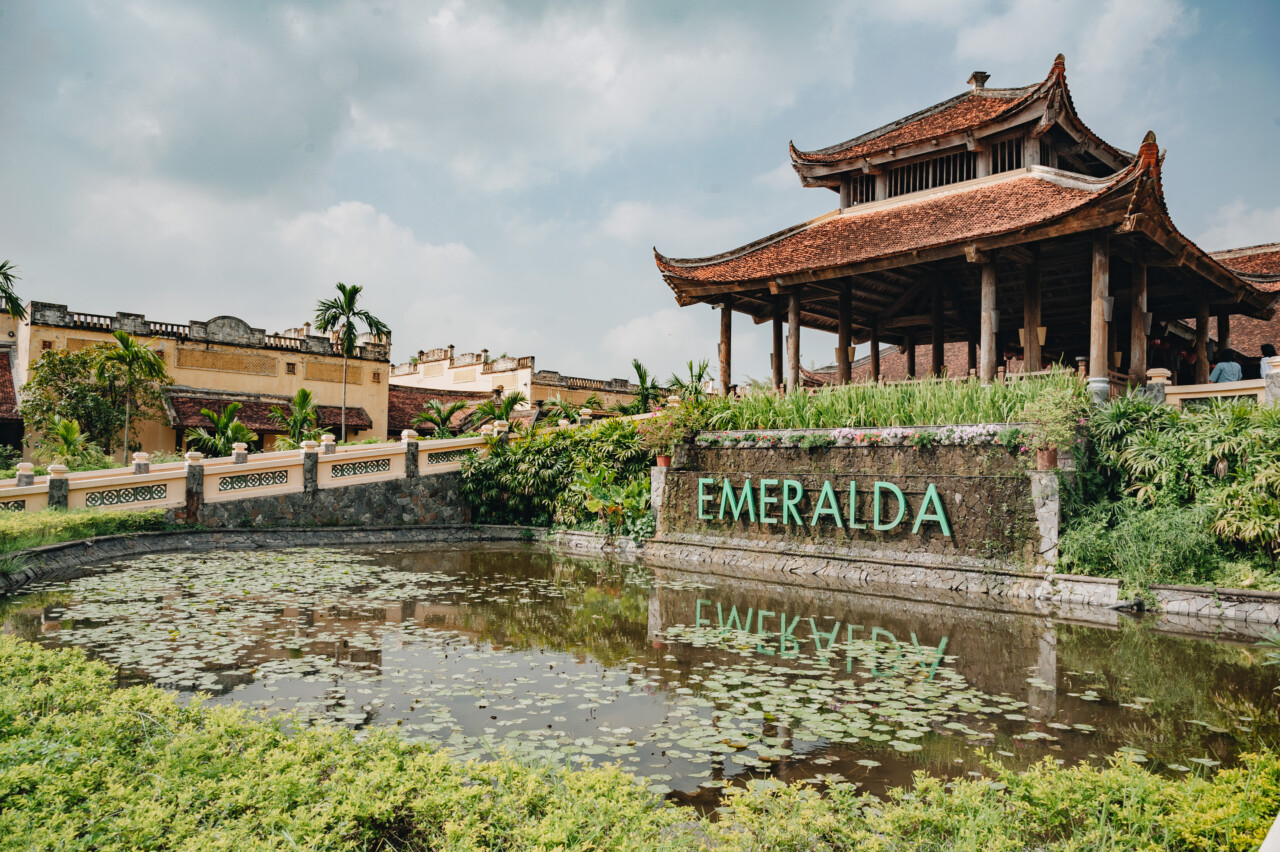 Being the preferred destination for the MICE tourism market, Emeralda Resort Ninh Binh always exerts to bring many services that are suitable to the northern village concept, as well as a lot of interesting activities for visitors, creating unforgettable moments when coming to the resort.
High Tea networking: A new welcoming venue is delicately decorated with lotus tea, jasmine tea, chrysanthemum tea…and a variety of country cakes, creating a cozy feeling, expressing the Northern tea culture, and creating an impressive highlight for your partner's party.
Folk games: reminiscent of childhood with many unique folk games such as pot-breaking, ring-throwing, … in the open green campus, providing a lively and happy connecting atmosphere.
Experience with Vietnamese traditional clothes: An activity that brings a highlight to the networking venue when all visitors put on Vietnamese traditional clothes, showing the quintessential beauty of Vietnam.
Dyeing natural fabrics: Connect to a sustainable lifestyle with a silk scarf/hair band dyeing workshop using dried flowers and natural materials, receive your finished product within 2 hours.


Natural dyeing activities with Vietnamese traditional clothes.

Photography booth: The photo booth is designed according to the season of Ninh Binh following the northern village style at Emeralda Resort, as well as the needs of our partners.
With more than 10 years of experience in welcoming large groups such as Apec, Honda Big Bike, AIA, Unilever, Wellspring. VTV, Chubb Life… Emeralda Ninh Binh Resort always receives high praise from partner companies when we always show professionalism in our service and bring comfort to all members of the group.
For booking, please Contact Information
Hotline: (+84) 968 699 690 or (+84) 229 3658 333

Website: http://emeraldaresort.com/
Email:

[email protected]

Add: Emeralda Resort Ninh Binh, Tap Ninh Hamlet, Gia Van Commune, Gia Vien District, Ninh Binh Province, Vietnam
About Emeralda Resort Ninh Binh
Emeralda Resort Ninh Binh nestled in the Van Long Natural Reserve and surrounded by spectacular mountains offers the true taste of Tonkin Village in Vietnam's capital. The resort is easy reached by a 90-minute drive from Hanoi, and only a 2-hour drive from Noi Bai airport.
172 bungalows of nine clusters share traditional Tonkin-styled design, featuring Vietnamese elements architecture and furnishing. Besides, the resort is blessed with a total of two restaurants, one wine bar, one pool bar to enjoy European and Asian cuisine, especially in Vietnamese cuisine.
About Emeralda Management Group (EMG)
In anticipation of the new development, Emeralda Management Group (EMG) was founded in 2011 as Vietnam's first home-grown professional hotel and resort management company, striving towards delivering attractive financial returns with the latest in hospitality concepts.
We are a private company bound by ethical values where all the co-founders are from the hospitality industry. Collective experience of the highly talented team is over 50 years in various facets of the trade. At Emeralda Management Group, experience, passion, in-depth understanding of the current market and competition is what we are all about.
Emeralda Management Group believes in providing exceptional experiences to our customers while being socially and environmentally responsible.
The ultimate goal of an Emeralda Management Group's property is to achieve profound satisfaction and concrete gratification for all its dwellers. 
Owned or managed a variety of well-known resorts: Emeralda Ninh Binh Resort & Spa, Ana Mandara Villas Dalat Resort & Spa, Sunrise Nha Trang, Ninh Van Bay Holiday Club and La Cochinchine Spa, Senna Hue Hotel, ….