IHG Hotels & Resorts today announced that it will be partnering with Campari in 2023 with a series of events, parties and promotions that raise a toast to Vietnam and celebrate one of the world's most iconic cocktails: The Negroni.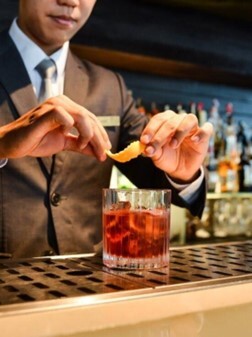 Negroni Week 2023 runs from 18-24 September and celebrates the classic bittersweet Italian cocktail that was born in 1919 when a Florentine bar patron – Count Camillo Negroni – asked his bar-tender to spice-up his usual Americano a notch.  Adding gin to the mix led to the cocktail that would continue to bear his name a century later and become the world's best-selling cocktail.
In a series of events that would do Count Camillo proud, five of Vietnam's leading hotels and resorts have come to the party with events and custom creations set to delight the discerning cocktail lovers of Vietnam this September.
Starting with our nation's capital, InterContinental Hanoi Landmark72 welcomes in Negroni Week with a launch party held at the hotel's famed QBar.  The event features five takes on the Campari-classic, including a Cold Brew Negroni, Conchinchine Negroni, Mulberry Negroni a Barrel-aged rum negroni and its special Jasminicano. The towering Hanoi hotel will also feature a Stellar Brunch on both 24 September and 1 October, where the Aged-Barrel Rum Negroni will be served as a welcome drink, and three Negroni cocktails will all be available either a la carte or freeflow.
Meanwhile, cross-town compatriot InterContinental Hanoi Westlake will offer Classic and Grand Negroni specials for the entire month of September at its Sunset Bar, including combination deals including Parma Ham Bruschetta or a special dessert for an extra slice of Tuscan faire.
Speaking of Tuscan faire, Italian institution Basilico at InterContinental Saigon Residences will ring in Negroni Week with a launch party on its terrace hosted with Campari Vietnam on 18 September. The event will include DJ performances, celebrity guests and Negronis-aplenty for party-goers.  The venue will see the week out on 22 September with a Negroni Night Brunch featuring free flow Negronis paired with antipasti, cold cuts and cheeses served in a buffet setting along with live music.  Topping it off will be all week offerings of its own 'Basilico Negroni', and custom 'Stoic Stare' and 'Negroni Svegliato' designed by famed international mixologists.
Regent Phu Quoc will celebrate Negroni week in true Regent-style, with an exclusive Sunset Cruise including two glasses of Sparkling Negroni aboard its Serenity Catamaran every evening from the 18-24 September. The cruise will also serve five different Negroni Deluxe Canape Pairings to guests as they drink in the storied sunsets of the Pearl Isle – and drink in one of the world's most storied cocktails as an accompaniment. The resort will further offer Negroni promotions in both Bar Jade, featuring Vietnamese gins aged in Scotch whisky barrels; and infused Negronis featuring local gins in its Fu Bar.
Mixing a local twist has also been the order of the day at InterContinental Phu Quoc Long Beach where its stunning INK 360 rooftop bar will blend local gins from Saigon Baigar, Song Cai, and Lady Trieu into the classic cocktail with a menu that celebrates all four seasons of the year in their Blooming Bitterness (Spring), Tropical Sunset (Summer), Frosty Bliss (Winter) and Spiced Harmony (Autumn) concoctions, all available from 18 September until month's end.
For bookings and enquiries:
InterContinental Hanoi Westlake – 024 6270 8888, [email protected]
InterContinental Hanoi Landmark 72 – 024 3698 8888, [email protected]
InterContinental Saigon Residences – 0228 3520 8888, [email protected]
InterContinental Phu Quoc Long Beach Resort – 0297 397 8888, [email protected]
Regent Phu Quoc – 0297 3880 000, [email protected]
+++
About IHG
IHG Hotels & Resorts [LON:IHG, NYSE:IHG (ADRs)] is a global hospitality company, with a purpose to provide True Hospitality for Good.
With a family of 19 hotel brands and IHG One Rewards, one of the world's largest hotel loyalty programmes, IHG has over 6,000 open hotels in over 100 countries, and more than 1,900 in the development pipeline.
InterContinental Hotels Group PLC is the Group's holding company and is incorporated and registered in England and Wales. Approximately 345,000 people work across IHG's hotels and corporate offices globally.
Visit us online for more about our hotels and reservations and IHG One Rewards. To download the new IHG One Rewards app, visit the Apple App or Google Play stores.
For our latest news, visit our Newsroom and follow us on LinkedIn, Facebook and Twitter.