On February 11 and 18, a group of famous names in Vietnam's F&B industry gathered at Novotel Hanoi Thai Ha and Mai House Saigon to attend the Vietnam Food & Beverage Conference 2022.
Flavors Vietnam 2022, the third annual gastronomy festival organized by Vietcetera, with Mastercard as the title sponsor, is off to a great start. After the successful launch early in January, the festival kicked off a series of exciting events, starting with Vietnam Food & Beverage Conference in Hanoi and Ho Chi Minh City.
This year's event saw more than 550 attendees, including some of the most creative minds in the local F&B industry such as Pizza 4P's Yosuke Masuko, Marou Chocolate's Vincent Mourou and Good Food's Cong Ong, Capichi Vietnam's Taiki Mori, Kamereo's Taku Tanaka, Lacàph's Timen Swijtink on February 11 at Novotel Hanoi Thai Ha and on February 18 at Mai House Saigon. Both conferences were a feast of fresh perspectives, revolutionary ideas, and stories of resilience — and of course, food and drinks.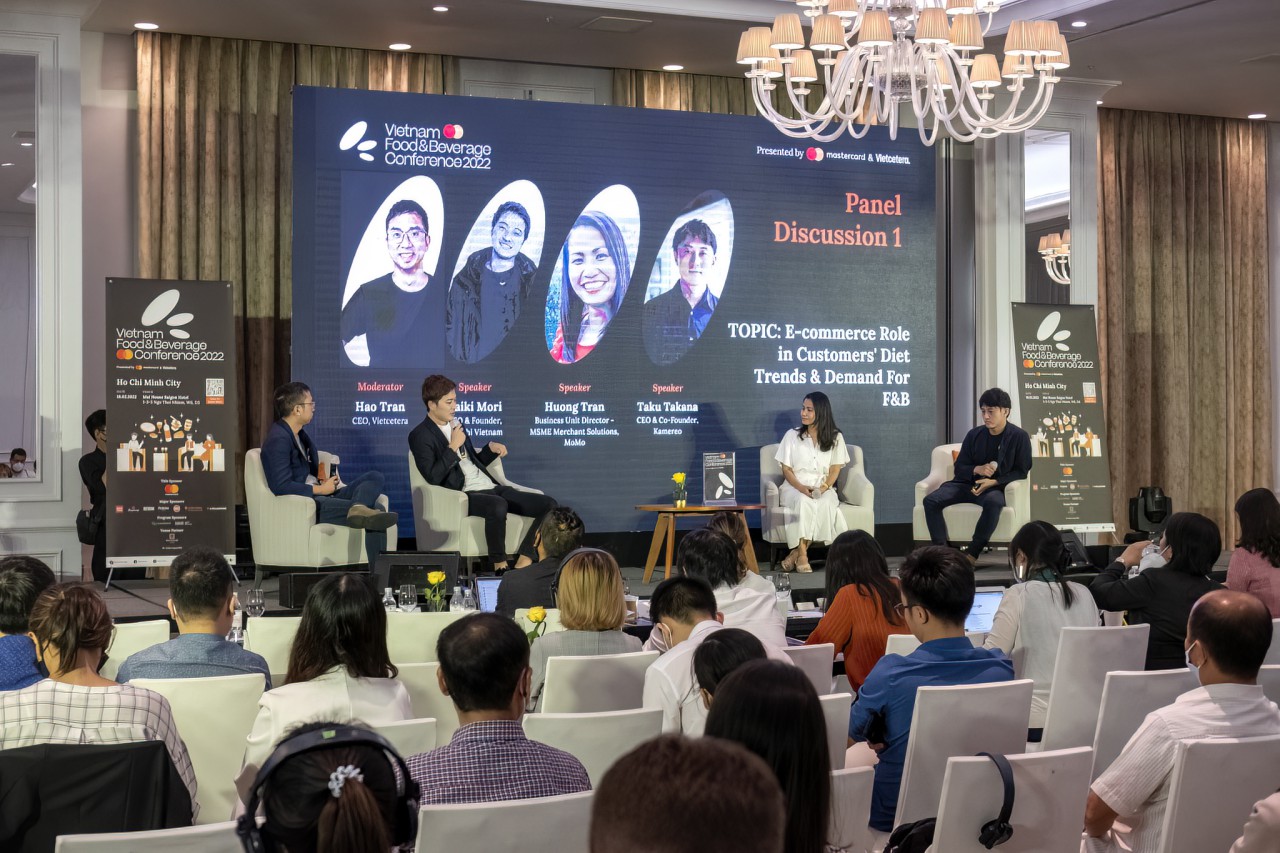 Discussions revolved around the challenges the industry faced and is still facing, as well as insights into trends, digital transformation for seamless dining experiences, safety and security, and the undeniable growing demand for high-quality and high-value products and how F&B players can fulfill them in the most sustainable, innovative ways.
With all the ups and downs experienced by the F&B industry as it navigated through the pandemic, the conferences in Hanoi and HCMC opened a much-needed knowledge-sharing platform among experts, decision-makers, and enthusiasts who are working to make the F&B sector more resilient in 2022 and beyond.
"Rebuilding – and sustaining- community momentum is important to the F&B industry's revitalization, especially even more so now that the borders are opening soon. We hope the conference plays its part in sparking more conversations between industry leaders." – Hao Tran, Vietcetera CEO said.
Tapping into Vietnam's 'young' energy
Vietnam's young population is seen as the key to the country's economic growth. With almost 25% of the population aged between 16 and 30, according to UNFPA, the youngs are a powerful force that brings uniqueness and creativity to the F&B industry.
The young generation sets new trends in food, and are also the ones who demand and utilize products and services. A report by Decision Lab also stated, "Generation Z is a cohort that the food and beverage industry needs to sit up and pay attention to." Despite the relatively low incomes, Gen Z spends a high proportion of their money purchasing food and drinks out of home, almost 900.000 VND (approx. 40USD) a month. As a generation that has the highest curiosity, according to Decision Lab, the Gen-Zs are also the best market for foodservice outlets specializing in diverse, foreign cuisines.
Consumer health and wellness
Since the pandemic, people are willing to spend more to keep themselves well. This has given rise to new diet trends, with consumers demanding food packages that promise healthier living — like gluten-free or keto meals and brain-boosting foods.
Locally, industry players can also take advantage of Vietnamese people's eating habits — love for greens, healthy snacking, and the fact that most Vietnamese prefer eating out in groups.
Beyond personal health, consumers have also grown to become more aware of their surroundings and seek F&B brands they share the same ethics with. This has paved the way for industry players to be more cautious about their environmental footprints, from sourcing their ingredients to packaging the products.
A shift in consumer payment habits
With the pandemic, consumers globally have adopted a digital-first approach in how they live, shop and work, with many adopting cashless habits such as QR codes, mobile phone payments and contactless cards to make everyday transactions in a safer and contact-free manner.
According to Mastercard New Payments Index 2021, 84% of consumers in the Asia-Pacific have seen their access to emerging forms of payments increase in 2020 alone. While 88% used at least one emerging payment type in the last year, two-thirds of all respondents (including 75% of millennials) say they tried new payment methods that they would not have tried were it not for the pandemic. In fact, 60% of consumers polled say they would avoid merchants that do not accept electronic payments of any kind.
"The pandemic has accelerated a shift towards adopting digital-first habits in Vietnam, and these are here to stay for the long-term. As a result, consumers are now expecting more omnichannel and seamless digital experiences when they interact with businesses including F&B. To meet these evolving demands, businesses must always adopt a digital-first approach which puts consumer needs at the core of their businesses. This is imperative to mitigate the impact of the pandemic and stay ahead of the competition", said Winnie Wong, Country Manager, Vietnam, Cambodia and Laos, Mastercard. "Mastercard continues to remain committed to working with key players in Vietnam's F&B sector to harness the power of data, bring innovative payments solutions and rewarding experiences that can help the industry recover and become more resilient than ever."
What's next?
A myriad of exciting events has been lined up for Flavors Vietnam 2022 from February to April. Don't miss out on any of the gastronomic and insightful activities that celebrate the best of Vietnam's F&B industry.
Vietnam Restaurant & Bar Awards 2022 – February 19
Vietnam Restaurant Week 2022 – March 5-13
Rising Chefs Challenge 2022 – March 25
Vietnam Bar Week 2022 – April 9-17
To know more about Flavors Vietnam, visit our website here.
About Flavors Vietnam
'Flavors Vietnam 2022' is the 3rd annual program hosted by Vietcetera and Mastercard that offers a variety of gastronomic activities from January to April in Ho Chi Minh City and Hanoi. The program aims to boost the local food and beverage industry as well as empower both industry professionals and consumers to explore the seamless payment experience offered by Mastercard. Vietnam Food and Beverage Conferences and Vietnam Restaurant and Bar Awards Ceremony, Restaurant and Bar Week, and Rising Chefs Challenge will be held throughout the first quarter of 2022. During the course of Restaurant Week and Bar Week, Mastercard cardholders can enjoy a privilege exclusive of 15% discount at all participating restaurants.
For more information on the program, please click here.
Vietcetera is Vietnam's first media company serving as a publishing platform for Vietnamese and English language content. Operating as a news hub for Vietnam, Vietcetera caters to different kinds of readers, middle-class and white collar Vietnamese consumers, international business readers, overseas Vietnamese and travelers to Vietnam. The digital media organization was launched in 2016 by Founder and President Guy Truong and Co-Founder and CEO Hao Tran.