The fortnightly newsletter by Singapore Tourism Board (STB) is to share the latest updates on Destination Singapore in the current climate. In this issue, learn about the latest travel news and precautionary measures that will give travellers peace of mind and confidence when visiting Singapore.
News in highlight:
Singapore will host the Dota 2 International 11 competition in October. This is the first time the championship will be held in Southeast Asia

The Singapore F1 Grand Prix will feature performances by Green Day, Westlife, and Marshmello.

Work has begun on the new Minion Land attraction at Universal Studios Singapore, which is expected to open in 2024.

STB collaborates with Pinkfong on a new video starring Baby Shark and Merli the Merlion.

Due to pent-up consumer demand for travel, Singapore's tourism sector has long-term development potential.
I: Reimagined Events & Experiences
Singapore to host Dota 2's The International 11 championship this October
This marks the first time the championship will be held in Southeast Asia. Will this year's prize money top last year's eye-watering US$40 million?
Here is some exciting news for gaming enthusiasts here: Dota 2's parent company Valve has announced that the game's annual world championship The International will see its 11th edition held in Singapore in October 2022.
Teams of competitive players will duke it out for the Aegis of Champions, a physical trophy, at Suntec Arena and the Singapore Indoor Stadium for this year's finale of the current Dota Pro Circuit (DPC).
The International is well-known for its prize pool's meteoric growth, from US$1.6 million (S$2.2 million) in its first edition in 2011 to a whopping US$40 million last year. This year's prize money has not been revealed although given the increase over the years, it's expected to be an eye-watering amount.
Before that though, teams must fight for their place in The International 11 through the DPC's regional league and Major tournaments. The DPC's top 12 teams will automatically qualify for The International, with an additional eight teams joining the championship through regional qualifiers.
Many of The International's previous editions were held in Seattle, near Valve's Bellevue headquarters. The International 9 in 2019 was the first time the championship was held in Asia when Shanghai, China played host.
This upcoming 11th edition in Singapore is set to be the first for Southeast Asia.
Singapore is no stranger to major e-sports events. Just last March, Fairmont Singapore hosted the ONE E-Sports Dota 2 Singapore Major. The country has also hosted Mobile Legends tournaments
Link to source:
Green Day, Westlife and Marshmello to perform at Singapore F1 Grand Prix
Green Day, Westlife and DJ Marshmello are set to perform at the Padang stage at this year's Formula 1 Singapore Grand Prix, which will take place from September 30 to October 2.
This is the first group of acts confirmed for the event.
The final line-up will include more than 75 performances across eight stages, with more acts to be unveiled in the coming weeks, said organizers on May 23.
Marshmello, known for hit songs such as Alone, Friends and Happier, will hit the stage on Sep 30.
Irish boyband Westlife last performed in Singapore in 2019. More than 20,000 people turned up at the National Stadium to see the group as part of a tour celebrating their 20th year.
Fans can catch the four-man group's The Wild Dreams Tour at the Padang Stage Zone 4 on Oct 1.
Green Day will feature on the final day, Oct 2. The punk group was scheduled to hold a concert in Singapore in April last year, after having already postponed from its original March 2020 date. However, it was cancelled due to the COVID-19 pandemic.
Its last Singapore performance was at the Singapore Indoor Stadium in 2010.
All tickets to the Formula 1 Singapore Grand Prix will have access to the Padang Stage in Zone 4.
Organisers also announced that more tickets will be made available, after the initial offering in early April sold out within hours. These will include additional walkabout and single-day grandstand tickets.
Zone 4 and premier walkabout tickets would go on sale at 10am on 24 May. These will be available as single-day options, priced from S$98 for a Friday Zone 4 Walkabout ticket and from S$288 for three-day tickets.
All walkabout ticket holders will have access to "strategically located viewing bleachers as well as concerts on the Padang Stage", organisers said.
Single-day grandstand tickets would also be available for a limited release from 10am on 26 May. Prices start at S$98 for a Bay Grandstand ticket.
Link to source:
Work begins on new Minion Land attraction at Universal Studios Singapore, set to open in 2024
Work to construct Minion Land, a new attraction at Universal Studios Singapore (USS) that is part of moves to revive tourism here, began on May 26.
The upcoming themed zone at USS, inspired by the Despicable Me film franchise, is set to open in 2024, and is part of the Republic's post-pandemic tourism recovery plans. It will take over the former Madagascar zone.
Mr Alvin Tan, Minister of State for Trade and Industry, and Culture, Community and Youth, attended the groundbreaking event on May 26.
In a speech, he said: "Before Covid-19, we had about four million visitors per year (to USS) and I'm hopeful – and very optimistic that with the easing of restrictions and opening of travel in earnest – that we will see more people coming in to Sentosa, Universal Studios and Minion Land when we open in 2024."
The new zone will comprise multiple rides, including one that will be a world first and exclusive to USS. Details on the ride have not been announced.
It will also house Despicable Me Minion Mayhem, an immersive motion-simulator 3D ride. The ride is also available at Universal Studios' locations in Florida, Hollywood, Japan and Beijing.
The zone will have restaurants and themed shops, with Minion-themed food items and merchandise.
Construction of Minion Land will be done in line with sustainability efforts laid out by the Sustainable Sentosa road map launched last year. Its goal is to eventually bring the island's emissions of planet-warming greenhouse gases down to net zero by 2030.
"With Minion Land, we aim to attain the zero-energy building certification from the Building and Construction Authority when it opens," said Mr Tan Hee Teck, chief executive of Resorts World Sentosa (RWS).
"(It) will then be the first attraction in Singapore, and possibly in this region, to be powered by renewable energy."
Link to source:
Baby Shark meets Merli the Merlion: STB teams up with Pinkfong for new video
Singapore Tourism Board's partnership with the company behind Baby Shark is part of a push towards drawing a wide range of visitors to Singapore, in light of easing pandemic restrictions. 
To promote the country's offerings to a younger audience and welcome visitors as COVID-19 restrictions are relaxed, the Singapore Tourism Board (STB) has collaborated with Korean children's edutainment company Pinkfong and released an animated music video on May 23.
The two-minute video, Sing, Sing, Singapore!, sees the Korean brand's iconic characters Pinkfong and Baby Shark meet Singaporean mascot Merli the Merlion. The trio go on an escapade through a series of Singaporean attractions, including Sentosa and the Night Safari, all to the viral tune of Baby Shark.
Sing, Sing, Singapore! comes as part of the STB's ongoing SingapoReimagine campaign to draw tourists back after over two years of pandemic restrictions saw visitor numbers take a hit. While the campaign was launched to revitalise Singapore's tourism industry, the music video marks its first time it's appealing to families with young children, who would be familiar with Pinkfong's lineup of characters.
In a press statement released by The Pinkfong Company, executive vice president Ryan Seungkyu Lee said: "Travel offers the incomparable education for children, helping them truly interact with different cultures and others' lives. We will continue to seek opportunities where we can connect people around the world through our joyful content."
Meanwhile, STB's area director for Korea Angeline Tang expressed the statutory board's delight to work with the company, while reasserting the music video's core message: "Singapore is ready to welcome visitors from Korea, both young and old."
Seeing as Singapore aims to attract more visitors, you can look forward to Baby Shark's tune getting stuck in your head again.
Link to source:
II:  General news
Quick recovery for Singapore's travel industry, long term growth remains: Iswaran
A long-term growth potential for Singapore's tourism industry remains, due to pent up demand among consumers for travel, said Transport Minister S Iswaran on May 23.
Mr Iswaran said passenger traffic at Changi Airport has already picked up to almost around 50 per cent of pre-pandemic volumes.
Speaking during a panel session at the World Economic Forum meeting in Davos, he added that this was much faster than the authorities had projected.
That means expectations will have to be recalibrated due to the stronger growth momentum, he said on the panel session about revitalising travel and tourism.
"What this also means, though, is that the manpower issues, the resource constraints, they're also going to bite. Because it's one thing to say, 'I'm going to increase capacity by 50 per cent', but you can't just flick the switch. You got to bring the people back, you've got to get them trained, you've got to get your processes running," said Mr Iswaran.
As a result, Singapore needs the ensure that it ramps up and keeps up with the capacity needs.
"The operational needs in airports around the world have really shot up and the systems have not been able to keep up. That's quite evident looking at the crunches in various airports," he said.
Leveraging digital technologies is also key to creating more seamless connectivity in this regard.
"Working with health authorities, World Health Organization (on a) standard definition of what is fully vaccinated, what are the other requirements, if any, and then leveraging digital technologies to put in place mutual recognition. This will serve as well not just for now, but for any future kind of incident," said Mr Iswaran.
He said the Singapore government is also taking the opportunity to reflect on the lessons from the pandemic and incorporate them into future plans.
Sustainability will also be taken into account, he added.
In March, monthly passenger traffic at Changi Airport crossed the 1 million mark for the first time in two years.
Changi Airport Group (CAG) said last week that more than 6,600 jobs were available across the airport as the commercial aviation sector continues to recover.
Changi Airport Terminal 2, which has been closed for upgrading works since May 2020, is slated to reopen in phases from May 29 to meet the "expected increase" in passenger traffic in the months ahead.
When the upgrading works are completed by 2024, the expansion will raise the terminal's capacity by 5 million to 28 million passenger movements per year.
Link to source:
Getting ready for the future when travel resumes
With travel guidelines constantly changing, stay up to date on the latest in safe management measures and border measures.
Vaccination updates
As of 30 May 2022, the total number of individuals who have completed their full regimen/received two doses of COVID-19 vaccines constitutes 96% of the eligible population, and 92% of the total population. Additionally, 76% of total population has received their booster shots.
Latest SMM updates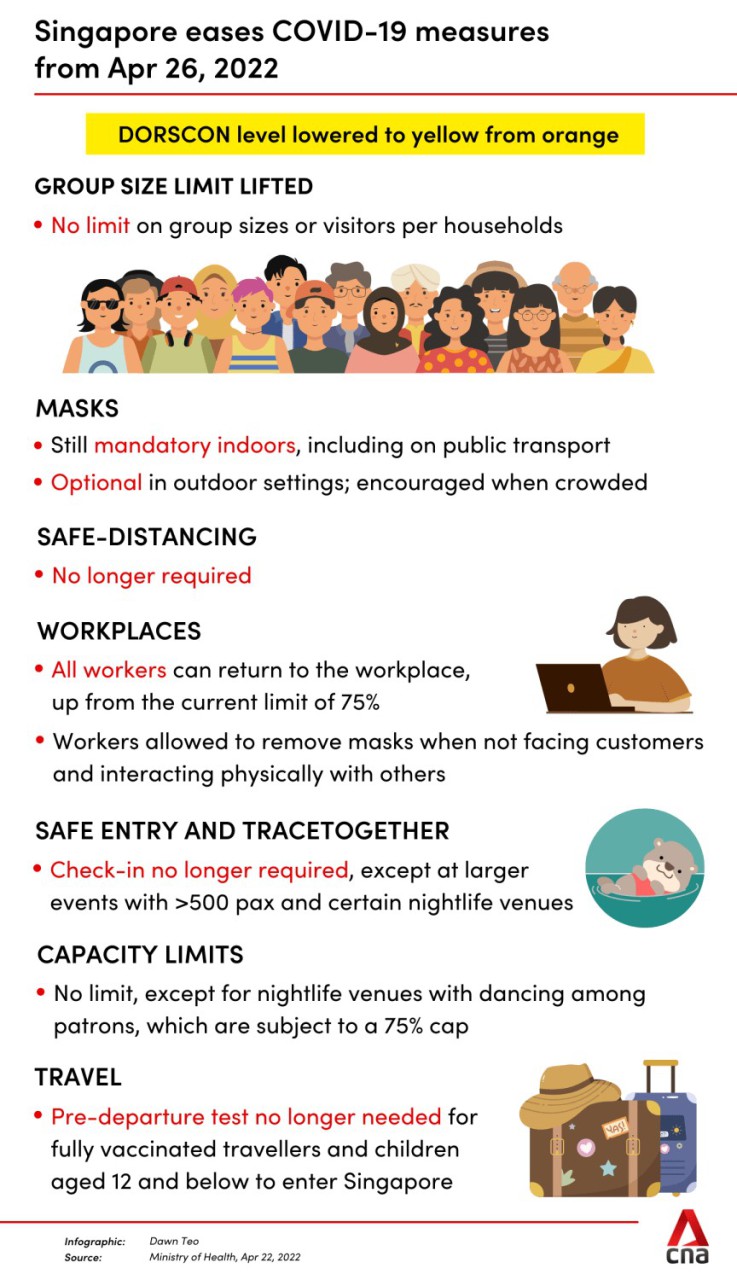 Latest border measures updates