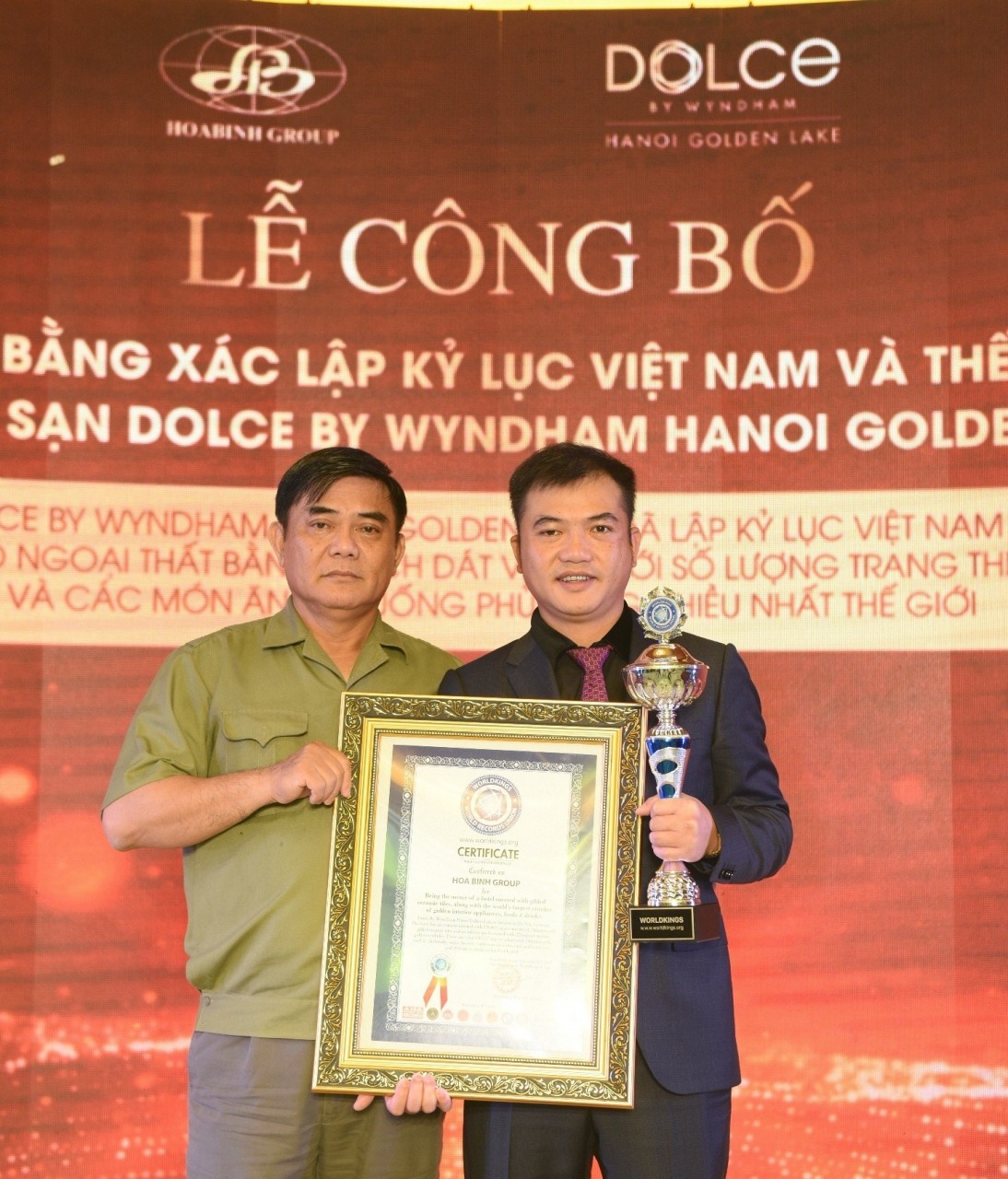 RECORD NAME: THE HOTEL HAS A GOLD-PLATED EXTERIOR WITH THE WORLD'S MOST GOLD-PLATED FOR INTERIOR FURNITURE, FIXTURES AND EQUIPMENT (FF&E), FOOD AND BEVERAGE.
RECORD OWNERSHIP: Hoa Binh Company Limited
FIELDS OF RECORDING: Hotel and apartment
RECORD MONTH: August 2020
RECORD AWARDED DATE: November 19th, 2020
LOCATION: Dolce by Wyndham Hanoi Golden Lake Hotel, B7 Giang Vo, Ba Dinh, Hanoi
Dolce by Wyndham Hanoi Golden Lake's hotel information
Investor: Hoa Binh Group
Design and construction company: Hoa Binh Group
Area: 2,237.5sqm
Branding and reputation
After the successful project of gold-plated apartment in Hanoi area – Hoa Binh Green City complex. The end of 2016 marked an important turning point when Hoa Binh Group constructed the Condotel Hoa Binh Green Da Nang project. After 12 months of construction, the project will be handed over to operation. With finished interior design according to international standards accompanied by 24k gold-plated equipment to create a unique branding of Hoa Binh singature apartments.
By strong economic potential, well-known reputation and great determination, Hoa Binh Group continues to develop the Dolce by Wyndham Hanoi Golden Lake hotel & apartment project, signed with Wyndham as a management group, the great hotel chain in the US nowadays.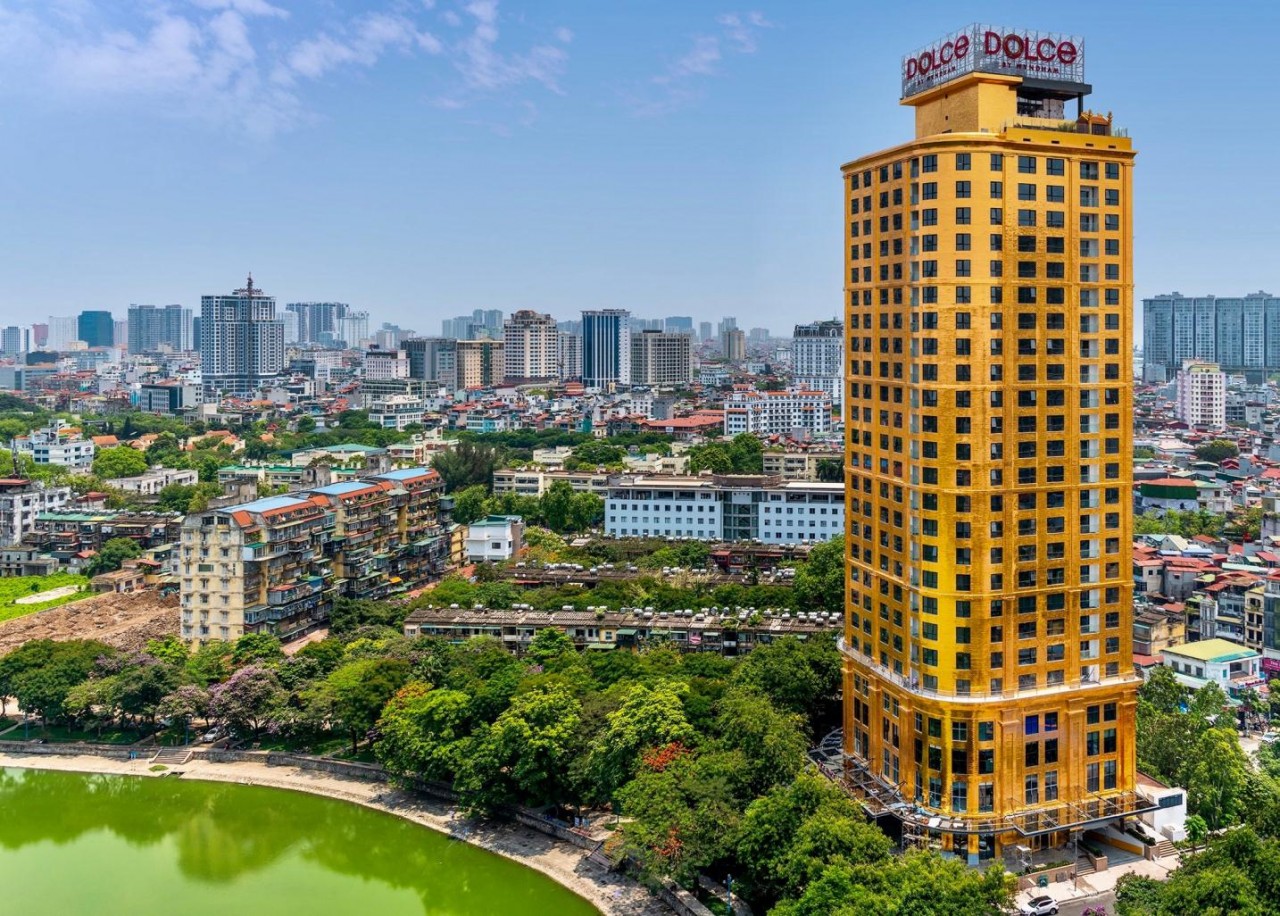 Golden location for luxurious hotels
Located at the intersection between Tran Huy Lieu street and Nam Cao street, facing 03 roads all around, overlooking the southwest side of Giang Vo Lake. A location that many investors would evaluate to be the "golden" residential neighborhood, the rare remaining land of Ba Dinh district masterplan.
The transportation system is extremely convenient from the hotel to popular places within the city includes:
• 05 MINUTES to Thu Le Park
• 10 MINUTES to West Lake
• 05 MINUTES to major universities
• 10 MINUTE to the hospitals
• 15 MINUTES to the old town and Hoan Kiem Lake
• 35 MINUTES to Noi Bai Airport
Classic design
250mm thick reinforced concrete structure, 350mm thick walls, earthquake resistance up to level 08, and pillar-free apartments constructed with 75-grade dry mortar.
Construction material of the Dolce by Wyndham Hanoi Golden Lake hotel and apartment complex is even more durable than the Colosseum Colosseum and the leaning tower of Pisa's.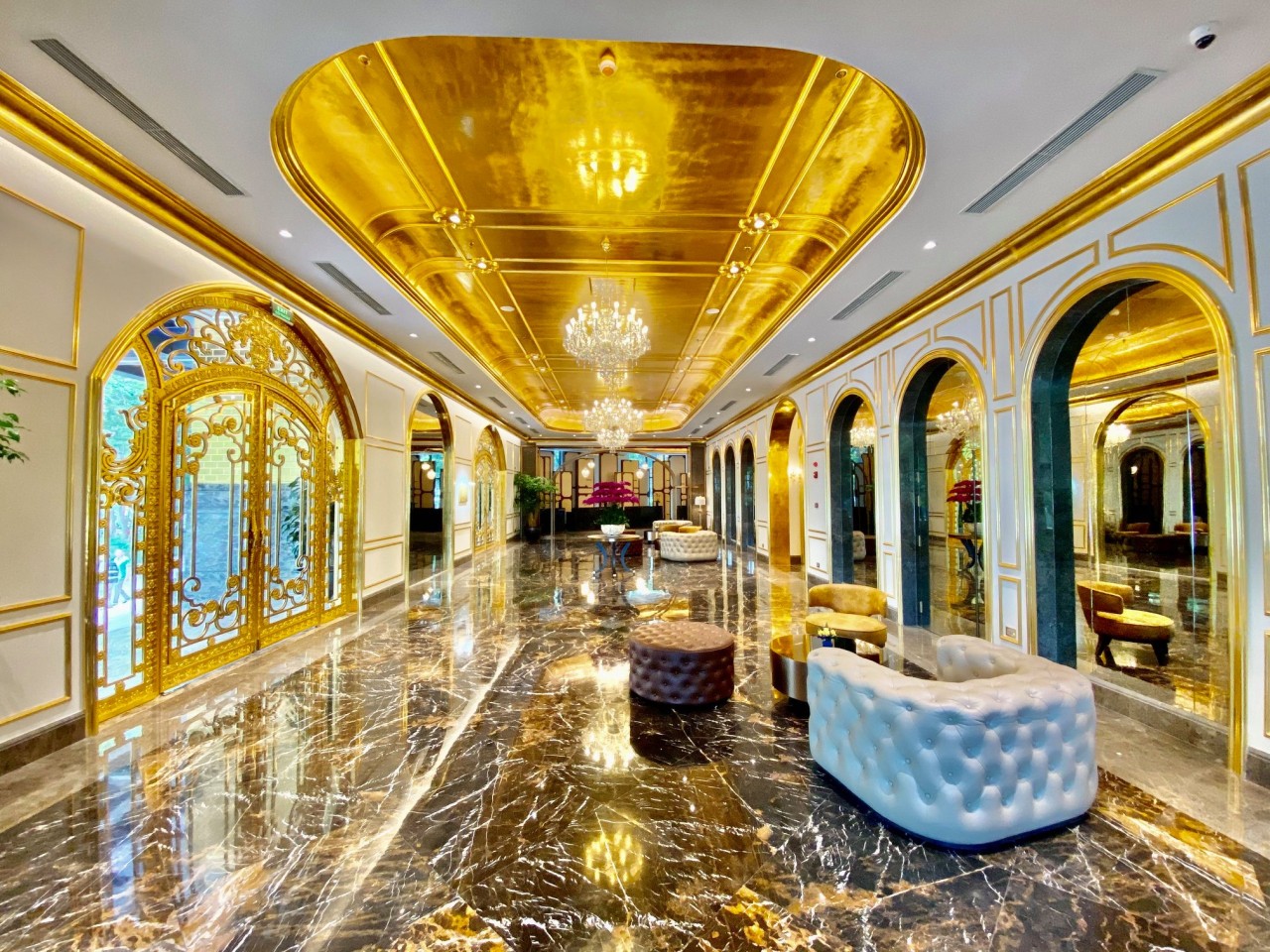 Star Building
Dolce by Wyndham Hanoi Golden Lake Hotel is the world's first 9999 gilded hotel. The project has a total investment of more than 100 million USD, was built over 12 months and officially opened on July 2nd, 2020. Previously, the investor planned to open for business in March 2020 aiming towards the Formula 01 – F1 racing tournament in Hanoi, however this event was delayed due to Covid-19's pandemic, so the opening date was delayed since.
Dolce by Wyndham Hanoi Golden Lake hotel and apartment complex is one of the World and Southeast Asia most luxurious hotels, a place just for politicians, businessmen, billionaires … as well as tourists from all over the world to visit and work in Vietnam. The building is designed in a neoclassical architecture combining advanced technology with sophisticated details, combined with large glass arrays. If the Swisshorn Gold Palace Hotel in Hong Kong is only covered with gold interior; The Trump International Hotel in Las Vegas is covered with gold outside; The 7-star Buji Al-Arab hotel in Dubai is only covered with gold in the hallway and elevator, while Dolce by Wyndham Hanoi Golden Lake is covered with gold from the interior to the exterior of the building. Not only 120,000m2 of the exterior of the project is covered with gold-gilded bricks, but the details of the railing, thread, decoration column are also covered with 24k gold; interior space of service floors and hotel lobby and toilet facilities such as bathtub, washbasin to shower, towel rack, toilet … to gold-plated electricity switches; dining utensils are plated in gold; the 225 m2 rooftop infinity pool with panoramic views of the capital; The outdoor showering area next to the swimming pool also uses bricks, faucets and shelves that are also covered with 24K gold. Especially, the elevator doors cost about 05 tons of gold to complete.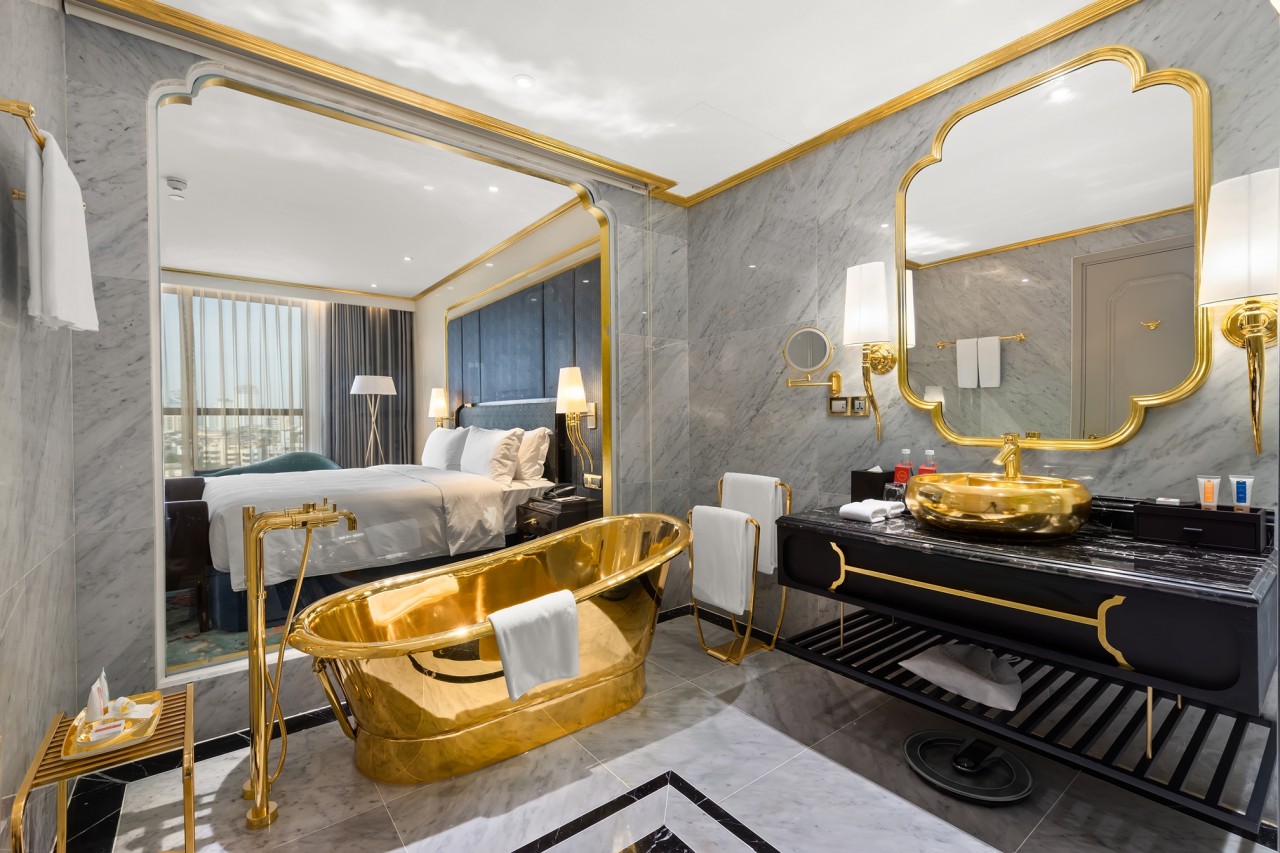 Dolce by Wyndham Hanoi Golden Lake is designed and constructed with the utmost advanced and modern techniques available today. With 04 basements (basement 01 with car parking function, supermarket; 2nd floor for motorbikes; 3rd and 4th floor with parking function for vehicles with 05-storey automatic lifting system, technology is imported from advanced countries) and 25 above-ground floors are designed with luxurious and modern living spaces. From floor 01 to floor 05 are designated to event and banquet up to approximately 5000m2; the 05-star restaurants serving both European and Asian signature dishes with food and beverages, knives, forks are all gilded, more specifically, the dishes are sprinkled with gold leaves; The space for health care services, spa, gym, jacuzzi, swimming pool … ensures to satisfy the most demanding guests when they are here. From
the 05th to the 25th floor is the area for 342 08-star bedrooms with Royal suites and Presidential rooms, conference rooms … And the target that Dolce by Wyndham Hanoi Golden Lake sets in 2020 is to achieve at least 50% of our maximum room capacity.
To make this super golden-gilded project become a reality, Hoa Binh Group has invited German and Russian pioneers with more than 40 years of experience in the gold-plating field to work directly at the factory. The investor's own factory for producing these masterpieces is located in Bac Ninh province.
Hoa Binh Co., Ltd. was formerly a group of 09 people with 07 wounded soldiers, the united effort and relentless determination has helped the soldiers and our staffs, making Hoa Binh to become a trust-worthy and strong company like today.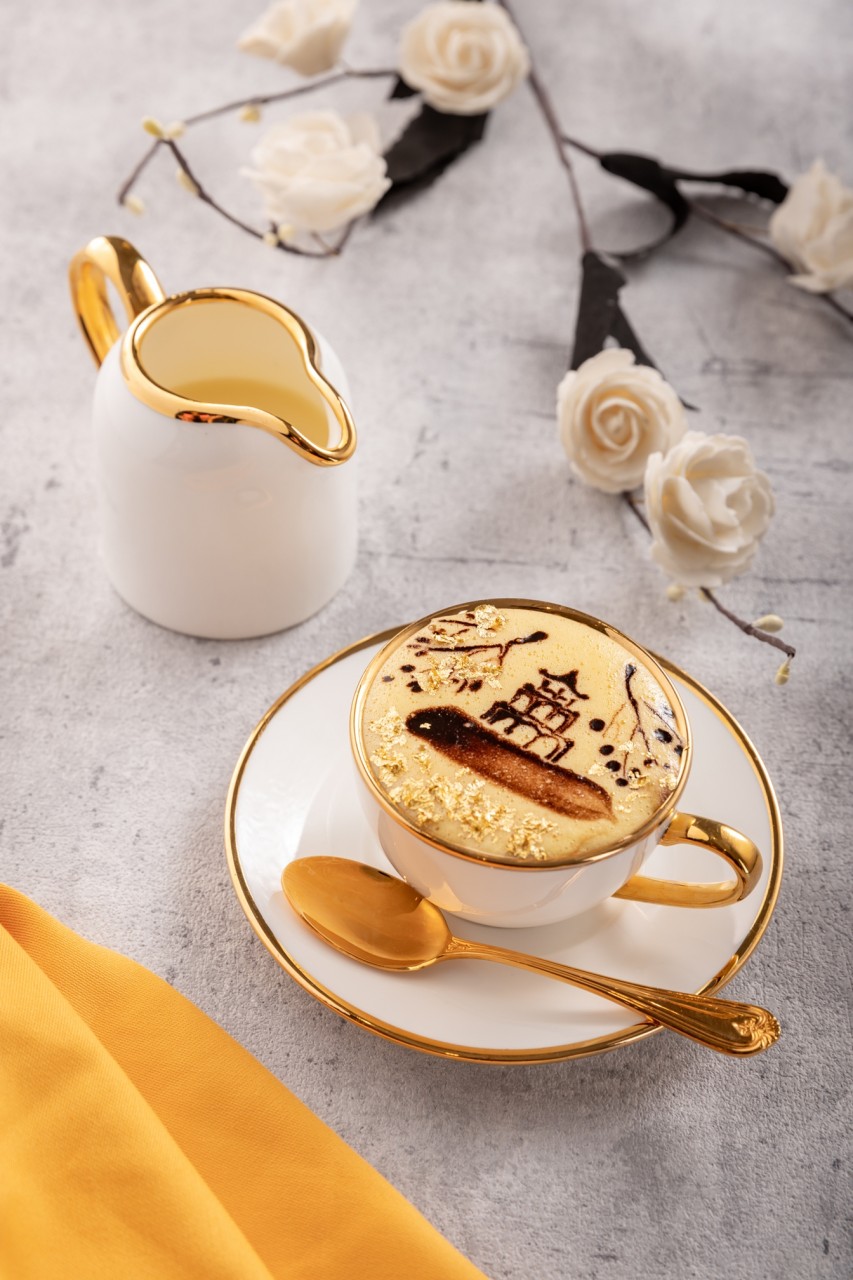 Returning after the war, coming back with fierce memories of the war and the pain of losing comrades, soldiers like the employees of the Hoa Binh company are accustomed to the meaning of these words "come back", it is that ideology has motivated them to make a great effort to live, to work not only for themselves but above all for the part of the fallen comrades.
Over 20 years of developing, Hoa Binh Limited Company, also known as Hoa Binh Group is one of top 10 most prestigious real estate investors in Vietnam and is the only firm in Vietnam that invest, manage construction unit, construct and design for all its own 06-star projects. Hoa Binh's reputation is confirmed throughout our signature buildings in Hanoi, developed by the Company such as the Hoa Binh Somerset twin tower, inaugurated in 2006 with a total investment of $ 26 million and managed by Ascott. In 2010, the Company continued to opening the 05-star standard apartment building at 2 K80 Buoi Street. In particular, in 2015, Hoa Binh completed Hoa Binh Green City complex at 505 Minh Khai in accordance with 06-star standard with apartment railing, gilded sanitary equipment, level 08 earthquake resistant structure and economical electricity initiatives. The Group has also operated the Danang Golden Bay hotel located in Hoa Binh Green Da Nang complex with a total of 1,826 hotel rooms and apartments – hotels.