Travel + Leisure Southeast Asia, Hong Kong & Macau announced the winners of the Luxury Awards Asia Pacific 2023 this month, revealing their readers' picks of the best destinations, hotels, pools, spas and hotel general managers. The historic city of Hue, Vietnam's former capital, was named among the top ten destinations in the region and Alba Wellness Valley by Fusion landed two coveted spots in the top ten lists.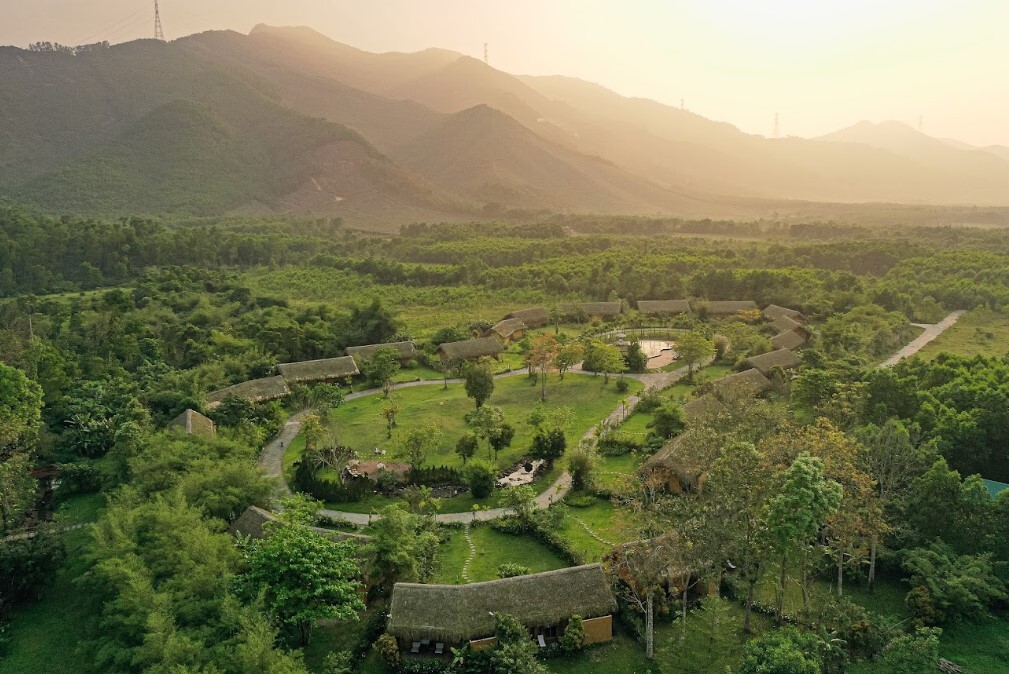 Alba Wellness Valley by Fusion, a hot springs resort on the outskirts of Hue, came in as number three in the Top 10 Hotel Spas in Vietnam and placed number five in the Top 10 Upcountry Hotels. The property is located on 50 hectares of lush grounds at the foot of the Truong Son mountains. Alba features a Japanese-style onsen with indoor and outdoor mineral-laden pools, along with rivers of healing thermal waters that wind their way through the property. In addition to a tranquil spa, the resort offers a diverse menu of wellness activities daily, including Tai Chi, Yoga, water meditation, and walking meditation, as well as hosting wellness experts for retreats and workshops.
"While we're delighted to be recognized in two different categories in these prestigious awards we're just as excited that two destinations in Vietnam, Hue and Hanoi, landed on the Top Ten Cities list," said the resort General Manager Eugene Hendriks. "The Imperial City of Hue is a UNESCO World Heritage Site and a must see for anyone interested in the history and culture of Vietnam and when paired with a stay at Alba, a property that highlights nature, wellness, and relaxation, we believe guests will have an unforgettable experience of the country."
| | |
| --- | --- |
| | |
Alba Wellness Valley by Fusion's Wellness & Spa Director Nyoman Yastama said: "We are proud of our Spa Team on this amazing achievement. Our therapists have put in a lot of hard work and personal growth in order to deliver these highest standards of wellness to our guests.  The Spa award is a testament to the expertise of our dedicated Vietnamese therapists, who have continuously learned and refined the latest industry techniques. Ultimately, our team is able to demonstrate respectfulness, patience, and tact to help guests feel more comfortable and at ease.
"This incredible achievement reflects the team's dedication to helping people live healthier, happier lives", shared Eugene.
The Travel + Leisure Luxury Awards Asia Pacific 2023 covered the top hotels and resorts in a variety of categories. Countries covered were Australia, Cambodia, Laos, Hong Kong, Indonesia, Japan, Macau, Malaysia, Maldives, New Zealand, Philippines, Singapore, South Korea, the South Pacific, Thailand, and Vietnam. Nominees were selected by the Travel + Leisure Southeast Asia team of editors and contributors across Asia Pacific and voting was open to everyone.
For more information or to make a booking, visit www.albawellnessvalley.com
ABOUT FUSION
Fusion is a leader of wellness-inspired hospitality brands in Vietnam, managing 22 properties in Vietnam and Thailand with regional expansion plans.
| | |
| --- | --- |
| | A WELLNESS GETAWAY: Showcasing some of Vietnam's most idyllic beaches, Fusion Resort is the epitome of a relaxing beach getaway. Sophisticated accommodations with all-spa inclusive therapies, and breakfast anywhere, anytime, served by a team of Fusionistas. |
| | REJUVENATE YOUR MIND AND SOUL: Creating the next level in rejuvenation escapes, Fusion Retreats specialises in providing sanctuaries to support both the mind and soul. With a deeper focus on wellness and wellbeing, guests experience recovery and indulgent programmes that include meditation and medical treatments to support their specific needs. Whether it be stress-recovery to detoxification. All treatments are tailor-made to ensure revitalisation and revival. |
| | A PLACE FOR THE DARING: No two are alike! Each select property represents the brand with its own individual design and services – original thinking leading to original experiences. Fusion Original are unique and have bold styles for the discerning traveler. Set in prime locations in Vietnam's city centres, guests enjoy creative and unexpected spaces along with Fusion's signature high-quality services. |
| | BRANDED RESIDENCES by fusion: Fusion Homes' branded residences elevate developments to an exclusive offering, infusing character & uniqueness through iconic designs and special character. |
| | URBAN RETREAT: Fusion Suites combines urban locations with a resort experience in the city. With spa or reflexology treatments, breakfast anywhere, anytime options and Fusionistas bespoke service, Fusion Suites provides guests a real retreat from the city. |
| | A CULINARY ADVENTURE:  A focus on culinary experience in special destinations. Maia Resorts offer getaways, filled with exceptional culinary journeys along with bespoke spa treatments. Whilst surrounded by coastal landscapes, guests are exposed to regional and thoughtfully crafted cuisine with local touches and the freshest ingredients. |
| | A TOUCH OF THE INDIVIDUAL: Located in idyllic destinations in Fusion's collection, comes original resort and urban experiences with their own feel to fit their surroundings, Hotels by fusion offer truly one-of-a-kind experiences with accommodation and facilities under the management of Fusion Hotel Group. |
| | BUSINESS WITH HOME COMFORTS: Designed with the business traveller in mind, HIIVE provides comfortable accommodation for both long and short-term business travellers. Situated around industrial and logistics hubs, each hotel is created for commercial guests to be productive while also enjoying well-deserved home touches. |
| | COMFORTABLE MIDSCALE IN PRIME LOCALES: GLOW Hotels & Resorts is for travellers seeking comfortable and affordable accommodation. Enjoy a simple brand with core services at an attractive price point – without compromising on service or standards. Unique properties in exciting urban locations or exclusive seaside destinations. Don't just live, GLOW! |