To welcome the upcoming Lunar New Year 2022, Sheraton Saigon Hotel & Towers officially unveils its Tet hamper, with inspirations taken from the apricot flower blooming in the glorious spring sunshine and the red color, symbolizing good luck and prosperity. This one is the perfect gift for sending to the loved ones and business partners.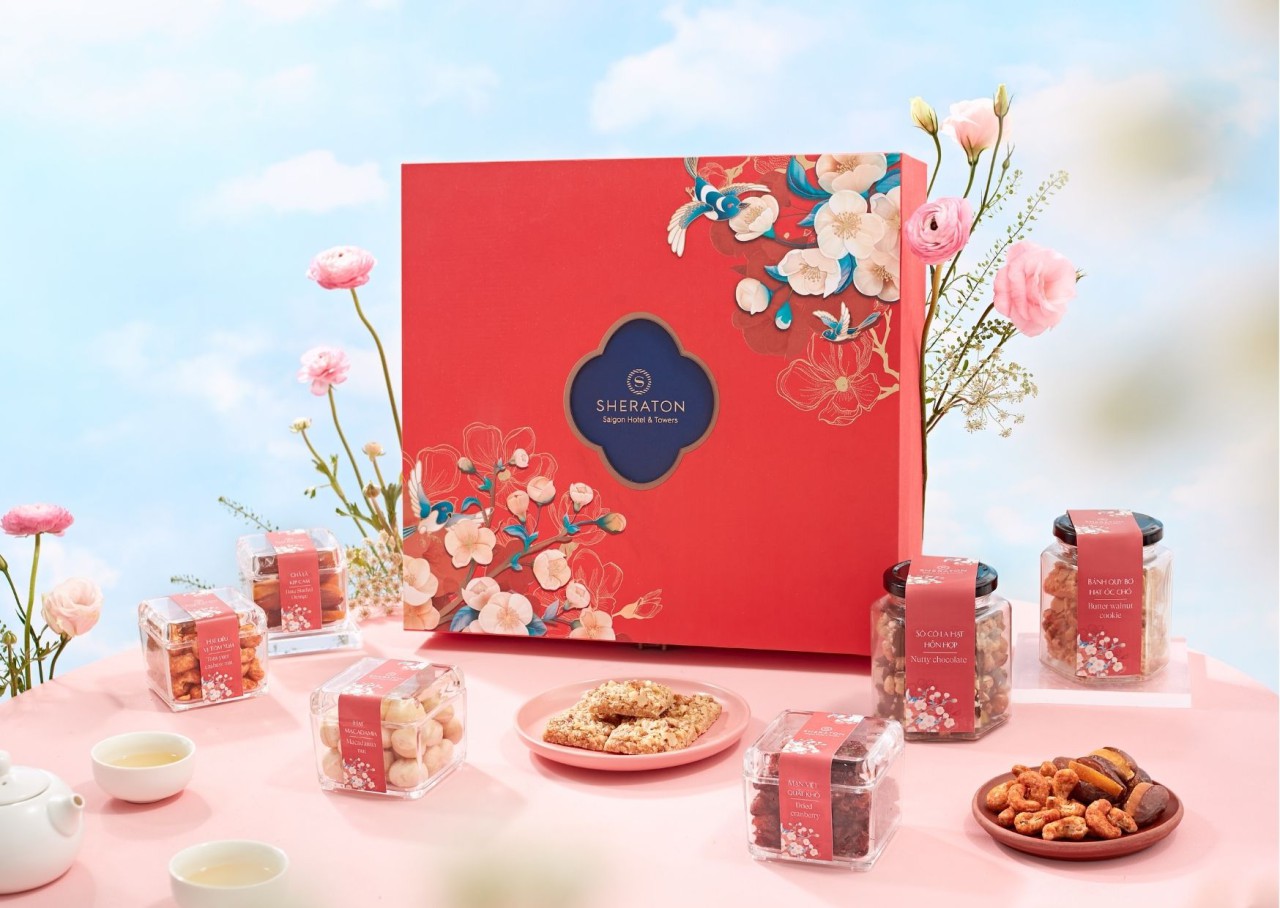 Elegantly packaged, the Sheraton Saigon's Tet hamper grabs attention with the red color tone embodied by the white, gold and blue, bringing the sense of the flourishing beings and the joy of the blooming flowers when spring comes. Each hamper contains six premium delights accompanied by tea, highlighted by two delectable gourmets handcrafted by expert chefs of Sheraton Saigon.
Being known as the hotel brand providing unique food and beverage gifts with high-quality home-made products such as mooncakes and artisanal pastries, Sheraton Saigon debuts two gourmets made by our master chefs with over 40 years of experience, including butter walnut cookie and nutty chocolate. Both products blend the nutritious nuts from walnut, cashew, pistachio, almond to dark chocolate following the popularity of the fast-growing eat clean movement among gastronomes. In addition, the hamper encompasses four premium delights, namely Spicy orange stuffed dates, U.S dried cranberries, Macadamia kernels and Tom Yum cashew nut to cater to everyone's appetite and bring a fusion taste for the whole family in the new year.
For the year to come, the Tet hamper delivers a loving message and a wish for prosperity and good blessings for all beloved ones.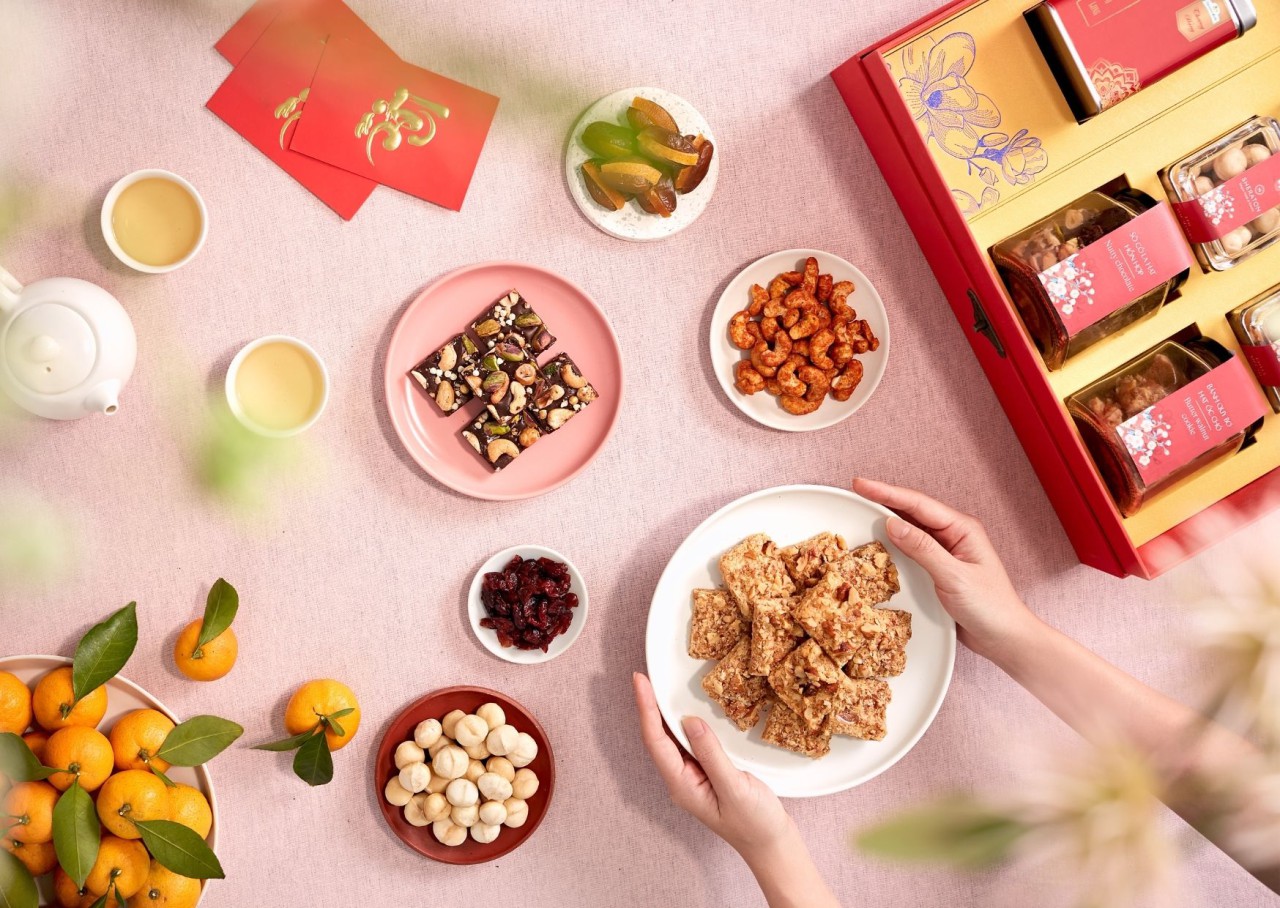 The Tet hamper is priced from VND 1,088,000++ per box, exclusive of service charge and 10% VAT. Especially, deliveries for orders of 50 boxes and above to locations within the city will be free of charge.
Now available for pre-orders on a daily basis at the Tet hamper booth at the lobby of Sheraton Saigon Hotel & Towers – 80 Dong Du street, Ben Nghe ward, District 1 from 01 to 31 January 2022 or via online platforms. For further details, please contact us directly via: +84 28 3827 2828, or email [email protected].
*Please follow the below links for further details:
– Our Brochure: https://bit.ly/SGNSI_TetHamper2022
– Website: https://vn.sheratonsaigon.com – Sheraton Saigon's Facebook page: https://www.facebook.com/sheratonsaigonhotel
###
About Sheraton Hotels & Resorts 
Sheraton Hotels & Resorts makes it easy for guests to feel welcome at over 440 hotels in more than 70 countries and territories around the world. As the most global brand within Marriott Bonvoy's portfolio of extraordinary hotel brands sitting at the center of hundreds of communities around the world, Sheraton has a rich heritage in creating a sense of belonging for guests, wherever they are in the world. Sheraton is currently undergoing a major brand transformation, creating a signature community experience for the next generation of travelers at properties across the globe. The new vision for Sheraton features intuitive design, tech-forward experiences and upgrades to everything from public space and F&B to flexible meeting space. To learn more, visit www.sheraton.com. Stay connected to Sheraton on Facebook, and @sheratonhotels on Twitter and Instagram. Sheraton is proud to participate in Marriott Bonvoy®, the global travel program from Marriott International. The program offers members an extraordinary portfolio of global brands, exclusive experiences on Marriott Bonvoy Moments and unparalleled benefits including free nights and Elite status recognition. To enroll for free or for more information about the program, visit MarriottBonvoy.marriott.com.