April begins with a fool's day but marks the most brilliant time of the year when summer wakes up inspiring people to share and enjoy the things they are truly eager for. Hanoi looks gorgeous when the rays of sunlight are blazing through the foliage, just walking with light steps is enough to hear the wind whistling. Are you ready to welcome the new month full of peace and joy? Let's find out to the culinary story we reveal in April!
Rooftop BBQ & Friends
5:30pm- 9:00pm | 10 April 2022
The Summit Bar | Level 20, Pan Pacific Hanoi
On 10 April, The Summit Bar is hosting a delectable buffet spread of BBQ favorites, seafood, salads, breads, desserts and sides surrounded by unparalleled views of the city skyline and West lake. Whether it's an intimate gathering or a catching up with friends, we are ready to handle it with special lucky draw rewards that make all patrons fall head over heels in love. Let's light up the barbecue, grab some plates and find yourself immediately immersed in the beauty of summer.
VND750,000++/ pax including BBQ buffet and 02 drinks
Menu link: https://bit.ly/BBQBuffetMenu
Happy Easter Sweets
From 10 to 17 April 2022
The Summit Bar | Level 20, Pan Pacific Hanoi
Let's put a twist on family's feasts with Easter's sweets. In this collection of mouthwatering goodies decked out in our beautiful packages, your taste buds are guaranteed to be tempted with colorful egg-shaped chocolates, candies, bird's nest cakes, and so much more.
From VND45,000 per item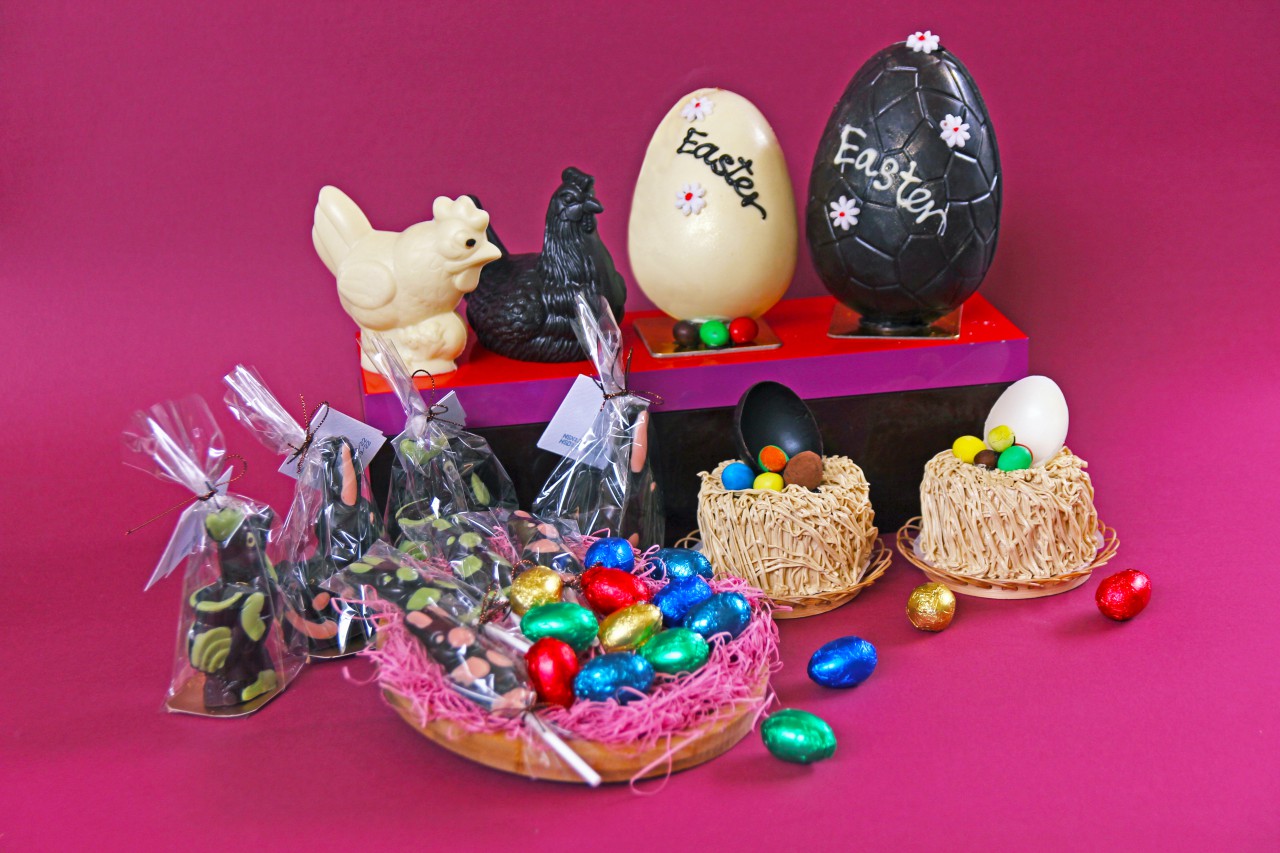 Egg-citing Dim Sum Buffet: For Kids & For You
11:00am – 2:00pm | 17 April 2022
Ming Restaurant | Level 2, Pan Pacific Hanoi
Let this Easter be a special occasion at Ming Restaurant. Offering the same price, Egg-citing dim sum lunch buffet features dim sum, Cantonese classics with a Western touch. There's also buffet station featuring seafood, BBQ, hot dishes, salads, desserts and mainstays along with others led by our talented chefs.
And what's more? We have planned out plenty of fun Easter activities for the kids all in one place such as toy figurine creative corner, making cotton candy, decorating cookies, magic performances, Easter game with many attractive prizes while parents could be at ease to enjoy the meal. Join us for an Easter Sunday celebration like no other!
*Not valid in conjunction with any other offers or promotions
VND550,000++/ adult
VND275,000++/ child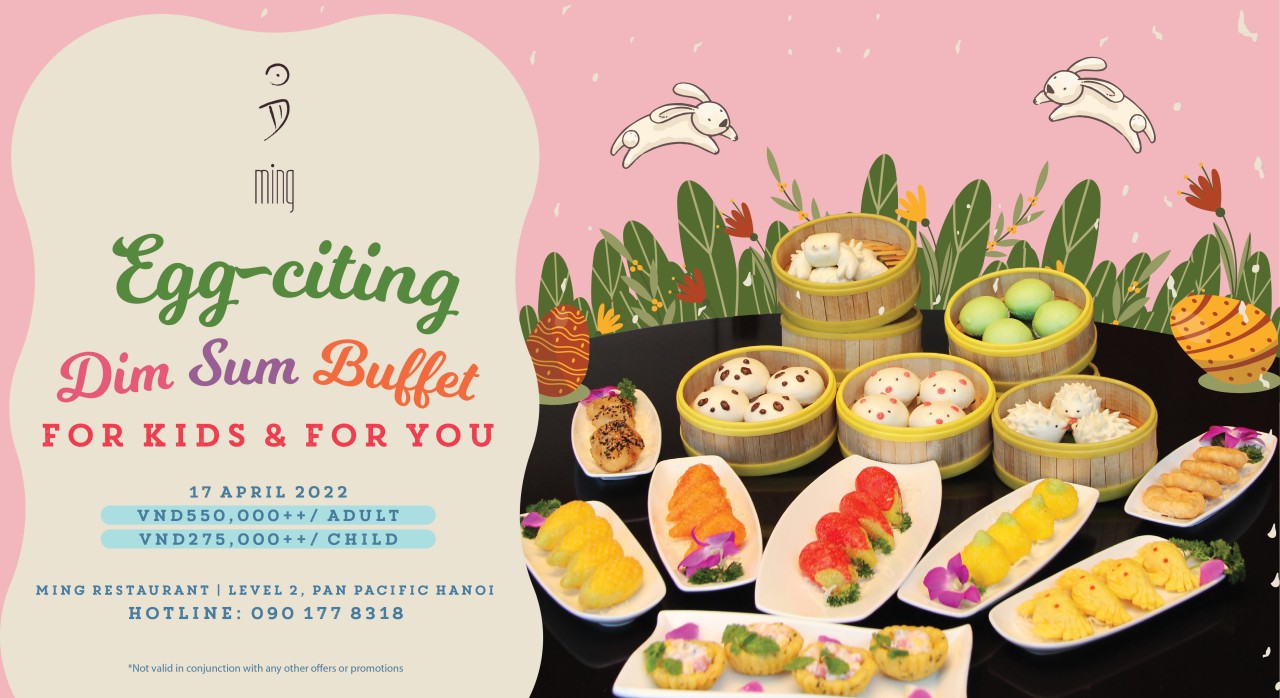 Holiday Offer: More Sweets Same Price
From 29 April to 01 May 2022
Ming Restaurant | Level 2, Pan Pacific Hanoi
Let's start the holidays by the best possible way with a full plate of dim sum, Cantonese delicacies and special desserts, of course. From 29 April until 01 May, Ming Restaurant boasts a scrumptious all day desert buffet station adding a sweet final touch to your holiday gatherings. Whether you prefer sweet cakes, mousse, sweet soup, deep-fried sesame ball, mango pudding or fresh fruits, it is such a delicious way to celebrate and take the edge off your fullness. Happy holidays!
*Not valid in conjunction with any other offers or promotions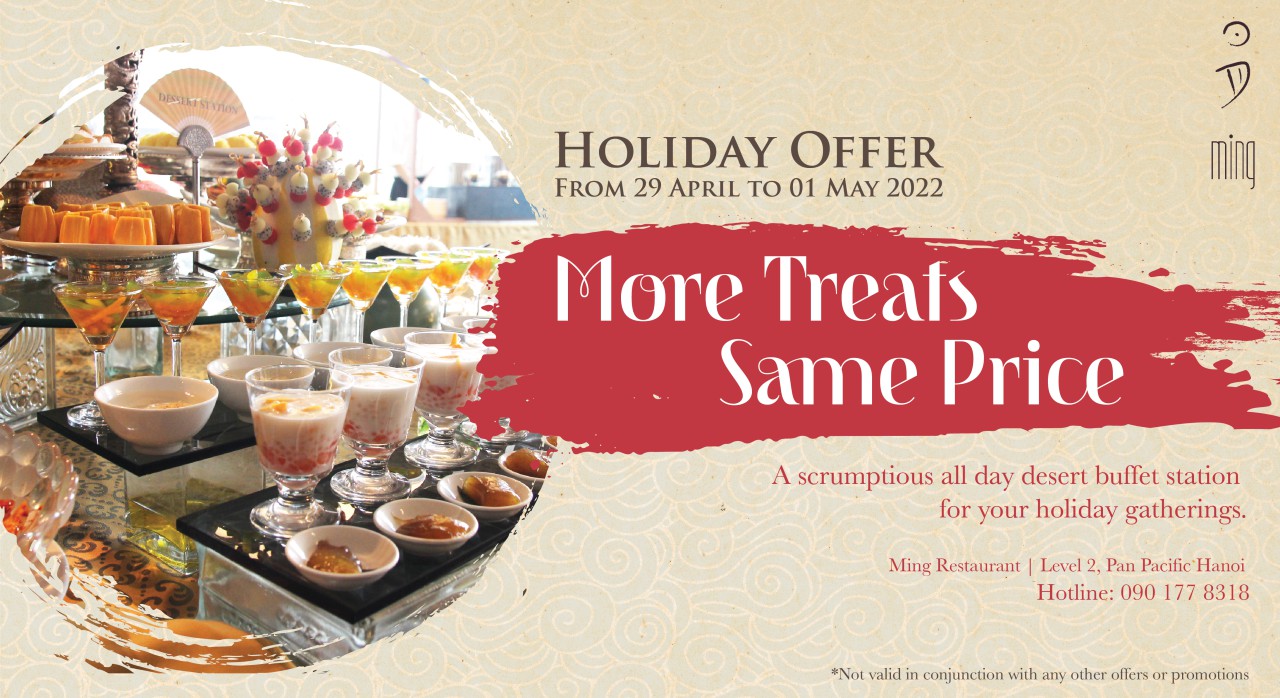 Summer Breeze Afternoon Tea
April 2022
Song Hong Bar | Lobby, Pan Pacific Hanoi
The Summit Bar | Level 20, Pan Pacific Hanoi
Summer is the perfect time to try newly sweet treats for teatime! Whether you are craving fruity tarts, cakes, macarons, mousse, baked apricot scones with clotted cream and jam, or sandwiches, we have got lots of delicious treats to give your teatime a summery twist. Let's whip up these sweets at Song Hong Bar and The Summit Bar!
VND450,000++/ set for two persons including sweet treats, tea or coffee or juice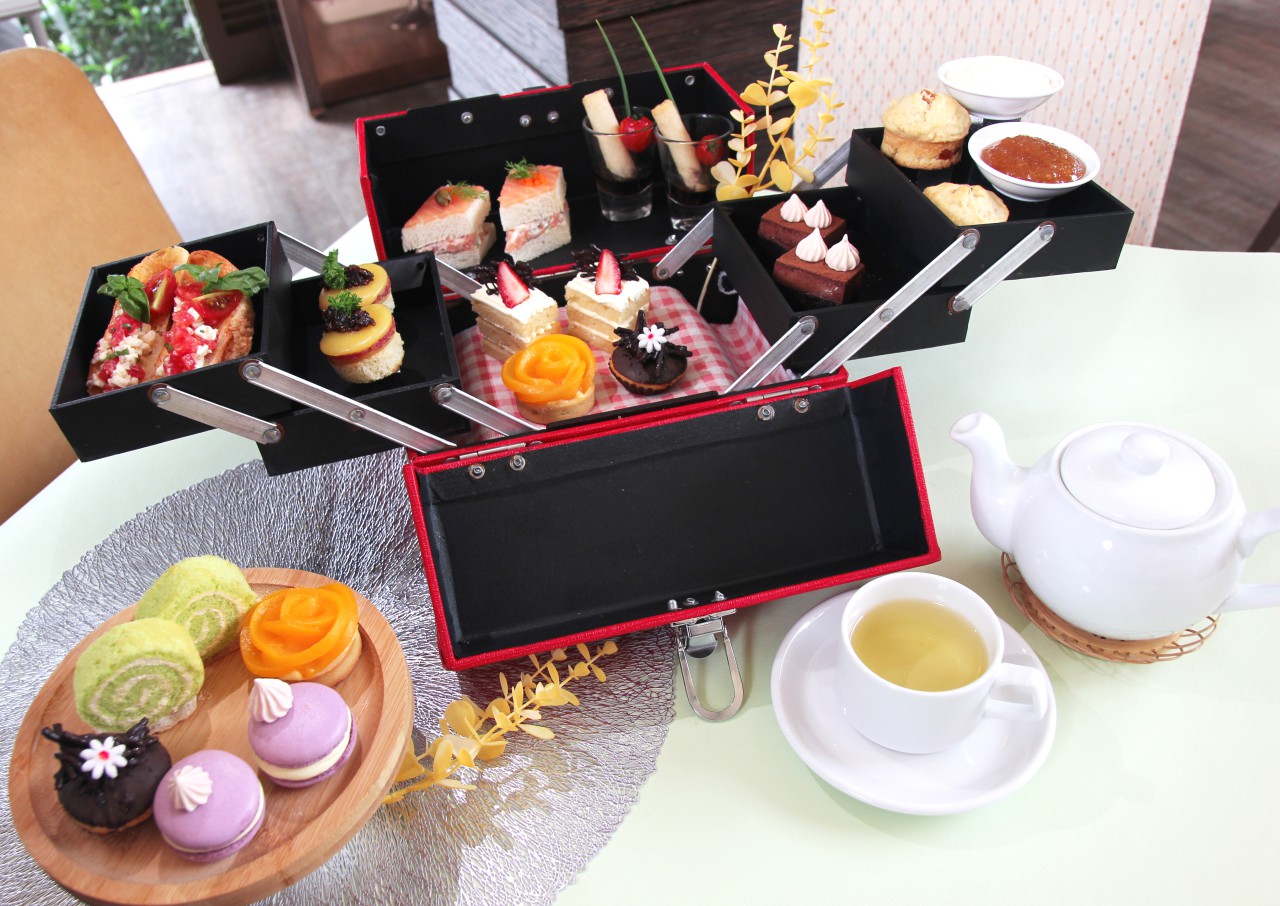 Sunset Dream Hours
4:00pm- 6:00pm | From Monday to Friday| April 2022
The Summit Bar | Level 20, Pan Pacific Hanoi
Shake off a hard day at work by joining us for great time, great drinks with special prices! On weekdays from 4pm-6pm, The Summit Bar offers menu featuring specialty cocktails, wine, and beer options. Don't forget to raise your glasses, clink them together and cheers this sunset moment with gratitude. You won't be sorry!
From VND60,000++/ drink
Menu Link: https://bit.ly/SunsetDreamMenu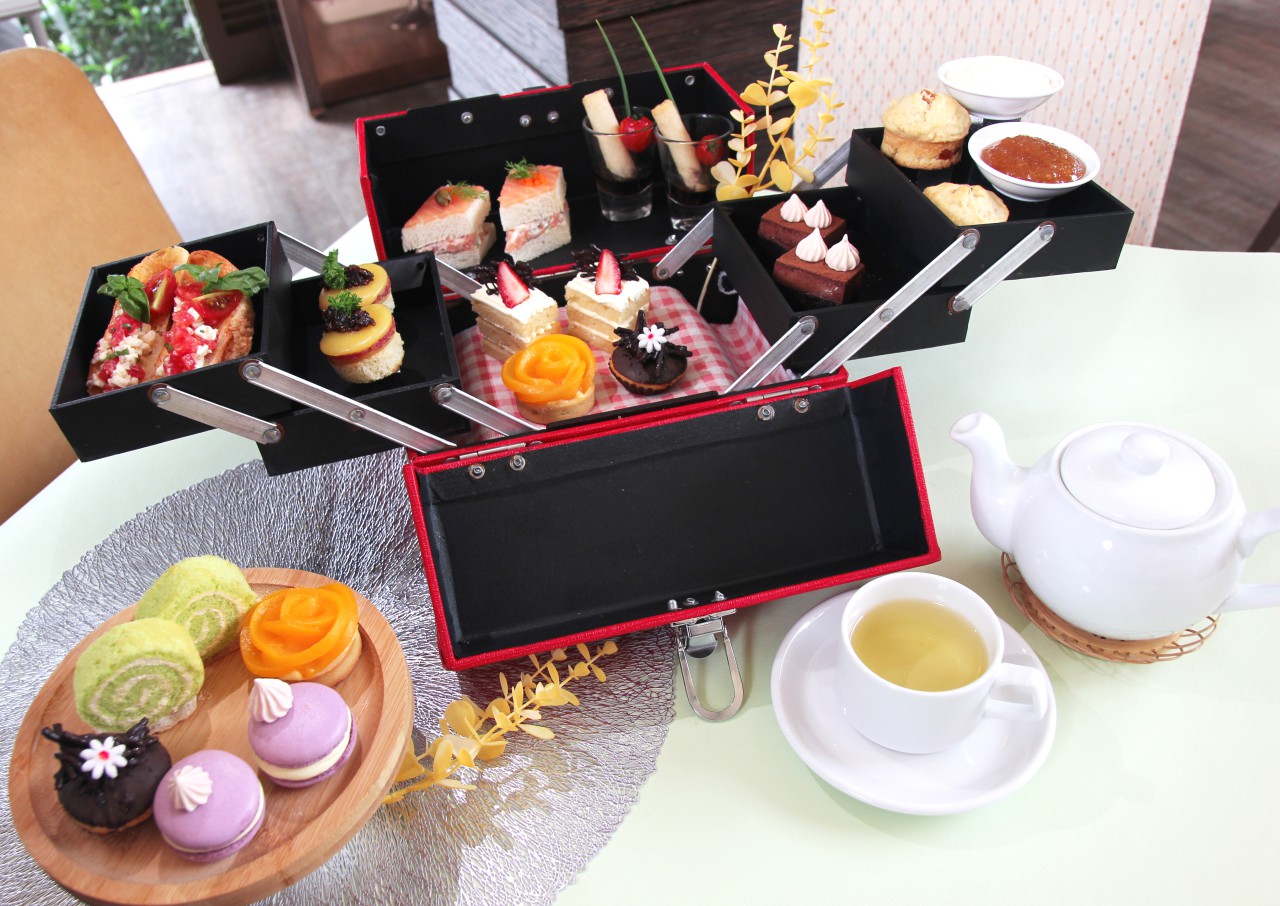 For dining enquiries and reservations, speak with us at +84 901 778 318 or email [email protected].
* Prices are subject to VAT and 5% service charge.
About Pan Pacific Hanoi
Situated at the edge of the city centre, Pan Pacific Hanoi provides a harbour of tranquil balance in bustling Hanoi, with 329 fully-furnished rooms and suites presented magnificent views of the poetic West Lake, and an array of recreational facilities furnished with thoughtful touches for your complete relaxation. Especially, Pan Pacific Hanoi is well-known for delectable fusion of Western and Eastern gastronomy in Pacifica Restaurant (All-day dining), Ming Restaurant (Cantonese cuisines), Song Hong Bar and the panoramic rooftop bar The Summit promising the finest dining experience to your stay.
For more information: https://www.panpacific.com/en/hotels-resorts/vietnam/hanoi.html
Facebook: @panpacifichanoi
Instagram: @panpacifichanoi
About Pan Pacific Hotels Group
Pan Pacific Hotels Group is a member of Singapore-listed UOL Group Limited, one of Asia's most established hotel and property companies with an outstanding portfolio of investment and development properties.
Based in Singapore, Pan Pacific Hotels Group owns and/or manages close to 50 hotels, resorts and serviced suites including those under development in 29 cities across Asia, Oceania, North America and Europe.
Voted "Best Regional Hotel Chain" by readers in Asia from 2017 to 2020, Pan Pacific Hotels Group comprises three brands: "Pan Pacific", PARKROYAL COLLECTION, and PARKROYAL.
Sincerity is the hallmark of Pan Pacific Hotels Group. The Group is known to its guests, partners, associates and owners for its sincerity in people and the sense of confidence which alleviates the stresses of today's complex world.