Six hotels in Binh Duong, Hanoi and Ho Chi Minh City reveal their festive collections, perfect for a daytime treat or presented in an elegant gift box for friends, family or colleagues
Marriott Bonvoy is gearing up for the magical Mid-Autumn Festival in Vietnam with a series of attractive mooncake promotions at three of its highly-acclaimed hotels in Binh Duong, Hanoi and Ho Chi Minh City.
The expert pastry chefs at Fairfield by Marriott South Binh Duong, Le Meridien Saigon, JW Marriott Hanoi, Sheraton Hanoi Hotel, Sheraton Saigon Hotel & Towers and Renaissance Riverside Hotel Saigon have created a selection of mouth-watering mooncakes, including classic favorites, contemporary flavors and special gift boxes that make perfect presents for friends, family and colleagues.
Fairfield by Marriott South Binh Duong has unveiled its "Su Sum Vay Gian Don" ("Simple Gathering") Mooncake Collection which embraces the simplest and purest value. Making a debut in 2022, four unique flavors stay true to four extreme tasting experiences made with high-quality ingredients such as Royal King Crab, Charcoal Scallops or beautiful appearance of Lotus Seed Matcha, Lava Cappuccino Cheese. Price only VND 950,000 per box.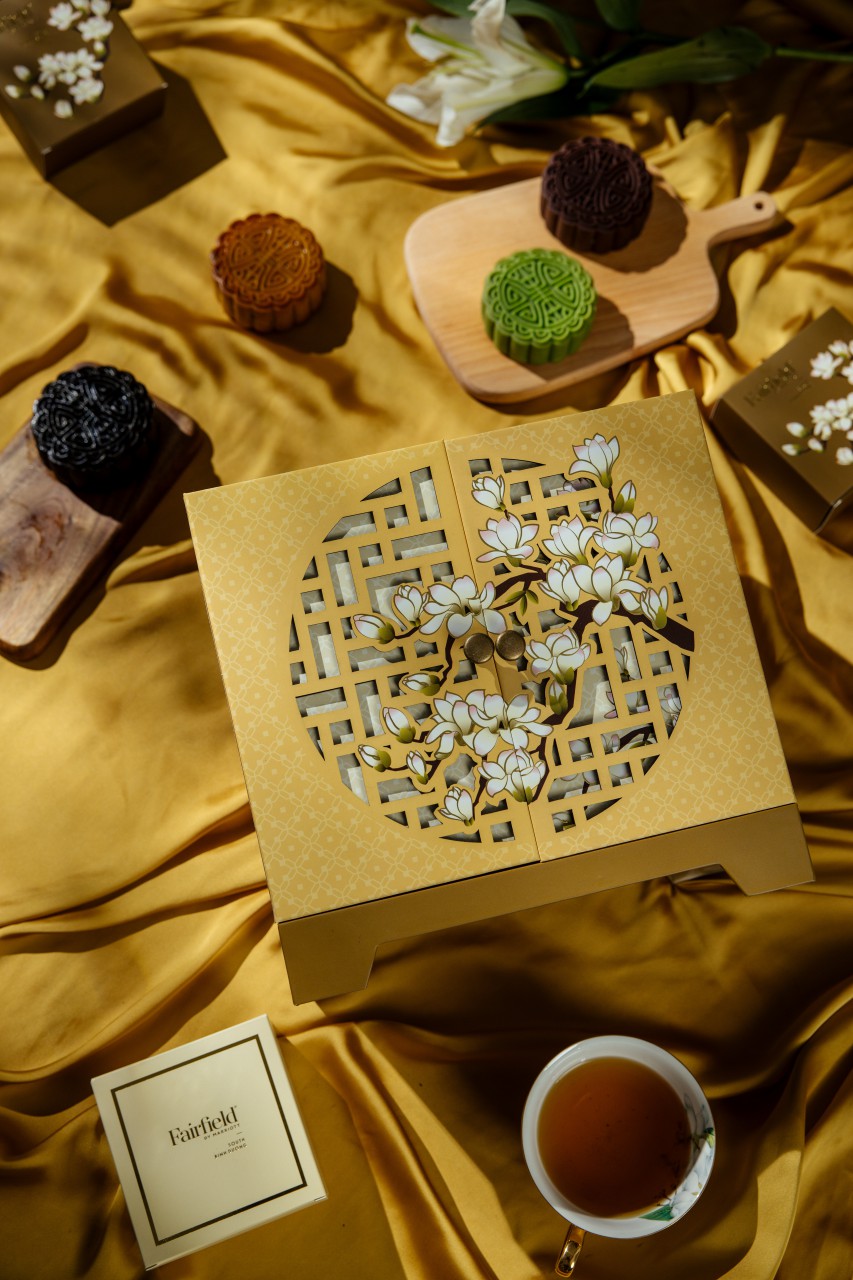 Le Meridien Saigon has launched a new mooncake collection that gives customers a bold taste of Vietnam with specialty ingredients throughout the country. 6 flavors have been crafted, including: King Crab with French Wine and Salted Egg Yolk; Saigonese Radish Pork Floss and Salted Egg Yolk; Lai Chau Tribal Sausage Mix; Matcha and Salted Egg Yolk; Mekong Five-Fruit Cocktail and Da Lat Orange Rose Marmalade. Packed in a unique contemporary look with abstract artwork presenting the positive energy, peace and prosperity, boxes of 4 pieces are available at VND 1,088,000 inclusive of taxes. Customized boxes and discounts are available for larger orders.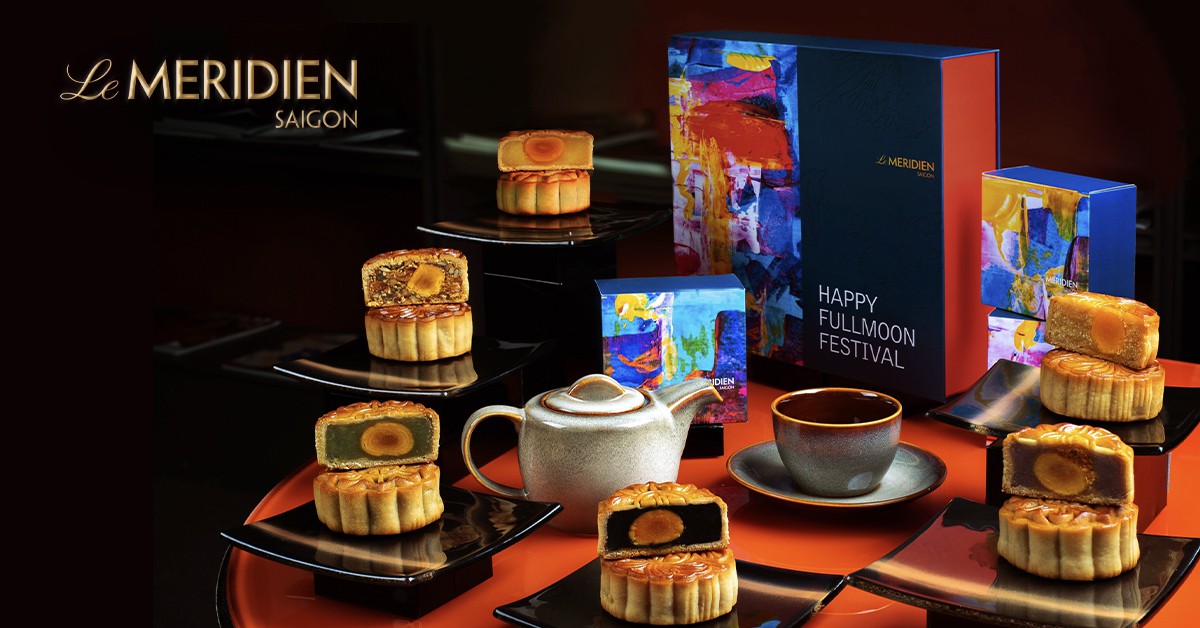 JW Marriott Hanoi presents the new set of Premium and Luxury Mooncake boxes 2022, "Lien Ngu Phu Quy" ("The Gathering of Carp and Lotus" with a meaning of wealth and happiness). Offers exquisite tastes of Mooncakes with a selection of six signature flavors such as pandan, taro, black sesame, chestnut chocolate, red bean, and white lotus paste with salted egg yolk, and a choice of complimentary tea or wine available: the Luxury Box of 4 pieces with Tea (from VND 1,280,000+/ box), the Luxury Box of 6 pieces with Tea (from VND 1,480,000+/box) and the Premium Box (4 pieces with wine/ spirit, VND 2,280,000+/box). Discounts apply.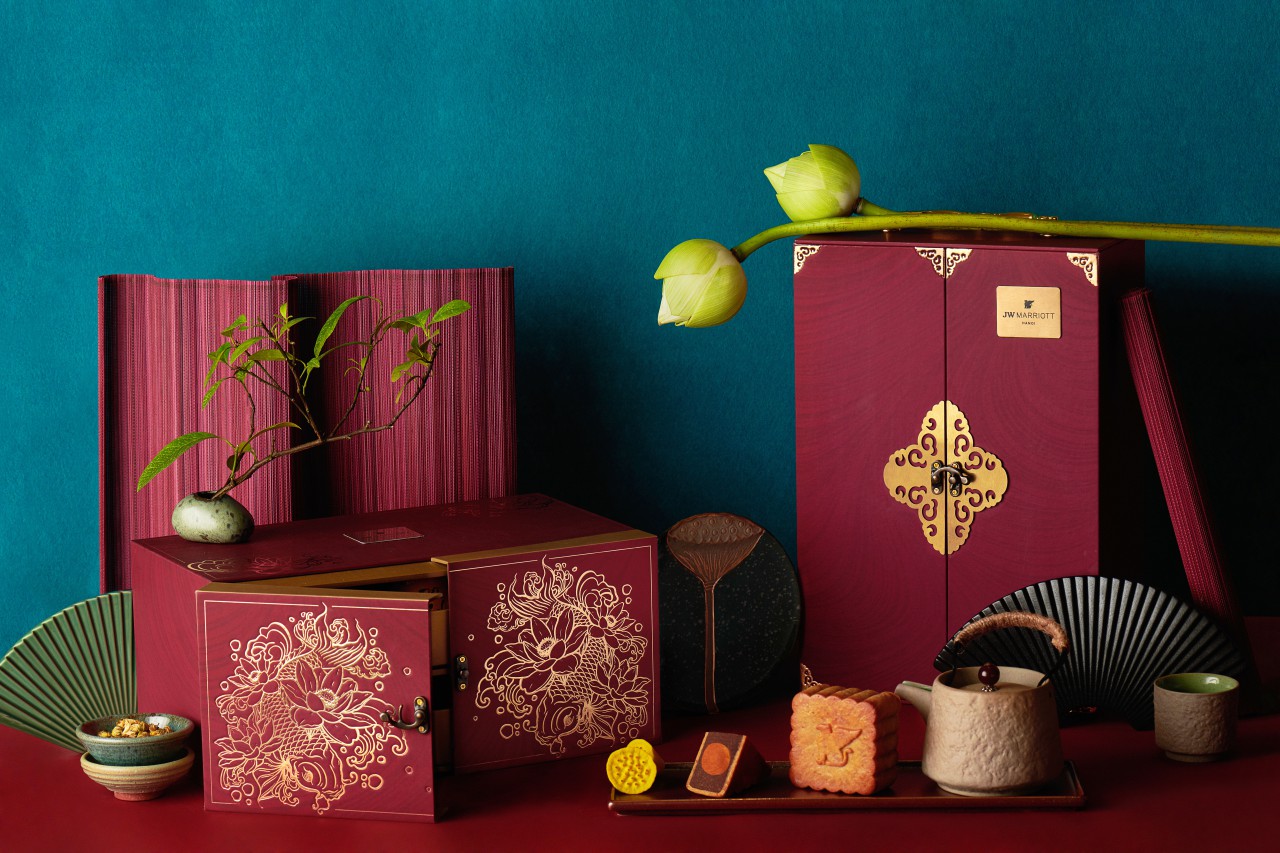 Sheraton Hanoi Hotel has revealed its 2022 mooncake collection, "Phi Minh Tuu Nguyet" ("Ascend Towards the Moon"). Six flavours have been crafted, including unique options such as baked raspberry & pumpkin seed in a bamboo charcoal skin, and three gift box options are available: the Delight Box (4 pieces, VND 899,000), Deluxe Box (6 pieces, VND 959,000) and Luxury Box (3 pieces + one bottle of wine, VND 1,690,000). Discounts apply.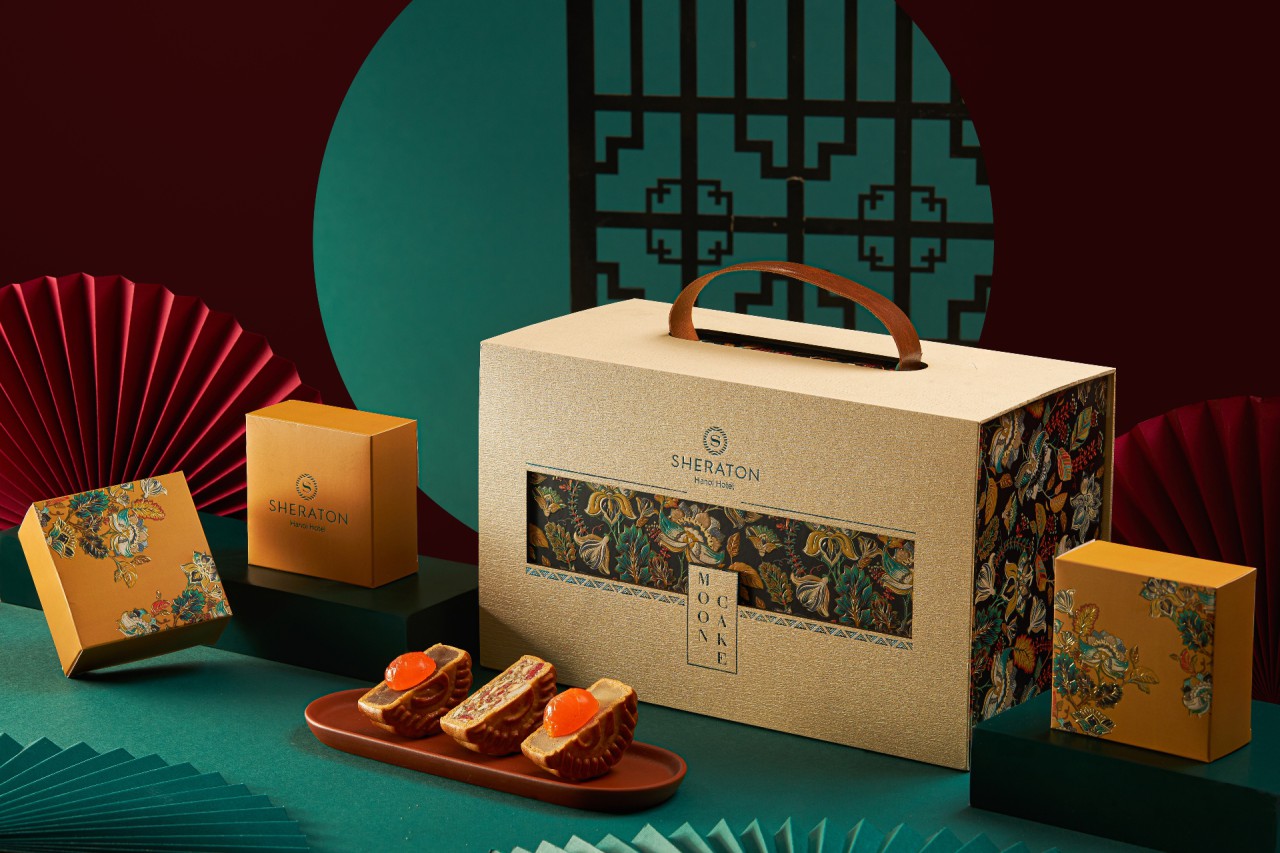 Sheraton Saigon Hotel & Towers has launched its "Nguyet Da" ("Moonlit Night") mooncake collection, which features five sweet and two savory flavors, handcrafted by artisan chefs. Five graceful gift boxes are available, including Son Hoa Nguyet Da, Giang Hoa Nguyet Da, Phuc Lai Thanh, Phuc Man Duong and Hao Quang Minh – the VVIP version with limited edition embodying an awe-inspiring structured ladylike bag, each of which contains four mooncakes. Prices range from VND 1,138,000 to VND 2,728,000 per box.
Renaissance Riverside Hotel Saigon has curated two symbolic gift boxes – The Crescent Jade Moon and The Majestic Ivory Moon – each of which features four sweet and savory mooncakes, such as white lotus, matcha green tea, premium roasted chicken, and char siu, plus a special Exotic Oriental Peony Tea jar, which blends rare and premium ingredients. Each box can be personalized with company logos and branding. Fantastic offer price for Marriott Bonvoy members only at VND 799,000/ box of 4 cakes and 1 tea set.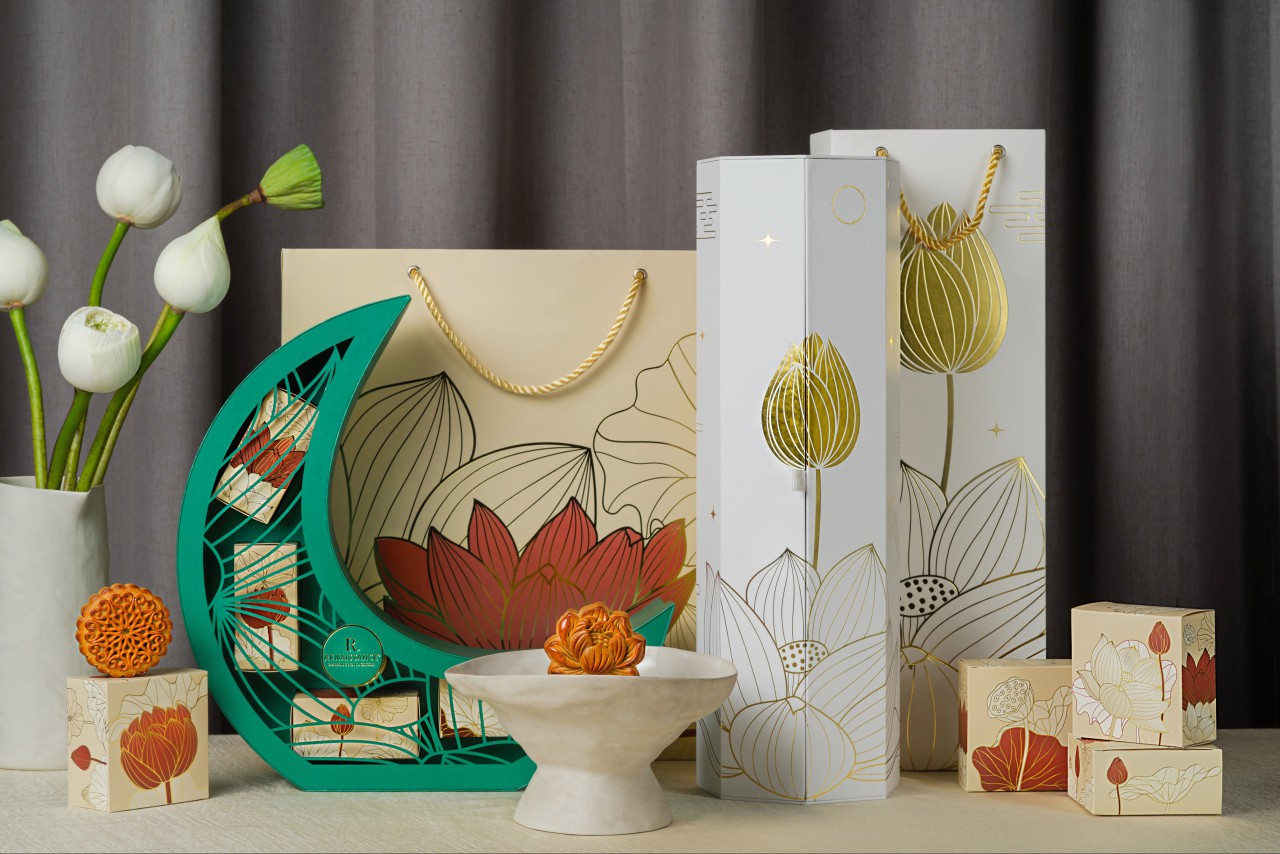 Mooncakes (also known as "Banh Trung Thu" in Vietnam) are an inseparable part of the Mid-Autumn Festival ("Tet Trung Thu"), which is celebrated on the 15th day of the eighth month of the lunar calendar. These tasty treats can be enjoyed as a delightful daytime snack with loved ones, accompanied by a pot of tea, or presented as an auspicious gift.
For more information and to order your mooncakes, please contact each hotel directly. Marriott Bonvoy members will benefit from exclusive discounts. Not a member yet? CLICK HERE to sign-up for free!
To learn more about Marriott International's hotels and resorts in Vietnam, please visit www.marriott.com.
Marriott International, Inc. (NASDAQ: MAR) is based in Bethesda, Maryland, USA, and encompasses a portfolio of more than 8,000 properties under 30 leading brands spanning 139 countries and territories. Marriott operates and franchises hotels and licenses vacation ownership resorts all around the world. The company offers Marriott Bonvoy®, its highly-awarded travel program. For more information, please visit our website at www.marriott.com, and for the latest company news, visit www.marriottnewscenter.com. In addition, connect with us on Facebook and @MarriottIntl on Twitter and Instagram.
About Marriott Bonvoy®
Marriott Bonvoy, Marriott International's award-winning travel program and marketplace, gives members access to transformative, eye-opening experiences around the corner and across the globe. Marriott Bonvoy's portfolio of 30 extraordinary brands offers renowned hospitality in the most memorable destinations in the world. Members can earn points for stays at hotels and resorts, including all-inclusive resorts and premium home rentals, as well as through everyday purchases with co-branded credit cards. Members can redeem their points for experiences including future stays, Marriott Bonvoy Moments, or through partners for luxurious products from Marriott Bonvoy Boutiques. With the Marriott Bonvoy app, members enjoy a level of personalization and contactless experience that allows them to travel with peace of mind. To enroll for free or for more information about Marriott Bonvoy, visit marriottbonvoy.com. To download the Marriott app, go here. Travelers can also connect with Marriott Bonvoy on Facebook, Twitter, and Instagram.